upGrad, in association with MICA, presents to you the updated Advanced Certificate course in Digital Marketing and Communication.
Complete this 6-11 months course and specialise in Social Media, Content Marketing, Branding, Marketing Analytics and Public Relations. With only Rs 9,749 per month, start your digital marketing journey.
We have empowered 4000+ students who have completed our certification course. Our course starts on March 31, 2021. Limited seats are available so take immediate action.
Before we delve into what the course is about and the digital marketing syllabus, let us learn some basics.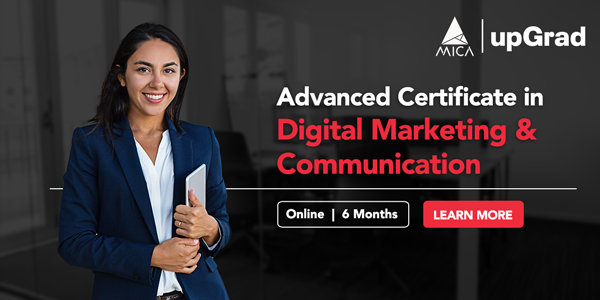 What Is Digital Marketing?
You must have come across this term at least once in your life if you aren't living under a rock. Digital marketing is the act of promoting and selling products and services using online marketing tactics.
Digital marketing is plain and simple marketing but only online.
Marketing is all about making the right offer at the right time, at the right place, and most importantly, to the right customer. Today most people are online. Currently, about 4.66 billion people worldwide are active internet users, which is about 59.5% of the global population; digital marketing helps to connect to all these users so that your best prospects can find you, learn about you, and buy from you.
It is all about identifying and satisfying customer needs; if done successfully, it can drive inbound leads and a large customer base.
Digital Marketing Free courses to Learn
Digital marketing is relatively a new practice and is as important, if not more so, than traditional marketing. The Internet, smartphones, and laptops have become a necessity for us after food, clothing, and shelter—so the businesses have begun experimenting with this new form of marketing tactics.
Now businesses are diverting funds from traditional marketing to digital marketing. It has become vital for companies to build a virtual presence to attract and retain new customers.
How Crucial is Digital Marketing?
Digital marketing has several benefits; here, we have pointed out a few.
1. Target Audience: Traditional marketing like advertisements on TV channels, newspapers, and billboards have limited control of who sees the ads.
Certain demographics like the number of viewership of a channel, or readership of a newspaper, or the population of the locality can be measured before placing the ads, but it is largely a shot in the dark.
But with the help of digital marketing methods, you can target your ads to a specific audience and audience subgroups based on their age, location, interests, and other demographics.
With digital marketing, you can conduct the necessary research for building your buyer persona and testing your ads. Then, you can improve your marketing campaigns and reach the prospects most likely to buy.
2. Cost Effective: Digital marketing is more cost-effective than traditional marketing.
You can track your campaigns daily and increase or decrease the amount of money you're spending on the campaign on a particular platform, according to the rate of conversion.
But for traditional marketing, the rate is the same, and you cannot measure daily conversion.
3. Outrank Bigger Players: Digital marketing has made it possible for smaller brands to compete with the bigger brands.
With the help of unique content and social media marketing, smaller brands have the arsenal to reach a larger audience base and influence customer's purchase decisions.
4. Measurable: Digital marketing is measurable with shares, views, clicks, time on page, etc. You can get accurate results in real-time like ROI, web traffic, content performance, and lead generation.
Now that you are aware of what digital marketing is and how important digital marketing is for businesses, it is time we delve into the digital marketing syllabus of upGrad and MICA's PG certification course.
upGrad Digital Marketing Syllabus
Curated and taught by leading digital marketing practitioners and industry leaders, this course provides you with practical and the most comprehensive knowledge covering the latest digital marketing syllabus to ensure that you receive all-around learning and build a better career.
What Will You Receive From the Course?
After course completion, you will receive certifications from MICA and Facebook.

You will receive MICA alumni status.

Industry leaders will provide you with coaching every fortnightly.

You will get to sit for mock interviews by hiring managers from companies.

Work on more than 15 case studies and live projects.

You will get access to our vast video library with 50+ tools.

Our mentors will give their feedback on your resume, and you will learn how to improve them.

No cost EMI options for all of our students, starting at Rs 9,749 per month.
Without further ado, let's delve into our specialised digital marketing syllabus, here we are sharing the important things that you will learn:
Fundamentals of Digital Marketing
In this module, you will be introduced to the world of digital marketing. Keeping in mind all our students, everyone will start from the basics. Here you will learn:
Fundamentals of Marketing

Digital Marketing Metrics and Channels

Customer Centricity
This will help you understand and get started with digital marketing.
Designing and Building of Website
Next on the digital marketing syllabus is the planning and building of websites. As discussed earlier, every business, no matter how small, needs an online presence.
And the first thing that comes to your mind when spoken about online presence is a website. In this module, we teach you how to plan and develop a WordPress website from scratch.
You will learn various elements and functions of web designing and WordPress. Learn how to add content, effectively use the plug-in and incorporate design elements on your website.
upGrad's Exclusive Digital Marketing Webinar for you –
How Marketers can enable Sales for Success?
Search Engine Optimisation (SEO)
It is one of the most important modules in the digital marketing syllabus as there is a huge demand for SEO specialists in the market.
Search Engine Optimisation is a tactic to organically rank your website on the Google search page.
Here you will learn about the various factors in play to make a website rank on the search pages. Learn different aspects of SEO such as on-page, off-page, keyword research, meta tags, link building, auditing, and many more.
Search Engine Marketing (SEM)
Search Engine Marketing or SEM involves creating advertisements on the Google search pages. Here you will learn to use one of the most important tools in digital marketing, Google AdWords.
Here you will learn how to design an advertisement for a website or webpage. You will also learn how the Google algorithm works, Google Keyword Planner, Search Volume, cost-per-click (CPC), Customer Lifetime Value, and other metrics.
Social Media Marketing
Here you will learn how to make and run paid advertisements on social media platforms like Facebook, Instagram, YouTube, Pinterest, Twitter, Google+, Snapchat, and LinkedIn. In this module, you will learn how to target the right audience and build a social media campaign.
You will also learn about CPC, Cost-Per-View (CPV), Cost-Per-Impression (CPM) and get hands-on experience by running ads for websites.
Content Marketing
It is the base of all the marketing, and so this the most important part of the digital marketing syllabus. Here you will learn how to create and share quality content to attract and retain the target audience.
You will also learn in-depth about various types of content and how to capitalise on trending topics. Also, you will learn different content tools for attracting an audience.
Marketing Analytics
Learn how to analyse a visitor's behaviour on a website. You will learn how to use tools like Google Analytics effectively to decode audience behaviour and bring more traffic to the website. Learn about bounce rate, page view, and session time.
Specialisation in Branding and Communications
In this part of the digital marketing syllabus, you will learn about branding and communications fundamentals.
You will learn what brand positioning is, how to build and implement an engagement strategy for a particular brand and also get in-depth knowledge about branding for international markets.
Best Online Digital Marketing Courses
Specialisation in Marketing Analytics
Here you will receive in-depth knowledge on various marketing analytics. It covers topics such as collecting and identifying marketing data, data integration and EDA, predictive analytics and decision-making. You will also learn to use tools like Google Analytics, CleverTrap, branch, MySQL, and Excel.
Top Digital Marketing Skills
Specialisation in Social Media and Content Marketing
In this module, we will take you deep into the world of social media and content marketing. You will specialise in content marketing, paid advertisements on social media platforms, and community management. You will get hands-on training with tools like Hootsuite.
Digital Marketing Free courses to Learn
Conclusion
This course will make you an expert in digital marketing. You will also get the option of taking up a specialisation like Branding, Social Media and Content Marketing, Marketing Analytics, and Marketing Communication, based on your interest.
This course will open an array of job opportunities and can be taken up by freshers, traditional marketers, entrepreneurs, brand and communication managers, and sales professionals. All you need to have to avail of this course is a bachelor degree.
Moreover, you will receive practical experience from industry leaders and get one-on-one feedback. You will also have a mentor who will ensure your consistent progress. Take action and join our program to enhance your career.
With this, we have explained the significant components of the digital marketing syllabus for the Advanced Certificate course from MICA and upGrad. Use these insights, combine them with your interests and make the correct decision for your future.
You can also check out Digital Marketing Course from IIT Delhi. IIT Delhi is one of the top institutes in India and also one of the oldest IIT's and is always excelled in giving highly industry-relevant courses, Now IIT Delhi has partnered with upGrad to get these top IIT Delhi courses online.
Popular Digital Marketing Blogs