We live in such times where it's almost impossible to think of a life without the Internet and social media. Without these, we always tend to get FOMO. After all, it feels great to have access to anything you want at any time and connect with people all over the world. Whether you need an answer to a question or buy a product online or you wish to find someone on a social network – everything seems just a click away!
Learn digital marketing courses online from the World's top Universities. Earn Masters, Executive PGP, or Advanced Certificate Programs to fast-track your career.
That's the power of the Internet and social media.
What started as a medium of communication and connection is now one of the most powerful marketing tools. Yes, we're talking about social media channels. Facebook, Instagram, Twitter, Pinterest, LinkedIn, YouTube, and Snapchat are used by customers and brands alike.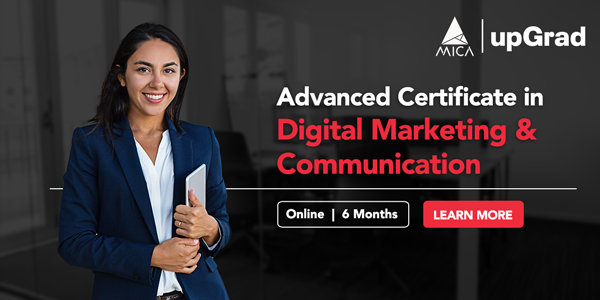 While people use these social media platforms to connect with others and to create and consume digital content, brands and businesses leverage social media channels to reach their target audience and market their products/services.
According to Statista, the hold of social networking is so strong that by 2023, there'll be 3.43 billion monthly active social media users – almost one-third of the world's total population! This is something that brands cannot ignore. More and more businesses worldwide are realizing that social media is where the mass audience is, making them the perfect marketing channels for brand promotion.
Social media channels allow brands to connect with potential customers, increase brand awareness, and boost sales. The best part about advertising your products via social media is that within seconds of posting an ad campaign/text post/video, your messages reaches a vast audience without incurring hefty marketing costs!
Naturally, the demand for skilled and qualified social media experts is at the peak in the current industry. Today, we're going to talk about the X highest paying social media roles which will give you a good idea of the social media salary in India.
Top 10 Highest Paying Social Media Roles
1. VP of Communications
The VP of Communications is a core member of the senior management team and is responsible for developing a company's communication strategy to promote, enhance, and protect its brand reputation and public positioning.
As VPs are ambassadors of an organization, they depict compelling leadership abilities. They mainly focus on cultivating investor relations and educating sponsors on the company's plans and strategies. VP of Communications also manages communications products, including newsletters, e-news, and different forms of print publications.
Salary:
The average annual salary for a VP of Communications in India is ₹3,250,000 LPA.
2. Public Relations Manager
PR Managers primarily focus on media and public relations to create a favorable public image of a company or client. They develop marketing communications plans, media relations strategy, prepare media kits, organize conferences and product launches, write press releases and content for corporate newsletters, and coordinate all public relations activities of an organization.
They also manage media inquiries and interview requests, cultivate media relationships in the industry, evaluate new business opportunities, and monitor market trends closely. PR Managers must also know how to manage negative publicity and crises.
Salary:
The average annual salary for PR Managers in India is ₹2,074,005 LPA.
3. Social Media Director
Social Media Directors oversee the entire spectrum of digital and social media marketing of a company. They design marketing plans to improve brand loyalty, brand awareness, and help the company gain a bigger market share.
Social Media Directors work closely with sales, marketing, customer support, and brand managers to develop actionable marketing strategies using social media to help individual departments achieve their respective goals. They use social media tools to spread awareness of company products, launch events, discounts/offers, etc.
Salary:
The average annual salary for Social Media Directors in India is ₹1,200,000 LPA.
4. Digital Strategist
Digital Strategists are responsible for identifying a company's unmet goals, digital requirements, opportunities, and challenges. They determine the best course of action for the company's digital products and services and create both short-term and long-term plans for the same.
They collaborate with cross-functional teams to develop feasible ideas to help materialize brand goals and vision. They must also design solutions that meet client needs based on customer insights and data. In a much broader sense, Digital Strategists act as the link between the brand and online consumer.
Salary:
The average annual salary for Digital Strategists in India is ₹982,635 LPA.
5. Marketing Communications Manager
Marketing Communications Managers manager and supervise a company's marketing activities. Their primary aim is to create a strong and loyal customer base, focusing on customer retention and satisfaction. They design, develop, and execute marketing and advertising strategies and campaigns customized according to the target audience's needs and preferences.
They oversee the activities and performance of marketing staff and train them in line with company policies, vision, and goals. In addition to that, Marketing Communications Managers also evaluate the competition and analyze market conditions to help the company gain a strong foothold in the market.
Salary:
The average annual salary for Marketing Communications Managers in India is ₹791,977 LPA.
6. Content Manager
Content Managers help build a brand's online presence by creating engaging and informative multimedia content. They develop content strategies & themes, manage the content team, and freelancers, review the written work, set deadlines for different projects.
Apart from writing and editing content, This involves developing content strategies, managing a content team, Content Managers also provide creative and technical support to the writers, editors, graphic designers, and other members of the creative team. They must also build a strong social media following on multiple platforms.
Salary:
The average annual salary for Content Managers in India is ₹659,149 LPA.
Best Digital Marketing Courses Online
7. Social Media Consultant
Social Media Consultants combine entrepreneurial expertise with their social media marketing knowledge to help businesses, non-profits, and solopreneurs grow their brand reach. They are well-versed with the ins and outs of all social media channels. They design and run social media campaigns, create social media strategies, and manage social media channels of companies to improve customer-brand engagement, create a constant traffic flow, and gain customer loyalty.
Salary:
The average annual salary for Social Media Consultants is ₹642,736 LPA in India.
8. Digital Marketing Manager
Digital Marketing Managers are responsible for creating and implementing marketing plans, campaigns, and supervising marketing projects. Their prime function is to develop effective advertising strategies for digital and social media channels to promote products/services, increase sales, and boost customer satisfaction.
They evaluate important marketing metrics and prepare detailed reports on the performance of different marketing campaigns. Together with marketing and sales teams, Digital Marketing Managers try to design new and innovative growth strategies.
Salary:
The average annual salary for Digital Marketing Managers in India is ₹548,523 LPA.
upGrad's Exclusive Digital Marketing Webinar for you –
Watch our webinar on "What's new in Marketing"
9. SEO Manager
Search Engine Optimization (SEO) Managers oversee, coordinate, and manage search engine marketing campaigns of a company. Their main goal is to create such strategies and leverage tools that help the company's content and product recommendations rank at the top of the SERPs (search engine results pages). They define the requirements, tasks, resources, and timelines for SEO strategies.
SEO Managers perform SEO analysis, keyword research, and monitor KPIs to understand the company's overall performance and search engine rankings. Accordingly, they create SEO goals and plans to improve search engine rankings, increase traffic volume, and so on.
Salary:
The average annual salary for SEO Managers in India is ₹522,232 LPA.
10. Social Media Analyst
Social Media Analysts build and implement social media campaigns and strategies for an organization. They create and nurture social media platform-specific communities and customer base, design link-building campaigns in sync with the company's SEO goals, use social media tools to support different social media plans, and monitor & assess campaign performance. Social Media Analysts must always stay updated with social media marketing trends to stay one step ahead of the competition.
Salary:
The average annual salary for Social Media Analysts in India is ₹404,419LPA.
How to Enter the Field of Social Media Marketing?
Social Media Marketing will continue to be in high demand for many, many years to come, creating plenty of employment opportunities, and birthing new roles. As the demand for social media experts soars, the competition will get even tougher. In such a scenario, if you wish to capitalize on this opportunity, you must strive to stand out from the crowd.
One of the best ways to accomplish this is to take up a Digital Marketing course. Since Social Media Marketing is an integral part of Digital Marketing, enrolling in a Digital Marketing course will help you gain a 360-degree understanding of modern marketing concepts, strategies, and techniques.
In-demand Digital Marketing Skills
This program is offered by upGrad in collaboration with MICA and includes three customized tracks – Executive, Management, and Leadership. It spans between 6.5 – 11 months during which you will learn SEO, SEM, social media & content marketing, branding, and marketing analytics while working on multiple case studies and live projects.
On course completion, you receive dual certifications from MICA and Facebook. This course will groom you into a Digital Marketing expert proficient in Social Media Marketing, Content Marketing, and Public Relations.
Digital Marketing Free courses to Learn
Conclusion
Now that we've informed you about the highest-paying jobs in social media and the best social media courses, are you ready to become an expert?
We provide the finest courses from top universities like Liverpool John Moores University, Master in Computer Science, PG Diploma in Full-Stack Software Development, PG Diploma in Software Development – Blockchain, PG Diploma in Software Development – Blockchain with assured job opportunities. Placement Track in Full Stack Development, Duke CE with 15+ Case Studies, and 1500+ students enrolled.
Popular Digital Marketing Blogs