It's certainly no secret that the world of social media is one that is fast-moving. With more algorithm changes than you can shake a stick at, it is becoming more and more challenging for social media marketers to keep up with the pace, especially when managing multiple platforms at once. Though not all hope is lost, this is where the multitude of social media tools comes in. 
Here are 5 Most Effective Tools every Social Media Marketer needs to use:
Over
If you struggle with producing high-quality visual content, the Over app might just be your saving grace. Over is a photo editing app that allows you to effortlessly add text to images, as well as create collages or other creative visuals. You can choose from a library of stock images, fonts, graphics and even design templates with just a few taps, which makes it an ideal photo editing app for busy social media marketers on the go. Over, it's so easy to experiment with your brand visuals, and it actually helps to make the entire process fun.
Learn digital marketing courses online from the World's top Universities. Earn Masters, Executive PGP, or Advanced Certificate Programs to fast-track your career.
Slack
Slack is a messaging app, but it is also much more than that. Slack is all about team communication and making it as streamlined as possible. It has greatly impacted the ways in which many businesses work. If you perhaps have a large social media team, or perhaps you need to stay in touch with other teams within your business, Slack makes it easy for you to do just that. Within Slack, you can share documents, gather feedback and even collaborate on ideas and projects. As well, features such as channels help you to better organise conversations between certain team members. The best thing about it? It's free!
Social Media Marketing Interview Questions and Answers
Google Drive
If you're not already familiar with Google Drive, it's time to familiarise yourself. Essentially, Google Drive is safe for file storage, as well as a place where you can create and share documents, powerpoints, spreadsheets and more. It's also incredibly accessible, meaning you can access those all-important files even on the go from your mobile device. You have complete control over who can see your files, as well as who can edit and make comments.
Best Online Digital Marketing Courses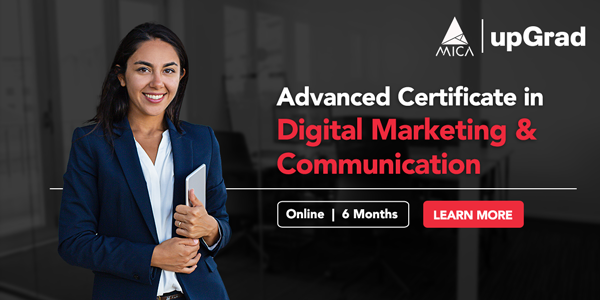 Evernote
Evernote is another great tool for busy social media marketers on the go. It is a note-taking app that comes with an abundance of useful features to help you streamline your workflow. Picture this, you're mid-commute and you've just been hit by a spark of inspiration for social posts or an upcoming campaign – with Evernote, you can easily take note of your ideas to refer to later. Maybe you don't feel like typing out your notes? No problem. Evernote allows you to hit to easily record voice notes. Not only is Evernote a great tool for personal use, but it also works well for teams. Some of its handy features allow you to share documents, and you can manage permissions by allowing other members of the team to view, edit or both.
upGrad's Exclusive Digital Marketing Webinar for you –
Webinar with Q&A Session on Digital Marketing
Top Digital Marketing Skills
Buffer
Taking time out of your day to manually keep your social accounts up to date with quality content can be nothing short of nightmarish. If you're a busy social media marketer, you have things to do and people to see and probably don't always have the time to stop halfway just to post on Instagram. The great news is that there are plenty of tools out there designed to schedule social media content to help make life easier, but Buffer deserves an honourable mention. With Buffer, you can connect multiple social accounts, manage which content goes to which social channels and schedule said content for different dates and times. It also provides you with useful insights into each of your platforms with its inbuilt Buffer analytics.
5 Excellent Reasons to Use Video Content on Landing Pages
With every platform comes a handful of tools to help social media marketers make the most out of each platform, to engage with their audience in new and creative ways, and to help improve time management in many respects. All in all, utilising the right tools in the right ways can help to supercharge your social media efforts.
Digital Marketing Free courses to Learn
Popular Digital Marketing Blogs
Why is social media marketing important?
There are so many social media channels that it may be totally confusing for any beginner in this stream. You need to concentrate your energies on the top 6 platforms - Facebook, Twitter, LinkedIn, Pinterest, Instagram and Google Plus.

To reach your audience on social media platforms, you should be able to master social media ads and remarketing. Facebook is the largest social media network that runs high budget ads every day. You can define your ad demographics, interest, behaviours etc., that enables you to get your message across to the right audience.

You can keep remarketing to a lookalike audience on Facebook too.

Other than Facebook, you can also run social media ads on Twitter, LinkedIn and a few other channels too.
What is social media analytics?
The online business landscape is a tough, demanding and constantly evolving space as a digital marketer one needs to be at the top of his game to deliver the best results.

Social campaign performance measurements are crucial to reaching your marketing goals. To manage, analyse and maximise your marketing efforts, you need to be able to optimise your ROI. Social analytics tools are excellent applications if employed in the right manner. It can help minimise wastage of marketing funds, and- can give you a birds-eye view of tackling challenges and adjusting to volatile market conditions.
Which is the best social media analytics tool?
If you are looking for a powerful analytics tool to gain deep insights and learn critical ways to utilise data collected from your analytics, Rival IQ is what you need. It is a tool that enables you to gather vital information on competitor analysis. It is designed to compare your company's performance against your competition. If you are still curious about outperforming the competition, Rival IQ derives information and analyses - social media activities, SEO and website design for the competition.
Ride the Digital Wave
UpGrad and MICA's PG Certification in Digital Marketing & Communication
Learn More