Every business, no matter how big or small, requires marketers who can develop unique and pioneering marketing strategies and help the company gain customers and build a strong foothold in the market. However, the landscape of marketing has changed drastically.
Learn Digital Marketing Course online from the World's top Universities. Earn Masters, Executive PGP, or Advanced Certificate Programs to fast-track your career.
While traditional marketing techniques such as ads over the television, radio, newspapers, flyers, and billboards, have been around us since time immemorial, now is the era of Digital Marketing. Traditional marketing had its own perks, no doubt, but since we're a part of a digital revolution now, one simply cannot rely on traditional marketing strategies anymore.
This is primarily because of the fact that a large percentage of people across the globe have made the shift to the online platform – from online shopping and performing online transactions to searching for relevant content, people are increasingly relying on the Internet for almost everything. According to an MIT report, the proportion of individuals accessing the Internet from smartphones has risen from 24% (2010) to a whopping 84%(2018)!

Digital marketing has numerous advantages over traditional marketing channels. First, traditional marketing is constrained as in it does not allow marketers to interact with their target audience. Digital marketing, however, facilitates real-time engagement with target consumers via live chat, comments, and so on. As of 2018, it is estimated that nearly 2. 62 billion people use social media, and this number is predicted to escalate to 2.77 billion by 2019. Thus, by leveraging social media channels, marketers can now expand their reach to the audience and attract more consumers than ever.
Reduced costs, higher exposure, rapid publicity, analytics-based approach, and enhanced brand development are some of the greatest advantages of digital marketing. Furthermore, as the attention span of the audience is reducing rapidly, clever and snippy digital marketing ads are the winners here. This is essentially how Twitter became a big hit with its short but witty posts.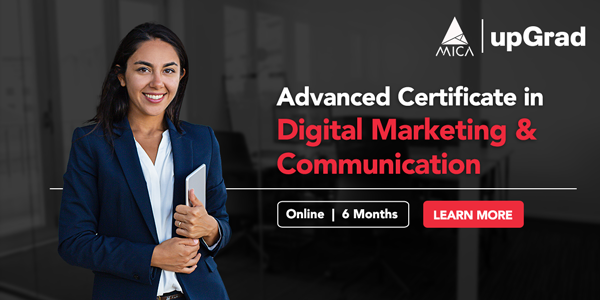 Sathyaraj Iyer on UpGrad's Digital Marketing Program: 'Stop Wishing, Start Working'
So, long story short, in this era of increased digital penetration, if you are not leveraging digital marketing strategies, then you are missing out immensely on business opportunities. However, to master the field of digital marketing, you must first learn the ropes of efficient and effective digital marketing or else you'll get lost in the sea of confusing marketing metrics and tools. And what better than online platforms to master digital marketing? Online platforms are way better than offline institutes mainly because online platforms allow you to interact with trained instructors and industry experts right within the comfort zone of your house. While offline institutes 'proclaim' to have the best experts and mentors, we know that more often than not, the claims aren't true. Thus, to enrich the digital marketing learning experience for you, UpGrad brings you its PG Certification in Digital Marketing & Communication in collaboration with MICA, one of the top Schools in Business and Management in the Asia-Pacific region.
Formerly known as the Mudra Institute of Communications, Ahmedabad, MICA was established in the year 1991. Ever since its inception, MICA has adapted to the dynamic environment of the industry and has curated excellent courses and programs in Marketing and Communication. Through its study courses, MICA aims to create leaders and visionaries of tomorrow who can deliver the best-in-class solutions across all parallels of the industry.
Why should you Opt for the Digital Marketing & Communication Course by UpGrad and MICA?
Here are the 6 reasons why UpGrad should be your first choice when it comes to mastering digital marketing:
The Course is Taught by MICA Faculty & Industry Experts
To help you learn better, we've brought together reputed members of the MICA faculty and industry experts. So, you get the firsthand experience of learning from reputed MICA faculty members such as Prof. Falguni Vasavada Oza and Prof. Rajneesh Krishna. Our panel of industry experts includes Sakhee Dheer from Facebook APAC, Jaideep Prabhu (Prof. of marketing at the University of Cambridge), Michael Leander from Markedu, Sumit Verma from Google, Prithviraj Banerjee from DigitasLBi, Anshul Khandelwal from Foodpanda, and Dhaval Doshi of Smarthome NX, to name a few.
Our excellent panel of industry experts and MICA faculty break down the concepts of digital marketing into bite-sized pieces so it is easier for students to grasp.
Get Hands-On Experience by Running Live Campaigns and Solve Business Cases
Our digital marketing course ensures that you get enough exposure to real business cases. With more than ten business case studies in the syllabus, you will learn how industry experts (across a diverse range of industries ranging from e-commerce and travel to fashion) approached business challenges and found solutions to transform the business scenario altogether. Our business cases are associated with high profile brands such as Thomas Cook, Star Sports, Grofers, and much more.
Also, you will be solving ten industry projects such as running live campaigns (with real money!) on Facebook, Google, and other such platforms. What's more is that on the completion of the FB module and on running successful FB live campaigns, you'll receive a certification from Facebook.
upGrad's Exclusive Digital Marketing Webinar for you –
Watch our "Webinar with Q&A Session on Digital Marketing"
Learn about the Myriad Aspects Digital Marketing and its Tools
Digital marketing is highly data-driven. Data analysis allows marketers to identify the target audience, gain industry knowledge about their rivals, monitor traffic, and much more. However, one needs to be handsy with the correct set of tools to be able to do all of this.
Over the span of twenty-four weeks, our digital marketing course will introduce you to the world of digital marketing and its concepts. You will not only learn about the basic marketing concepts and digital marketing channels and metrics, but you will also learn the tips and tricks of Website building, Social Media Marketing, Display Marketing, Email & Mobile Marketing, Content Marketing, SEO, SEM, and Analytics. Apart from this, we'll teach you how to work with DM tools such as Google Adwords,  Google Analytics, Facebook Business Manager, Woorank, Hootsuite, and much more.
Best Digital Marketing Courses Online
PG Certification from MICA
Once you successfully complete the digital marketing course, MICA will reward you with a Post Graduate Certification in Digital Marketing & Communication, along with an individual PG Certifications in the specialization courses of your choice. The perks do not just stop there – after completion of the course, you will officially receive the status of being a MICA Alumni. Not only will you become a part of MICA's reputed network of alumni, but you will also get a chance to connect with some of the most talented leaders and experts in Marketing and Communication.
Get One-on-One Mentoring & Career Support
As you learn and train, you'll find plenty of opportunities to connect with our trained expert panel and industry experts who'll provide helpful feedback on every industry project you complete. This will allow you to assess your strengths and weaknesses and chalk out your plans accordingly.
We also have a dedicated career support team that will not only help you choose suitable job profiles in the field of digital marketing, but will also help you prepare for interviews through mentoring sessions.
In-demand Digital Marketing Skills
Avail The Course At 0% EMI
If by any chance, you cannot pay the lump-sum course fee, you can pay it in instalments over the course of six months. The best part – you can pay the instalments at 0% EMI! Our finance partner Fortune makes it possible for us to allow students to pay their course fee for a duration of six months, with the amount roughly equalling 13,000 INR.
After you've applied for this course, our Admissions Counselor will personally contact you and brief you about the admissions, course, and payment details.
Digital Marketing Free courses to Learn
Industry Proven Techniques to Grow Business Online
UpGrad's courses takeson a holistic approach to digital marketing. By the time you finish with us, one thing is for sure – your horizon of knowledge will expand significantly and you'll learn to think and act like a true digital marketer. With so many perks and benefits, why should you go someplace else?
If you are curious to get into the world of digital marketing, check out upGrad & MICA's Advanced Certificate in Digital Marketing & Communication.
Popular Digital Marketing Blogs
Where Can You Learn Digital Marketing as A Complete Beginner?
As someone who is considering taking up a career in digital marketing, it is important that you acquire relevant knowledge in the field. As a complete novice, you can start the process with some self-study.

You will find a ton of resources online which can be a little overwhelming. But with the right amount of effort, creativity and knowledge, you can kickstart the learning process. You can also upgrade your self-acquired knowledge with certification on digital marketing from the number of digital training institutes offering a range of online and offline programs.
What is video marketing?
Today, video marketing has completely taken the digital world by storm. Therefore, acquiring knowledge in these verticals is absolutely essential to making your mark as a digital marketer. Understanding the concept of video marketing, viral videos, video content are some of the topics that you should master.

Creating engaging videos is something that all major brands have been heavily involved in. These video campaigns can be run on multiple platforms such as Facebook and YouTube.
Is paid marketing an important component of digital marketing?
As a digital marketer, you should have a good understanding of all paid marketing channels that you can use to promote products and services. AdWords and Display Google and other search engines are the common paid marketing networks that most digital marketers use.

Choosing keywords, knowing bidding and auctions, creating clear and concise ads along with conversion optimization and performing competitor research are some of the aspects of paid marketing that you should have a working knowledge of.

Furthermore, you need to learn about ad placements, choosing websites, coming up with accurate and interesting copies for your ads, designing good ads and designing landing pages.
Ride the Digital Wave