Graduating with a B.Tech degree opens up a slew of promising career opportunities before students. While they can continue to pursue further studies such as an M.Tech or MBA degree, students may also choose to enter the job world right after B.Tech.
For instance, students who've graduated with a B.Tech degree in Computer Science/Information Science/Civil/Mechanical/Electrical/Chemical Engineering can find a host of employment opportunities in sectors like IT/ITES, e-commerce, BFSI, manufacturing, energy, governance, healthcare, and education. Check out the top career options after engineering.
As promising as this sounds, after completing their B.Tech, students are often faced with a dilemma –
Should I pursue an MBA degree right after B.Tech or after gaining a few years of industry experience?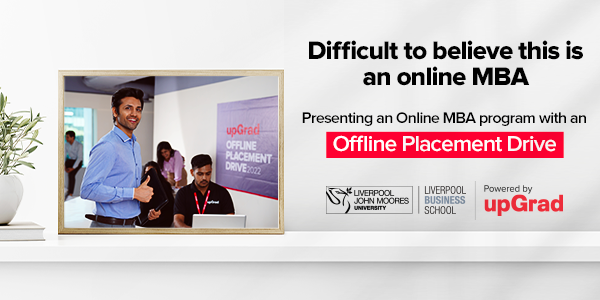 Honestly, there's no straight answer for this.
If you opt for a job after your B.Tech degree, that's a whole new experience altogether. You will learn a lot of new things, come across a host of unique tools involved in the field, and, most importantly, create your own projects. However, often it happens that within a few years into the job (particularly, mid-career) when you've maximized your learning and productive skills, you might start longing for something more.
This is your cue to upskill and expand your knowledge base, along with your career opportunities. And what better than an MBA degree to both enhance your skillset and grow your career profile! Particularly, if you wish to climb up to managerial roles, an MBA is a must.
Of course, you can also choose to continue with your academics after completing B.Tech and pursue an MBA program. This way, you can enter the job field fully prepared (since an MBA degree equips you with business management skills). The perk of getting an MBA degree after B.Tech is that you can command high salary package straightaway – MBAs usually get higher annual compensation than B.Tech freshers.
How to get into an MBA program after B.Tech?
Generally, B.Tech graduates can either pursue their MBA degrees from India or foreign countries like the USA, UK, Australia, and New Zealand. However, anywhere you choose to do your MBA course, you must clear the standard entrance exams for it, such as the CAT (Common Entrance Test) or MAT (Management Entrance Test).
Other entrance exams include XAT, SNAP, GMAT, CMAT, NMAT, and ATMA. Although these entrance exams are pretty challenging to crack, you can clear them if you start your preparation early on and dedicate yourself to it. The better your score in the entrance exams, the higher is your chance of getting placed in a reputed institute.
After you clear the entrance exam, you will be called for group discussion and personal interview in the institute you've applied for. However, if you wish to pursue an MBA program from abroad, like the USA or UK, you must have at least two to three years of work experience, as that is the minimum experience demanded by many universities in these countries.
SOP for MBA: How to structure it?
A Statement Of Purpose (SOP) is a crucial part of applying for an MBA program, especially if you are planning to apply to foreign universities or institutes. Even some institutes in India require an SOP. The way you construct your SOP helps the institute understand your goals, what you aim to do wit your MBA degree, and why you chose that particular institute.
Long story short – if you wish to get into a good B-school, you better create a meticulous SOP that highlights:
Your educational and professional qualifications (if any),

The reason why you wish to pursue an MBA degree after your graduation (B.Tech),

The reason you chose a particular specialization for the MBA degree,

Your career goals, and,

Your entrepreneurial ideas.
5 Reasons Why MBA after B.Tech
The three main reasons for B.Tech graduates to get an MBA degree are:
They are stuck in technical roles and want to move up the hierarchy to managerial positions.

They built unique products and now wish to turn them into profitable business ventures.

They wish to create remarkable marketing strategies to better market their products.
Here are five reasons why you should consider doing an MBA course after completing B.Tech!
1. Gain Managerial Expertise
As a B.Tech graduate, you already possess all the technical skills an Engineer should have. You have a strong foundation in Mathematics, Statistics, and extensive domain knowledge of the specialization you chose in your B.Tech course. However, you lack the business management skills that are intrinsic to managerial and other high-level roles in an organization. This is where an MBA degree can benefit you.
MBA programs help you understand the role and importance of human elements in business. You get to learn about business communication, business intelligence, human resource management, enterprise management, time management, and much more. Thus, an MBA degree after B.Tech will equip you with both technical and business management skills, thereby helping you scale the corporate ladder quickly.
2. High Demand for Dual Specialization
The fast-paced work scenario in the present industry mandates that professionals possess advanced degrees and training certifications. Companies often need professionals who can wear multiple hats simultaneously and create value for their organization.
This is why dual specialization, like the B.Tech – MBA combination one of the most sought after specialization in the industry. B.Tech graduates who possess an MBA degree have the requisite skills and knowledge to handle both the technical and managerial side of the business, which makes them an invaluable asset for a company.
Get top MBA courses from the World's top Universities. Earn Masters, Executive PGP, or Advanced Certificate Programs to fast-track your career.
3. Command Higher Salaries
The salary scale for most jobs depends on multiple factors, including the candidate's educational background, skill set, experience level, company size, job profile, and location. However, rest assured, it is a well-established fact that Engineers with MBA degrees usually command higher salaries than their counterparts who do not hold an MBA degree.
Candidates holding both B.Tech and MBA degrees have much more extensive business knowledge and competency than those who don't. This is why they often perform relatively better in aptitude and competitive exams (since they have already undergone a meticulous exam preparation process while applying for an MBA program). These factors contribute to the higher yearly remuneration for B.Tech+MBA holders.
4. Improved Career Prospects
Most MNCs and global brands recruit candidates who possess a sound technical background with business management skills. Naturally, MBA holders come first in the list since they are well-versed in the nitty-gritty of the business domain. From IT/ITES and BFSI to e-commerce and healthcare, professionals who have dual degrees (with one of them being an MBA degree), are readily hired by companies and organizations. This is why if you have a B.Tech degree and an MBA degree, your prospects of employment increase manifold.
The best part – you can find job opportunities not only with the top national brands but also with some of the best and well-established international companies like Google, Facebook, Amazon, eBay, Airbnb, TCS, Cognizant, Accenture, Deloitte, and Oracle, to name a few.
5. Personality Development
Since an MBA program focuses mainly on the managerial aspects of business, during the course, students develop a host of soft skills, including team spirit, leadership skills, communication skills, presentation skills, organizational skills, and so much more. This contributes to the all-round development of the learners. As a result, there's a noticeable change in their personalities as well. An MBA program helps students improve their confidence levels, thereby making them ready for the real-world.
Furthermore, students who pursue their MBA degree from foreign universities get to expand their intellectual and cultural boundaries through a cross-cultural experience. The MBA experience altogether helps students to emerge from their comfort zones and get in touch with new experiences.
The bottom line is – whether you choose to pursue an MBA degree right after completing B.Tech or gain a few years of working experience before enrolling in an MBA program, you will reap immense benefits both ways.
What do BTech Graduates get from an MBA Degree?
B.Tech graduates choose MBA as a master's degree since it broadens their employment options. This will answer your question of '

Can we do MBA after BTech

?'
A B.Tech. graduate in computer engineering, for instance, is limited to working for IT firms or corporate IT departments. With an MBA, they can pursue a career in finance, operations, marketing, human resources, and a number of other functional areas. One may also launch her own business.
The chances of moving up the corporate ladder are improved with an MBA. As a result, many students opt for an

MBA after BTech

to develop the skills necessary for top executive jobs. An MBA degree is preferred for many senior roles in government and public sector enterprises.

A student with an

MBA after BTech

is positioned with a competitive edge in today's market, which is driven by innovation and entrepreneurship, since they have the technical and management skills needed to succeed.

Better career possibilities, job profiles, and competitive wage packages are additional benefits of an MBA for a B.Tech graduate.
Job Prospects for Btech Students After MBA
Graduates with a dual degree in B.Tech. and MBA are employable in both the public and private sectors. Due to the advent of several commercial and public organizations that hire graduates of this program, there are many gratifying and high-paying career prospects after obtaining a dual degree in B.Tech. and MBA in India. In order to give students access to the resources they need to be successful in their chosen fields, the Dual Degree B.Tech MBA program was created, thus answering your question of 'Can we do MBA after BTech?' Some of the employment for freshers with a dual degree in B.Tech and MBA are listed below:
Finance Industry

Consulting

Sales

Marketing

Information Technology Industry

Supply Chain Industry
What are the salary packages offered to BTech MBA graduates?
In India, students often ask the question, 'Can I do MBA after BTech?'. Well, there are a lot of things to consider, especially the salary package. The pay after earning a dual degree in B.Tech and MBA might vary depending on a number of criteria. Dual Degree B.Tech MBA graduates might find employment in the business and public sectors. Location, title, job history, and education are a few variables that affect this income. PayScale estimates that India's average dual degree B.Tech MBA salary is roughly INR 5 LPA. Here are a few job openings in India and the starting salary for graduates:
Marketing Manager – INR 3,51,033 p.a.

Human Resources Manager – INR 3,70,036 p.a.

Investment Banker – INR 6,40,319 p.a.

Store Manager – INR 2,79,180 p.a.
Job Opportunities available for BTech MBA graduates
The chances for graduates to establish a career both in India and overseas are many. To deepen their knowledge and increase their employability overseas, students might enrol in higher education, certificates, or diploma programs. The graduates' education is so comprehensive and multifaceted that it makes it easy for them to get employment.
Here are the career opportunities they can look at –
Business Head

Digital Marketer

International Brand Manager

Global Business Manager

International Business Consultant

Retail Marketer
Top Companies that are hiring BTech MBA graduates –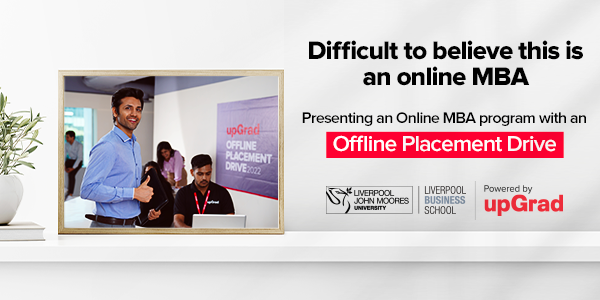 The list of companies below is the answer to 'Can I do MBA after BTech?' –
Deloitte

JP Morgan

Amazon

Tata Consultancy Services

Goldman Sachs

Genpact

Citigroup
Wrapping Up
If you are keen on upgrading your career with an MBA course, upGrad is offering the MBA from Liverpool Business School. The program has been designed to stand at par with the best on-campus Executive MBA programs across the globe.
And the cherry on top – upGrad's excellent flexible and interactive learning and evaluation systems allows you to balance your personal and professional life in a hassle-free manner. Check out for more information & let our student counsellor help you with your questions.