Employment and employability are two of the significant concerns that weigh in on the mind of every graduate. The 3-year BSc degree program has, for ages, been one of the most popular graduation courses among Indians. However, present realities are increasingly forcing BSc graduates to look for something more to stay relevant.
Over the past few decades, the workplace has changed beyond recognition. The industry demands new skills and the need to learn on the go, innovate and improvise. In such a scenario, what can these BSc graduates do to improve their chances in the job market?
MBA is one of the worthiest degrees that many graduates desire to pursue. You can choose from a wide range of specialized MBA courses whether you have opted for an undergraduate degree in science or commerce stream. Gaining expertise and experience in your chosen specialization is inevitable. You can choose from various programs after completing your BSc. Many graduates opt for MBA to learn professional skills and learn various aspects of management. MBA after BSc salary significantly depends on your managerial and interpersonal skills.
Read: How MBA worth IT industry and help in your career.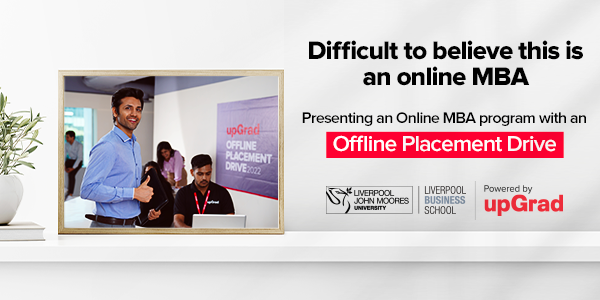 1. The Ground Realities
The Indian Skills Report 2019-20 found that only 46.21% of Indian students were employable. This was a drop from the 47.38% that was reported in the previous edition of the report. But, which was the most employable category of students?
With employability well above the average rate, those with an MBA were found to be the most employable.
2. MBA after BSc
But, many might be hesitant to enroll for an MBA after completing a BSc. 'Is it even compatible?' 'Isn't it way different from my specialisation?' These are the different doubts that might pop up. But doing an MBA after BSc is in no way a bad idea. It enhances your skills and improves your chances of employment.
Are you still not convinced? Let's take a look at some reasons why you should pursue an MBA.
Our learners also read: Jobs after MBA!
3. Reasons to do an MBA after BSc
1. Flexibility
The present-day workplace is dynamic; if you are not updating yourself according to this dynamic environment, you are setting yourself up for missed opportunities. Going back to full-time college is unaffordable for many working professionals. Thankfully, quality MBA courses can be pursued while you are actively employed. Doing an MBA after BSc is both rewarding and flexible and can be pursued without putting your work on hold.
2. Jump ahead of the competition
Doing an MBA after BSc can help you jump up the rungs of the ladder at work. You will be able to upgrade your professional skills and enhance your business acumen. You gain an advantage over your peers and have a better shot at promotions or moving ahead.
Checkout: Best Online MBA Courses in India
3. Diversify your options
The workplace today demands a mix of skills. Doing an MBA after BSc gives you both technical as well as managerial prowess. Suppose you hold a BSc in Microbiology and decide to pursue an MBA. Once you are finished with your MBA, your employability has just skyrocketed. You can find technical openings in microbiology, you can find managerial openings, and you can also find niche opportunities that require both the skills that you possess.
List of different options for an MBA after BSc:
Hospitality management

Healthcare management

Pharmaceutical management

Laboratory management

Fashion Designing

Media management

Environmental management

Disaster management

Rural management

Aviation management
You can choose anyone based on your interest. The selection becomes easy if you choose the specialization relevant to the degree you have pursued in your BSc course. The wise selection of this option can bring you to a higher job position with a decent MBA after BSc salary.
4. Finding the right place
But where do you do your MBA? Of late, there has been a boom in institutes offering MBA courses. This makes it all the more tricky to pick a quality program. Thankfully, a few courses provide you with the best and cut above the rest quite emphatically.
5. Career advancement
A BSc degree holder can significantly advance their career after completing an MBA. BSc graduates can either directly join MBA immediately after completing the BSc course or gain some experience and then join the MBA course. Completing MBA after a BSc course increases the chance of promotion and the range of employment options.
It provides you with a competitive edge over other graduates. Moreover, MBA after BSc computer science helps you to explore well-paying jobs in different sectors.
6. Ability to work in various sectors
One of the prominent benefits of pursuing an MBA after a BSc is that you can work in various industries and sectors. For example, you can work in education, healthcare, logistics, retail management, construction, etc. Other prominent sectors are IT, manufacturing, consulting, software, e-commerce, banks, government organizations, etc.
7. Acquire managerial skills
BSc graduates have the foundational knowledge of a specific branch of science, and this undergraduate degree itself is inclined more toward theoretical knowledge. MBA is considered more of a professional course and encourages learners to work on real-world problems related to the domain of business since management is a wider domain of study and covers varied sub-fields like entrepreneurship, business communication, and human resource management, amongst others. Thus, an MBA essentially equips students with managerial skills as well as problem-solving and decision-making skills, which are central to business management. MBA after BSc computer science
8. Diverse environment
The significance of diversity is increased owing to the advancements in the workplace. Many employees in business environments share identical ethnic or racial backgrounds. In this case, having multiple alternatives to try out is a smart choice.
9. Expand your network
One of the key benefits of pursuing an MBA course after a BSc degree is that it lets you expand your connections. Many graduates who have adopted this path expressed that it helped them to acquire new skills and knowledge. Many also expressed that it helped them switch careers to a different field through the business school's network opportunities.
Completing an MBA helps BSc graduates to start a business in the future. It helps them build connections with future entrepreneurs, ultimately providing great career growth opportunities. You can pursue MBA after BSc chemistry or other specializations of BSc and subsequently expand your network.
10. Improve your personality
The MBA curriculum imparts business management skills through a combination of practical and theoretical learning methods. It trains them to become expert managers.
BSc degree's curriculum mainly focuses on theoretical learning. On the other hand, the MBA curriculum involves students in presentations, projects, group discussions, internships, industry visits, etc. These activities equip students with industrial exposure and improve personality development. Indulging in these activities hones their communication and interpersonal skills. You can explore this benefit whether you pursue MBA after BSc biology or any other specialization of BSc.
Well-known MBA Specializations after BSc:
Various MBA specializations are available in various fields of BSc study. Some of the most popular ones include Technology, General Management, Media Communications, Arts, and more. You can choose from various specialized MBA courses whether you want to find career opportunities in your preferred industry or want to set up your business.
You can opt to study the general MBA or choose any of the famous MBA options. These options are listed below.
MBA in Information Technology (IT)

MBA in HR (Human Resources)

MBA in Communication

MBA in Healthcare

MBA in Healthcare Management

MBA in Pharmaceutical Management

MBA in Production Management

MBA in Laboratory Management

MBA in Hospitality Management

MBA in Biotechnology and Oil & Gas Management

MBA in Event Management

MBA in Travel and Tourism

MBA in Digital Marketing

MBA in International Business

MBA in Sports Management

MBA in Quality Management

MBA in General Management
You can choose a relevant specialization from this list if you want to pursue MBA after BSc chemistry.
Scope of MBA after BSc:
Candidates become more sought-after after obtaining a BSc degree. Their skills allow them to advance in their job. Many leading companies are in the hunt for MBA after BSc graduates with some years of experience. The prevalent scopes of MBA after BSc include manufacturing manager, facility manager, market research analyst, quality assurance manager, healthcare manager, and R&D executive. You can easily find relevant job opportunities whether you have completed MBA after BSc biology or chemistry, or other subjects.
Learn MBA Courses from the World's top Universities. Earn Masters, Executive PGP, or Advanced Certificate Programs to fast-track your career.
Our MBA Programs Include
upGrad offers some of the best MBA programs for students as well as working professionals. Through collaborations with leading institutions and cutting-edge technology, upGrad has been able to equip students and professionals with the right skills to excel.
The MBA (Global) degree is offered by upGrad in collaboration with Deakin Business School, an institution that comes in the top 1% of the B-Schools across the globe. Apart from top-class course content, enriching case studies, and an opportunity to learn with students across the world, it also offers 360° placement support and 1:1 mentorship from industry leaders. You would also earn a PGPM from IMT upon the successful completion of the program.
2. MBA in Digital Finance & Banking, Jindal Global University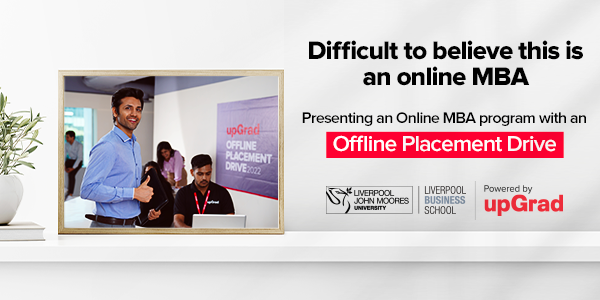 This two-year-long online MBA course in Digital Finance & Banking is perfect for aspirants who wish to enter the BFSI sector. It covers industry-specific topics such as Fintech Ecosystems Management, Financial Management & Valuation, Artificial Intelligence in Business, Blockchain and Cryptocurrency, Data Visualization in Finance, Digital Fraud & Risk Analytics, and Design Thinking & Leadership for Business. This is one of the best online MBA courses in India in DFB.
Featured Program for you: MBA from GGU
upGrad offers MBA courses that come with flexibility and world-class quality. If you are planning to do an MBA after BSc, then look no further. Come aboard for the best quality programs.