The COVID-19 pandemic has affected the global economy and healthcare infrastructures, but it has also changed the face of education. Be it elementary education or higher education; the dynamic has shifted from the physical classroom to the digital domain. As everyone is forced to stay within the bounds of their homes, students and teachers are connecting via online platforms like Zoom and Google Meet to engage in the exchange of knowledge.
Since we don't know when the curve will begin to flatten in our country, it can be safely said that online learning is here to stay for a long time. Does this mean that while you bid adieu to traditional classroom education, you have to say goodbye to higher education as well?
Not!
As the pandemic rages on, our lives haven't come to a standstill. We're still going about our daily chores, jobs, and education – only the approaches have changed. Schools, colleges, and other educational institutions have re-designed their delivery system l by transitioning to the online model. Thus, if you were aspiring to get that much-coveted MBA degree this year, you need not put it on hold!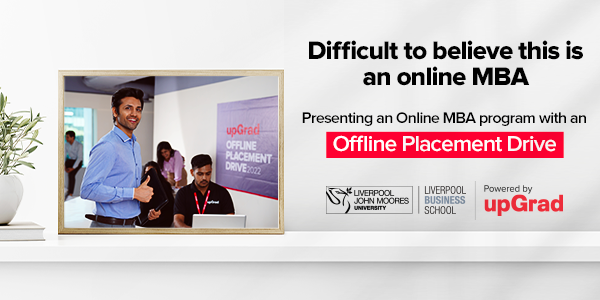 Plenty of educational institutions have come forward to deliver online MBA programs. Not just that, online MBA courses come in a variety of specializations too. So, you can choose your desired specialization path for your MBA degree. Apart from this, there are many other reasons to pursue an online MBA course this year.
Read: Why MBA in Marketing? Scope, Skills, Opportunities, Salary
Why take up an online MBA program?
Just as classroom learning has its benefits, online learning also has numerous unique advantages. Keep reading to know about the benefits of online MBA programs!
1. You Enjoy Immense Flexibility
One of the primary reasons why people choose to take up online MBA courses is because of the high flexibility they promise and deliver. Online MBA programs are particularly beneficial for working professionals who have full-time engagements but are looking to upskill.
Most online MBA programs have a carefully planned curriculum that strikes a perfect balance between synchronous (live classes conducted at a set time with attendance) and asynchronous (archived classes that students can complete at their convenience) learning sessions. Thus, online MBA courses come with highly adaptable and flexible schedules to sync well with your professional and personal commitments.
2. They are Highly Affordable
If you want to upskill on a budget, online MBA courses are just what you need! It is a well-known fact that the tuition cost of online MBA programs is much lesser than that of traditional MBA courses. Mainly, when you compare what you're getting from both the variants (classroom courses and online courses), candidates who take up online MBA courses take away the same learning that their counterparts do via on-campus programs.
Furthermore, many online MBA programs allow students to adjust the number of credits they wish to take per semester or for how long they want to extend the course duration based on how much of the tuition money they can afford to pay over time.
Not to forget that you can always take up part-time or even full-time jobs while studying for your MBA degree!
Get best MBA courses from the World's top Universities. Earn Masters, Executive PGP, or Advanced Certificate Programs to fast-track your career.
3. You Get Access to a Lifelong MBA Network
Anyone hailing from any educational or professional background can opt for online MBA courses from any part of the world. As a result of which students get the opportunity to connect and engage with a vast network of people hailing from diverse backgrounds. Just like classroom courses, online courses also encourage peer-to-peer learning.
Thus, by the time you complete the course, you end up making valuable connections with many people and carrying that with you throughout your life. While some students end up meeting with their potential employers and mentors, some even bag the chance at pursuing unique business opportunities.
The bottom line – online MBAs offer the benefit of developing lifelong bonds and mutual connections to fuel your career and personal growth.
4. You Learn to Work with Innovative Tools and Technologies
As we mentioned earlier, online MBA courses have a very well-structured and well-designed curriculum. They include the latest tech and business administration trends and methodologies. You experiment with a variety of tools and platforms like AI/ML, Business Analytics, Microsoft, Google, Facebook, and much more.
Hence, online MBA courses introduce you to the new age tools, technologies, and concepts, but they also train you on how to use them in real-world scenarios. This makes online MBA programs an excellent tool to facilitate both theoretical learning and practical training.
Since most high-level job profiles demand technological proficiency, online MBA programs promise to deliver on that front.
Read: How to do Global MBA in India? Everything You Need to Know
5. They Promote Intercultural Diversity
Online MBA programs have a diverse and extensive peer base who often hail from countries across the globe. Naturally, there occurs an intermingling and mixing of different cultures, thought processes, and experiences. Students get the chance to open up to new possibilities and new opportunities. As you interact with individuals of different ages, career paths, and national origins, you begin to consider adopting radical ways of thinking. This kind of diversity and intercultural experience is hardly ever found in on-campus courses.
Read About: Online MBA: Is it worth the cost?
6. They Are Now Widely and Globally Accredited
As an increasing number of educational institutions worldwide are shifting towards online learning models, the credibility and value of online degrees are also increasing. Many standard online MBA courses have now received accreditation from prestigious and reputed institutions. Thus, online MBA courses have received global recognition and are also being accepted by recruiting companies who hire MBA graduates.
Rest assured, with an online MBA degree. You can look forward to landing promising job roles in your desired industry.
7. They Bring Forth Promising Job Prospects
In the last ten years, online MBA programs have improved dramatically both in terms of curriculum and job prospects. The best part is that institutions such as upGrad offering online MBA courses have partnered with top players in the industry. This means that even online courses now promise placement assistance in some of the country's best firms. Since the learning and training experience offered by online MBA programs imitates the real-world digital workspace, students learn how to use digital platforms to their advantage.
According to experts, the post coronavirus job market might become much more competitive than it is presently. So, having an MBA degree will work to your advantage during these uncertain times.
Checkout: Best Online MBA Courses in India
8. They Boost Your Earning Potential
By now, you must be well aware that an MBA degree comes with a lot of perks and advantages. Apart from being a ticket to bagging high-profile job roles across various industries, an MBA degree promises high salary growth. MBA graduates with a few years of work experience often enjoy a steep bump in their annual salary packages. Not just that, they also stand good chances of being promoted up the career ladder.
Also Read: Best Online MBA without GMAT Requirements
Wrapping up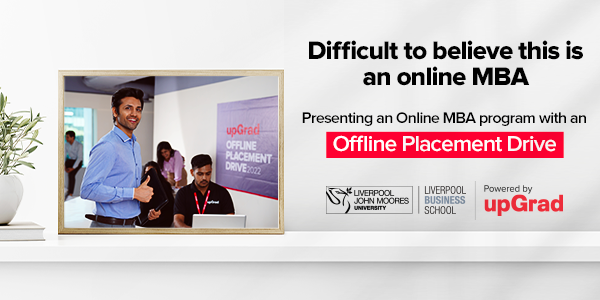 So, there you have it – eight compelling reasons to pursue an online MBA course this year!
If you are keen on upgrading your career with an online MBA course, explore upGrad's best MBA programs offering in our detailed Online MBA programs article.
Due to lockdowns across India, multiple universities and b-schools are now offering their MBA programs online. You can consider some of these world class MBA programs offered by top Business schools. India's biggest online learning platform upGrad offers MBA from Liverpool Business School with specialization in marketing.