The popularity of the "online" domain is not just limited to e-commerce and social media. Today, even education has taken to the online platform to grant people wider access to education. Among the many online educational programs offered today, MBA is one of the most popular and fast-growing online program choices for young aspirants – particularly for those who wish to make it big in the corporate world. The popularity of online MBA programs has reached such a massive scale, that even reputed B-schools all across the globe have joined the online bandwagon with their online MBA programs.
While online MBA programs have gained a strong foothold, one is faced with two pertinent questions before choosing an online MBA course –
Is an online MBA program worth it?
Does it offer the same value as a traditional, full-time, on-campus MBA program?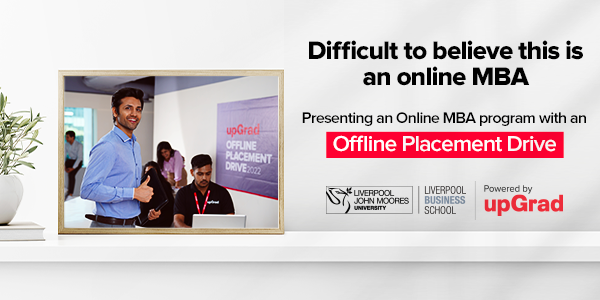 Let's find out!
Online MBA program vs traditional MBA program
The most important question that arises while comparing online MBA programs to traditional on-campus MBA programs is – how do potential recruiters view your MBA degree?
While earlier the ruling would incline towards traditional MBA degrees, times have changed now. Today, more and more employers are both accepting and respecting online MBA degrees. Many recruiters hire candidates those who have obtained an online MBA degree from a reputed B-school or institution. This is a pivotal deciding factor for many employers. Since an increasing number of B-schools are now offering well-designed online MBA programs, employers are beginning to trust the quality of online MBA programs. As a result, there's been a considerable increase in the number of candidates with an online MBA degree. Employers lay more emphasis on the quality of your education rather than the method of learning.
However, the acceptance of an online MBA degree is still mostly subjective. Even today, many employers swear by the conventional learning approaches. They believe that physical, classroom sessions are imperative to quality education. So, while it is true that the stigma around online courses being 'incompetent' is gradually reducing, there are still some people who prefer the traditional learning approach.
Is an online MBA program the right fit for you?
Before choosing an MBA program, you must first consider your present position. You have to take a close look at your financial situation, the amount of time commitment you can give to the MBA program, and your career goals as well as MBA goals.
First, you must remember that all online MBA programs are not created alike. Different colleges offer different kinds of online MBA programs. So, you will have to spend some time researching about various courses and see which one is in sync with your career and MBA goals. You should choose one offered by a reputed B-school since most of these courses are incredibly well-designed and taught by expert faculty members.
Second, you must understand your financial situation. The good thing about online MBA programs is that they cost much lesser than on-campus MBA courses. While the course fee for on-campus MBA programs can range anywhere between Rs. 500,000 – 25,00,000 (two-year course), the course fee for online courses usually range between Rs. 1,00,000 – 3,00,000. So, if you have financial restraints, online courses are a good option.
Third, you have to consider the learning style of the MBA course. If you are someone who learns better with online interaction and communication, an online MBA program will be the best idea for you.
Fourth, you have to ask yourself why do you want an MBA degree in the first place. Are you looking forward to making a career transition with an MBA degree? Do you wish to advance your position within your current company/organization? If the answer to these questions is a YES, opting for an online MBA program is the right choice since it will offer you the flexibility to retain your job while upskilling. However, if you are looking for a major increase in the salary package, a traditional MBA program would be better. This is because the salaries of on-campus MBA graduates are much higher than online MBA graduates.
Online MBA is an innovative version of distance learning. It is a decent option when the matter comes to working professionals or other people who dislike physically attending the class. After pursuing one of the best online MBA programs, professionals can upgrade their career graph.
Along with this -should I pursue an online MBA program?, another important confusion among people is -who can benefit from an online MBA program? The best online MBA programs come with a structured course syllabus that benefits students from different educational backgrounds. They are decent options for those who are far from the institute or working full-time jobs.
Students with hectic schedules can pursue an online MBA program to ensure they can balance their responsibilities. Some key factors that contribute to the success of an online MBA student:
They should be motivated to learn demanding management and leadership skills.

They should learn time-management skills.

They must be dedicated and own the ability to work independently.

They should have all the necessary technical equipment like a computer, a good Internet connection, etc.
Benefits of an online MBA program
Perhaps the biggest advantage of online MBA programs is that they offer a flexibility that on-campus courses do not offer. You can pursue the MBA program even while managing your other commitments like job, family, etc. Since the medium of learning is online, you can finish up with coursework at your convenient time slot; you can access study materials from any location, and you can work on projects and assignments while traveling home from your full-time job. You can manage your study schedule according to your life schedule and not the other way round.
Classes can be conducted during weekends and evenings. This allows students to continue working on their job while studying. Moreover, classes can be conducted from home, provided you have a good Internet connection.
During its curriculum, students can take classes at their convenience. One of the best online MBA programs can assist you if you are a full-time working professional or transitioning from the military into the workforce. You obtain deep knowledge about the program.
Another crucial advantage is that unlike part-time or full-time on-campus MBA courses, you will never be required to be physically present in a classroom. You will not even have to relocate to the institution facility to obtain an MBA degree. From study sessions and discussion forums to receiving feedback on your completed projects – everything will happen online. Also, while different colleges or B-schools follow different MBA entrance exams, online MBA programs almost always follow the standardized entrance exam like the CAT/MAT/GMAT.
Since online MBA programs are conducted online, students from all corners of the country or the world can take up the course. So, you will be learning alongside classmates hailing from a different educational/professional background, different cultures, different nationalities even. In the process, you'll make some invaluable contacts.
Other benefits of an online MBA program:
1. Costs less than offline MBA:
Online MBA programs cost less than traditional MBA programs. Note that tuition costs vary widely based on the program, institute, and accreditation. It can save you money in various ways. For example, the classes are conducted from home, so fewer transportation expenses will be incurred.
It comes with fewer infrastructure costs than offline MBA programs. The reason is it doesn't need classrooms. You don't have to pay fees for the uniform, library, bus, or other facilities. Thus, the best online MBA programs are quite cheaper than offline MBAs.
2. Equal accreditation:
One common confusion among students when deciding whether to choose an online or offline MBA is whether employers equally accept online MBA programs as offline degrees. Employers usually accept online degrees if the institute is accredited and has a good reputation. Employers appreciate the rising popularity of online courses, demonstrating that students stay encouraged to use effective management skills.
A few companies are reluctant not to recruit online MBA graduates. However, such employees must consider that online MBA degrees own equal accreditation as offline MBA degrees. This is another reason justifying why you should possess one of the preferred online MBA courses.
3. Access to cutting-edge technologies:
Online MBA programs try to implement cutting-edge business technology. The students learn the latest business technology and gain educational experience compatible with their needs and schedule. So, the learning becomes dynamic and interactive.
4. Imparts advanced management skills:
Many employers are on the lookout for MBA graduates with advanced management skills. These skills streamline their business process and incur them more profit. The online MBA courses improve students' management and leadership skills. These courses make it easy to recruit top talent and enhance employee retention in the company. Moreover, they create hierarchies that can assist the company in succeeding and effortlessly dealing with varying business situations with novel challenges.
5. Effective time management:
The students of online MBA programs understand the importance of time if they are working professionals. Many institutes offer online MBAs on the weekend to save time. If students can't attend class, they can go through recorded lectures and videos and thus learn MBA anytime.
6. Global opportunities:
Online MBA programs' prestige has significantly grown over the past 10 years. One of the reasons is that many of these programs try to attract as many international students as possible. Moreover, many online MBA courses provide a wide range of global business immersion programs. Certain institutes have set up satellite campuses in many other countries. Connecting with other students and faculty in international settings can greatly impact education.
7. Provides subject matter expertise:
An online MBA program can help you attain exhaustive knowledge that makes you more credible. It also boosts your leadership, managerial, and other skills. Earning a professional MBA online degree enhances a graduate's talents. This qualification offers you an outstanding credential that many companies prioritize over other educational achievements.
The best online MBA is ideal for students who understand what they aspire to do with their careers. It is also ideal for students who are dedicated to becoming managers and wish to build powerful skill bases in a specific area. Pursuing an online MBA course can help you dive deep into your area of interest.
8. Broad networking opportunities:
An online MBA program can help you build lasting connections that can unlock a wide range of job openings. Students who are presently pursuing online MBA courses have greater business opportunities. You can interact with peers and other professionals possessing years of practical experience.
You obtain a more profound understanding of the business environment by attaining access to a broader business network. Consequently, it provides better chances of landing your dream job. The best online MBA lets you connect with more people from different specializations without geographic limitations.
Concluding Thoughts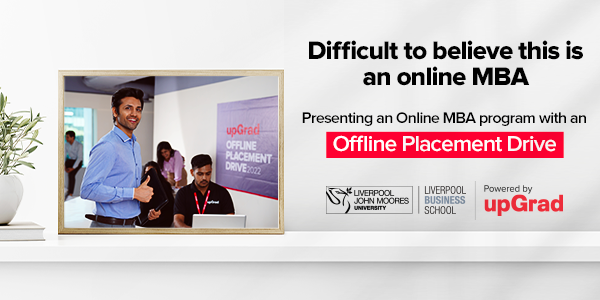 So, you see, online MBA programs have their unique benefits. Just as everything else, they come with a distinct set of pros and cons. Ultimately, the decision of whether or not an online MBA program will be worth the cost and effort depends solely upon your career goals.
Learn MBA Courses from the World's top Universities. Earn Masters, Executive PGP, or Advanced Certificate Programs to fast-track your career.
We hope this article has helped you gain some perspective about online MBA programs!