In today's world, we are highly dependent on mobile apps to procure services. Do you want to order food? Order it from the food ordering app. Want to book a ride? Choose from the various cab service apps. There isn't anything that can't be accomplished through mobile apps. Mobile apps are not only limited to lifestyle services but also expand to medical services and even education.
According to statistics, half the world's web traffic is through mobile apps.  Even more interesting is that according to the Ericsson Mobility Report, there will be a further 25% increase in mobile traffic by the end of the year 2025. The importance of mobile app marketing hasn't been this crucial as it is now. The question is why mobile app marketing is essential.
Why is Mobile App Marketing Necessary?
The scope of mobile app marketing is vast. Think about it this way; you decided to design a fully functional app that lets the user decide where they would like to go for a vacation and how much it will cost. The app runs smoothly, and the user interface is quite engaging and easy to navigate. But wait, how will your app stand out among the sea of apps in the app store?
This is where the importance of mobile app marketing comes into play. The competition among the app developers and companies has increased manifold to provide the best services and build a loyal customer base. Most companies and app developers start marketing their apps while they are in the nascent stage of development.
This gives the companies insight into what the potential user is looking for in the app that they are building. It also helps generate hype, and people want to look forward to it. Most companies let users pre-register for apps and games while it is still in development.
Learn digital marketing courses online from the World's top Universities. Earn Masters, Executive PGP, or Advanced Certificate Programs to fast-track your career.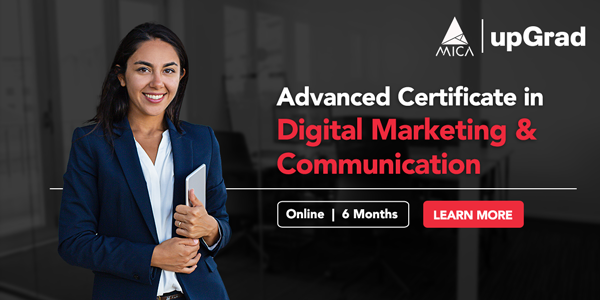 But your mobile app marketing does not end there; it actually starts from there. After creating a buzz among the potential users, you want to make sure they will install the app, use it, and maybe even review it and give good ratings. The importance of mobile app marketing even continues after the app has been launched; however, the marketing strategy changes. For this, a well-thought marketing strategy needs to be laid out while the app is still in the early stages of development.
The Best-Laid Strategy for Success
Wondering why mobile app marketing needs to follow a specific strategy? The importance of mobile app marketing lies in the way it is marketed across different platforms. When designing an app, it is crucial to make sure that it is not restricted to only one platform unless that is what you are aiming for. Making your apps compatible with different platforms helps in increasing app visibility and usage.
While designing the mobile app marketing strategy, it is crucial to follow certain aspects to ensure you are getting what you are aiming for. Let's discuss them:
The Right Social Media Engagement
Believe it or not, social media plays a massive part in advertising your product. Gone are the days when marketing was only limited to newspapers and hoardings. To market the product right, you must use the power of social media to increase visibility and target potential customers. This is highly helpful as it gives insight and makes sure that the potential users are still looking forward to the app as, generally, the mobile app marketing starts while the app is still in development.
Engage the Influencers
When influencers run social media in this age, it is a wise strategy to get them involved. Influencers promoting your mobile app can give it much-needed traction and visibility. You can do it after the app has been launched, and people can instantly download it and start using it. 
Don't Forget the Old School Marketing
Places to market your mobile app might have changed, but nothing can ever question the power of print media marketing and putting banners across the city. They are hard to avoid and are easily reachable to people who might not be active on social media. It is necessary that you plan a strategy for print media marketing. 
Optimise it for Different Platforms
It is a good practice to design the app for different platforms. Every platform has different ways of using keywords, and it is necessary to take advantage of those and optimise it accordingly. It is also necessary to pay attention to the little details like the app logo and the description content. 
Strategy to Get Traffic
If you are designing an app for your existing website, you will have to develop strategies to drive your website's traffic to the mobile app. The best method is to offer a certain discount when they make a purchase through the app. Your loyal website users will be happy to download the app and make the purchase. This will also help in converting the unknown users to known users and gather new users. 
Right Category for the App Listing
This part is crucial for the app listing. Suppose your app is an e-commerce app; hence it should be under the shopping category. Listing your app under another category like lifestyle or gaming will hurt its visibility. 
Best Online Digital Marketing Courses
App Pricing
When you design an app that you aim to make available for everyone, then pricing is something that one should give a lot of thought. It is better to go for reasonable pricing so that people would be willing to pay for it. You can also offer your users a free trial, so they can use all the features before they purchase.
Now that we have discussed the importance of mobile app marketing let's discuss why mobile app marketing is necessary.
Advantages of Mobile App Marketing
Higher Engagement
People cannot use certain websites at work due to blockers installed on their systems. Hence, mobile apps give them the freedom to access it wherever they want. Alternatively, not everyone is in front of a desktop at all times; thus, mobile apps play a huge role in people's lives. Mobile app marketing plays a massive role in increasing user engagement. 
Top Digital Marketing Skills
Catering to the needs of the User
No two users will have the exact requirement from your app, and it is highly necessary to market it in a way it is tailored for each user. A news app will have news from different countries, on politics, lifestyle, editorial columns, etc. As a user, one may only be interested in a specific country's political news or the latest from the technological front. A good app delivers everything that its users would need. 
upGrad's Exclusive Digital Marketing Webinar for you –
How Marketers can enable Sales for Success?
Communication Between the user and Company
Let's say a user wants to talk to a customer care representative of your company about an issue they are facing. However, they are not able to do so while on the app. They will have to log on from the desktop website or drop an email and wait for a reply from your end. Won't it be a huge roadblock for creating communication channels between the user and you?
A lot of companies provide customer support and chat options on the apps themselves these days. It makes communication much easier and faster. It also helps create trust between the user and you as it gives the impression that you are always there to help them.
Related Read: Mobile SEO Guide
Understanding the competition
One of the significant benefits of mobile app marketing is that it lets you understand your competition. Marketing the app also gives you an insight into who your competitors are and how you can design an effective strategy to retain users. This is why mobile app marketing starts at the beginning of the development, so if any changes are required, they can be incorporated while the app is still being created. 
It may seem a bit difficult but you can become an expert by following the Step-by-Step Guide To Become an Expert in mobile app marketing. 
Digital Marketing Free courses to Learn
Conclusion
In conclusion, the importance of mobile app marketing cannot be overlooked. As the world progresses, with almost everything available with just a finger tap on phones, it is highly important that mobile apps are marketed the right way to reach a wider audience. To answer why mobile app marketing is necessary, this is simply because it helps the companies and developers understand what their users want and deliver an app that fulfils their needs.
The importance of mobile app marketing is the same as the development of the app. Typically, mobile app marketing starts at the beginning of app development and continues after it has been launched. There are different ways to market your mobile app, and each plays an essential role in giving your app much-desired visibility.
upGrad is one of the largest online higher education companies in India and provides some of the best digital marketing courses like Advanced Certificate in Digital Branding & Advertising and Advanced Certificate in Digital Marketing and Communication that can help you in advancing your career. These courses will explain the importance of mobile app marketing and why mobile app marketing is necessary so that you can ace the race in the world of digital marketing. 
Popular Digital Marketing Blogs
Why is mobile app marketing important?
According to the Ericsson Mobility Report, nearly half the traffic comes through persons logging in through their mobile phones. App marketing provides customers with location-specific information that meets their needs. However, customers can gain awareness about your application, its offerings and the advantages it offers only if it is marketed well.
What are the most important steps in-app marketing?
Although there is no one-path suits all approach to app marketing, here are some steps that can make a difference: invest in social media engagement, engage influencers in the marketing process, invest in an effective offline marketing strategy, promote the app on different platforms, design an effective strategy to attract traffic, modify your strategy based on requirements and price the application reasonably.
What are the advantages of app marketing?
This is how investing in-app marketing can benefit app owners: helps in ensuring seamless communication between the user and the company, helps in customer acquisition, helps in better brand recognition, etc.
Ride the Digital Wave
upgrad and mica's advanced certificate in digital marketing & communication

LEARN MORE