It's really simple. We all know it. Good branding creates customer loyalty. Loyal customers will continue to support you in thick and thin. They will also pass on a positive message to other people they know. Their influence, in turn, will introduce new customers for your company… but, the million dollar question is, when should a company start promoting the brand? Should they put stress on this process right from the beginning? Or should they concentrate on branding after they have successfully curved some milestones in their journey? WHEN?
Let's take an example. We all love Starbucks. Their coffee is simply to die for. Do you know that this Coffee Giant had started as a small, independently owned coffee joint in Seattle? And the shop was just selling coffees at that point of time. Yes, people did love the taste at that time too, but the brand 'Starbucks' was not present. It was just a quaint little coffee shop, which was serving good coffee. But the minute Starbucks decided to change the perception of itself and developed as space which provides the feeling of community over a cup of coffee, the business story of the brand changed completely. Yes, the business story of the 'brand'. Starbucks became a 'brand' and narrated a brand story, projected a brand statement and the story completely changed.

So, branding is important. Management gurus always state, 'first build a brand. Then you're in business'. Think of any business that has a huge impact and you will actually end up thinking about the brand! Any business that sells things can do well, but those that create feelings and emotions become imprinted in people's minds. They also gain more visibility and sales that way than through traditional means of growing a business.
Brand Positioning – A Focal Point of All Marketing Efforts
Branding is often one of the first large investments a company makes. Simply put, branding is what the customers/clients can expect from the business. A successful brand identity sets any business apart from the competition and gives it an edge. It establishes the particular business as an expert in that very field and builds trust in its audience. But when should a company invest in a new brand identity?
Here are some pointers which will make you understand what might be the right time to get serious about your branding:
Start from the beginning:

The best time to start the branding process is when you just established a business. It seems a bit paradoxical, but a quality brand identity not only establishes your business as professional, it also attracts your ideal customers/clients. If you don't want to waste time, then you should start conveying your message + vision in its best light right from the very beginning.

New name, new identity:

If you recently changed the name of your business, then it's the perfect time to start branding/rebranding exercise. Typically, when a business changes the name, it goes through other transitions as well. This could include new services, a different approach to their existing services/products, or a revitalised outlook on their brand. With all of these changes, it is nice to also give your brand identity a fresh face. This new brand identity will also indicate the transition to your audience. It also provides an opportunity to build hype around the transition, and to explain the new direction of your business.
Answer These 4 Questions to Build a Brand and Not Just a StartUp!
Introducing a new portfolio:

If you already have an existing business, but recently decided to create new products/services, and then it could be wise to reposition your brand. You may brand these separately than your current branding, or completely restructure your current branding strategies and start a new one.

Merging businesses:

You didn't have a branding strategy at all. But recently have merged ways with a company to expand the business. Then it would be really helpful if you start a combined branding strategy. Once two companies merge, it is a great time to communicate the exciting transition to your audience. There are many ways to communicate the merge, one of which being a fresh brand identity. This can get a bit tricky as well, depending on the brand loyalty of the two businesses.
Future Marketing: The Ultimate Collaboration of Branding with AI
Best Online Digital Marketing Courses
Ready to up the level:

You might not have invested in a brand identity when you initially started your business. But in the course of time, as you have progressed, you will most likely reach a point where you will be ready to take your business to the next level. Once you are more serious about the longevity of your business, one of your first investments should be on branding. Quality branding builds trust, and will definitely allow your business to establish itself as professional.

If you don't, your competitors will:

In today's world of continuous competition, branding is no longer considered to be a 'luxury' investment, which businesses should think of when they are at least some million worth and a couple of years old. Companies should start projecting their products/services the moment they are up for production as you never know that the time you are investing only in creating a good product, your competitor may have created both a product and have started bragging about it too!
Top Digital Marketing Skills
Branding is actually a way of identifying a business. It is how the customers recognise and experience a business. A strong brand is way more than just a logo; it's reflected in everything from the customer service style, staff uniforms, business cards and premises to the marketing materials and advertising. A brand should reflect what the business stands for and what sets it apart from the competitors – it expresses the qualities, strengths and 'personality' of a business. Therefore, branding should be considered in the early stages of starting a business – launching a business with a strong brand will provide a greater chance of success.
Why Brands Need To Do More: Lessons from Google, Airbnb & Uber
Building a company and a great product that customers love is one of the hardest things one can do. Hence, don't let this be the testament of all your work: 'They had a great product that nobody ever heard of!'.
Learn Digital Marketing Courses online from the World's top Universities. Learn Advanced Certificate Programs to fast-track your career.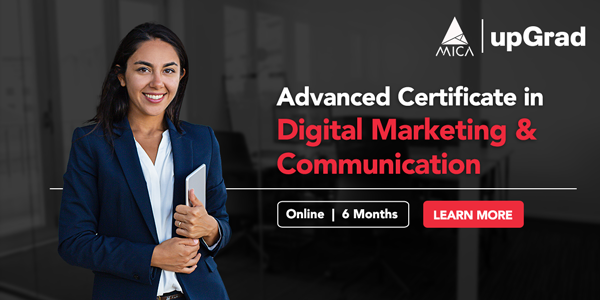 Digital Marketing Free courses to Learn
upGrad's Exclusive Digital Marketing Webinar for you –
What's new in Marketing?
Popular Digital Marketing Blogs
What is brand repositioning?
When a business changes the elements that customers expect or associate with their brand, it is known as brand repositioning. Brand repositioning happens when you modify or tweak your brand.

It could be something as big as reimagining the logo of your company. It could also be something as little as adding colour palettes to your brand motif.
What is a merger?
When two existing companies unite to form a new company, it is known as a merger. There are different types of mergers. There are also many reasons why companies agree to merge.

Usually, mergers take place to increase market share or foray into new markets. The primary objective of any merger is to increase the wealth of the shareholders.

There are five major types of mergers – vertical, horizontal, market extension, congeneric and conglomerate.
What is brand personality?
When a set of human characteristics is identified with a brand name, it is known as brand personality. Consumers can relate to a brand's personality. It comprises of a set of traits that are attractive to the brand's target audience. Brand personality goes above and beyond the functional benefits that customers associate with its products and services.
What is brand identity?
The visible elements of a brand are known as its brand identity. This includes the logo, design and colour of the brand. Anything that helps to distinguish and identify a brand in the minds of the consumers can be called brand identity.

Brand identity is not the same as brand image. All the activities that a company undertakes to establish itself in the minds of the consumers may be called brand identity. This includes training employees to interact with the customers, creating and developing the content in its market communication, designing its logo and choosing a name for the company.

The image that all these efforts create in the minds of the customers of the brand is known as the brand image.
Ride the Digital Wave