With the world going digital, it is no longer a surprise that Digital Marketing is booming now. Today, millions of people around the globe have access to good internet connection; they are increasingly resorting to digital devices like smartphones, smart devices, and IoT, for their daily needs. Social media and online platforms are further driving the craze for digitization. And given the fact that today, most consumers are living "online" on digital platforms, marketers can no longer afford to miss out on Digital Marketing.
As more companies are now joining the Digital Marketing bandwagon, the job outlook for Digital Marketers is multiplying unprecedentedly. According to the US Bureau of Labor Statistics, by 2026, the overall job demand in the domain of marketing is estimated to increase by 10%. So, there's never been a better time than now to opt for a career in Digital Marketing.
Although the path to becoming a Digital Marketer can be pretty challenging, with the right information and a strategic approach, you could carve your career path smoothly. But before you become a Digital Marketer, you must first understand –
What is Digital Marketing?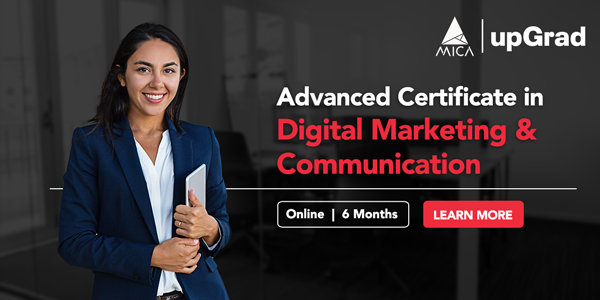 Digital Marketing refers to the type of marketing that is conducted via digital channels and devices to reach out and connect with both existing and potential customers. By leveraging digital channels like websites, social media, email, and search engines, marketers can promote their products/services to prospective customers and create brand awareness.
Unlike traditional marketing that focuses on selling products/services to customers, Digital Marketing aims to offer "value" to customers as and when they require. Being an intuitive and data-driven approach, Digital Marketing understands the needs of the target audience and puts before them such products/services that can help address their pain points.
Core skills required for Digital Marketing
Both SEO (search engine optimization) and SEM (search engine marketing) are integral aspects of Digital Marketing. SEO seeks to boost the number of website visitors by enhancing the search engine ranking of the website on the SERPs (search engine result pages). SEM incorporates SEO and other techniques to increase a website's visibility, primarily through organic searches.
Top Google AdWords Interview Questions and Answers
Content is everything now. Everything you find on the Internet is some form of content, specially curated and designed by Content Marketers to capture the attention of the target audience. If you don't put forward exciting, engaging, and relevant content, people are not going to visit your site. Apart from creating quality content, you must also optimize your content to fit well with different digital and social media platforms.
Social media (SM) is a standalone aspect of Digital Marketing. By leveraging various social media channels – Facebook, Instagram, Twitter, Snapchat, LinkedIn, Pinterest – marketers are supposed to engage and interact with potential customers. This requires posting relevant stories, images, campaigns, videos, and other forms of interactive content to attract the attention of the customers. A Digital Marketer must have a good understanding of which customer segments frequent which SM platforms and build marketing strategies accordingly.
Since Digital Marketers primarily work with digital platforms and data, they must be well-versed with the nitty-gritty of Google Analytics. Digital Marketing is not only about creating great marketing strategies, but it is also about measuring the success of those strategies. Google Analytics can offer insightful metrics associated with your marketing strategies/campaigns, which can further allow you to understand what works with your customers, and what doesn't.
Just as SEO and SEM focus on boosting website traffic and search engine rankings through organic searches, PPC (pay-per-click) focuses on doing the same through sponsored and paid ads. Together, these drive traffic to your website and also increase your ROI.
How to Become a Digital Marketer?
Here's how you can become a Digital Marketer in simple steps!
Get a Digital Marketing Certification
Digital Marketing Certifications introduce you with the fundamentals of Digital Marketing along with the best industry practices and tools. A digital marketing course offered by prestigious institutes provides an excellent supply of workforce to meet the effective demand. They not only teach all essential bits about digital marketing but also train the aspirants for the field. By obtaining a Digital Marketing Certification, you can enhance your professional credibility as well. Needless to say, certifications increase your earning potential!
Opt for an Internship.
Internships can be an excellent opportunity for industry exposure for freshers. If you wish to get a whiff of what you are going to be doing as a Digital Marketer, an internship enables you to expand your Digital Marketing portfolio. They allow you to work in a professional working environment with like-minded individuals. Also, as you get to work with experienced marketers in the field, you grow as you learn new things.
Follow Thought Leaders.
Behind every successful company, there's a thought leader. It's no exception with Digital Marketing. Find out the top thought leaders in the Digital Marketing business and follow them. Although they won't let you in on all their secrets, their success stories, tips, and tricks will help guide and shape you in your learning journey. You can subscribe to their channels/emails to never miss out on anything they put forth for upcoming aspirants like you.
Invest your time in networking
To become a Digital Marketer, you must become a part of the inner circle. Attend networking events, conferences, seminars, and meetups. These events pose a great opportunity to connect with like-minded industry professionals. Also, you get to hear some of the best experts in the domain share their experiences and stories, and be inspired by them. Apart from this, there are also workshops you can attend to learn new skills in Digital Marketing. Who knows, you might even meet your potential employer in one of these events!
Stay updated with industry events.
There are numerous resources to follow to help you stay updated with the latest happenings and trends in the Digital Marketing domain. For instance, Hubspot, Moz, Distilled, SEOGadget, Search Engine Land, Social Media Examiner, Social Media Today, and PPC Hero, are some of the best websites to follow. Then there's also Buffer and the Content Marketing Institute – these publish highly articulated and well-researched pieces on Digital Marketing.
Best Digital Marketing Courses Online
Get cracking on personal projects.
You do know that just listening to other people's success stories and advice won't get you anywhere in the real world if you don't dare to venture out alone? Once you think that you have a firm grasp on the basics of Digital Marketing, set aside some time to ideate on personal projects. Make clear outlines and design strategies to achieve your project goals. Don't be afraid to experiment with different Digital Marketing tools and techniques – if you don't test these out for yourself, you will never know what works for which projects and the areas where you need to improve.
Last but not least, never stop learning and upskilling. Digital Marketing is an evolving field, and hence, it requires you to harbor an unquenchable thirst for knowledge. As you continue to learn about the emerging concepts, tools, and terminologies in the field, you continue to grow as a professional. In the long run, it becomes easier for you to climb the promotional ladder.
Hope this helps!
Featured Programs for you – Advanced Certificate in Digital Branding & Advertising from MICA
In-demand Digital Marketing Skills
upGrad's Exclusive Digital Marketing Webinar for you –
How Marketers can enable Sales for Success?
Digital Marketing Free courses to Learn
Popular Digital Marketing Blogs