Blockchain is an emerging job skill in the IT industry. Technological advancements are gradually bringing this distributed ledger technology to the mainstream. Things like the decentralized web, popularly called Web 3.0, are coming up to make people-powered internet a reality.
Blockchain platforms have the potential to support trusted private transactions with data confidentiality. According to Gartner, these platforms would be scalable, interoperable by 2023, enabling smart contracts and cross-chain functionality across industries.
Blockchain-based jobs are obtaining great fame in the digital world. There are ample blockchain jobs in India that offer decent salaries to skilled blockchain developers. Since blockchain expertise is becoming one of the robust skills, many people are searching for suitable blockchain developer courses to effectively learn blockchain online.
Check out our free courses to get an edge over the competition.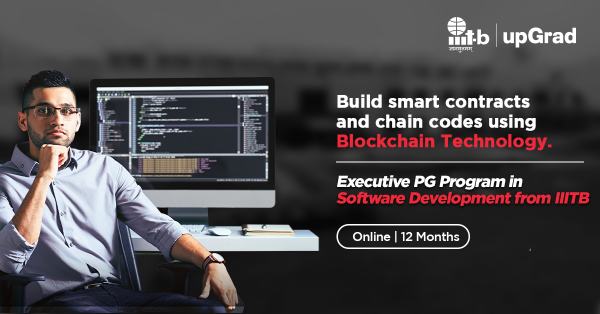 Explore Our Software Development Free Courses
Check out our free blockchain online courses
If you are aspiring for one of the best blockchain jobs in India, the salary package is not the only factor. Career growth, job security, and reputation make a career attractive.
Read on to know about the highest paying jobs in blockchain technology. If you want to know about the highest paying blockchain jobs, this article may help you. We listed the top 12 highest paying blockchain jobs in India. This list is updated and irrespective of your work level, beginner/entry-level or middle level, these will help you decide the direction you want to go in next.
Check out upGrad's Advanced Certification in Blockchain
Learn Online Software Programs from the World's top Universities. Earn Executive PG Programs, Advanced Certificate Programs or Masters Programs to fast-track your career.
Laying the foundation
Before we delve into the different types of occupations, let us first describe blockchain technology. The pointers below break down the concept in simple terms.
It is a series of immutable records, which are time-stamped and shareable.

The data is not owned by a single entity but managed by a cluster of computers.

Each data block is bound to other blocks with cryptographic principles, i.e., chains.

The ledger is open, and everyone is accountable for their actions.

Although an infrastructure cost may be involved, there is no transaction cost.
Therefore, a blockchain network is a decentralized, secure, and democratic system. It allows you to create accounts, transact, transfer, check balances, pass information, etc.
Check out upGrad's Java Bootcamp
Our Learners also read: Career in Blockchain!
Highest Paying Blockchain Jobs in India
1. Software Engineer
These professionals are programming specialists having a background in computer science, software design, or similar technical education in the sciences. Blockchain software engineers are generally employed in areas like smart contracts and banking. To enter the workforce, you would require a working knowledge of Solidity, cloud technologies, and database management. In addition to being one of the highest paying blockchain jobs in India, it is also a fast-paced one.
Salary:
Average software engineer salary in India is ₹517,126.
Top employers hiring software engineers in India:
2. Product Manager
As a product manager, you are employed in development, coding, and distribution roles. And your two primary duties are to lead time-sensitive projects and to manage the development budget. You need not have a programming background, but basic knowledge of coding languages and software would be helpful. The excessive & growing demand makes product managers land on one of the highest salary blockchain jobs in India
Besides, coordination tasks would lie at the heart of guaranteeing product release within the schedule and budget. So, management skills are also necessary. Typically, employers prefer engineering graduates with an MBA degree who have prior exposure to the relevant industry (media and advertising, finance, digital currencies, and so on). It has always been one of the best blockchain jobs in India, and dealing with money – yours and others – is the stuff of dreams.
Salary:
Average product manager salary in India is ₹1,677,971.
Top employers hiring product managers in India:
Explore our Popular Software Engineering Courses
upGrad's Exclusive Software and Tech Webinar for you –
SAAS Business – What is So Different?
3. Risk Analyst
One of the highest paying blockchain jobs worldwide, Risk analysts are concerned with achieving consistency with local and government laws. They usually work in the finance domain or with government enterprises. Besides assessing risks, they assist in programming, product improvement, information analytics, and project documentation.
The required training differs as per the job specifications. Excel proficiency, business sense, and extensive research experience are of the desired qualifications. The demand and salary for risk analyst making it one of the highest paying blockchain jobs in India.
Usually, risk analysts work in the finance domain or with government bodies. They are responsible for obtaining consistency with government and local laws. In addition to evaluating risks, they streamline tasks like product improvement, programming, project documentation, and information analytics. Their versatility is one of the key reasons behind their admirable blockchain analyst salary. Also, the demand for risk analysts makes it one of the highest-paying jobs in India, with a well-paying blockchain analyst salary.
Also read, blockchain career and its future scope
Salary:
Average risk analyst salary in India is ₹512,950.
Top employers hiring risk analysts in India:
4. Tech Architect
As one of the highest paying blockchain jobs, you should generally possess a specialized technical aptitude to introduce blockchain products. This is a precondition for participating in discussions and coordinating project efforts. You would have to utilize your communication prowess to act as an intermediary between the organization and clients.
Now, let us move on to the training aspect. A software engineering degree can help you gain the coding knowledge required for creating applications. It can also offer you an edge in relevant spheres, such as cloud and web-based services. If you want to brush up your organizational and managerial skills, you can also consider obtaining advanced certifications, such as a specialized PG Diploma or an MBA.
Salary:
Average technical architect salary in India is ₹1,842,986.
Top employers hiring technical architects in India:
5. Analyst Relations Manager
It is the job of a relations manager to establish the company's brand image and raise awareness about its innovations in the marketplace. Such external representation can take the form of media interactions, public relations, newcasting, and so on. Moreover, the internal teams should know about the technologies and their benefits to exude a positive view of the organization. The excessive & growing demand makes analyst relations manager land on one of the highest blockchain salary jobs in India
The relations manager should be well-aware of all the intricacies of the technology. Such understanding is critical to dealing with any technical questions and addressing the queries of non-tech stakeholders.
An analyst relations manager is responsible for improving a company's brand reputation and focusing on issues that hamper development. Generally, these professionals are tasked with newscasting, public relations, and media collaborations. The operational teams working under the supervision of a relations manager should be familiar with the advancements and their benefits to impact the association positively.
These professionals must be aware of various technology complexities. This knowledge helps them handle any specific inquiries and resolve non-tech partners' concerns.
It is a demanding blockchain career because analyst relations managers are offered admirable salaries based on their skills and experience.
In-Demand Software Development Skills
6. Business Analyst
This job is all about examining the viability of innovations and upgradations. A large portion of the work of business analysts is to evaluate technologies. To do this, they have to monitor market trends, discover patterns, and make several decisions regarding the brand positioning. It is one of the highest paying blockchain jobs in the market today.
They figure out what kind of products would appeal to the audience and utilize their coding, statistical, and analytical know-how to facilitate effective customer-facing services.
A business analyst's role is crucial in any project team. They work as the major interface between the project manager and the users. They collect information, document processes, and validate the documents with users.
If you aim to embark on a blockchain career as a business analyst, you must be aware of their key responsibilities as below:
Assessing business processes and requirements, discovering areas for improvement, and implementing solutions.

Supervising ongoing reviews of business processes and creating optimization strategies.

Staying updated on the latest process and IT developments to modernize and automate systems.

Conducting presentations and meetings to share ideas and discoveries.

Conducting requirements analysis.

Effectively communicating plans and insights to cross-functional team members and the management team.

Collecting critical information from meetings with different stakeholders and generating valuable reports.
Salary:
Average business analyst salary in India: ₹607,209.
Top employers hiring business analysts in India:
7. Crypto Community Manager
These professionals play a significant role in marketing and client interactions. They work as the network administrators who track and present engagement statistics over all channels, including Net and social media. Such tasks require deep comprehension of the project fundamentals, especially when it comes to handling client queries.
Educational requirements for this role are typically not rigid. Nowadays, many startups hire freshers who can learn about blockchain essentials and grow with the organization. If you are looking for practical exposure, small organizations can provide a suitable environment for building your capabilities.
Crypto community managers engage and communicate with the marketing team and customers. Their key role is to present interaction statistics on the Internet, social media, and other platforms. These tasks need a deep understanding of the project fundamentals, specifically customer concerns. They work as network administrators by tracking and presenting engagement statistics. Small-scale organizations can offer a suitable environment for various blockchain job opportunities with decent salaries.
Usually, the educational requirements are not so rigid for this job role. Currently, several start-ups recruit freshers who can know blockchain essentials. Small-scale organizations can offer a suitable environment to expand your capabilities if you are hunting for practical exposure.
8. Front End Engineer
It is the front-end of any website or application that appeals to your customer or clients. Whether it is an established multinational or a startup, the User Interface or UI should facilitate excellent interaction. A diverse range of options is available in terms of sector preference for blockchain web designers, from medical services to credit and finance.
As a blockchain front-end engineer or designer, your job would be to conceive and develop original UI ideas for mobile and web applications. You would use software like Sketch, Figma, and PS to perform your job duties. Besides being proficient in UX/UI design, good communication skills are central to working with content, marketing, and operational teams for front-end development.
Front-end engineers design, build and execute the user interface systems of software programs, websites, and web-based applications. One of their key objectives is to offer a pleasing user experience with zero errors, downtime, and issues. In addition to creating and optimizing systems, they test and troubleshoot too. Moreover, they can resolve issues related to browser compatibility and accessibility.
Usually, they serve as an intermediary between the backend developers and the users. There are great blockchain job opportunities for deserving candidates who can use relevant tools and platforms to acclimatize to real-world use cases.
Source:
Average front end developer salary in India is ₹488,096.
Top employers hiring front end developers in India:
9. Legal Consultant
As blockchain technology is coming under more regulatory scrutiny, companies need legal counsel in the initial stages. As a legal consultant, you would be responsible for guiding them on how to structure and govern their coin offerings. Additionally, you would oversee legal partnerships and contracts related to blockchain.
Blockchain legal consultants provide advice to bodies associated with product launches, crypto projects, etc. They handle the legal contracts by explaining to them the terms and conditions. They ensure their clients are fulfilling the regulatory guidelines of their native nation.
Their job requirements include a detailed understanding of the legal infrastructure in the blockchain industry. They may work with a country's regulatory framework related to crypto and finance. Moreover, they are knowledgeable about smart contracts. Blockchain legal consultants with these skills can access some of the best blockchain jobs in India. Web3 education is crucial because the Web3 industry continues to develop quickly.
Here are the eligibility requirements to become a Blockchain legal consultant:
A certified degree in law from an acknowledged institute.

Deep knowledge of tokens and trading to ensure the clients' token operations are supported through legal documents.

Ability to prepare commercial agreements adhering to the country's legislation.

How to use blockchain to leverage the technology without legal implications safely.

In-depth knowledge of smart contracts.
Various professional courses and training are available to develop the skills required for landing a career as a blockchain legal consultant. These courses and training prepare them to handle future challenging roles in their organization.
Smart contracts are excellent automation tools that can be executed on previously agreed terms. And businesses slowly realize the benefits of leveraging this emerging technology to their advantage. The excessive & growing demand makes legal consultants land on one of the highest salary blockchain jobs in India. With this perspective, an attorney may connect the crypto ecosystem with the current financial structure by providing the following services:
Drafting legal agreements

Conducting negotiations

Performing due diligence

Supporting activities of mergers, acquisitions, etc.
Salary:
Average legal advisor salary in India is ₹586,161.
How legal advisor salary increases over experience:
10. Blockchain Project Manager
This occupation is concerned with executing successful blockchain projects in any organization. Blockchain project managers are hired to convert the company needs into technical knowledge. They plan, supervise, and implement projects to realize specific goals. When a business is thinking about introducing blockchain, it is the in-house project manager facilitating the adaptation of the existing technology platforms to cater to the required changes.
Blockchain Project Managers oversee the Blockchain project team. They are responsible for the organization's blockchain database systems, processing systems, and cyber currency controls. Other responsibilities include processing security, overseeing cyber currency management systems, resource monitoring, reporting, and developing specialized programs.
These professionals coordinate blockchain processing software issues with other IT companies, including operations and applications.
Database systems and blockchain processing are crucial in any enterprise's systems. These systems should offer excellent reliability and performance. The blockchain project manager role is one of the challenging blockchain jobs in India because they are tasked to supervise the blockchain processing activities and ascertain that the systems perform at peak efficiency.
Read our Popular Articles related to Software Development
11. Blockchain Developer
If you pursue a career in blockchain development, several industries are open to you. These include financial services, government departments, and tech companies, all seeking talented developers to offer better services. It would be best to brush up the following skills before you venture into this field:
Microsoft SQL Server

MySQL

.NET

AJAX

Visual Studio

Javascript

JQuery

Node.js

REST

Neural networks

Regression

Agile Scrum

C++, C#, HTML, XML, etc.
Blockchain developers facilitate safe digital transactions by developing systems to record and save blockchain data such that it avoids data hacks or modifications. They develop secure blockchain technologies, application features, and interfaces. Furthermore, they maintain client- and server-side applications.
It is one of those blockchain technology jobs in India that demands great attention to detail. This is because blockchain developers need to collaborate with managers to discover blockchain technology needs and expected functionalities. Moreover, they write multi-threaded codes and use programming languages to create application features and interfaces.
12. Blockchain Quality Engineer
As the title suggests, a quality engineer ensures the quality of blockchain development and maintains adequate support for web, mobile, and platform engineering. These tasks cover all areas of automation frameworks, manual testing, and dashboards.
Blockchain quality engineers ensure that all blockchain spaces and their improvements are of top-notch quality. Their key roles include handling manual testing, automation systems, and dashboards. They check whether the developed application has any glitches or issues. If any bugs are detected, the blockchain quality engineers should address them to the relevant segment of the organization. Subsequently, they guarantee that the final product is devoid of any glitches.
A broad understanding of blockchain platforms' framework is essential to land one of the well-paying blockchain technology jobs in India. Moreover, critical thinking and reasoning skills are significant to further excel in a career as a blockchain quality engineer.
It has always been one of the best blockchain jobs in India, and dealing with money – yours and others – is the stuff of dreams. Employers give weightage to candidates with engineering and MBA degrees. Here are the main responsibilities include of blockchain quality engineers are:
Conducting research and advising on blockchain tools

Developing quality assurance or QA automated test standards

Devising strategy for load performance tests

Writing and implementing a test automation strategy
The must-have skills for a blockchain career
The scope for blockchain is limitless in the current global context. So, it is no surprise that the highest paying blockchain jobs in India show inclination towards individuals who continuously update their skill sets. Your critical thinking abilities, married with awareness about the latest market trends, can set you apart from the crowd.
If you are interested in blockchain technologies, you can prepare to get on the bandwagon with the essential toolkit summarized below.
Solidity, Ethereum, Hyperledger, Ripple

Mathematical proficiency with a basic understanding of algorithms

Knowledge of C, C++, Python, Java languages

Command over blockchain development tools – for example, Geth, Mist, Parity, Remix, Solium, BaaS, Truffle, among others)

Acquaintance with DevOps tools (Jenkins, Selenium, TravisCI, etc.)

Experience of cloud creation using Node.js, REST tools, web apps

Interacting with stakeholders having different backgrounds and perspectives

Exposure to Fintech technologies, cryptography, information science, and open source (OSS programming)
Most companies hire blockchain practitioners who hold at least a bachelor's degree in Mathematics or Computer Science. Implementation of open-source projects and a relevant postgraduate degree can set you apart in the job market. All in all, you need a technical background coupled with the curiosity to learn and explore more.
Blockchain Jobs Salary
As per the leading job search sites, blockchain-related openings come with an average pay package of Rs 8 lakh per annum. Blockchain developers can make anywhere from Rs 5 LPA to Rs 30 LPA. And professionals with three years of work experience can earn as high as Rs 45 LPA. For top seniority positions, the BFSI sector in India employs individuals who have demonstrated skills in security operations at salaries of Rs 4 crore a year.
IBM, Visa, Microsoft, and Deloitte Consulting LLP are among the top recruiters who hire blockchain experts in mid to senior-level roles. When it comes to remuneration, the geography of the job matters a lot. For instance, there is a considerable difference between what a blockchain developer or specialist makes in Asia vis-a-vis in Europe, UK, or Asia. So, let us now see how the pay range varies according to location.
Asia: $87,500 p.a.

Europe: $73,300 p.a.

UK: $90,000 p.a. (Startups pay between $50k and $60k a year)

US: 136,000
Besides full-time jobs, the remote and freelance markets are also abuzz with blockchain prospects. Employers publish several new posts on online freelancing platforms every day. According to an Upwork report, blockchain is on track to become the cloud of the 21st century. The average rate of pay for individuals in this space can range from $65 per hour to $250 per hour, depending upon the experience level and the type of assignment.
A stepwise guide for breaking into blockchain
If you are just beginning to explore blockchain technologies, you can structure your learning process in the following way:
Gain essential comprehension of blockchain: Set the foundation by answering some basic questions, viz. If there is no centralized arrangement, what comprises the blocks and chains? How do you reach a consensus?
Acquire knowledge of cryptocurrencies: Find out existing use cases of blockchain applications and get familiar with how cryptographic money functions. Additionally, you can delve into digital currency infographics.
Build your business acumen: Think about how blockchain can be utilized to drive business goals. Spend some time grasping how different teams and departments can work together and adapt to this new technology. If you would better social and people management skills for your job, explore learning avenues that meet those needs.
Learn new programming languages: Java and HTML are the bare minimum requirements. Try your hand at some modern programming languages to become a successful professional in the blockchain space.
Become an engineering expert: Perform methodical work to acquire advanced education in blockchain and application development spheres. Work out how diverse organizations adjust to different business situations and adapt via technological solutions.
Understanding of blockchain applications: Do some research on how blockchain is rearranging existing business operations and how innovations are working in synergy with other technologies to achieve scaling and profitability.
Augment your profile with hands-on experience: Take up a blockchain internship or an entry-level position in a startup to identify your interest areas while learning on the job.
Enrol in a specialized program: If you have already completed your undergrad degree and have worked in a technical field for a few years, you can opt for a postgraduate course in blockchain technology management. If you want to remain in your job while studying, consider the online executive options on upGrad.
The key takeaways
According to a Burning Glass Technologies study, the current demand for candidates with engineering and mathematical aptitudes surpasses the supply by 17%. And when it comes to blockchain, there is again a supply gap in the tech industry. The sooner you enter this field and master new skills, the better it would be for you to advance to positions with higher responsibility and pay.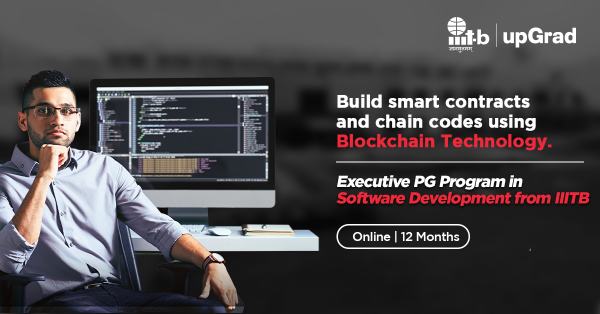 These are the top 12 highest paying blockchain jobs in India. Blockchain is shaping the industry as we know it. In this article, we described the responsibilities and salary range of some of the highest paying jobs in blockchain.
Finally, we looked at some of the leading blockchain recruiters around the world and concluded with a systematic plan to help you prepare for a career in network technologies.
If you're interested to become a blockchain developer and build smart contracts and chain codes, checkout IIIT-B & upGrad's Advanced certificate program in blockchain technology.