Ask any working professional about one platform that they use to achieve their career aspirations is, and nine out of ten times, the answer will be LinkedIn. Given the current pandemic, a platform like LinkedIn has become more important than ever, to help people suffering from job cuts and unemployment find professional opportunities. Even otherwise, it is a great platform to connect with people who can provide you with some incredible career opportunities or help guide you towards your goals.
It is a competitive world for students and as a beginner, if you are looking to find out the answer to the question, 'how to use LinkedIn for students', then we have some tips and tricks for you. 
So buckle up and let's explore how you can leverage this platform for your benefit.
LinkedIn for Students: Why and when to create a profile? 
So, as someone who just graduated college or has little idea about the platform, you must be wondering how to use LinkedIn for students, because the primary misconception is that it is a platform for only those who are looking for jobs. Well, that's untrue and here are a few reasons why:- 
LinkedIn is a great platform to connect and network with your peers and absolute strangers who share the same academic and professional interests as you. 
As a student, you can follow and stay up-to-date with news from organizations you are interested in..
You can get a general feel of the employment market and see what types of conversations take place on the platform.
You can start building your profile bit by bit and help increase your visibility in the field of your choice.

You can seek the guidance of seniors and professionals on the platform, look for internship opportunities, and of course, connect with recruiters for potential job offers. 
Now that you are slightly more convinced on why you should start your account, you must be wondering when is the right time to do so. Well, there is no textbook answer for this since everyone has a different journey. However, you can start your account once you start college. 
Learn Digital Marketing Course Online from the World's top Universities. Earn Masters, Executive PGP, or Advanced Certificate Programs to fast-track your career.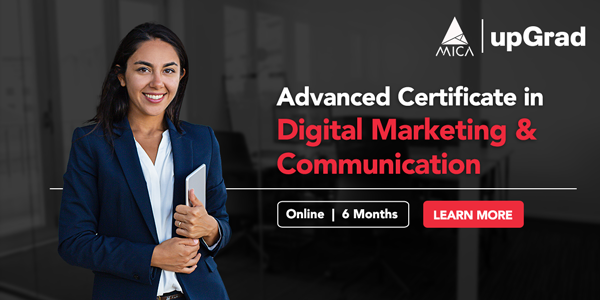 You can use your account to track your progress and keep adding every new achievement to your profile, helping you store your certificates and experiences all in one place. For example, let's say you did an online course on upGrad, which is India's largest online higher education company. Upon completion, you want to inform your network about your newly acquired skill. This would make for an ideal post on LinkedIn where you add a newly acquired skill to your profile. Learn to brand yourself well on the platform and showcase your talents and skills.     
Read: Future of Social Media Marketing in India
Best Online Digital Marketing Courses
How to network with people and improve your profile?
Students are usually clueless as to how they can build their network and improve their profile. Let's say you want to find people in a specific organization where you wish to work or intern, how should you go about it? 
Follow that organization on Linkedin, and you will see the profile of people who work there. Some may even be from your school or college, which always helps. Send the person a connection request with a personalized message, and in most cases, people reply. 
When it comes to improving your profile, some technical skills are always appreciated by recruiters. Working with data is increasingly adjudged as one of the top skills in the job market. In case you want to develop your digital marketing skills, take a look at PG Certification in Digital Marketing & Communication, and hone your talents.
Like most platforms, the more time you spend on the platform, the better you will understand how it works. So stop wondering how to use LinkedIn for students and start using it. Make your profile today, and the rest will happen when it has to happen. Good luck!
If you are curious to get into the world of digital marketing, check out upGrad & MICA's Advanced Certificate in Digital Marketing & Communication.
Top Digital Marketing Skills
upGrad's Exclusive Digital Marketing Webinar for you –
What's new in Marketing?
Digital Marketing Free courses to Learn
Popular Digital Marketing Blogs
How to use LinkedIn to find jobs?
LinkedIn now has more than 500 Million users, and two new users join the platform every second. Additionally, 44% of LinkedIn users make over $75,000 a year. It has also been reported that 41% of millionaires use LinkedIn. This makes LinkedIn the place to be if you are trying to grow a business or find high-quality career opportunities.

This first tip to finding a job using LinkedIn is to change your privacy settings. Secondly, you need to fully optimize your LinkedIn profile.
How to use LinkedIn if you are a student?
One of the best things you can do for your career success is to create a LinkedIn profile. Some social media experts are recommending high school seniors create a detailed profile. They say that this actually helps with admission into college.

If you are a high schooler or graduate student creating your LinkedIn profile; make sure to avoid statements like 'actively seeking work' or 'recent graduate, looking for career opportunities.' Instead, make statements like 'banding specialist, seeking marketing internship' or 'honor student, seeking a marketing position,' or even 'economics major and aspiring financial analyst.'
How to use LinkedIn to network?
Making the right kind of connections is critical for your career success. Whether you are an entrepreneur or a job seeker, connecting with other professionals in your network can lead to your next big career move.

Having a fully optimized profile before you start connecting with others on LinkedIn so that your profile is ready for traffic. You need to connect with the right kind of people. Randomly connecting with anyone that LinkedIn suggests will only bring about low-quality connections.
Ride the Digital Wave