The Blockchain Era is has arrived, and it is now. Enterprises across various sectors of the industry are warming up to the concept of the decentralized ledger. There's a global wave of Blockchain adoption among companies and businesses to address fundamental business problems. In fact, the adoption of Blockchain technology is occurring at such a rapid scale that Gartner predicts the business value of Blockchain tech will exceed $3 trillion by 2030.
Blockchain technology has a number of applications usable across many industries. The most popular uses are reflective in identity management, supply chain analysis, and smart contracts. This technology's complete range of benefits is set to see further discovery in the future.
According to a 2018 PwC survey conducted on 600 executives hailing from 15 different regions, nearly 84% of the respondents claimed to be leveraging Blockchain in some way of the other. India is also catching up with the rising trend in Blockchain Adoption. With both the government and private companies showing increasing interest in Blockchain, the job market in this domain is booming at present.
Check out our free courses to get an edge over the competition.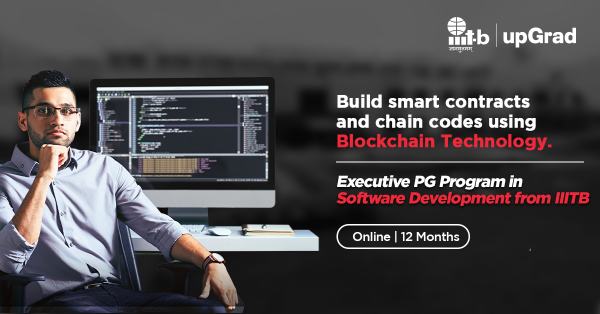 Explore Our Software Development Free Courses
A common search query online remains, blockchain developer salary and blockchain engineer salary in India, implying its emergence and growing interest among young aspirants.
Learn Software Development Courses online from the World's top Universities. Earn Executive PG Programs, Advanced Certificate Programs or Masters Programs to fast-track your career.
Check out our Advanced Certification in Blockchain
Who Is a Blockchain Developer?
Developing blockchain protocols, including developing a network that can be used for both data centralisation and decentralization, is the responsibility of a blockchain developer. Moreover, companies offer a good Blockchain developer salary to ask these professionals to be in charge of producing smart contracts.
To put it another way, the Core Blockchain Developer creates the foundation upon which others can develop. He utilizes web-based solutions built on the blockchain. Anyone who earns a reasonable blockchain developer salary in India is responsible for the company's advancement in blockchain technology.
The growing demand for Blockchain Developers in India
Being an emerging technology that has just started gaining traction in the past few years, Blockchain talent is challenging to find. Today, Blockchain is one of the fastest-growing skill sets with jobs in this domain growing at a mindblowing rate of 2,000-6,000% and the salaries of Blockchain Developers being 50-100% higher than conventional developer jobs. No wonder there are lots of questions around blockchain developer salary and blockchain engineer salary.
While the employment opportunities in Blockchain are many, there's a limited talent pool in this domain. The demand for Blockchain techies, particularly Blockchain Developers in India is not only being created by the BFSI sector, but also by healthcare, education, supply chain management, cloud computing, stock trading, real estate, and even government agencies.
Check out our Advanced Certification in DevOps
The job landscape in India is currently seeing a heightened demand for blockchain developers, making it one of the most sustained and fast-growing skills to flaunt. Average Blockchain Developer pay scales are at least 50 to 100 percent higher than that of a traditional developer.
The most in-demand Blockchain skills right now are Hyperledger, Solidity, Ripple, and Ethereum. However, since this space is relatively new, companies often settle for professionals with a specific skill set. For instance, Blockchain Developers must have a basic knowledge of mathematics and algorithms. They must be well-versed in C, C++, Java, and Python since a majority of Blockchain projects are written in these languages. The solidity developer salary India is high in those companies that are looking for Blockchain developers with Solidity as one of the key skills.
Also, Blockchain Developers must be aware of at least a few tools required for Blockchain development such as Geth, Remix, Mist, Solium, Parity, BaaS, and Truffle, to name a few. Also, they should have some experience of working on open-source projects. Usually, most companies hire Blockchain Developers having at least a bachelor's degree in Mathematics or Computer Science.
All data in Blockchain gets stored in the form of blocks instead of tables. This ability to create such a data structure from the basics is part of the skill sets of a blockchain developer. Knowledge of languages for programming such as C-Sharp, C++, C, Java, Scala, and Python are also required.
Most Blockchain certificates that the Blockchain Council offers are designed or intended for completion in the form of self-paced instruction. Generally, the course span ranges around 6-8 hours. Once you obtain certification, you get to gain a thorough understanding of the concepts of Blockchain and related implementation. You also get to demonstrate the knowledge and abilities in Blockchain you developed.
In the last few years, using blockchain technology for exchanging loans, cryptocurrencies, assets, and other things has proved to be a massive success. The versatility of Blockchain implies the soaring blockchain developer salary. In addition to the fintech industry, other industries like Agtech, EdTech, healthcare, etc., have started to include Blockchain in their financial services. Though India is not in a steady or legal position to manage cryptocurrency, a few industries have started implementing Blockchain technology.
Indian blockchain developers are demanding that domestic businesses prepare a digital transaction book that can't be modified or hacked. Companies use this advanced technology to offer supreme security for sensitive and confidential data against cyber criminals. Also, this technology avoids Cyber-attacks on computer systems. The blockchain jobs salary India is admirable because the Indian companies have acknowledged Blockchain as the forthcoming big generation of cutting-edge technology. It will modernise the entire process of business operation.
Blockchain developers are experts at developing and enhancing Blockchain technology protocols, building a network via Blockchain architecture for decentralised systems, and building Blockchain-focused online applications. Owing to these outstanding skills, these developers earn praiseworthy blockchain jobs salary.
Two types of demanding Blockchain developers in India are Blockchain software developers and Core blockchain developers. Moreover, Blockchain engineers are familiar with programming languages like Javascript and Python and other technologies like hyper ledger fabric, smart contracts, Bitcoin, Ethereum, Solium, Mist, etc. The blockchain engineer salary is decent enough for those Blockchain engineers experts in all these programming languages and technologies.
Explore our Popular Software Engineering Courses
upGrad's Exclusive Software and Tech Webinar for you –
SAAS Business – What is So Different?
Blockchain professionals are demanding in several sectors, including the supply chain, healthcare, BFSI sector (Banking, financial services, and insurance). The key requisites for becoming a Blockchain developer are a powerful base in algorithms and mathematics, detailed knowledge of programming, and an understanding of Blockchain technology fundamentals.
Candidates aspiring to become Blockchain developers must focus on learning foundational skills by pursuing a certificate program in fintech and financial blockchain. For blockchain developers aiming to enter the finance industry and earn decent blockchain jobs salary India, the fintech certification courses can help build a strong foundation.
The digital revolution has significantly influenced the finance industry. The growing technological advancements have generated a market gap between the demand and supply for skilled Blockchain professionals. Upskilling via certification programs in Fintech and Financial Blockchain not only offers a competitive edge to the learners but also guarantees decent blockchain jobs salary.
Our Learners also read: Career opportunities in Blockchain!
On the whole, a Blockchain Developer must have a solid technical background and be ever-curious in learning about new technologies.
The Salary of Blockchain Developers in India
Owing to the shortage of talent and skills in this domain, employers are always willing to pay high remuneration to Blockchain professionals if they are worthy. In fact, the salary of a Blockchain techie is way higher than an average IT professional. If you have the right Blockchain skills, you can make double, even three times the salary of what a Software Engineer makes in a year.
As more Indian companies and organizations are joining the Blockchain bandwagon, the average annual salary of a Blockchain Developer in India has a broad spectrum. Usually, the salary of a Blockchain Developer in India ranges anywhere between Rs. 5,00,000-30,00,000 LPA. According to estimates based on data with GlassDoor, the average national salary for Blockchain Developers in India stands at around Rs. 7,14,775 every year.
As is visible, the higher your experience and the more profound your skillset, the higher will be your yearly compensation. Also, the salary package depends on whether or not a candidate has advanced certifications and the job position as well (entry-level, mid-level, senior-level).
Furthermore, the salary packages of Blockchain jobs are highly dynamic. For instance, if a professional has around three years of Blockchain experience, the annual remuneration can be as high as Rs 45,00,000 or even more. This happens to be more than double of what a professional with five years of work experience (however, with no experience in Blockchain tech) would get.
Skillset is an important determining factor for blockchain developer salary. A strong foundation of distributed systems and networking is advantageous. Their salary varies based on one's knowledge of various decentralised applications, including Ethereum, HyperLedger, EOS, and NEO.
Apart from all these factors, having a certification is another key element contributing to admirable salaries. These certification courses help them demonstrate their abilities leading to increased scope of blockchain developer, ample career opportunities, and industry recognition. After gaining one of these certifications, the blockchain developer salary Chennai and other megacities of India can range from 5 LPA to 30 LPA.
In fact, one thing to take note of here is that the average salary in the domain, even for a fresher, is significantly higher compared to other job profiles.
According to Paul Dupuis, the MD of Randstad, India,
"Salaries for ready-to-be deployed techies with blockchain experience are twice that of a techie without blockchain expertise."
Reinstating this fact, Lohit Bhatia, the Chief Executive (Staffing) of IKYA Human Capital Solutions, states, "Salary offered to a blockchain techie with just five years of experience is almost at par with that of a general manager in a bank with three decades of experience."
As for senior-level salaries for technology roles (without Blockchain expertise) was around Rs 1.5-2.5 crore in 2018. However, as the need for security has increased considerably across various sectors, particularly the BFSI sector, companies are willing to pay over Rs. 4 crores to senior-level Security professionals and Blockchain techies.
There is a significant gap in the demand and supply of Blockchain professionals in India. Out of the 2 million Software Developers in India, only 5,000 professionals possess Blockchain skills. At present, public sector banks are leading the game by creating the highest demand for Blockchain Developers with about 4,000 specialists in this domain (as of 2018) compared to 2,300 experts in 2017. This depicts a 75% increase in the demand for Blockchain specialists. According to TeamLease research, there are about 2,000 Blockchain professionals in NBFCs and 2,400 in public sector companies.
Also read, Blockchain career and its future growth
Among the top blockchain jobs available in India, we have compiled a list of the most in-demand, as per rankings-
Blockchain Developers: Of course, this is the topper on the list, with salaries touching even a whooping Rs 82 lakh per year for highly experienced or skilled people. Blockchain developers help design the best solutions for establishing the new technologies to utilize superior expertise.
In terms of being a developer, you can pick from becoming a core blockchain developer or even a software blockchain developer. The top skills relevant to such profiles are clarity on blockchain architecture, understanding of cryptography, awareness of data structures, web development knowledge, and expertise in main programming languages including Java, Solidity, C++, and Python. The solidity developer salary India highlights the Blockchain developers' versatility.
Blockchain Architects: With such a profile, candidates can plan, oversee, and integrate multiple components in a blockchain system.
A blockchain developer should have an in-depth understanding of what blockchain is. They are later introduced with concepts like cryptographic hash functions and ledger technology. After learning all fundamental concepts, the scope of blockchain developer for a job in leading firms significantly increases.
One of the excellent methods to learn Blockchain fundamental concepts is reading the Bitcoin blockchain whitepaper. Adopting this method can unlock opportunities for admirable blockchain developer salary Chennai.
Blockchain developers should be able to apply data structures whenever required. Being a blockchain engineer, you would have to deal with various data structures and complex cryptography throughout your career. The ability to manage all these accounts for a decent blockchain engineer salary.
Blockchain Security Engineers: The profile has steadily become prominent over the years in the IT business.
Blockchain Product Managers: As blockchain project managers, you get to oversee projects and also help maintain contact between a company and the blockchain experts.
Blockchain UX Designers: UX designers work on creating distinctive as well as user-friendly interfaces.
Blockchain Quality Engineers: Such engineers look at all testing-related stuff around apps for performance evaluation.
In-Demand Software Development Skills
Blockchain Developer Salary In India: Based on Job Location
The amount of experience a developer has in the field of blockchain also affects their Blockchain salary in India. The likelihood of making more money increases with a city's technical sophistication. You will have more chances to prove your qualifications if you are prepared to move to a more senior position.
Here is a table representing the average salary of a Blockchain Developer in India based on their job location:
| | |
| --- | --- |
| Job Location | Blockchain Developer Salary Per Annum |
| Mumbai | INR 707,000 |
| Delhi | INR 599,000 |
| Chennai | INR 729,228 |
| Bangalore | INR 619,000 |
| Pune | INR 883,000 |
| Hyderabad | INR 500,000 |
Blockchain Developer Salary In India: Based on Job Role
The two criteria that determine job roles are. The candidate's background and the tech stack they are most familiar with. The pay based on experience has been discussed. Here is a table representing the Blockchain developer salary in India based on the various work roles:
| | |
| --- | --- |
| Job Role | Blockchain Developer Salary Per Annum |
| Integrations Engineer | INR 672,449 |
| Smart Contract Developer | INR 550,000 |
| Core Engineer | INR 450,000 |
| Smart Contract Engineer | INR 722,698 |
Blockchain Developer Salary In India: Based on Job Experience Level
It is a common belief in the sector that a developer's pay is based on the amount of experience he or she has. Depending on their level of domain experience, employees are divided into various categories. Let's examine the blockchain developer salary india for the various groups.
Blockchain Developer Salary For Freshers
Workers with no prior software experience and 0–1 year of blockchain technology experience are considered full beginners. In this instance, the blockchain developer salary in India for freshers may be roughly INR 600,000 annually.
Blockchain Developer Salary For Developers With 1-2 Yrs Experience
Workers with 1-2 years of software experience and 0–1 years of familiarity with blockchain technology are considered new developers. In this instance, the pay might be roughly INR 700,000 per year.
Blockchain Developer Salary With 2-4 yrs of Experience
Workers with 2-4 years of software experience and 0–1 year of familiarity with blockchain technology are regarded as experienced developers. In this instance, the pay may be roughly around INR 7,50,000 and INR 8,50,000.
Blockchain Developer Salary For Blockchain Master
Blockchain technology salary in india are considered according to the experience they have. 2-4 years of software experience and 0–1 year of exposure to blockchain technology. In this case, the salary might be around INR 800,000 and INR 900,000.
Blockchain Engineer Salary Based on Company
Here is a table representing the top companies hiring Blockchain developers and the average blockchain engineer salary each offer:
| | |
| --- | --- |
| Company | Blockchain Developer Salary Per Annum |
| Accenture | INR 10,00,000 |
| Bosch India | INR 11,00,000 |
| TCS | INR 6,00,000 |
| Tech Mahindra | INR 7,50,000 |
| HCL Technologies | INR 20,00,000 |
Skills Required For Becoming a Blockchain Developer
1. Blockchain Design/ Blockchain Architecture Design:
Firstly, Blockchain developers should have a strong understanding of Blockchain, its working, and how it's built. Without learning the design of Blockchain/Blockchain Architecture, these developers can't get a decent blockchain salary. Studying the same from courses/blogs is beneficial and time-saving.
2. Data Structures:
Blockchain developers should be able to use the data structures when they are needed. Many Blockchain developers are constantly experimenting with existing data structures, for example, Merkle trees, to fulfil their network requirements.
Learning Blockchain data structures can increase the odds of getting a blockchain developer salary Hyderabad. They can work with a wide range of data structures and complex cryptography to construct a safe system.
3. Cryptography:
Data architectures and cryptography are equally important. During blockchain development, several algorithms and hash functions like KECCAK256, SHA256, and others are used. Blockchain developers should be familiar with essential Cryptography related aspects required in their job profiles.
4. Smart Contract Development:
Smart contracts are programs that execute when determining criteria are fulfilled. Usually, they help automate an agreement's implementation to ensure all the parties can be immediately assured of the conclusion without any intermediaries.
In recent years, smart contracts have become increasingly crucial. Since business logic can be easily employed with Blockchain technology, the majority of Blockchain developers aim to incorporate it into their services. So, being an expert at Smart Contract Development can help you get a promising blockchain salary.
5. Web-Development:
One of the critical elements of becoming a Blockchain developer is developing and designing decentralised applications. Therefore, learning both the front-end and back-end web developments are critical.
6. Understanding of Enterprise Business Processes
Understanding enterprise business processes increase the odds of cracking Blockchain coding interview. The corresponding skills are essential for thinking and employing a plan for the solution.
Procurement, logistics, supply chain, distribution, treasury operations, and other associated areas demand a fundamental understanding. It helps impress an HR manager during an interview and finally land a job with a decent blockchain developer salary Hyderabad.
Topmost companies hiring Blockchain Developers in India
Hyperlink InfoSystem

Tata Consultancy Services

Infosys

Capgemini India Pvt ltd

Accenture

Tech Mahindra

WillowTree Apps

Zensar Technologies

HData Systems

Fueled
The Future Potential of Blockchain Technology
Blockchain technology has captured the imagination of industries worldwide, promising to revolutionize how businesses operate and interact. While its current applications in identity management, supply chain analysis, and smart contracts have shown immense promise, the future potential of blockchain technology is even more intriguing.
1. Decentralized Finance (DeFi)
DeFi has gained significant attention, offering decentralized financial services such as lending, borrowing, trading, and yield farming without intermediaries. This trend can reshape traditional financial systems, making them more accessible, transparent, and inclusive.
2. Tokenization of Assets
Blockchain enables the fractional ownership of real-world assets through tokenization. This could transform how we invest in real estate, art, commodities, and intellectual property. Tokenizing assets can provide liquidity, reduce barriers to entry, and increase market efficiency.
3. Supply Chain Traceability
While Blockchain has already been used for supply chain transparency, the technology's future potential lies in creating end-to-end traceability. Consumers could scan a product's QR code to access its entire journey from raw materials to the store shelf, ensuring authenticity, ethical sourcing, and quality control.
4. Healthcare and Medical Records
Blockchain could revolutionize healthcare by securely storing and sharing patient data across healthcare providers. This would give patients control over their medical records while ensuring privacy, data accuracy, and interoperability between healthcare systems.
5. Renewable Energy and Carbon Credits
Blockchain could play a vital role in creating transparent systems for tracking and trading renewable energy and carbon credits. This could incentivize sustainable practices and contribute to combating climate change.
6. Digital Identity and Authentication
Blockchain has the potential to create secure and verifiable digital identities, reducing the risk of identity theft and providing individuals with control over their personal information. This is particularly valuable in a world where digital interactions are increasingly common.
7. Voting Systems
Blockchain-based voting systems could enhance election transparency, security, and accessibility. This technology could help eliminate voter fraud and ensure tamper-proof election results.
8. Cross-Border Payments and Remittances
Blockchain's ability to facilitate near-instant cross-border payments could revolutionize international trade and remittances, reducing fees, transaction times, and reliance on intermediaries.
Blockchain Development Challenges
While offering numerous benefits, blockchain development also comes with its fair share of challenges and considerations. Here are some of the key challenges and considerations in blockchain development:
1. Scalability
Traditional blockchains like Bitcoin and Ethereum often face scalability issues due to their limited transaction processing capabilities. As more users join the network, the time and cost of transactions can increase significantly. Blockchain developers must explore solutions such as sharding, layer 2 protocols, and optimized consensus mechanisms to address scalability concerns.
2. Interoperability
The blockchain ecosystem is highly fragmented, with multiple platforms and protocols existing independently. Ensuring interoperability between different blockchains is essential to facilitate seamless communication and data exchange across networks. Projects like Polkadot and Cosmos aim to address this challenge by enabling cross-chain interoperability.
3. Security
Blockchains are considered secure due to their cryptographic principles, but they are not immune to vulnerabilities. Smart contract bugs, 51% attacks, and vulnerabilities in consensus algorithms can compromise the integrity of the Blockchain. Thorough security audits, code reviews, and continuous monitoring are essential to mitigate these risks.
4. Regulatory Compliance
Blockchain technology often operates in a regulatory grey area, especially regarding data privacy, ownership, and legal frameworks. Blockchain developers and businesses must navigate evolving regulatory landscapes to ensure compliance with laws while maintaining the core principles of decentralization and immutability.
5. User Experience
The user experience on many blockchain applications can be challenging for non-technical users. Wallet management, private key security, and transaction confirmation times can deter mainstream adoption. Improving user interfaces and simplifying onboarding processes are critical to making blockchain applications more user-friendly.
6. Energy Consumption
Proof-of-work (PoW) consensus mechanisms, as used in Bitcoin, consume substantial amounts of energy, leading to concerns about environmental impact. Transitioning to more energy-efficient consensus mechanisms like proof-of-stake (PoS) or delegated proof-of-stake (DPoS) is a consideration for blockchain developers to minimize carbon footprints.
7. Lack of Standards
The lack of universally accepted standards in blockchain development can lead to fragmentation and compatibility issues. Establishing common protocols, data formats, and development practices is crucial to fostering a cohesive blockchain ecosystem.
8. Data Privacy
Public blockchains store data in a transparent and immutable manner, which may conflict with privacy requirements in certain use cases. Developing solutions that allow for private transactions, data encryption, and permission access to certain information is essential for applications that deal with sensitive data.
9. Legal and Ethical Challenges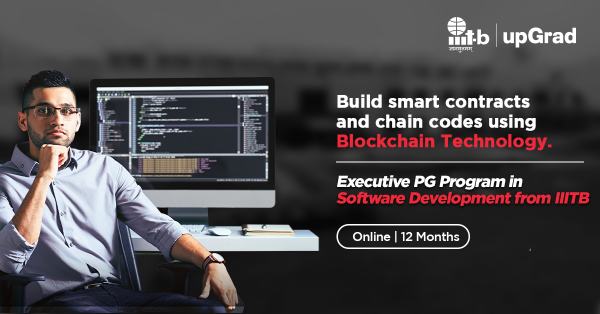 Decentralized autonomous organizations (DAOs) and smart contracts can raise legal and ethical questions. Determining liability, resolving disputes, and managing unintended consequences of automated code execution need careful consideration.
Read our Popular Articles related to Software Development
Wrapping up…
However, since Blockchain skills are mainly being developed and encouraged in-house by employers, hopefully, there'll be more talented Blockchain professionals in the near future.
If you are interested to learn blockchain and take your career to the next level, check out IIIT-B & upGrad's Executive PG Programme in Software Development- Specialisation in Blockchain.