When considering a digital marketing budget, it's critical to consider what it represents. It's a tool that a variety of companies and marketers use daily to improve their online presence and, as a result, increase sales and profits.
When it comes to budgeting for your online marketing campaign, various options depend on your goals while answering your query related to 'how much should I budget for digital marketing.'
While there is no such thing as a one-size-fits-all budget, there are several factors that can influence your overall success. The factors that influence the digital marketing budget are as follows:
How Much Should I Budget for Digital Marketing?
1. Measurement is the Key to Success
Knowing what you want to achieve with your digital marketing budget for 2022 is the first step to getting the most out of it. You should spend the next two years focusing on increasing brand recognition in the marketplace and ensuring that your customers understand who you are, what you do, and why they should buy from you.
The number of new leads you generate and the number of repeat customers you keep should drive your digital marketing budget in 2022.
In other words, you want to measure your success against your numbers and the success of your competitors.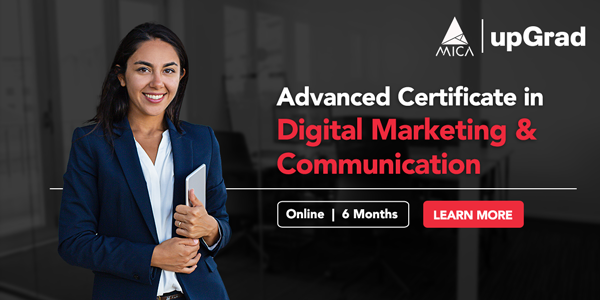 2. Allocate Budget with 70-20-10 Concept
Marketing is a vast field of expertise and to be effective, you need a proper marketing strategy. The 70-20-10 rule is fundamental to all companies that are into digital marketing.
You should allocate 70% of your digital marketing budget to the current scenario in 2022. The company must maintain a certain percentage for each year. And exceeding it would result in a significant financial loss.

Small details, which are at the forefront, must receive 20% of your budget.
Spending 10% of your time and money on "unique" products is a must for digital marketing.
Learn digital marketing courses online from the World's top Universities. Earn Masters, Executive PGP, or Advanced Certificate Programs to fast-track your career.
The 70-20-10 concept is an excellent place to start, answering your query about how much one should budget for digital marketing.
3. Start Setting Goals Early
The best thing to do is play well ahead of time, so you are confident when setting goals. Be sure your business has a firm idea of where it wants to be a few years into the future with this approach. Various factors work to ensure budget consistency when you have a specific expense goal, such as having everything figured out exactly.
4. Adapt your Approach as the Marketplace Changes
Since technology progresses relatively fast, it's easy to switch from one stage of a trend to the next. But you can't afford to be stuck in a position where you haven't fully explored all of your choices. In some instances, you may discover that the best strategy for your company isn't the one you're currently using. So, it's essential to change the plan as needed to remain ahead of the curve and adapt your strategy as the market evolves. With the same, your relevant query concerning 'how much should I budget for digital marketing' ought to get answered.
5. Search Engine Optimisation (SEO)
SEO is one of those buzzwords that everyone seems to be talking about. Few people understand what it means, how it functions, and why it is functional. If you want to do good search engine optimisation, you must first identify what you're doing.
You must first build relevant content before you can begin executing your SEO budget. To get the most out of Google's organic search results, you need to keep ahead of the trends.

Keyword research is essential for this because it helps you recognise your market areas that need further focus. It is also necessary to target your keywords if you want to have a long-term online presence.

Start posting to social media platforms like Facebook and Twitter as one way to accomplish this. Your website will receive a substantial amount of free traffic as a result of this.

Budgets for search engine optimisation and digital marketing are expected to increase in 2022. And going by the number of businesses facing financial problems currently, you may be able to lift your SEO budget and get answers to your query concerning '

how much should I budget for digital marketing

.'
Best Digital Marketing Courses Online
6. Video Marketing
You should consider investing in video marketing in addition to SEO methods to improve your online exposure and marketability. One of the most effective ways to drive free traffic to your website is by video marketing. Many people are unaware that video sharing sites like YouTube host some of the most popular videos on the internet.
This will help you include SEO in your digital marketing budget in the future. You may also use article marketing as a strategy. Your article will be published online with a link back to your website, picked up by other websites and will result in massive traffic for you.
upGrad's Exclusive Digital Marketing Webinar for you –
How Marketers can enable Sales for Success?
7. Keep your Company Information and Services up to Date 
You should think about several things to keep your company's information and services up to date for the budget for 2022. First, keep your company's website up to date with the following key features: Search engine optimisation, new product announcements, new services or products, press releases, or articles are all examples of new product announcements.
Second, save the most recent digital format documents, such as PDF, Microsoft Office, Excel, and PowerPoint. Third, you must keep advice, notifications, email addresses, and other important information up to date if you want to comply with the UK Information Protection Act (ITPA). Fourth, for the budget for 2022, make sure your company's information and services are up to date.
In-demand Digital Marketing Skills
8. Keep Track of Your Expenses
A majority of budgeting experts claim that you need to track expenses and organise them by category in an account based on everything you spend to know where your money is going. Additionally, you should know the total cost of a single project, activity, or product before you begin, including cost overruns. This is advantageous because it allows you better visibility into your digital marketing spend and to be able to control it more effectively.
9. Pay-Per-Click (PPC) Advertising
In 2022, businesses will use pay-per-click (PPC) advertising to budget for digital marketing, which will result in a variety of business outcomes. The best advertising campaigns are tailored to your account, objectives, and target audience. If you don't already have a budget in place, budgeting for digital marketing in the future can be a daunting task.
It is, however, critical to stay on track with your budgeting to see where your advertising dollars are being spent. If you have the correct ad budgeting in place now, budgeting for digital marketing in the future will result in many business outcomes for your company.
With pay per click advertising, you can budget in a few different ways. If done correctly, all of them are effective.

The keywords you select are critical to the success of this process.

When you bid on keywords, you will predict the type of traffic you will receive.

If you aren't quite skilled enough to perform these services yourself, you may want to seek the assistance of a PPC marketing services company. They will be able to assist you in determining the best bidding strategies and in testing various methods.

There are numerous success stories to follow when it comes to pay per click (PPC) advertising. Your business can become a significant success as long as you are willing to invest in this advertising type.
10. Email Marketing
Businesses should be on the lookout for new ways to use email marketing to attract customers. Email marketing is especially beneficial to small businesses, where advertising dollars are still scarce. The size and nature of the company should also be considered when creating a digital marketing budget.
Budgeting for digital marketing in the future is critical to any campaign's success. The first thing to check is whether or not the email marketing service is sending out emails. If not, set aside money for a separate list just for that.

The impact of social media on the business is taken into account when budgeting for digital marketing in the future. As a result, budgets should never be so tight that promotional advertising on other platforms is impossible.
Digital Marketing Free courses to Learn
11. Track your Metrics
Finally, you must budget for 2022 in your digital marketing budget so that you can track your metrics and fine-tune your strategy as needed. Metrics allow you to track your progress and determine what works and what doesn't.
When you're investing time and money into an effective marketing campaign, it's far better to make the necessary adjustments now rather than later, when you may not even realise you've made a mistake. The right digital marketing campaign can lead to a lot of future success and be the answer to your query concerning 'how much should I budget for digital marketing.'
Popular Digital Marketing Blogs
Conclusion
Budget For Digital Marketing with upGrad is an online marketing management software solution. upGrad's relevant course on Digital Marketing will help the reader gain more knowledge, manage and optimise their digital marketing budget. When it comes to budgeting as a small business owner, there are numerous factors to consider.
It also answers the relevant questions they may have about the benefits of using an online budgeting tool. This is especially true if you have a small marketing budget, limited resources, or a short timeline to meet your objectives.
The upGrad and MICA PG Certification in Digital Marketing & Communication course take on a holistic approach to digital marketing. By the time you finish with us, one thing is for sure – your horizon of knowledge will expand significantly and you'll learn to think and act like a true digital marketer. With so many perks and benefits, why should you go someplace else?
What to consider while budgeting for digital marketing in 2022?
There is no fixed formula when it comes to knowing how much to invest in digital marketing. However, keeping a few basic pointers in mind will help you finalize the right budget for your requirements. Once you are clear about the goals of your company opt for an agency that is confident about helping you achieve those goals, follow the 70-20-10 budget while allocating funds for digital marketing and consider the possibility of increasing or decreasing your budget as per changing market conditions.
What are the most important services to consider opting for as a part of your digital marketing efforts?
While the services you decide to opt for will depend on your goals and the time you can set aside to achieve your goals. However, it is worth investing in a few services that will support your digital marketing efforts that include Search Engine Optimization, Pay Per Click Advertising, Social Media Marketing, etc.
Is it worth advertising in Pay Per Click (PPC) Advertising in 2022?
This paid advertising is useful in the situation you want to reap results immediately. It allows you the option of bidding on keywords thereby selecting the traffic you wish to direct to your website. You can also select the objective and the objective of the campaign and how much time you would like the campaign to be live. If done correctly, PPC can help in speeding up the path to achieving your marketing goals.
Plan Your Marketing Career Now.