Introduction
Email marketing is still one of the successful digital marketing strategies to increase leads and generate sales. When used right, it can be a very good tool for lead nurturing, relationship building, and turning users into customers.
First, let discuss what is email marketing?
What is Email Marketing?
Email marketing is one of the strategies for communicating with prospects and customers through email. The intention of email marketing is to convert subscribers to consumers and retaining consumers for a long time.
Learn digital marketing courses online from the World's top Universities. Earn Masters, Executive PGP, or Advanced Certificate Programs to fast-track your career.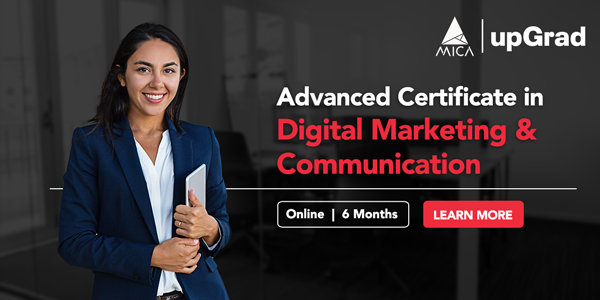 It can be easily spam if you consider only the sales in mind. That way, you can quickly lose your subscribers and can get blacklisted by email service providers. Don't use email marketing just to pitch your new products and services. Use email marketing as a channel to communicate with your subscribers, to educate them, to connect with them.
How Email Marketing Still Works?
Email marketing is a very old method compared to recent digital marketing techniques. It is not as attractive as social media. How does it still work? Why do you need email marketing?
Companies still believe in email marketing because it works. Simple.
According to Hubspot, email is the preferred communication channel for 86% users.
Email converts better than any other channel. According to a study by Campaign Monitor, email marketing has an ROI of 4400%. Email is 40x more effective than Facebook and Twitter combined. Shoppers spend 138% more when marketed through email, as compared to those who do not receive email offers. Source
According to Emarsys, 81 percent of businesses comment that email marketing drives customer acquisition and helps them retain 80% of their customers.
Email marketing is affordable. Even small companies can afford email marketing and it is not only restricted to big or medium size companies.
It can be personal compared to the other type of communications. You can personalize the email in a way that users can find it very relevant and relatable. You can personalized based on their buying patterns and preferences.
It also helps you to collect information in the form of feedbacks and surveys.
Not just for leads, it will help your traffic generation campaign. I, personally, love Quora digest emails for traffic generation. The selected questions are very personalized based on my previous searches and my feed and I wait everyday for the emails to reach my inbox.
With the help of categorization, you can easily send timely emails to the right people.
Not everyone checks their every social media account everyday but they do check on their inbox. Most people find social media ads annoying but not most of them feel the same about email marketing.
And, there are 3.8 Billion email users in the world. The window is too big to ignore.
With other social channels, you are in the mercy of their algorithm to show your ads to the users but in this case, you have your direct way with the users. You can decide when do you need to contact your users as well as how frequent it should be. You can keep on increasing the database, removing the unfit, change your strategy at your fingertips. If you are a beginner in digital marketing, and want to gain expertise, check out our digital marketing courses from top universities.
Read: Email Marketing Techniques You Should Follow
How to build your email list?
Creating your email list is crucial. The bigger the database, the better reach. How do you collect users email addresses? What are all the effective ways?
Use Opt-in Form to attract email addresses
Opt in email marketing is a process of getting users to sign up for your list by offering something exciting. You can set this form anywhere in your website. To make it perform better, find where most of your users browse in your website, and implement the opt-in form.
Exit pop-up is one of the methods websites use to put their opt-in form to compel users to signup by providing attractive offers.
You can also implement this in your about us page, your header or footer section, your opt-in page, home page, etc. You need to experiment in various places and have to find where it's working well for your website. It is not one size fit for all. You can A/B test your opt-ins to understand better about the performance.
Types of opt-in form
Pop-up: Pop-ups can be annoying but if you design them well, add relevant information, it can work for you. We have pop-up forms on our website as well. We use two different ways: Based on time and based on scroll percentage. It is as simple as it sounds. The pop-up will appear either after a specific amount of time or once the user reaches a scroll percentage.

Bar: It is just like how you get notification in Windows mobile. Marketers show their forms at the top of the website.

Full screen: Full screen optin is an overlay and it covers your entire content. It can be used in two ways. Either when the user visits your websites or when they leave your website.

Slide: Slide in forms appear on the bottom left or right side of the page. It doesn't cover your content so it's not as interrupting as pop-ups.

Sidebar: Sidebar is very common as most of the websites use it. In my personal opinion, it doesn't really work well compared to other opt-in forms.

Creating an optin page: Optin page lets users sign up for news, updates, and more. If you are creating an optin page, list down the benefits of signing up, disclose your privacy policy details, write compelling descriptions, add some social proof, compelling call to action button, and of course optimize the page for SEO.
How to make opt-ins form which converts better
Now you know the list of places you can implement your opt in form but how to design it in a way that it converts better?
1. Contrasting design
To avoid the optin form to blend in with the website and to make it stand out, use contrasting design.
2. Use animated effects
When use animated effects, it diverts your user from the main content and direct their focus towards the optin form.
3. Simple form
People don't want to give away too much information while filling the form. Also, they don't want to take so much effort filling the form. So, keep your forms as simple as possible. Only ask for the necessary information. The lesser the fields, the more possibility of completing the forms.
4. Compelling Reason
Users don't just fill in any form you give. You have to give them something in return. Something exciting for them which make hard to ignore. It totally depends on the intent and type of user. For example, for a hotel owner who is reading about hotel renovation, offering him a 101 hotel renovation guide will be tempting.
5. Subscribe button
Subscribe button alone is so important that people implement AB techniques to experiment which color works for them. Make it stand alone and big. The text doesn't need to be just 'subscribe', it can be an action phrase or something they can gain once they subscribe it like 'Improve your website traffic' or 'Get the renovation guide now'.
Also Read: Email marketing Examples For Your Reference
Mistakes to avoid in opt-in forms
Be straightforward with your headline. Let them easily find out what it is all about.

It is blending in easily. Not standing out.

You are not giving away anything in return.

Your call to action is not compelling enough.

You are not testing regularly to find out which is working and which is not.

The form is too long. It takes effort to complete it.

You are asking for too much information that you don't actually need.

The form is too annoying.

Your description is boring.

You are not providing any social proof.

Your form is very easy to ignore. Not grabbing their attention.

The form is not timed well.

The CTA is not relevant to the page the user is on.

It is not relatable to the user.
Best Digital Marketing Courses Online
Conclusion
Well, this is just the first part of the email marketing guide we are making. In the next part, we will see what is a lead magnet, how to utilize various lead magnets to increase the email list, how to optimize your email for a better open rate, how to avoid the spam folder and more. Let us know in comments about what are all other topics in email marketing you want us to cover in coming articles.
If you are interested to learn about digital marketing, upGrad is a great place to start your digital marketing journey.
upGrad's digital marketing course duration is 6.5 months. The course is fragmented into various modules consisting of theory, case studies, and live industry projects on topics like SEO, SEM, social media/content/email marketing, marketing analytics, campaign management, and marketing strategy, among other things.
The Advanced Certificate in Digital Marketing & Communication course take on a holistic approach to digital marketing. By the time you finish with us, one thing is for sure – your horizon of knowledge will expand significantly and you'll learn to think and act like a true digital marketer. With so many perks and benefits, why should you go someplace else?
In-demand Digital Marketing Skills
upGrad's Exclusive Digital Marketing Webinar for you –
What's new in Marketing?
Digital Marketing Free courses to Learn
Popular Digital Marketing Blogs