Digital marketing data analytics and Digital Marketing are undoubtedly the buzzwords of job seekers across the globe. One may think that the two are mutually exclusive – one for the mathematically inclined, and the other for the creative minds. This is the contemporary version of the unending "Arts vs Science" debate. If you are in the doldrums of trying to figure out which path to choose, or even if you want to change your style altogether – there's good news for you!
This is the Future of Marketing as time pass and more and more people get on the internet,so you got to upskill yourself with Digital Marketing Programs and if you are interested to learn data science, check out our data science courses from top institutions.
Digital marketing is all about creating the right content and promote; Data Science is all about leveraging content. What happens when you combine the two forces? The easiest and most pragmatic method to answer this question is to take a look at examples from the real world. 
Coca-Cola: The testament to Data Science in Digital Marketing
How do you implement a one-to-one personalized digital marketing strategy for a company that serves up 1.5 billion drinks to its customers each day? Coca-Cola took the digital-led loyalty campaign route and achieved precisely that. 
Working with the AI company FICO, the company implemented the My Coke Rewards program for its Coke, Diet Coke, and Coke Zero brands. The campaign was a massive undertaking that delivered content directly to consumers via mail, website, and mobile channels. With more than 11 million+ users, it quickly became the single most extensive marketing campaign the company ever worked on.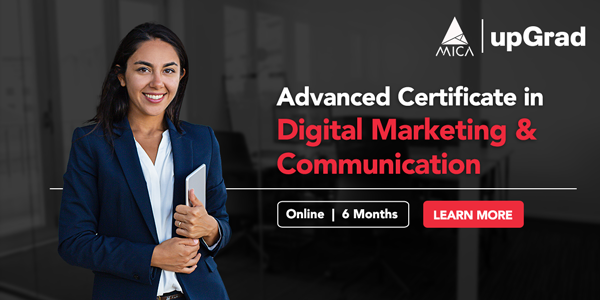 The rewards ranged from plain and simple gift cards and magazine subscriptions to quirky things like rental car upgrades and brunch with the Broncos. But what did Coca-Cola stand to gain from a simple rewards program? Data. 
With direct participation in surveys, quizzes, and more, Coca-Cola was able to clearly understand the perception of the brand directly from the consumers themselves. Traffic to the site was logged at 8.6 million visitors in Q3 2007, a 13000% increase from the previous year. 
What has Coca-Cola done with the data you ask? The straight answer is everything. From helping restaurants stock up appropriate items to creating targeted advertisements for varied demographics across the globe, Coca Cola utilizes their precious data in every stage of marketing now. 
There are no better words to summarise this success story than those of Justin De Graaf, Director of Data Strategy and Precision Marketing at the company – "We often talk about why we have two ears and one mouth – it's better to listen more than we speak. This holds with our approach to consumer input."
upGrad's Exclusive Digital Marketing Webinar for you –
What's new in Marketing?
A success story from the 2000s? How relevant is today?
The best part about Digital Marketing and Data Analytics working in conjunction with each other is that they create a beautiful, virtuous cycle as illustrated by the example above. A marketing campaign collects data, the data is interpreted, better products are delivered, and more targeted marketing campaigns are created again, more data is collected, and the show goes on!
Check out: Digital Marketing Project Ideas
How does data science in digital marketing benefit organizations and consumers today?
With more than 2.5 quintillion bytes of data being generated each data, data science in digital marketing is paramount now more so than ever. 
Here are two ways that data analytics is being used to optimize digital marketing strategies:
SEO and SEM
According to HubSpot, 89% of US internet users search online before making a purchase, even if they eventually buy local. The key to building organic traffic towards a website is to have a strong SEO and SEM strategy. SEO stands for Search Engine Optimization and SEM for Search Engine Marketing. 
Search Engine Marketing involves using paid advertising strategies to improve website traffic through search engines. 
Search Engine Optimization involves the implementation of strategies to naturally rank among the first few results of a Google search of relevant products/services.
Given the number of websites coming up and the increasing competition, it is no surprise that appearing on the first page of search is no simple task. Data analytics in SEO and SEM are some of the digital marketing strategies that companies like Airbnb are using today to improve their conversions.
Using data analytics and machine learning, companies analyze trends, values, characteristics among consumers to better their ranks on Google. Moreover, data analytics is a sure-shot way of understanding what works and what doesn't – essentially allowing the marketing team to make data-backed decisions. 
Best Digital Marketing Courses Online
Email Marketing
It may seem like email is a thing of the past, given the proliferation of social media across all demographics, but research says otherwise. 9 out of 10 marketers still use Email for marketing, and it works. An unheard-of number, email marketing delivers an ROI of $42 for every $1 spent! 
But, how does email marketing make use of data analytics? 
Using data science in digital marketing for email, organizations across the board can deliver personalized emails that click – literally! Personalized emails allow marketers to include valuable one-to-one information with simple things like addressing the name of the receiver. And sure enough, personalized emails see 29% higher open rates according to data from Salesforce.
Companies like Amazon use data analytics in email marketing campaigns to send reminders of abandoned carts, suggestions of products that are complementary to purchase history, providing offers and promotions for things that users have been searching for online, and so on.
In-demand Digital Marketing Skills
Referring back to the virtuous cycle, email marketing is also an excellent start for companies to collect data. Online firms usually send out welcome emails, promotional messages, and new arrivals emails to customers. Using data analytics, companies can decipher the number of people and demographics who clicked on an email, the number of people and demographics who visited the website after opening the Email, and much more.
This data can answer critical questions like who likes what products, who are interested in TG but haven't taken the plunge to make a purchase yet, who to promote emails more for the next season, what emails work, and what doesn't for which audience and so on. With this data, companies can build more targeted campaigns that deliver better conversions.
While these are just two small examples of data science in digital marketing, there's much more to explore. Analytics in the marketing segment is not new, and advances have been staggering. With the advent of easy-to-use no-code analytics tools, data science in digital marketing has now become the norm, rather than the trend.
Companies are now even tracking eyeball movements and mouse-clicks to design apps and websites! All in all, the happy duo successfully raises new products, services, strategies, and campaigns that learn from each other – time after time. 
Also Read: Digital Marketing Salary in India
Digital Marketing Free courses to Learn
Want to get in on the action?
Whether you want to start a career in digital marketing or data science, or even want to take the entrepreneurial route one day and own your own business, having both "Arts" and "Science" in your kitty of accomplishments can be undeniably beneficial. 
By leveraging data science in digital marketing, organizations can bring together forces that were traditionally incommunicado, to achieve the common goal – improve customer experience to bring in more significant tangible results.
upGrad, in partnership with MICA, has all the ingredients that you can bring together to develop your secret data science + digital marketing recipe. Upskill today with this course and rise to the challenges of tomorrow.
If you wish to explore and become an expert in Digital Marketing, check out MICA and upGrad's Digital Marketing Certificate Program. Become an expert in social media marketing, content marketing, branding, marketing analysis, and PR.
If you are curious to learn about Python, data science, check out IIIT-B & upGrad's Executive PG Programme in Data Science which is created for working professionals and offers 10+ case studies & projects, practical hands-on workshops, mentorship with industry experts, 1-on-1 with industry mentors, 400+ hours of learning and job assistance with top firms.
Popular Digital Marketing Blogs
How does data science help digital marketing?
The evolution in data science has helped organisations around the world to become agile and more efficient with their planning and execution of the job. In digital marketing too, integrating data science with digital marketing analytics can provide huge benefits. The top use cases of data science in digital marketing include customer segmentation, market analysis, real-time and predictive analysis of customer behaviour, speeding up planning marketing campaigns, curating personalised customer experience, optimizing different marketing channels and budget, and lead scoring Integrating data science and digital marketing leads to greater customer satisfaction and sales, the primary goal of every organisation.
How can you improve SEO using data science?
Using data science in SEO helps to visualise the trends in a better way, create marketing campaigns that can make a big impact in the market, identifying the right source of traffic and referral sources, identifying unusual patterns in website traffic, identify actual vs targeted audience, and identify low conversion pages that rank well and are good for improving organic traffic. Visualising data science helps you compare and contrast different data sets, process large volumes of data at scale, speed up the knowledge discovery process, reveal hidden questions, top conversion paths, spot common patterns.
When can data science methods be deployed in SEO?
The data science methods can be deployed in SEO for predicting the keywords that will help you to rank top in Google SERP, automatic generation of content through machine learning, aligning search engine optimization practices, selecting the right data source for more accurate data analysis, for A/B testing, labelling images using object detection algorithm.
Ride the Digital Wave