Who is this Digital Marketing Quiz for?
Are you an Entrepreneur with a fancy for Digital? Or a Brand Manager wanting to focus on Online Marketing? Maybe a domain expert looking to diversify her skill sets?
Well, this test is for everyone, conventional marketing professionals who are interested in Digital Marketing as well as new entrants who are looking to make a start in the digital domain. Experienced Digital Marketers between 4-6 years of experience also will find this challenging.

Digital Marketing Knowledge is hard to test, honestly speaking, what do you test in a Digital Marketer? Her capability to manage Lakhs of campaign budgets across Google and Facebook? Her ability to create a robust inbound engine that takes away paid marketing heavy lifting to ensure a sustainable CAC? Or her ability to optimize landing pages, create killer email drips and be a pro at Analytics? If you are a beginner in digital marketing marketing, and want to gain expertise, check out our digital marketing courses from top universities. 
17 Essential Digital Marketing Skills which will help you Rock!
We at UpGrad's Digital Marketing Program team were pondering the same questions, which lead us to create this Cross-Channel Digital Marketing Program.
After some passionate debates among domain experts, we agreed is that a true Digital Marketer is someone who can fit all the pieces back to the puzzle!
What to Expect in this Digital Marketing Quiz?
Well, we have created an adaptive learning test, which first takes your input on how well you think you know Digital Marketing. The consecutive questions adapt on the basis of your performance. So even for beginners, this test is a great experience to discover the scope of Digital Marketing. For pro Digital Marketers, this may end up becoming an addictive challenge you love to solve.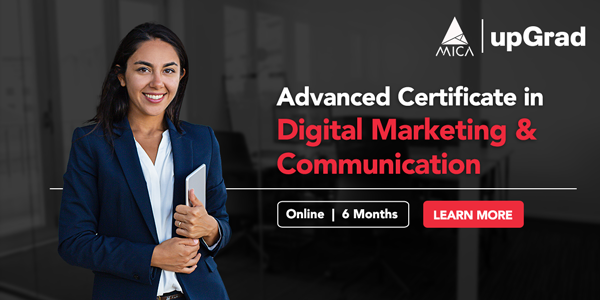 Be ready to expect anything and everything starting with an email drip campaign to A/B Testing, to Programmatic buying!
Friendly advice: Don't bother searching these questions on Google, you won't find them! You could try to crack the test multiple times, and we will appreciate your attempts. 😉

Top 15 Digital Marketing Interview Questions
Best Digital Marketing Courses Online
What happens if you perform really well?
We've kept aside some really awesome goodies and gift vouchers for the top scorers. But that's not it, we'll also be giving out scholarships to a select few of our 5 Month Digital Marketing Online Program. So spread the word to all Digital Marketing enthusiasts out there!
If you want to learn and work on real projects, engage with industry mentors & receive a valuable certificate, check out MICA's Advanced Certificate in Digital Marketing and Communication specialises in Branding, Social Media, Content Marketing and Analysis.
In-demand Digital Marketing Skills
upGrad's Exclusive Digital Marketing Webinar for you –
What's new in Marketing?
Digital Marketing Free courses to Learn
Popular Digital Marketing Blogs
Who can learn digital marketing?
Since digital marketing is an extremely versatile career option, anybody can pursue it. In today's digitised world, knowing the nitty-gritties of digital marketing has become the need of the hour. Whether you want to grow your own business or help another person's business flourish, it is worth learning. The field is open to students, brand managers, entrepreneurs, IT professionals or individuals who are looking to make a career switch. To learn digital marketing, the minimum eligibility is having a bachelor's degree in any field. You can choose between short-term and long-term courses. Once you learn the basics of digital marketing, sky's the limit as there is tremendous scope.
Which are the popular digital marketing programs offered by upGrad?
upGrad in association with Mudra Institute of Communications, Ahmedabad (MICA) offers two advanced certificates in digital marketing. The six-months program focuses on digital branding and advertising whereas the five-month one focuses on digital marketing and communication. To be eligible for the program, a bachelor's degree is mandatory. Some of the topics covered include branding and communication, marketing analytics, social media, SEO and content marketing. Despite being an online program, students can benefit from live projects and case studies, one is to one feedback, interview preparation and fortnightly coaching by industry mentors.
Why should I enrol myself in a digital marketing course?
Digital marketing has become the most sought-after career option today. Some reasons you must enrol yourself in a course include – it is a cost-effective option with a great return on investment, the career scope is wide, it is a flexible industry that allows an individual to work at their own pace, and lastly it is an evolving industry that offers tremendous potential. Owing to COVID-19, everything has gone online which has further given impetus to the digital marketing industry and has enhanced the demand for digital marketing experts.
Ride the Digital Wave