The basic responsibility of a product manager is to manage the progress of a product throughout its lifecycle, right from the initial phase up to the time it reaches the customers. It is a diverse role constituting various smaller roles. Hence, Product Management deals with the complete development of a product. A product manager needs to strategize the development of a product, analyze it from various aspects, test the product, market the product, and eventually act as a business executive.
Each product manager may have their outlook towards going about their job. Product managers might need to develop a product for a company's employees or their partner companies. This requires a PM to work very closely with the development, forecasting, analyzing, marketing, and sales teams. Let us take a look at a few product management examples to better understand how a product can be developed overall.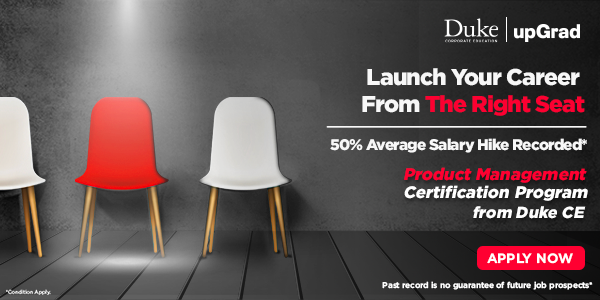 Study Product Management Courses online from the World's top Universities. Earn Masters, Executive PGP, or Advanced Certificate Programs to fast-track your career.
Check out our management courses to upskill yourself.
Examples of Product Management
One of the earliest examples of product management has to that of the 1930s. A junior executive had to advertise a soap brand named 'Camay' by the company Proctor and Gamble. This soap had to compete with the 'Ivory' brand, the more dominant one. He came up with the idea of creating a designation called the Brand Man. The brand man would manage one product entirely, right from the production, to the marketing, and the sales.
Even the products of Google might involve product managers. Email service or Gmail is a product of Google. Its various parts can be considered as smaller products that make up a larger one. These smaller products need to be managed by the product managers individually. Each smaller product needs to be handled with equal importance. Only then can the final product function properly. Hence we can say that product managers are an integral part of the modern-day product line.
Read: What do Product Manager do?
Another one of the product management examples is the conceptualized plan to make apps like Uber more engaging. The main objective here is to enhance the engagement factor of these apps for increasing business. The demand of the customers switches depending upon the context. While waiting for the cab, customers want a shorter wait duration. After boarding the cab, the demand shift towards having a peaceful or hassle-free cab ride. While sharing a cab, most people do not engage with their fellow passengers.
Explore our Popular Management Courses
The proposed idea lets customers play a small trivia quiz while waiting for the cab, or while in it. The idea is to bring together the co-passengers. While travelling in a shared cab, the trivia lets the customers play individually or with each other as a team. This game is a part of the cab booking app itself. It starts the moment customers book a cab. The timespan for each quiz must be short enough to be finished within the ride. The customers can redeem the points won.
Read: A complete guide on product manager career path
The business goal for this inclusion would be to engage the customers while travelling. It would also increase the customer's loyalty towards that brand. The financial aspect can also be boosted by ads within the game. For making this possible, product management is critical. The product manager needs to understand the customers' demands as well as the company's business targets. They must then design a roadmap to successfully inculcate this feature within the app itself. The product manager also needs to market the newly added feature to draw people's attention towards it. Once the feature gains momentum, the product manager also needs to keep a track of the feature's proper functioning.
Top Management Skills to Learn
Product management examples also include the branding and customer communication required to launch a new product. Each product, in its nascent form, requires proper branding. This creates awareness about the product in the market. Advertising and PR handling also fall under the umbrella of product management. Branding, advertising, launching, and marketing a product requires proper planning. A product manager needs to handle all the responsibilities.
Top project management skills to learn – Why and How
While you must have seen the top skills required to become a product manager, here are some of the essential skills. Here we also discuss why and how you can acquire them.
1. Effective communication is key
Why

– Being an effective communicator is the first step to

become a product manager

. This requires you as a manager to be clear and approachable. Your team is more likely to follow your vision and be successful in their individual responsibilities if you can communicate your ideas clearly.

How

– The best part is that effective communication is a talent that can be acquired. It can help to join public speaking organizations, take business writing classes, and become more conscious of your preferred communication style overall. A multitude of technology is also available to assist you in communicating with your staff and providing them with clear instructions. This is one of the first and most important steps of

how to become a brand manager

.
2. Manage your time
Why

– One of the most useful management skills you can master is being engrossed with your team's rising time management without being the micromanager. The efficiency of your staff is crucial to their overall performance. They should be guided in their decision-making and in the projects they opt to work on by your high-level strategic thinking.

How

– Be involved with and inquire about their methods, equipment, and procedures: Do they meet their demands, and are they the most effective? Help them consider any external requests they accept from other teams as they reflect: What is at risk if they do, and how can you teach them to refuse? In charge of assigning jobs a priority depending on the company's goals: Encourage them to consider their project or strategy selection in light of the objectives they must accomplish.
3. Make your employees feel appreciated
Why

– If you're wondering

how to become a brand manager

, this is one of the top skills you need to develop. We are all aware of the power of a positive word. A few strategies successful managers use to assist their teams include saying "thank you," recognizing a job well done and taking some time to discuss their employees' triumphs with others. However, not everyone reacts to these behaviors similarly. Effective managers use various tools when it comes to employee appreciation. Read any

product management case study

to understand the importance of this step.

How

– This skill is something you can practice in your everyday work and personal life. Appreciate the work your employees and colleagues are doing and notice a pattern. If you notice a positive change in their work or if they are doing more work in a limited amount of time, you will know that this method is working.
4. Problem-solving skills are a must
Why

– Your team and you will unavoidably experience obstacles and problems. Time not spent encouraging learning or coming up with solutions is time wasted. Trying to figure out who's to blame or obsessing about the problem will not help anyone come up with a solution. It helps to have confidence in your ability to make decisions, think critically, and solve problems, but educating your team to develop these same leadership traits is more important when it comes to management.

How

– Conflict resolution learning can take time since it demands managers' self-assurance and, quite simply, a mixture of several other skills. When conflict develops, we must be able to address it head-on since doing so requires that we feel secure in our own skin and aware of our own accountability. Any

product management case study

will reflect on the importance of this skill.
Also Read: Skill required by Product Manager
Our Top Management Articles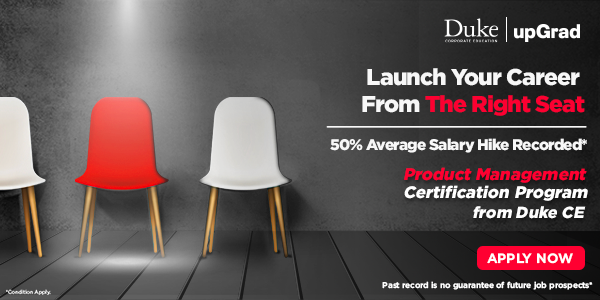 upGrad's Exclusive Product Management Webinar for you –
How to craft GTM Strategy for a Product?
Wrapping up
The demand for Product Managers has risen by leaps and bounds in recent years. Paying attention to the needs of the customers as well as the company is necessary. Like most other careers, Product Managers need to acquire certain skills to increase their value. To acquire these skills, they require proper training. upGrad offers Post Graduate Certificate in Product Management to help you build a career in Product Management.