Moment marketing for brands has become a mainstream phenomenon in the past few years. And while many people assume that moment marketing is a new communication approach we dreamt up in recent years, they're mistaken. Right from 1966, when the Utterly Butterly Amul girl gave her quirky take on the horseracing season, this form of topical branded content has been well received and enjoyed by audiences. 
In recent years, the topical trend has taken on a life of its own and evolved dynamically. It's not uncommon to wake up and find your Instagram or Twitter feed full of brands' and individuals' takes on a topic, format, or trend. Be it the 'Monisha Beta' meme, 'Rasode me Kaun tha', or the 'Art & Artist' format, micro-moments on social media, when a particular topic or movement gains mass attention and engagement, are the perfect opportunities to draw audience attention towards your brand. 
Learn digital marketing courses online from the World's top Universities. Earn Masters, Executive PGP, or Advanced Certificate Programs to fast-track your career.
What Is Moment Marketing Exactly? 
One of the most crucial elements in creating a successful piece of branded communication is timing. It's true when they say that timing is everything. Of course, design, copy, and other creative specifications matter, but if you don't choose the right time to share your content, it's challenging to get the desired results.
On the other hand, by communicating your brand's ethos while touching upon topics that are trending at the moment, you can launch a successful communication piece that garners higher engagement. All because you chose to join a conversation that is relevant and interesting to your target groups.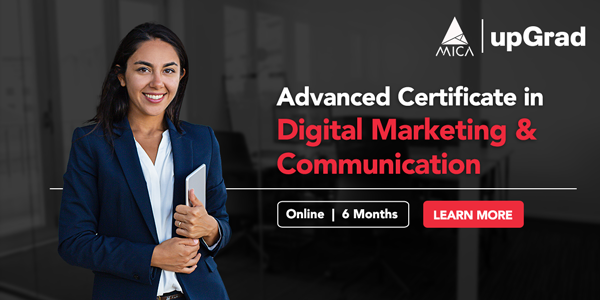 Moment marketing, in short, refers to any piece of topical content that aims at keeping the conversation going with audiences. When more and more brands are looking for long-term returns and growth, moment marketing's ease and simplicity act as an instant fix for gaining favour among audiences.
India's most popular brands, including Zomato, Tinder, Durex, McDonald's, KFC, Dunzo, FeviKwik, or even severe brands like HDFC Bank, PayTm and Mumbai Police, have started actively participating in moment marketing trends. The returns on these efforts are superb! 
Step To Succeed At Moment Marketing for Brands 
1. Keep an Eye Out For Trends
As social media executives and digital marketers, we are already tuned into audiences' collective consciousness on social media platforms. This connectedness makes it easier to spot trends and learn about important news within minutes or hours. However, while you may already be attuned to spotting trends on social media, you still need to keep an eye out for those trends that can be used as a part of moment marketing for brands you handle. 
For example, by listening to your audiences and identifying what trends capture their interest, you can insert your brand into audience conversations. Even if you don't immediately notice a connection between your brand and whatever the latest trend is, it pays to dig deeper and try to add your brand's spin on the latest conversations. 
2. Make Humor Central To Your Communication
Let's be honest; humour is central to virality in today's day and age. Whatever the trend may be, brands that manage to capture a lighter side are usually rewarded with higher engagements, growth in followers, or even paid media mentions. 
Brands like Zomato understand the power of a humorous take on current topics, and if you see their social media pages, you'll realize that this approach works incredibly well for them. Be it the time Rahul Tewatia won the match for Rajasthan Royals in IPL 2020, or when Elon Musk shared his newborn's name with the world, Zomato was ready with a hot (and funny) take on the subject.
When it comes to crafting creative moment marketing for brands you handle, remember to be funny without being offensive and adding your brand's ethos within your communication. For example, although Zomato shares topical content, it will always add references to food, food delivery, hunger, etc., to keep the conversation within the realm of its brand's goals. 
Checkout: How to create an effective brand strategy?
3. Pop Culture All The Way 
Pop culture references are the best way to grab (and keep) your audiences' attention. Remember the time when you couldn't scroll through any social media platform without running into a reference about Gangs of Wasseypur? What about timeless connections like those from Star Wars or any of the popular superhero movies? By capitalizing on the collective obsession of TV shows, movies, etc., your brand can create posts that have the feel of an inside joke, all while sharing your brand's ethos and subtly building affinity within your target audience. 
When it comes to an effective moment marketing strategy for brands, make sure your copy and design include pop culture elements. This helps build an inherent virality factor to your topical posts and makes for successful marketing for brands.
4. Stay True To Your Brand Without Being Pushy 
There's a fine line between effortless moment marketing for brands and the kind that looks like a brand's lame attempt to be cool or relevant. To make sure your efforts don't fall into the latter category, keep your brand's core values at the forefront of all your moment marketing activities. Whatever the trending topic of discussion may be, try to plug in your brand's USPs, core messaging, features, etc. However, while doing so, be careful not to seem like you're trying too hard. 
This moment marketing creative by Dunzo talks about the Whatsapp-Signal privacy dilemma, all while reinforcing their safer delivery feature. Nor does it look like they're trying too hard to come up with a quirky take on the subject, nor are they losing out on communicating Dunzo's strengths to their target audience. 
Best Online Digital Marketing Courses
5. Let Some Trends Go Without Commenting On Them
As a brand, not every trend, incident, or event will resonate with your brand's personality, and neither should you try and insert your brand into every trending topic out there. When the trends of the day talk about religion, politics, controversies, or other sensitive issues, it's best to keep a distance as you wouldn't want your brand being associated with anything that's even remotely controversial or offensive. 
This means that moment marketing for brands requires a certain level of constraint and self-regulation on its brand custodians. If you don't see a strong connection between your brand's core values and a particular trend, it's wise to let the opportunity go. Mostly because it was a weak opportunity, to begin with. With regular practice and a little bit of experience, you'll surely learn how to ace the moment marketing game for brands. 
Related: Color Pyschology in Marketing & Branding
Top Digital Marketing Skills
Conclusion
Moment marketing for brands is a novel and fun way to engage with your customers and create micro-moments of interaction with your target group. While these may seem like simple and straightforward creatives, it takes a lot of time, effort, skill, practice, and experience to become a pro at it. 
If you want to hone your digital marketing, social media, advertising, or even content marketing skills, check out MICA and upGrad's PG in Digital Marketing and Communications. This course is designed to familiarize you with essential concepts and help you become an expert at subjects like moment marketing, trend advertising, copywriting, media planning, and much more.
upGrad's Exclusive Digital Marketing Webinar for you –
What's new in Marketing?
Digital Marketing Free courses to Learn
Popular Digital Marketing Blogs
What is the difference between moment marketing and topical marketing?
Although similar, moment marketing differs from topical marketing. Moment marketing is the ability to create a buzz with an ad at the moment of an ongoing event or viral trend. For brands, it helps them to get included in the ongoing conversation and bring relevance. Whereas, topical advertising is about taking advantage of current news or event and building an ad campaign laced with the brand identity to piggyback on the trending subject. The objective is to garner short-lived yet productive relevance in the market. For example, Amul Topicals.
Is moment marketing effective for businesses to increase visibility?
For brands and businesses, moment marketing is a unique way to connect with its customers by cashing on the ongoing viral trend. The other key benefits include: Publishing creatives around the viral trend helps to position the brand cleverly and provides an edge to stand out and be memorable. Your brand automatically becomes a part of different social media newsfeed and Google trends, thus driving up organic traffic to the website. Higher brand recall that results in a higher follow back to your products and services. Can engage in wordplay and health banter with the audience and other brands, thus resulting in higher visibility of your brand across social media platforms.
What are things you need to take care of in moment marketing?
As moment marketing gaining traction among brands and is used as an effective marketing tool, you need to take care of the following things while doing it: Moment marketing should be done while staying within the ethical boundary. Your campaign shouldn't hurt anyone's sentiment or break the law. The campaign should be responsible and respectful for every party involved. You should only indulge in campaigns that are relevant to your brand or your brand gets benefitted. Don't try to fit yourself into every trend, as it is negative for your brand's identity. Your ad campaign should look original within the realm of the viral trend and stay true to the brand's core value
Ride the Digital Wave