Digital Marketing is all about connecting with your audience in the right place at the right time. In today's technology-driven world, brands have endless marketing opportunities. Online marketing or digital marketing is, therefore, gaining popularity as an attractive career proposition. 
According to reports, India's internet users will touch 829 million by the year 2021. Moreover, there will be over 2 billion networked devices in the country at that time. The increasing digital penetration and consumption have made it integral for businesses to have an online presence. And it does not end there. If you are a beginner in digital marketing marketing, and want to gain expertise, check out our digital marketing courses from top universities. 
They have to adopt specific digital strategies and tactics to reach their target customers. Here, digital marketers come into the picture to boost visibility, build engagement, convert customers, and drive sales. 
There are different types of digital marketing channels Digital marketers make use of like emails, display advertisements, websites, blogs, and social media to drive brand awareness and generate leads. Digital media presents a fast and reliable means to reach a mass target audience. And more and more businesses want to jump on the bandwagon. As a result, various digital marketing firms have cropped up to cater to the needs of both big and small companies. 
If you want to become a digital marketer, If you want to enter the field, one of the best ways to get your foot in the door is to get an internship. In the online marketing world, practical experience and skills are valued more than an academic degree. So, here are a few tips to help you land an internship in digital marketing. 
How to get an Internship in Digital Marketing?
1. Build Your Portfolio
Consolidate all the information regarding your qualifications and experience in one place. You can do so by creating an online portfolio or blog, which showcases your unique skills to recruiters. You can include work samples that highlight your interest in digital marketing.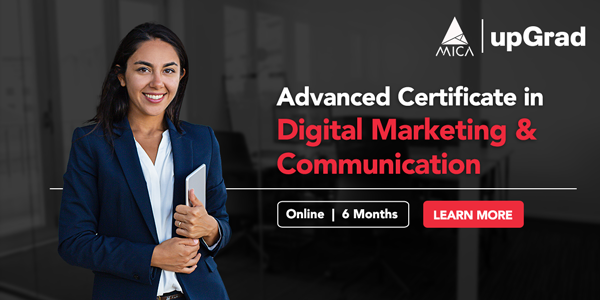 This exercise will help you in organizing your projects and further identifying the areas in which you need to gain more experience. You can also take up pro-bono or voluntary assignments and feature client testimonials on your web page.
2. Refine Your Skills
Digital marketers perform various roles – from creating content and managing SEO, to measuring online traffic and improving performance across multiple online platforms. Many of these tasks require some level of expertise and practice. So, learn as much as you can from online tutorials and courses.
Also, certifications help differentiate your profile and improve its credibility in the eyes of recruiters. A range of courses – both paid and free – are available in the market today, such as Google AdWords, Facebook Advertising, SEO, Content Marketing, Social Media Management, and so on. But, if you want to learn and work on real projects, engage with industry mentors & receive a valuable certificate, check out MICA's Advanced Certificate in Digital Marketing and Communication specialises in Branding, Social Media, Content Marketing and Analysis.
3. Unify Your Brand
As a digital marketer, you will help businesses streamline their digital communications and increase their online traffic. So, utilize your own social media accounts to showcase these strengths. What do you want to be seen as – a Fun Digital Creative Writer, an Inbound Marketer, a Content Specialist, or an SEO Expert?
Unify your chosen message across all of your online channels – Facebook, Twitter, LinkedIn, and even on your blog or website. Additionally, be consistent with your profile pictures and the focus areas of the things you share. Building a strong personal brand and online presence is effective in setting you apart from the crowd.
4. Apply proactively
Search for digital marketing internship vacancies that are often advertised online, and apply proactively for the roles that match your skills and interests. Alternatively, make a list of digital marketing agencies that you would like to work with, and get in touch with the concerned persons via email.
Typically, your application should include your resume and portfolio links to highlight what you bring to the table. Don't forget to write an impressive cover letter describing why you want to work with the company. And before sending your application across, proof-read it thoroughly!
Best Digital Marketing Courses Online
Continue the Learning Process
Make the best of your digital marketing internship experience by acquiring new on-the-job skills. At the entry-level, you will work to support the staff in varied and cross-functional tasks. In the process, you will gain more knowledge about how the industry works.
You can later apply this learning to work either as a freelance digital marketing consultant or a full-time staff member. Digital Marketing has multiple in-demand roles such as Content Marketing Specialist, SEO Manager, Social Media Manager are some examples of specialized roles. 
While your portfolio and certifications showcase your work, your internship reflects your work ethic. So, maintain the quality of your work and be particular with the deadlines. And don't forget to get a recommendation letter after your internship!
If you are curious to get into the world of digital marketing, check out upGrad & MICA's Advanced Certificate in Digital Marketing & Communication.
In-demand Digital Marketing Skills
upGrad's Exclusive Digital Marketing Webinar for you –
How Marketers can enable Sales for Success?
Digital Marketing Free courses to Learn
Popular Digital Marketing Blogs
Can you get a digital marketing internship online?
Digital marketing internships offer valuable work experience, but also help you to learn the ropes of the business from professionals who have been part of the industry for years. The best way to start your search is through third-party online websites. You can build a profile there and start applying for internships in digital marketing with organizations that are of interest to you.

Those interested in you will typically get back with an offer. However, not all internships are paid ones so make sure you set your expectations accordingly.
How does portfolio building help in getting you a digital marketing internship?
While your entire life may revolve around Search Engine Optimisation or Google Analytics, you need to bring your abilities in digital marketing to the forefront through expansion, learning and application of passion. This can be showcased by building a portfolio that highlights your core digital marketing capabilities.

For example, you may kickstart with your love for writing by blogging. As you develop your blog, you can implement other digital marketing strategies to it, such as SEO, analytics and social media. You basically get a crash course on digital marketing simply by writing a blog.

Follow up by aligning it with analytics to track who is visiting and reading your content, interact with your readers through comments, share your content on social channels to create a larger readership. Lastly, include keywords to build your SEO strategy so that your content starts getting features on search engine rankings.
Can networking help you get an internship in digital marketing?
There is likely to be other candidates who are vying for the same position. Networking confidently also tells your employer how you may perform at your workplace too.

Therefore, how well you network with your prospective employer can be the difference between you or someone else getting the digital marketing internship.
Ride the Digital Wave