Introduction
The field of marketing has constantly been evolving. With the introduction of digital marketing, the landscape of advertising and marketing has transformed completely. These days, consumers show more interest in marketing campaigns rather than the product itself.
For digital marketing, not all businesses need to invest in a big budget. Depending on certain factors, such as the marketing strategy and social media platform, each business can have its own budget. Some marketing strategies, such as search engine optimisation, which helps businesses drive organic traffic to their website, are free of cost.
Is Digital Marketing for all Businesses?
Digital marketing can work for any business—regardless of the size or the niche. Digital marketing is used to understand the consumer's needs and create valuable and relatable content for them. However, this does not suggest that every business should have the same or similar digital marketing strategies. Some marketing strategies that can be incorporated into digital marketing are social media marketing, search engine optimisation, search engine marketing, content marketing, email marketing, and pay-per-click advertising.
In simpler words, digital marketing is a gateway between marketing psychology and electronic technology. You must ensure that digital marketing is incorporated into your marketing strategy to control the information that goes out and into this gateway.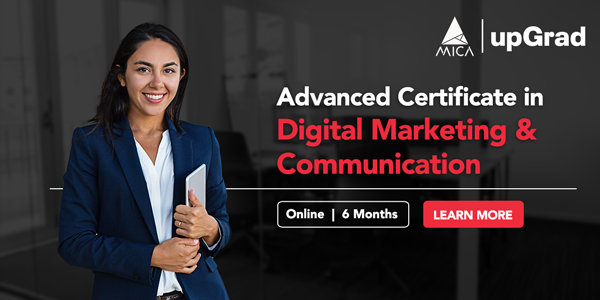 The two major types of marketing include:
B2B (business to business) marketing

B2C (business to customer) marketing
B2B Marketing
B2B marketing focuses more on the logic of the product and its features. As this type of marketing involves little to no emotion in the purchase decision, understanding the buyers and how their organisation procedures play a role in the purchase decision becomes essential. B2B marketing is more about how the business uses a product than the product being promoted.
For instance, suppose your business sells productivity software. If you sell this product to businesses, the point of focus should be on how the software will save your prospective client money in the form of time. With your software, the client and their employees will be able to get more work done in the same amount of time.
Digital Marketing Free courses to Learn
B2C Marketing
B2C marketing focuses more on the benefits of the product. The decision that consumers make will involve a lot more emotion when compared with businesses buying a product through B2B marketing. With each consumer having a different preference, they may demand a wide variety of distribution channels for their convenience. Also, consumers may lose interest if your marketing message is long. Hence, to grab the consumer's attention, get right to the point instead of beating around the bush.
An interesting point to note about B2C marketing is that consumers do not want to understand the benefits of the product or service on their own. Instead, they expect the brand to point out the benefits of the product to make things clear for them. Unlike B2B marketing, the purchasing process of consumers is much shorter than that of businesses.
To ensure your B2C marketing strategy is effective on the consumers, your focus should be on bringing out the benefits and results of the product or service.
Consider the example of the productivity software mentioned earlier. Now, imagine you are selling it directly to the consumers. While making a purchase, the consumers would want you to explain how the software and its features will prove beneficial.
Unlike B2B marketing, consumers do not look for a return on their investment. They simply look for a product or service that will make their lives a little easier.
How Does Digital Marketing Work?
Digital marketing uses different marketing strategies to create awareness, generate traffic, and convert leads into loyal customers for a brand. Implementation of digital marketing for all businesses can be done using the following digital marketing strategies:
Search engine optimisation (SEO)

Social media marketing (SMM)

Content marketing

Pay-per-click advertising (PPC)

Email marketing
Search engine optimisation (SEO)
Every time consumers need information about a product or make a purchase, the first thing they do is search for a particular product on Google. When the results are displayed, consumers usually find what they were looking for in the first two pages of Google search results. This is where SEO comes into the picture.
Creating an SEO-friendly website is one of the essential steps in digital marketing. If a business does not make their website SEO-friendly, they will most probably be left behind in the Google searches and miss out on opportunities to create brand awareness and grab potential leads.
If you do not want to pay to rank higher on the Google search results, SEO is your best shot. Although generating organic traffic to a website may take time, SEO implementation is free of cost.
Social media marketing (SMM)
Social media is an effective form of digital marketing. As the number of social media users increases rapidly across the world, social media can give any business the online exposure it needs to grow.
Before you begin to market your business on social media, you must recognise your business goals and devise a strategy. Social media marketing without a proper strategy would be like wandering in a busy street without a map.
Before defining your social media strategy, you can consider the following points:
What are you planning on achieving through social media—brand awareness, leads, or traffic to the website?

What is your target audience?

How and which social media platform does your target audience use the most?

What is the message you want to send out to your target audience through social media marketing?
Social media marketing strategy can be used in digital marketing for all businesses.
Content marketing
Content marketing plays an essential role in every digital marketing strategy. Whichever digital marketing strategy you opt for, without content marketing, you would not be able to create brand awareness, loyal customers, or engage your target audience into your brand.
On a general note, content marketing deals with promoting a business online by interacting with customers and convincing them to make a purchase.
Some common forms of content marketing are blog content, video content, podcasts content, infographics, and social media posts. These play an important part in creating brand awareness among consumers through digital marketing.
Pay-per-click advertising (PPC)
PPC is considered a non-organic form of getting traffic to the website. When a consumer clicks on a paid ad, the business has to pay a particular amount for each click, hence the name pay-per-click. It is considered an easy and quick way to generate traffic to the website.
Implementation of PPC advertising as a strategy in digital marketing for all businesses can help bring traffic to the website faster than SEO. Since it takes time and patience to work, many brands use PPC to generate traffic to their website.
Best Digital Marketing Courses Online
Email Marketing
Although not a primary source to generate leads and create brand awareness, email marketing is often used as a means of communication between the brand and the consumers that have made a purchase from the brand and subscribed to business updates.
Email marketing can help you succeed in keeping your customers loyal who purchase from your brand often. Many brands use email marketing to send regular updates and promotional offers about their products and services.
upGrad's Exclusive Digital Marketing Webinar for you –
What's new in Marketing?
In-demand Digital Marketing Skills
Does Every Business Require a Big Budget for Digital Marketing?
There is no right answer to this question. The budget depends on your digital marketing strategy. If you have a website for your business ready, then you may not require a big budget. If your focus is on inbound marketing techniques, such as content creation, social media marketing, and SEO, then you can do it almost free of cost.
With outbound marketing techniques such as purchasing email lists and advertising, it may be a little expensive. The total cost may depend on the type of visibility you require for your business through advertising. For instance, to implement PPC with Google Adwords, you will be competing with your existing competition to rank higher on the Google search results. It will be done using keywords that both you and your competitors use. If you do not have a big budget, it is better to focus on generating organic traffic using SEO.
Regardless of the budget, using the right marketing strategies in digital marketing for all businesses can be much more effective.
Digital Marketing Free courses to Learn
Conclusion
With the growing number of online users, digital marketing has turned out to be an effective means to create brand awareness and target the right audience. Incorporating effective marketing strategies such as content marketing, social media marketing, search engine optimisation in digital marketing for all businesses, the outcome can be positive.
If you want to learn more about digital marketing and build a career, consider the upGrad and MICA Advanced Certificate in Digital Marketing & Communication course to take on a holistic approach to digital marketing. By the time you finish with us, one thing is for sure – your horizon of knowledge will expand significantly and you'll learn to think and act like a true digital marketer. With so many perks and benefits, why should you go someplace else?
Learn digital marketing courses online from the World's top Universities. Earn Master, Executive PGP, or Advanced Certificate Programs to fast-track your career.
Top reasons why digital marketing is important
Digital marketing helps brands to reach their target audience faster. They can specifically target consumers likely to purchase the products and services. Digitally connecting with the customers builds a larger audience that trusts the brand. It is a very effective tool for small businesses as they can take out maximum benefits with minimum costs. Digital marketing for business helps brands grow.
Advantages of using digital marketing
Digital marketing allows professionals to expand their business reach. The business can create an international presence using digital marketing as a method. The brands can reach a global audience using an online store. The importance of digital marketing for the success of a business is unlimited.
While starting, digital marketing may seem tricky, but once the subject is grasped, the users can easily navigate through digital marketing. It all comes down to finding the right strategy for the business. The apprehension 'Does digital marketing work for all businesses?' should be answered with a big yes!
Businesses can use various strategies according to their business types. The brands can choose the plan based on their business model, whether B2B, B2C, C2C, etc.
Variety of content types to choose from
The brands can choose from different content types, such as blogs, videos, ebooks, emails, whitepapers, quizzes, etc.
Popular Digital Marketing Blogs