According to Linkedin's '2020 Emerging Jobs Report India'*, Digital Marketing Specialist is one of the top 15 fastest-growing jobs in the Indian talent market. If you are also planning to build a career in digital marketing, you must have come across many courses referred to as 'marketing and advertising.' Otherwise, also marketing and advertising are either used interchangeably or mostly referred to as something similar.
However, as a digital marketing aspirant, you must understand that there is a considerable difference between marketing and advertising. Yes, both are used for promoting businesses, their products, and services, but technically these two are different. If you are a beginner in digital marketing, and want to gain expertise, check out our digital marketing online courses from top universities.
In this blog, you can learn more about the two so that you can have a clear picture of what is digital marketing, what is advertising, how businesses use them, and what kind of course or program you should pursue to build a career in marketing and(or) advertising.
What is Marketing and What is Advertising?
The New Oxford American dictionary describes Marketing as "the action or business of promoting and selling products or services, including market research and advertising"#. For describing Advertising, it writes "the activity or profession of producing advertisements for commercial products or services"** So, by taking a cue from the definition, advertising can be considered a subset of marketing, which means marketing involves various things advertising is one of them.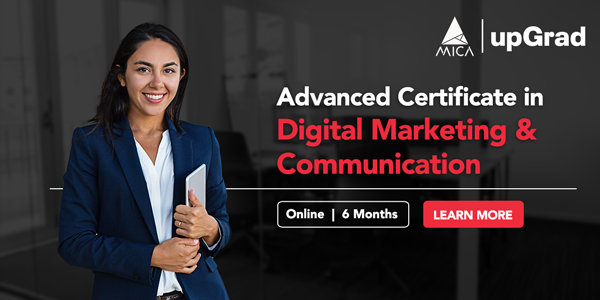 Advertising is limited to copywriting, conceptualizing, and creating ads and commercials for multiple mediums like television, newspaper, radio, and now the Internet, but Marketing has broader dimensions than advertising. Often people talk about the job roles of a marketeer restricting it to the definition of advertising, but a marketeer has more roles to play, such as:
Research and data analysis to identify target markets

Conceptualizing and executing marketing campaigns for lead generation (advertising can be a mode for running the campaigns)

Studying customer preferences and trends

Customer engagement
So, marketing is more holistic. Unlike advertising, its objective is to promote a product and connect with customers through different touchpoints to bring in a positive change in their lookout towards a brand, its products, and services.
With the rapid digitization of businesses worldwide, a digital marketer has become a non-negotiable resource for any marketing team. According to the World Economic Forum*, by 2030, more than 40% of consumers' buying decisions will be digitally influenced. This is one of the reasons why businesses are focusing more on digital marketing, especially inbound marketing.
Difference between Marketing and Advertising
With the advent of Inbound marketing, the difference between marketing and advertising has become more transparent. Listed below are a few inbound marketing vs advertising key pointers.
Inbound vs outbound: The main difference between marketing and advertising is that advertising is outbound because it pushes the company's message into clients' minds irrespective of whether the client is ready or not. At the same time, inbound marketing pushes information only to those clients who are voluntarily looking for similar information.
Customer-centric vs Buyer-centric: Advertising is company-focused, while inbound marketing is customer-focused. The main objective of advertising is to force-push its promotional content to win a buyer, which is often perceived as an interruption at the receiving end. At the same time, inbound marketing aims at providing customer-specific relevant information so that the receivers can use it to find a solution to their problems.
Engages with customers vs Chasing customers: The content formats and the dissemination modes of advertising are so that it talks at the customers. For instance, when you watch a movie and get engrossed at the moment, suddenly an ad pops up telling you why children should drink Horlicks, whereas you might be a bachelor not interested in any kids' product. On the contrary, inbound marketing is interactive. For instance, you have a 2-year old baby, and you want to know what kind of health drink you can introduce to your child.
You go to Google, search for blogs, and pick one to read. There, you might find the details of Horlicks as one of the suggested health drinks, and you can also find the buying link. So, you get detailed information about the product, which might influence your buying decision, and you also get a direct link to purchase the product. Thus, Inbound marketing focuses on engagement with customers and aims at winning their loyalty.
upGrad's Exclusive Digital Marketing Webinar for you –
What's new in Marketing?
Sustainable vs Instant Results: Results of advertising are quick. Suppose there is an event this Sunday, then flooding the radio waves with commercials about the event can increase good footfall chances. However, Inbound marketing is a continuous process, and it takes time. Creating the content database and optimizing it on Google search engines needs time investment. But over time, if the content has quality, then through Inbound marketing, quality leads can be achieved.
Examples: Leaflets inserted in newspapers, tv commercials every 2 or 5 minutes, billboards on roadsides, salesmen dressed as clowns giving away coupons, all these are examples of outbound advertising. Topical blogs, Ebooks, Social media campaigns for Instagram, Facebook, Twitter, SEO website text, Web-based seminars, popularly known as Webinars, and Viral videos are examples of Inbound marketing.
Read about: Digital Marketing vs Traditional Marketing: Which One Should You Choose?
Inbound Marketing Vs. Advertising in the Commercial Landscape
As known to all, advertising promotions are paid, and businesses maintain a massive budget for their advertising publicity. But with the advent of digital marketing, especially inbound marketing, businesses have found a new way to promote their products in a much cost-effective way. That doesn't mean inbound marketing is free, but it is cost-effective in the sense that with a penny spent, the promotion reaches out to a more targeted set of customers, so it is promising in terms of quality leads and ROI.
While in traditional advertising, the promotional content is randomly force-pushed to a larger mass, which includes a smaller section of the interested audience, while the majority sees the content as an interruption, there in inbound marketing, the promotional content is pushed only to those who are self-searching for that particular kind of information.
Also, unlike advertising, inbound marketing doesn't end simply by blowing a trumpet about a company's products and services. Instead, it focuses on staying in touch with the customers and winning their loyalty for future upselling and cross-selling. Like personalized messages, newsletters, personalized emails, etc., customer-connect campaigns are very integral to inbound marketing.
Can Advertising be Inbound?
Inbound marketing is the new face of marketing in the digital era. It is to become more imperative as one of the enablers to allow businesses to adapt to the customers' digital demands. Does it mean advertising will fade away? Certainly not, somewhat over digital space, even advertising has got aligned with inbound marketing practices.
Now we have digital advertising, which is a categorized form of advertising meant for a targeted set of customers, unlike in TV, radio, or newspaper, where ads are not filtered as per customer categories.
Paid ads in search engines, youtube videos, social media platforms like Linkedin, Facebook, etc. are very common. However, the technology of these new-age digital mediums has algorithms to identify the customer search preferences, and accordingly, only relevant ads are pushed to the customers.
For instance, if you search for furniture on Google, the algorithm will identify that you are interested in furniture. Over Facebook and Instagram, you will see furniture related sponsored ads. Similarly, over Linkedin, you will see sponsored ads of courses that match your job profile.
Top reasons why marketing is important?
The ability to engage with the customers
Marketing allows the brands to engage with the customers to enhance their marketing reach and develop a bond that cannot be let go of. It helps the users to get inside the customer's mind and apply techniques that help increase sales.
Creation of a strong brand
Marketing is useful in the creation of a strong brand that is able to maintain a balanced flow between the customers and its image. It is useful in imparting a reliable image to the customers which is helpful in brand image. This is a marketing vs advertising strategy difference.
Sales multiplication
When the brand and image are built, sales follow. The correct marketing is helpful in making a brand like this so that it becomes much easier to sell. Correct marketing results in building repeat customers as well.
Helps in building customer loyalty
The marketing creates an image that helps the customers to relate with the brand. It results in building trust with the customers. They start to see the brand as a real entity to whom they can relate. Along with various other actors such as a strong product, marketing helps in building customer loyalty. This is one of the main differences between marketing and advertising.
Brand awareness
One of the main features of marketing is brand awareness. This is what is the difference between marketing and advertising, marketing helps the brands to raise brand awareness. It helps to use its strength and energies toward targeted customers which results in better results.
Also Read: Top 5 Highest Paying Marketing Jobs in India
Best Digital Marketing Courses Online
Wrap-up
Technically, the difference between marketing and advertising is a difference in approach, delivery, and objective. Analyzing customer preferences, identifying target markets, creating marketing campaigns, and building customer relationships are all included in marketing.
As mentioned earlier, advertising is a subset of marketing, so advertising can be seen as one way to execute marketing campaigns and other organic strategies like SEO content, website content, social media posts, videos, webinars, etc.
While organic traffic is one of the prime objectives of inbound marketing, digital marketers prefer using paid advertising to fasten the promotion processes or reach out to more customers. Paid advertising strategies like PPC, banner ads, social media ads, influencer marketing, and ads retargeting are common over the Internet.
But unlike traditional advertising, these digital paid ads are not randomly pushed to a larger mass with the hope of hitting a few interested people. Instead, digital paid ads are shown to a targeted audience, filtered based on their search preferences. So there are increased chances that they will feel less interrupted by these ads. This way, advertising practices are kept in alignment with inbound marketing practices.
In-demand Digital Marketing Skills
Build a Career in Digital Marketing with upGrad
From this article, apart from understanding the core marketing vs advertising difference, you must have understood that digital marketing is a comprehensive concept. It is one of the most promising and emerging careers in India. For building a career in digital marketing, just learning about advertising is not enough.
You will also require mastering other marketing skills like Search Engine Optimization (SEO), Search Engine Marketing (SEM), Social Media and Content Marketing, Branding, and Marketing Analytics. You will also require gaining a thorough knowledge of various digital marketing tools & platforms such as Facebook ads, Google ads, STUkent, Google Analytics, WordPress, Mailchimp, etc.
For digital marketing aspirants like you, upGrad offers an online Advanced Certificate in Digital Marketing & Communication. This program provides the opportunity to learn from India's top Digital Marketing faculty and industry leaders from MICA, Facebook, group m, and Cambridge University.
Freshers, traditional marketers, entrepreneurs, brand managers, and communication managers can take up this course from the comfort of their space and time.
Digital Marketing Free courses to Learn
Popular Digital Marketing Blogs