Consumers trust influencers more than advertisements and other branded content. That's because influencers consistently create authentic content that resonates well with their audiences.
People look up to niche-specific influencers for their authenticity and expertise. They not only engage with influencer-created content, but they also heed their recommendations.
This means that working with influencers can help you get more brand follows, engagement, traffic, qualified leads, and conversions.
92% of marketers believe in the immense potential of influencer marketing. And you should too! Still unsure about investing in influencer marketing? Let's take a look at some of the biggest advantages of leveraging influencers to promote your brand.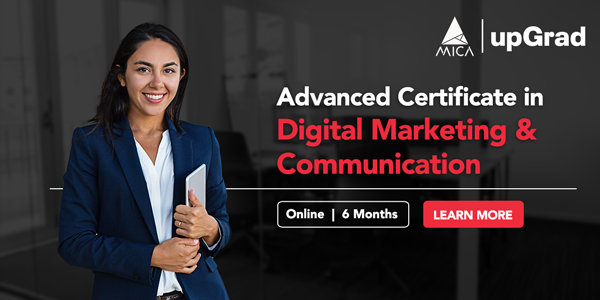 Increase Brand Visibility and Awareness
Influencers can help you spread awareness about your brand, products, and/or services.
While mega influencers allow you to tap into massive audiences, micro-influencers can help you drive more engagement. Even though they have a smaller number of followers, they can help you develop more valuable connections.
Also, most influencers are awesome content creators, which is why they can create authentic content for your brand and share it with their followers. They usually create content that provides value to their audiences such as tutorials, product reviews, or something that mentions your brand. This is to ensure that the content doesn't look promotional and also helps improve the visibility of your brand. If you are a beginner in content marketing, and want to gain expertise, check out our digital marketing training from top universities.
For instance, travel and hospitality brands can leverage popular travel influencers to get more exposure for their brands.
In the below post, Arielle Vey helped the hospitality brand, Fairmont, reach a relevant audience of 151K people.
However, if you want to reach your target audience, you need to choose your influencers carefully. The influencers you choose to work with should:
• Have a decent following
• Be relevant to your brand and niche
• Have engaged followings
• Create content that is authentic
• Be influential enough
You can use influencer marketing platforms such as Influence.co and BuzzSumo to find the most relevant and popular influencers in your niche.
Strengthen Your Content Strategy
Most influencers are great content creators. While many marketers consider influencer marketing and content marketing to be 2 different domains, influencers can help you boost your content strategy.
Influencers understand their audiences and therefore, they create original and relevant content that their audience will love to engage with and share.
57% of brands reported that influencer-created content performs better than their branded content.
You should give your influencers creative freedom when it comes to content creation. But you should also provide a clear campaign brief to ensure that their content aligns with your brand's messaging.
Some common influencer-content formats that you might leverage include:
• Sponsored posts
• Affiliate links
• Giveaways
• Takeovers
• Brand ambassadorships
You should encourage your influencers to ask questions and discuss ideas to co-create great content for both of your audiences.
You can also repurpose the content they create to maintain a consistent flow of high-quality content on your social media pages. Your followers might love the fresh content you share.
Fashion brand, Zara, leverages content created by fashion influencer, Ana Kras, to ensure a regular flow of content on their new collaborative account, @livingzara.
Win Trust of Your Target Audience
Winning the trust of your target audience is crucial to the success of your business, which can take you years. But you can easily get your consumers to trust you if you work with the right influencers in your niche.
Top influencers spend a significant amount of time and effort to build genuinely engaged followings. These followers not just engage with their content, but they also trust their opinions and recommendations.
When an influencer endorses your brand, product, or service, they can get their audiences to trust your brand. This trust can help you drive more conversions and sales and boost customer loyalty.
This means that influencers can help you leverage already loyal audiences to grow your business.
Reduce Marketing Cost
Traditional advertising is expensive, as a lot of money goes into the creation and promotion of advertisements. Working with influencers can help you save a lot of your marketing budget, especially, if you collaborate with micro-influencers.
Influencers with up to 10K followers charge around $75-$250 per sponsored post, which is quite cost-effective. And the best part is that they can help you generate 7X more engagement than mega influencers.
This means that you can easily leverage niche-specific micro-influencers to promote your brand effectively, even on a budget.
Best Digital Marketing Courses Online
Generate More Leads and Sales
Influencers are experts in their niches and they have followers who not only trust but heed their recommendation. With the ability to influence purchase decisions, the right influencers can help you generate high-quality leads and drive more conversions.
82% of marketers believe that the quality of customers acquired from influencer campaigns is better than those from other forms of marketing. Many brands provide unique promo codes to influencers, which offer exclusive discounts. This helps influencers to further encourage their followers to buy.
upGrad's Exclusive Digital Marketing Webinar for you –
What's new in Marketing?
Daniel Wellington, the world-famous watch brand, has mastered the art of boosting sales using influencer-created content. They offer unique discount codes with a defined time limit to add urgency and increase sales.
These codes also help the brand to track and monitor the performance of individual influencers.
Image via Instagram
In-demand Digital Marketing Skills
Deliver a Higher ROI
89% of marketers believe that using influencers in your marketing mix can help you generate a higher ROI than other forms of marketing.
Another study by Influencer Marketing Hub stated that for every $1 spent, influencer marketing returns an average earned media value of $5.40.
The study further asserted that brands who know the hacks of influencer marketing can gain an earned media value of up to $18 for every dollar spent. This is more than the ROI generated using display advertising and paid search marketing.
Digital Marketing Free courses to Learn
Conclusion
There is not one but many reasons why brands are relying on influencers to promote their businesses. Working with the right influencers can help you increase brand awareness, engagement, and conversions.
However, you need to build strong long-term relationships with your influencers, pay them well, and provide them with creative freedom. Offering creative freedom will help them stay authentic and create valuable content to better engage their audiences.
If you are curious to get into the world of digital marketing, check out MICA & upGrad's Advanced Certificate in Digital Marketing & Communication. Become an expert in email marketing, social media marketing, content marketing, branding, marketing analysis, and PR.
Popular Digital Marketing Blogs