Owing to the growing popularity of the short video format, Instagram rolled out its own version in the form of Instagram reels. Arguably inspired by the unanimous popularity of TikTok, Instagram Reels allows for quick, 30-second videos to be recorded and shared by brands, individuals, content creators and even influencers. Instagram Reels released in India on July 12, 2020, and by August 2020 over 50 markets where Instagram is available had the feature. 
Undoubtedly, Instagram Reels is fun, addictive and easy to browse through. Instead of moving away from Instagram, users are now getting their fill of short video content right there on the app. This makes Reels very important for marketers in more ways than one.  If you are serious about Instagram, learn digital marketing from top institutions and get an edge over your competitors.
If you're a marketer wondering how to use Instagram Reels for business, let this article help you. 
How To Create Instagram Reels
Before we deep-dive into learning how to use Instagram Reels for business, let's understand how to create an Instagram Reel. 
Thanks to the latest app update, Instagram Reels can be found on the home page, at the centre of Instagram's main navigation bar! 
This is significant as it encourages users to browse through and share Reels within their network. Needless to say, this is a big motivator for many marketers to put their brand on Instagram Reels, if they haven't already done so. If we were to believe the numbers, the impact of Instagram Reels seems positive too. There was a 3.5% increase in the average time spent of the Instagram app since Instagram Reels was launched in India.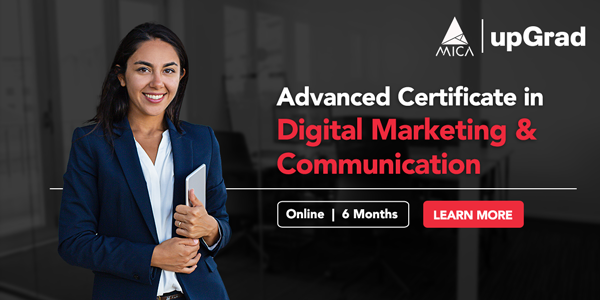 To create your own Instagram Reel, open the Instagram Stories camera on the app, and select the Reels option.
Once you've done this, you will see different creative editing tools at the left-hand side of the screen. These tools can help you take your Reel from mediocre to extraordinary – 
1. Music/Audio
This feature allows you to pick from popular songs available in the Instagram music library, and add them to your Reel. You could also choose from your own original audio clips. If you share an Instagram Reel with your own music or recordings, the audio is attributed to you. Although Instagram Business accounts don't have the Music feature, there's so much that can be done with audio and voice-related innovation. 
2. AR Effects
Instagram offers a wide variety of effects and filters to make your Reel truly memorable! This tool can be used creatively to make a Reel that speaks to your brand's audience and stands out from the rest. 
Also Read: Instagram Best Practices for Business
3. Timer
This tool is a blessing for anyone who creates content solo and is always looking for ways to make hands-free recording easier. With the timer tool, you get a 3-2-1 countdown before it automatically records clips for a predetermined time period. 
4. Align
This tool allows you to line up objects from the previous clip before you move on to recording your next clip, allowing for seamless transitions. All the Reels that require transitions like outfit changes, adding new participants or even the illusion of sharing a meal benefit from this tool. 
5. Speed
This nifty tool allows you to speed up or slow down clips, or parts of your clips. 
Now that you've understood how to create your own unique clips, let's tackle the question that's on every marketer's mind – how to use Instagram Reels for Business? 
How to Use Instagram Reels for Business
In today's digital world, trends can often start and explode into popularity anytime. In this scenario, the brands, creators and influencers who adapt, adopt and capitalize on the trend are the ones that reap the rewards.
It is worth mentioning that not all Instagram Reels are about hashtag challenges, dancing or singing. In fact, Instagram business accounts don't allow you to access the music option. Consequently, marketers need to be creative and find their own ways to use Instagram Reels for business.
Let's now understand how to use Instagram Reels effectively for marketing your products and services. 
1. Educational Reels
Unlike your boring History Professor, an educational Instagram Reel aims at entertaining while informing. This means that while you are aiming at educating your audience about your products, you're not going to make it all about your products. With a 30-second time limit to boot, it is best to keep your content light and easy. 
If you're a blogger looking to make your niche more mainstream among audiences, try using Reels to put the word out there. Snackable, smart and light-hearted Reels that aim at educating will certainly help you achieve your objectives. Apart from this, brands can use educational Reels to raise awareness about new product launches, important causes and new campaigns.  
2. Product Reels
Even when the objective of your Reel is to get more people to try a new product, it makes sense to keep the product integration subtle. Unlike an advertisement that is all about your product and its benefits, with an Instagram Reel, it makes sense to let the product be a small part of your key communication. 
So, if you are looking at boosting sales for a particular product on your online grocery store, don't just use Reels as a pseudo-brochure to list out your offering. Instead, rope in relevant influencers and create videos on how to use your products in a fun and engaging manner. 
You can also look at creating Instagram Reels with fun and exciting themes depending on your product and industry. If you're a fashion brand, a smart 'Style Inspiration' Reel can help your showcase more than one product without coming across as a hard-seller. Similarly, if you're a pet-care service provider, you could create a quick reel that shows how you use just three products to groom your patrons. 
Needless to say, the options are endless when it comes to Instagram Reels. If you have a little bit of imagination and some creativity, nothing can stop you from achieving your marketing objectives via Reels. 
Learn more: Digital Marketing Salary in India 2022
3. Behind-The-Scenes Reels
As marketers, we've learnt that the more human-centric a brand is, the more effectively it connects to its customers. If you've been wondering how to use Instagram Reels for building a stronger relationship with your audiences, a behind-the-scenes Reel may be a great place to start. 
Any content that can make your audience feel like they know you can help in building trust in the long term works perfectly. So, if you are a small fashion business owner, your Reels could be all about how you source your fabric, deliver samples, pack orders or even brainstorm for new product ideas! Reels like these can make your brand look more human and relatable to customers, helping you achieve your business goals. 
Similarly, you could make a 30-second 'Meet the Team' Reel that allows customers a sneak-peek into the people that make your brand work. 
upGrad's Exclusive Digital Marketing Webinar for you –
Consumer Segmentation from Demographics to Psychographics
Read more: What Does a Digital Marketer Do?
How-To Reels
Haven't we all had that one experience where a how-to video made it easier for us to accept a new product? Well, imagine creating wider product acceptance with Instagram Reels!
Like in the case of Apple's example, a well-shot Instagram Reel that highlights the uniqueness of your product can help generate more buzz around your product on Instagram. Additionally, it helps paint a quick picture that stays with you long after you've scrolled past. 
Whether you're a skincare brand or one that sells art supplies, showing your potential customers just how much fun it is to use your product goes a long way.
Offer Reels 
Who doesn't love a good offer!? Marketers have always understood that very few things beat an excellent offer or sale price. Keeping this insight in mind, it makes sense to experiment with Instagram Reels that give your customers added benefits like exclusive coupon codes and discounts. With such tangible benefits shared via Reels, you're sure to see a bump in sales and of course, in engagement rates. 
Makeup giant Sephora understands this and has made sure to periodically share Instagram Reels with promo codes. Taking inspiration from their example, you could collaborate with micro-influencers and popular content creators to share codes and discount vouchers for your products or services. 
Impact of Instagram reels on the business
Engagement 
Instagram reels help in getting more engagement from customers. The various social media in place have a huge user base which impacts the number of views on social media.
If you know how to create Instagram reels then you can reach billions of active users on these various social media platforms. The Instagram algorithm also favours reels which results in a lot many people making reels and increasing their engagement. 
Reach
With the incoming of reels, the content can now be reached a wider audience. The content creators sitting and making their reels in a small town of Bihar have people watching their content across the country and the world. 
The brands can reach a wider audience with the use of reels, the Instagram algorithm is at play here which results in the number of people watching the reels. If you know how to make reels on Instagram, then you should not let go of this opportunity of making your voice heard. 
Best Digital Marketing Courses Online
Brand success
Brand success can be defined by the reels. The reels help to garner the attention of the target audience and the users can gain various useful insights such as gender, age group, location, etc. 
No matter if the users are experienced or they are learning how to make Instagram reels and apply them in their content which results in creating banging and relatable content that helps in bringing numbers. While creating reels, focusing on a few key metrics is important-
Engagements 

Hashtags

Like 

Mentions 

Shares

Impressions 
In-demand Digital Marketing Skills
The key benefits of Instagram reels –
If you know how to make a reel on Instagram, then you should be able to leverage the maximum of these benefits and advance your opportunities of becoming successful on Instagram.
Engagement acceleration 

Trust building with the consumers 

Storytelling 

Enhanced brand awareness

Reaching new audiences

Demonstration of the brand character
Digital Marketing Free courses to Learn
Final Thoughts 
While this article can act as a thought-starter for those marketers who are looking to use Instagram Reels to boost their business, it can only help till a certain extent. 
However, if you wish to explore and become an expert in Digital Marketing, check out MICA and Advanced Certificate in Digital Marketing & Communication to take your skills to the next level. With this program, you can become an expert in social media marketing, content marketing, branding, marketing analysis and PR.
Popular Digital Marketing Blogs
How to create Instagram Reels?
There are three ways in which Instagram Reels can be created: Instagram home screen, Reels tab and Instagram Stories camera.

Instagram Home Screen: Click on the "+" that appears on the top right corner of your screen and scroll to the Reels tab at the bottom of the screen.

Reels tab: Click on the top right of your screen.

Instagram Stories camera: Tap on the Instagram Stories camera and locate the Reels icon. The icon can be found either between the default Normal mode and Create mode or on the bottom menu next to "Story".
How to insert music into Instagram Reels?
Instagram Reels were created to offer Instagram users a chance to make short videos like those available on Tik Tok. Therefore, music is a big part of Instagram Reels as well.

To get started, first find the song or audio clip of your choice. Then click on the music and select "Use Audio".

Users can choose the music of this choice either from the vast selection available on the app or from their own music library.

Additionally, following a recent Instagram update, users can now search for specific audio clips, allowing them to connect to the latest trends.
How to use Instagram Reels for Business?
Whether you have an up-and-coming business or are an established name in your industry, using Instagram Reels to increase your business reach is always a great idea. There are three ways in which you can implement Instagram Reels in your marketing strategies.

Content Authenticity: Reels offer individuals and businesses to reveal their more authentic side to their viewers. Creating Reels that are original and unfiltered builds sincere relationships between a brand and its customers.

Promoting Education Content: Reels are an excellent medium for educating people about your brand and products. For example, if you are a travel blogger, you can use the Reels to share your top five travel locations to visit during the summer with your followers. You can do that by using an appropriate image and pairing it with the perfect caption to grab your viewer's attention.

Displaying Products: Reels is the ideal platform for businesses to promote and create awareness about their services and products. With Instagram Reels allowing companies to showcase their products and tag them directly, Reels are a great way to increase sales.
What is the best format for reels?
The best format for the reels should be 1080 pixels x 1920 pixels and MP4 stands as the best format for the Instagram reels.
How long can a video be on Instagram 2023?
The video on Instagram can be atleast from 30 seconds to 60 minutes. If a video is longer than 60 seconds, then a preview gets generated on the feed.
What is the best Instagram strategy?
The best Instagram strategy is Increase brand awareness, Create engaging content, Drive website clicks from bio, and Sell products from the Instagram shop feature.
Ride the Digital Wave