Digital marketing is all the rage right now. By the end of 2020, it is expected to generate over 20 lakh jobs per year. As per a report by IMRB, online advertising in India is growing by 30% year after year. The government is also throwing significant weight behind initiatives like Digital India and the growth of Indian startups. As such, the digital marketing landscape is only going to brim over with opportunities in the coming years. You can read more about hottest and most trending Digital Marketing roles.
The phenomenon, however, is not going unnoticed. This is why there are lakhs of students and professionals studying or working to be digital marketers. The question is not who will get the job, but who will bag the best and most lucrative clients, projects, or position. This is where a digital marketing resume comes in.
If you've shed sweat and blood to develop your digital marketing skills but you fail to explain how good you are on your resume, then all that hard work is a waste. The story is different when you are an entrepreneur or a freelancer. But, if you are working to work at a reputed digital marketing agency or with your dream organization as a digital marketer, then your digital marketing resume will make or break your dream.
Seeing how important a one-page glimpse of your professional life is, we've put together a complete guide on how to craft a stellar digital marketing resume. Also included are digital marketing resume samples which will help you to see how professionals before you have gone on to create a resume that stands out and speaks strong.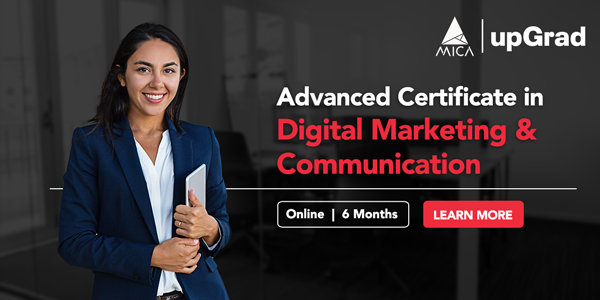 The Most Important Thing in Your Digital Marketing Resume
Specialization. Companies don't hire generic digital marketers who go around talking about how great they are at everything. Companies lookout for experts who can deliver excellent work and tangible results in a particular area– be it content writing, social media, copywriting, email marketing, SEO-optimized content, etc.
upGrad's Exclusive Digital Marketing Webinar for you –
What's new in Marketing?
Hence, you're better off focusing on a niche area and expounding on your expertise there rather than spreading the net too wide and hoping a company will catch bait and hire you.
Sections to include
The introduction- summary/ objective

Work experience

Key skills

Education and certifications (if any)

A section that shows your personality (quirky hobbies, 'most proud of')

General contact information
There is no rule that you should always include these sections. But, they are found in maximum resumes and are also relevant to the recruiter's decision.
Before beginning…
If you are applying to different organizations at once (which is mostly the case), then your resume needs to be tailored to reach one of them. You cannot be lazy and copy-paste the same matter in each one because different organizations would have different styles, missions, and goals. You'll need to demonstrate through your resume that you are meeting these needs presently and can do so in the future, too.
Thus, for every resume you ever create, you'll need to be 200% clear about the following things:
The role you are applying for- SEO specialist, affiliate marketer, social media manager, content writer, etc.

The type of company you are applying to- is it an agency or an enterprise?

What the employer is looking for- focus on hard skills like list building, headline writing, community management, email automation, etc. Soft skills like teamwork and sincerity are generic and are not actively sought out by employers.
Crafting a Stellar Digital Marketing Resume
Let's see how to make the most of each section. Bring your purpose in the resume summary/ objective.
This is arguably one of the most important sections in the resume. It's crucial for getting your foot in the door and getting the recruiter to read your resume further. Recruiters leaf through hundreds of resumes every day. If the introduction is not attention-grabbing, they won't read further.
If you do not have significant work experience, then you can write a resume objective. If you do, then a summary will work better.
Here are examples of both
Resume objective
Recent graduate from XYZ University who has completed three social media marketing internships. Used strategic and creative skills to craft compelling campaigns and generate profitable leads. Looking to work with <the name of the agency> as a social media marketer to scale up and produce results from lead generation and campaign creation efforts.
How not to write a resume objective
Recent graduate with a bachelor in economics. Looking to learn and become a digital marketer at <agency name>.
Get a certification first on your own maybe?
Next, here's how to write a resume summary when you have some experience under your belt
HubSpot and Adwords certified Digital Marketing Specialist. Worked for 5+ years in an international corporation as a Digital Marketing Manager. Carried out an extensive competitor and customer analysis and converted the results into a 15% increase in sales for each quarter.
Hard facts always. No fluffy or vague introduction like the following
An ambitious and sincere digital marketing expert with knowledge of SEO, content marketing, and email marketing.
Lots of digital marketers know this. But can you produce results? The recruiter is most interested in knowing this.
Also, write the summary/ objective at the end when you've written your entire resume. Or if you've written it first, then go back and edit it once. Your thought process will be clearer.
Write about your work experience
This is probably the most important after the introduction. So, how do you structure it for maximum impact, clarity, and ease of reading? Use the following template:
Name of designation :
Worked from ____- _____
Company name, location
Key responsibilities
<Use words like collaborated, implemented, identified, provided, executed, coordinated. Basically, action verbs that evoke a picture of you doing something>
Key achievements
<Include tangible, factual examples and provide numbers wherever possible>
Here's an example that will make it clearer:
Email marketing manager
Jan 2017 – October 2019
Sprout Social, NY, USA
Key responsibilities
Carry out an extensive competitor and customer analysis

Strategize end-to-end email marketing campaigns and focus areas for the upcoming quarter

Track and analyze results and responses to change certain campaign aspects
Key achievements
Generated 200+ relevant leads from cold email marketing campaign

Increased the CTR by 105% in a single quarter
Keep the number of points between 3-5.
Mention key skills
These are the skills you have amassed during the course of your entire career. Do not include any random skills. It should pertain to what the hiring manager is looking for, the position you are applying for, and the areas where you've worked and produced skills.
These are digital marketing hard skills
Keyword research

Content creation

Link building

PR

Guest posting

Competitor analysis

Traffic analysis and reporting

Google Adwords

Facebook ads

Instagram ads

Email strategy planning

Email campaign creation

Email copywriting

Email A/B testing

Email automation

Social media campaign management

Viral marketing

Headline writing

Copywriting

List building

Conversion optimization
Pick 3-5 of these and add them to the skills section. You can also mention soft skills like teamwork, attention to detail, accountability, time management skills, etc.
Best Digital Marketing Courses Online
Include an education section
Most resumes include the education section before the work one, but it makes more sense to include it after; for the employer, your work experience matters more if you are a professional.
If you don't have a degree that relates to this field in any way, but you do have digital marketing certifications, then include them! They'll speak of your passion and effort to master your skills by investing additional time, money, and energy.
If you've completed university, then there's no need to mention your schooling. If you have a Masters, then mention your degrees in reverse chronological order. Instead of including all degrees you've amassed, include specific coursework areas that are relevant to digital marketing like advertising, communications, marketing, branding, etc.
In-demand Digital Marketing Skills
Wrap it up with smaller details
These include your name, phone number, email address, links to your blog and/or LinkedIn profile (if you have them). Make sure you actively post and interact at the link you
Additional things to take care of
Keep the resume length to one page only. Unless you've worked in the industry for more than 6-10 years, your professional life should be summed in a single page only. Pick out your best accomplishments, clients, and projects that align with the role you're applying for currently. Include those only.

Do not use fancy fonts in a resume that are illegible. Use easily understandable ones that are professional and not too stiff either. Fonts like Ariel, Proxima Nova, Times New Roman, etc. work well.

Use whitespace generously; it makes the resume more readable.

Use headings generously; they save the recruiter's time, guide them easily from one section to another, and allow them to find what they're looking for quickly.

Proofread the resume for spelling and grammar using Grammarly. Even one slip up can leave a negative expression on the recruiter.
Digital Marketing Free courses to Learn
Wrapping Up
There you have it. The complete guide to crafting a digital marketing resume that stands out and makes you stand out as a result. How you make your resume says many things about you. So, even as you sit quietly and patiently in the HR's office as they look through your resume, make sure the best is being spoken about you. Get certified Advanced Certificate in Digital Marketing & Communication and uplift your career. Enrol now!
Popular Digital Marketing Blogs