From nostalgic dial-up connections in the 90's to the high-speed internet on-the-go, there is no denying that the internet has become an essential part of our lives. It is both exciting and surprising to see how the emerging economies are embracing the digital revolution so rapidly. In India alone, the internet users have grown to over 460 million in less than 20 years; second largest ranked only behind China. This large-scale digital revolution has completely transformed the landscape in which businesses and customers operate.
Marketing in this Digital Landscape
Businesses are going "Digital" to be better connected with their customer base. Few industries are more impacted by this transformation than traditional marketing. A source projected the spend amount to be 229.25 billion U.S. dollars in 2017 and that it would grow to 335.5 billion by 2020 with growth rates significantly outperforming any other media segment. In India alone, Digital Marketing spends amounted to almost Rs. 9,700 crore by December 2017. In Singapore, digital marketing spends are outgrowing all traditional marketing channels riding on the wave of burgeoning mobile and internet penetration and is expected to rise at a CAGR of 15 percent in Singapore over the next three years, exceeding the equivalent global growth rate of 11 percent.
The Next Big Opportunity
Career opportunities in digital marketing look promising and bright. Digital Marketing falls into the top 5 of most in-demand skills for hiring, in today's world. In addition, to become a successful business leader today, a deep knowledge of Digital Marketing is no longer a good-to-have – it is a must-have. Marketing professionals and leaders need to understand what marketing means in a digital age, how to build a brand that the consumers can connect to and achieve business goals in the process.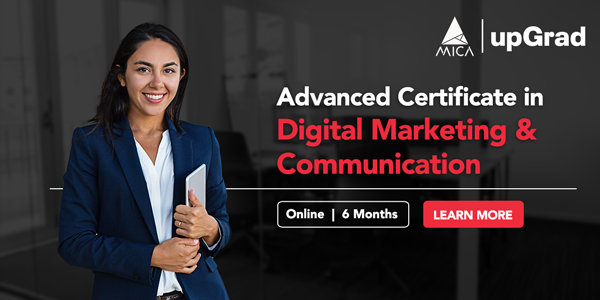 With the above market needs and lack of structured and quality educational offerings that allow professionals to get tangible business outcomes and career impact, we decided to create a program that would allow professionals to have a fresh global perspective to lead marketing in this digital age.
Best Digital Marketing Courses Online
Getting a Global Exposure
We started conversations with leading faculty at Cambridge Judge Business School. With more than 800 years of history in educating leaders, the University of Cambridge is one of the most prestigious universities in the world. It's Cambridge Judge Business School has forged a reputation as a center of rigorous thinking and high-impact education. Cambridge Judge Business School's MBA program has been globally ranked 5th by Financial Times in 2017.
"To be the first partner for Cambridge Judge Business School in Asia is a strong step forward in our journey. The association is a strong validation that online education is not just the future, but also the present"
– said Ronnie Screwvala and Mayank Kumar, co-founders of UpGrad.
Dr. Kishore Sengupta, Director of Executive Education at Cambridge Judge Business School and Prof. Jaideep Prabhu felt a strong need for a program in strategic digital marketing. Our program underlines the commitment by Cambridge Judge Business School to expand its Executive Education offerings to new audiences in different regions of the world, building on the extensive custom programs offered in Cambridge for many years.
upGrad's Exclusive Digital Marketing Webinar for you –
What's new in Marketing?
In-demand Digital Marketing Skills
For us at UpGrad, it's an opportunity to provide global recognition to professionals aspiring to get exposure to truly global education.

Global Content, Local Context
Both teams, UpGrad and Cambridge Judge Business School have worked together to meticulously curate what we believe is the most enriching and industry relevant program available on rethinking digital marketing from a strategic yet hands-on perspective. We collaborated with industry leaders from India, South-East Asia and Africa including Sakhee Dheer from Facebook, Apurva Chamaria from HCL, Cindy Koh from ANZ, Khurram Hamid from Pfizer and many more. In line with our mission to develop industry-relevant online programs for working professionals – these leading industry experts have been involved at every stage of program development and delivery.
"Global Content, Local Context", "Action Based Learning Experience" and "Tangible Career Outcomes" are the three aspects at the core of the learning experience in this program. UpGrad is starting the fourth batch from September 2018 and we are excited to be a part of the enriching learning experience of the digital leaders across emerging economies.
Learn digital marketing courses online from the World's top Universities. Earn Masters, Executive PGP, or Advanced Certificate Programs to fast-track your career.
Featured Programs for you – Advanced Certificate in Digital Branding & Advertising from MICA
Digital Marketing Free courses to Learn
Popular Digital Marketing Blogs