Initially, an MBA degree was something that students from all walks of life would aspire to obtain. However, an MBA degree is no longer confined to the students only today, there are MBA courses for working professionals as well. As the world around us continues to transform drastically even as we speak, so are the needs and demands of the industry evolving radically.
Today, just as students must gain advanced certifications and educational qualifications to prove their mettle, working professionals also must continuously demonstrate their competency in their respective fields. The adoption of innovative and disruptive technologies like Big Data, AI, and ML in the business environment is rapidly radicalizing the skill requirements in the industry.
Doing MBA after working experience is better than doing MBA right after graduation. If you want to explore more on this topic, read about the best time to do an MBA in India.
The bottom line – there is absolutely no scope for stagnancy. If you wish to move ahead in your career, you must take active initiatives for the same and MBA course is the best because of its diverse and attractive career options. One of the best ways to acquire new skills that can help you create value for your company is to take up an Executive MBA (EMBA) course.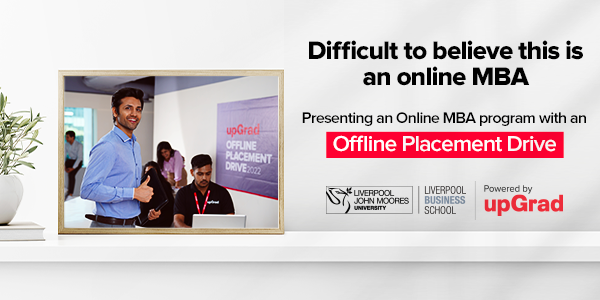 Advantages of Pursuing MBA for Working Professionals
With this background, let's now go through the advantages of pursuing an MBA degree for working professionals
1. Monetary benefits:
One of the best benefits is you can continue your job while pursuing MBA without any negative effects on your studies. No need to abandon your current job and solely focus on the MBA program. After the course is completed, you can explore even more career opportunities.
2. Flexibility:
Various MBA courses for working professionals are designed to help you study at your pace and time. You can choose the course's study schedule based on your convenience.
3. Functional:
An MBA degree for working professionals keeps you on the job and helps you to stay closer to the functional environment. You will learn while working. Moreover, it unlocks outstanding opportunities to network with others.
Career Prospects after pursuing MBA for the Working Professionals:
Many MBA courses for working professionals are structured so that the students can access lucrative job opportunities after the course completion. Here is the list of a few appealing career opportunities one can explore after completing an MBA for working professionals in India:
Project Manager

Account Manager

Sales Manager

Risk Manager

Brand Manager

Marketing Manager

Digital Marketing Manager

Human Resource Manager

Management Consultant

Finance Manager

Management Consultant

Entrepreneur

Business Analyst

Data Analysts

Operations Manager

Equity Research Analyst

Finance Manager

Project Manager

Business Development Executive
Now let's go through the details of an MBA for working professionals in some major cities of India.
Best colleges for MBA for Working Professionals in Delhi:
Delhi is an educational hub in India. Students from various parts of the country envision obtaining admission to the top-ranked colleges and universities on the list. Below is a list of a few of the topmost colleges for MBA for working professionals in Delhi.
International Management Institute

Indian Institute of Foreign Trade

Jamia Millia Islamia

Delhi University

Institute of Management and Technology
Best colleges for MBA for Working Professionals in Bangalore:
Bangalore is India's Silicon Valley. Completing an MBA from one of the leading colleges in Bangalore increases the chances of jobs with a decent salary. Here is the list of some of the topmost colleges in Bangalore for MBA for working professionals:
IIM

Christ University

Institute of Management Technology

Indian School of Business Management

ILAM Bangalore
Pursuing MBA for Working Professionals from IIM
IIM is one of the premier colleges to pursue an MBA. It may seem tough to get admission here because students must meet the eligibility criteria declared by the college. Completing an MBA from IIM guarantees high-profile jobs with admirable salary packages. There are 12 IIMs in India that run executive MBA programs. Here is the list of a few topmost IIM colleges in which MBA for working professionals in India can get admission.
IIM, Bangalore

IIM, Ahmedabad

IIM, Calcutta

IIM, Indore

IIM, Lucknow
MBA programs for working professionals are best suitable for:
Working executives aiming to transit from technical to managerial roles

Mid-to senior-level managers ambitious to apply the cutting-edge management principles and accept challenging responsibilities

Entrepreneurs who wish to scale up their business by escalating their management repertoire
What is an Executive MBA for Working Professionals?
An Executive MBA for working professionals is designed to help them move higher up the promotional ladder to senior-level leadership and managerial roles. Usually, an Executive MBA for working professionals allows them to accomplish their goals of higher studies, thereby enabling them to sharpen and expand their business and managerial skills.
The best thing about an Executive MBA for working professionals is that any professional having around 2-5 years of experience can take up an EMBA program. However, the specifics of the eligibility criteria might vary from one institution to another.
An Executive MBA program usually targets talented and experienced professionals from different fields. It is more suitable for those candidates willing to enhance their skills, obtain more experience, and learn leadership qualities. It is one of the best MBA for working professionals because its multicultural nature provides them with international management experience. Moreover, they can have an adaptable schedule that doesn't negatively affect their ongoing job.
Some colleges provide executive MBA programs for 15-18 months. EMBA is suitable for working professionals as it emphasises more the business' critical details and lessons in the theory. Generally, this program proves to be the best MBA for working professionals who have amassed 4-5 years of experience in the industry and own advanced management knowledge. These qualities help them quickly escalate their career graph.
Let's now get familiar with the types of executing MBA programs.
Types of executive MBA:
The executive MBA program is suitable for working professionals and they usually have less time. It may become difficult for them to attend classes. Such problems can be solved by choosing a suitable type of executive MBA program that matches your schedule.
Full-Time Executive MBA:
Its course duration is 1 year. It primarily relies on teamwork with a determination to accomplish a common goal. It is best suited for students having decent analytical skills, aptitude skills, IT skills, and some experience in the management field.
Students who pursue this course from one of the leading MBA colleges in India would study topics like Human Resource Management, Marketing, Microfinance, International Business, etc. Moreover, the course curriculum introduces them to Executive Communication and Strategic Management. These aspects help them survive in the competitive job environment and therefore, it is the best MBA for working professionals in India.
EMBA Online:
Various colleges offer EMBA in online mode. It is suitable for those working professionals who don't want to abandon their jobs and still effectively pursue MBA. EMBA Online is prevalent in India and abroad too. Compared to the on-campus courses, EMBA Online is cheaper.
Usually, its course duration is 15-20 months. The candidates must have a GPA score of 3.0 out of 4.0 and a minimum GMAT score of 550 to qualify for this one of the best MBA for working professionals in India. It is commonly found that EMBA online is extremely useful for pursuing an MBA for IT professionals in India.
Weekend EMBA:
These days, weekend MBAs are becoming widespread for those students who want to continue their jobs in the quest for an EMBA degree. The course duration is 18 months. You can make the most of this type of EMBA if you hold at least 3 years of industry experience. Its course structure is found more suitable for the MBA for IT professionals in India. The reason is this program avoids classes during the weekdays considering that the candidate would be busy with their job.
upGrad's Executive MBA with Specialization in Business Analytics is one of the most excellent EMBA programs in the country.
upGrad Advantage
upGrad's courses are very well-structured and designed to cater to the evolving needs of students/professionals, and its MBA(Executive)-BA program is no exception. Apart from 1000+ hours of learning, the program promises more than 200 hours of live faculty interaction.
Candidates get to hone their industry skills by working on 20 projects, with the 3-month Capstone Project being a part of the growing experience. Furthermore, you also get to indulge in one-on-one interaction sessions with top industry leaders. Learn more about the scope of MBA in Business Analytics.
To ensure a well-rounded learning experience, upGrad has a dedicated team of mentors who are ever-ready to offer 360-degree career support to each candidate. They also provide personalized feedback to each individual on their assignments and help them track their progress throughout the course duration.
To help students with placement, the faculty conducts mock interviews and resume building sessions. upGrad also hosts various offline events to encourage peer-to-peer networking.
On completion of upGrad's Executive MBA course for working professionals, you can connect with over 250 hiring partners of UpGrad. You can choose from among a diverse range of job roles such as Business Consultant, Management Consultant, International Business Manager, Senior Business Development Executive, Brand Manager, and Account Manager, to name a few.
Many candidates are confused about doing an MBA while working. Well, determining how to work and manage time while pursuing a Master's or PhD degree is one of the challenging aspects of graduate school. However, the good news is that you can effectively plan a class schedule that lets you work full-time when pursuing your MBA. Adopting a business attitude streamlines the learning of MBA programs for working professionals.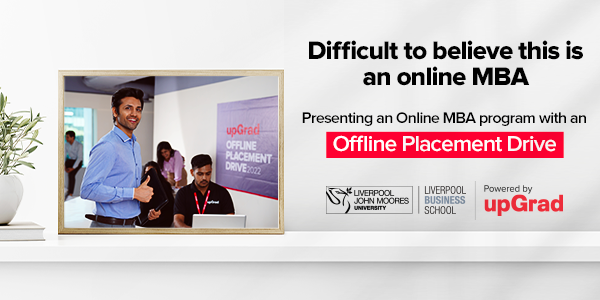 For working professionals, this course is an excellent choice because the weekly time commitment is only around 10-15 hours. This gives you the flexibility to juggle your work and studies efficiently.
So, how about enrolling in upGrad's MBA from Liverpool Business School and taking your career to the next level?
Learn MBA Courses from the World's top Universities. Earn Masters, Executive PGP, or Advanced Certificate Programs to fast-track your career.