As of January 2021, almost 4.66 billion population worldwide are active internet users. Most people rely on the internet to gather knowledge about a product or service, preferring an educated purchase. Such consumer behaviour has paved the way for a vital business optimisation strategy called Digital Marketing. It has helped businesses to  reach out to their target audience in a measurable and cost-efficient manner, boosting customer-brand interaction.
But, do you know what digital marketing is or how many different types of digital marketing avenues are available? Read on to find out more about digital marketing types.
Learn digital marketing courses online from the World's top Universities. Earn Masters, Executive PGP, or Advanced Certificate Programs to fast-track your career.
Digital Marketing: What is it?
Digital marketing is any form of marketing that can be done online and is thus, also called online marketing. It includes various marketing strategies businesses use to reach out to their customer base online, using channels like email, social media, search engines, etc. Some common assets of digital marketing are:
Social media

Video content

Image content

Blog posts

Customer testimonials, reviews
Best Digital Marketing Courses Online
Digital marketing types:
The ten most popular ones with examples
Now that you know what online marketing is, here are the various types of online marketing.
SEO or Search Engine Optimisation
SEO is a critical digital marketing strategy where content is created specially, ensuring search engines (like Bing, Yahoo, Google, etc.) rank the content page highest. You can ensure higher ranks by putting specific phrases and keywords in the content to increase organic traffic on your page. Websites, infographics, and blogs highly benefit from SEO.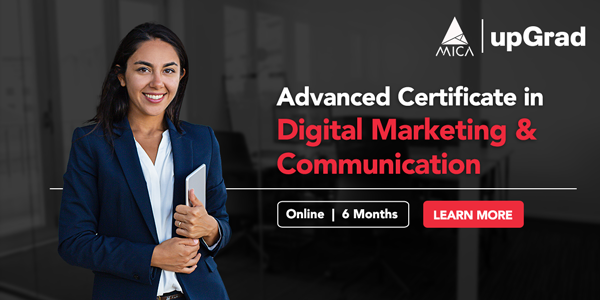 You can approach SEO in any of the following ways:
On-page SEO

: Focuses on content within a page. For example, if a company is selling chocolates and prefers using SEO as their digital marketing strategy, then their content would include repeated keywords like "buy chocolate," "homemade chocolate," "best chocolate online", etc.

Off-page SEO

: Focuses on off-the-page activities, like backlinks, brand mentions, forums, commenting, guest author contributions, etc.

Technical SEO

: focuses on the website's backend and the coding. Some common forms of technical SEO include structured data, image compression, etc.
Content Marketing
A simple strategy where marketing teams create and promote different content aimed at lead generation and sales. These content pieces can range from blogs, infographics, and ebooks to videos or images with SEO-heavy and user-friendly content to attract potential customers. 
Here are a few examples of content marketing:
"Share A Coke" campaign by Coke

Question time campaign by McDonald's

Design School by Canva
SMM or Social Media Marketing
SMM strategy uses social media for a product, brand, or content promotion. This strategy is applied via platforms like Facebook, Instagram, LinkedIn, Twitter, Pinterest, etc., and is helpful in driving traffic and enhancing brand awareness. Brands can execute SMM through paid ads or organic content creation on social media platforms. This strategy is effective due to higher engagement. 
Some examples are:
#yearwrapped by Spotify on Instagram stories

'The Best Men Can Be' by Gillette on YouTube

#WhatsYourName by Starbucks UK on Instagram
Digital Marketing Free courses to Learn
PPC or Pay Per Click
PPC strategy uses paid advertising to divert traffic to a website. The process is relatively straightforward, where every time the advertisement is clicked, a fee is charged. Google is perhaps the most common PPC type, enabling paid option to use the top slots of its search engine. 
Other examples of PPC marketing are:
Twitter ads, where you can pay for profile badges and post series directed towards a specific audience pool.

Facebook ads, where you can customise your product videos or images, and Facebook will subsequently publish them to the user's news feed.

LinkedIn sponsored messages that allow users to send direct messages to targeted LinkedIn users.
SEM or Search Engine Marketing
SEM is SEO's paid version, which allows a brand to purchase an ad space that pops up on SERPs (Search Engine Results Page). Such results can be identified with a tiny 'Ad' sign before the URL. Another popular SEM service provider is Bing Ads.
Email marketing
Emails are a vital digital marketing asset companies can use to stay connected to their audience and promote their content, events, etc. Sending customised newsletters to the consumers or offering them special discounts based on their purchase history are also forms of email marketing. 
Some examples of email marketing are:
Uber and Buzzfeed use to-the-point newsletter marketing

Litmus uses unique GIFs in its email marketing

Flock uses curated emails and reminder emails for marketing
Affiliate marketing
Affiliate marketing is an execution-based advertising strategy where content producers receive a commission for promoting a service or product on your website. Their commissions are based on the number of conversions they generate for your products. It can be perceived as a newer variant of influencer marketing, where influencers drive traffic toward your website.
Some examples of affiliate marketing include:
Everyday Carry, Gear Patrol, link Amazon products for promotion

Glory Cycles is an affiliate website for eBay
Inbound Marketing
A buyer's journey has three crucial steps, which are:
The Awareness stage is when a consumer notices their needs.

The Consideration stage is when the consumer finalises a course for need satisfaction.

Finally, the Decision stage is when a consumer decides the product or service is suitable for their needs.
Inbound marketing strategy ensures consumers' engagement in these three stages by curating interesting content. Attracting a consumer with relevant content, engaging through communication and customer service, followed by delighting a consumer through unique experiences are the three steps to inbound marketing. Inbound marketing is based on working with, not against, a consumer. 
Some examples include:
Viral videos

Topical blogs

Webinars

Campaigns on social media
Instant Messaging Marketing
Want to reach out to a consumer in the fastest way possible? Instant Messaging Marketing is the perfect option. You can traditionally send the message (cell phones) or use any direct message feature of social media applications (WhatsApp, Facebook, Instagram, etc.). This simple strategy can be ideal for introducing the audience to new products, flash sales, order updates, etc.
Virtual Reality Marketing
VR Marketing lets users gather an audience for a brand through the service's immersive experience using technological hot fields to attract potential customers. For example, IKEA uses VR marketing to give its customers an idea of how furniture would look in their houses. 
Popular Digital Marketing Blogs
Is digital marketing your career choice?
If your goal is to become a digital marketing expert, you should learn digital marketing on upGrad, which offers an Advanced Certificate in Digital Marketing and Communication. 
This course runs for about 32 to 50 weeks, where you learn about Marketing Analytics, SEO, SEM, and much more. Here are a few program highlights:
Learn from industry experts like Protinex, Zivame

Facebook and MICA certifications

More than 15 case studies, live projects

Mock interview sessions

Avail 80+ tools from the video library
What are the most popular types of online marketing?
he most popular types of online marketing are: PPC or Pay Per Click marketing, SEO Marketing,, Social Media Marketing, Content Marketing, Affiliate Marketing.
Why is digital marketing important?
Digital marketing is essential because: It is cost-effective, It is measurable, Adaptation and modification in these strategies are easier, Higher audience engagement.
What are the job opportunities after the digital marketing course?
With the completion of a digital marketing course, you can apply for any of the following positions: Social media manager, Content marketing specialist, Product marketing manager, SEO Specialist, Digital Marketing Strategist .
Prepare for a Career of the Future