Luxury Brands Management
Luxury Brand Management is all about analysing the brand's relationship with the customer and applying innovation, product design and creativity to attract and retain customers. It is the skill to create memorable brand experiences.
As the age of social media, and communication dawned, it has revolutionised with brands using creative platforms like Facebook, Pinterest, Instagram, YouTube, etc., to build a solid online presence. Naturally, the luxury industry has evolved considerably, with emerging brands actively hiring skilled marketing candidates to increase their brand value and marketing positioning.
When we talk about any "Luxury" brand, we don't just mean consuming a brand's products, but we also indicate the excellence, story, and heritage that comes with it. Companies aim to offer their consumers intangible values and more significant meaning through good quality products and services.
Undergrads pursuing a career in Product and Brand Management mostly become experts in critical decision-making for high-end brands. They develop brand strategies, and marketing campaigns and also identify the hero products that perform exceptionally well.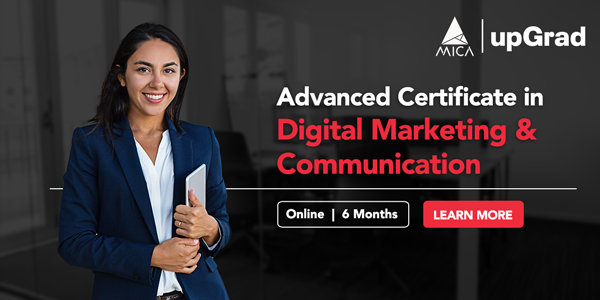 Learn digital marketing courses online from the World's top Universities. Earn Masters, Executive PGP, or Advanced Certificate Programs to fast-track your career.
Best Digital Marketing Courses Online
Why should you pursue a Luxury Brand Management Career?
Any Luxury Brand Management course will help you develop business acumen, marketing skills, and other career skills required to analyse brand strategies better. The field of luxury branding is an evolving and vibrant industry with unique opportunities and experiences.
A Luxury Brand Management course helps you understand the market demand, consumer behaviour, and needs of the target audience. It also enables you to develop essential skills such as sourcing, merchandising, brand development, pricing and distribution, media marketing and communication skills.
What is the Eligibility for becoming Luxury Brand Manager?
To become a Luxury Brand Manager, one needs to have the following qualifications:
Educational Qualifications
One must have a bachelor's degree from a recognised institute in luxury brand expertise. However, some top brands prefer MBA graduates.
You must have at 5+years of work experience to apply as a Brand Manager in several luxury brands. However, the work experience that is required can shift from the company.
You must have:
Good Communication Skills

Leadership skills

Motivation towards team building

Passion for luxury items

Knowledge of the luxury market

Ability to perform under pressure

Attention to detail
Is Luxury brand Management the Right Career Path for You?
With the Luxury Brand Management course being an emerging field, it is natural to have reservations regarding its career trajectory. However, in the modern market, a Luxury Brand Manager holds excellent prospects accompanied by a hefty annual salary.
Steps for becoming a successful Luxury Brand Manager:
Here is a detailed rundown on becoming a successful Luxury Brand Manager.
Pursuing a Bachelor's degree Course
Luxury Brand Management courses are primarily offered at the master's level in most institutes. Therefore, you can choose any specialisation stream (science, arts, commerce, BBA) for your bachelors' degree.
Enrol in a Postgraduation Course
At the postgraduate level, an MBA in Luxury Brand Management, an MBA in luxury goods or fashion, or even a Master of Fashion Management, Experience & Design Management are good choices. Through these programs, you will be taught ways to manage the business and requirements of luxury brands. In addition, you have the opportunity to take a closer look at how branding involves a blend of emotions, art, science, and logic.
What else do you get to learn?
Recognise social patterns and individual behaviours.

Develop solid connections or values to increase any consumers' experience.

Opportunities to work with exclusive luxury brands to understand how the luxury industry works.
The final leg of establishing a flourishing career in Luxury Brand Management is to gain professional experience through industrial training or full-time employment.
Top Institutes in India to pursue a course in Luxury Brand Management
If one wishes to pursue higher study in the field of luxury brand management in India, the following are some excellent Indian institutes:
Indian Institute of Management

SP Jain School of Global Management

Lifestyle & Luxury Management Institute

upGrad

FAD International

Luxury Connect Business School

Pearl Academy

Athena School of Management

Luxury Connect's Business School

Jain University
What are the Job Responsibilities of a Luxury Brand Manager?
A Luxury Brand Manager juggles multiple hats daily. Some of their primary duties include:
Performing market research to identify the target users' spending patterns and needs.

Monitoring customer reactions and their feedback.

Working in the area of product marketing.

Overseeing creatives for brand products.

Arranging events for launching products and creating hype around them.

Connecting with different departments to create a cohesive brand image.
What are the various Career Prospects in the field of Luxury Brand Management?
Some years ago, the concept of Strategic Brand Management didn't exist, let alone the popularity of the field as a career path. However, this field has evolved and offers many exciting opportunities that pay well.
Let us take a glance at some of the popular career options in the market for students:
This is the most popular job option that students choose these days after completing a brand management course. The central role deals with conducting market research for all the target products so that the brand can potentially grow. In addition, you will have to innovatively organise promotional campaigns, collaborate with other trending designers, creators, and analyse the budgets for production, marketing, and brand development.
Product Marketing Manager
This role is involved in the development and production phase of the product. Product marketing managers use their expertise to conduct surveys to analyse customers' demands and gain a comprehensive idea of their preferences. They research customer expectations and outline strategies to streamline product design, execution, and development.
A PR specialist helps the brand maintain a relationship with media houses to convey the right image of the brand to its customers. They help cultivate and nurture a brand's image both in offline and online channels. In addition, PR personnel network with the editors and writers of fashion magazines to ensure that no negative narratives are being disseminated about their clients.
Fashion retail buyers analyse the market buying pattern to predict upcoming trends. They decide which merchandise to sell and the volume of products to be pushed out in the market to meet the customer demands. Fashion retail buyers also examine the discount and sale performance while maintaining good business relationships with suppliers.
This is another famous avenue. Innate knowledge of management, good research skills, creative thinking can make one a competent Visual Merchandiser. They identify critical risks in marketing campaigns sales, maintain a database for various services/products, manage promotional events, etc.
Popular Digital Marketing Blogs
Conclusion
Presently, the luxury marketplace is exceptionally competitive. This calls for aggressive innovation in brand management strategies around product creation, development, marketing, and sales. Thus, it demands that luxury brand management executives devise effective business strategies while focusing on consumers' needs. In addition, they must showcase unparalleled creativity in product design and brand outreach.
If you're searching for academic guidance during your career in luxury brand management, upGrad is the right place for you. upGrad's Advanced Certificate in Digital Branding & Advertising, sponsored by MICA, is a perfect course for brand management aspirants.
Now that you have read this article, we hope you can make a more informed decision on how to proceed with a career in luxury brand management.