Through the last two decades, the digital revolution has reached its peak. However, experts believe that its full potential is yet to be utilised. Actually, the whole concept is still very naive and we are exploring newer sides of the concept almost every day. But what can we expect in the nearby future? While some marketers believe the internet space is going to expand further with more companies entering the digital world, others say there will be a complete makeover of how users and search engine giants give preference to the huge amount of data available on the internet. Keeping in mind all these possibilities, let's focus on the next 10 things you can expect in this space.
Learn digital marketing courses online from the World's top Universities. Earn Masters, Executive PGP, or Advanced Certificate Programs to fast-track your career.
Video Ads will dominate
Video advertisements are already a popular medium for digital marketers. Facebook and YouTube are the oldest players in this field. But now Google is also entering the arena with in-SERP video advertising. Experts believe that this signifies the acceptance of video ads among users and will change the whole spectrum of online advertisement.

Mobile over desktop
Digital marketers are actually preaching for websites which are optimized for mobile. This handheld device is the new sensation which is outsmarting the good old desktop and the fading away of desktop traffic clearly indicates that the smart money rests on mobile-focused internet marketing. Going forward, mobile search and optimization should be a top priority for digital marketers.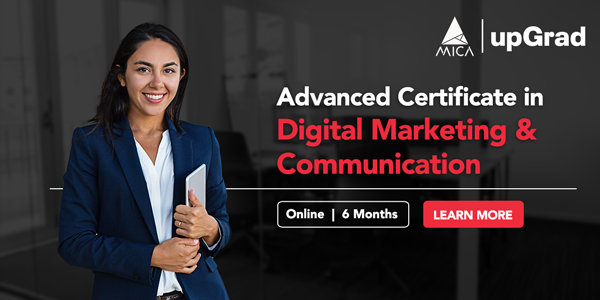 A Comprehensive Guide to Marketing Analytics
Delivering the message
Messaging apps such as Facebook Messenger and Snapchat will continue to add users at a quick pace. These will actually become the central communication hubs, decked up with an array of services for the users. The importance of messaging environments will grow, as marketers focus more intently on creating organic mobile engagements for younger consumers.
Dedicated apps
Although we're still years away from apps completely replacing websites, business owners are realizing their potential and 2018 will be a pivotal year in mobile app development. Google has offered app indexing which will certainly be advantageous when it comes to having a dedicated app for your business in the future.
Social conversion is inevitable
Till date, social media handles have worked as lead generation mediums and online dedicated communities. But now these will work as new conversion channels and offer tools to convert prospects directly into buyers. In the near future, the online communities will not be bound to only company-consumer conversations or attracting new prospects; instead, they will provide opportunities to improve conversion rates.
upGrad's Exclusive Digital Marketing Webinar for you –
Watch our webinar on "What's new in Marketing"
Google AdSense: How it Works and How to Work Around Issues
Ever-changing search algorithms
With the enormous amount of information being added to the internet every second, search engine giants will keep on updating their algorithm to decide which content should get priority and rank higher in search engine result pages (SERPs) and which should not. So, like it or not, the search engine algorithms will change continuously.
Best Digital Marketing Courses Online
Online advertising will become more expensive
Digital marketing practices have grown exponentially over the last few years. The competition for online space and dominance over the internet is going to expand further. As the demand for top advertising spots rises, naturally the prices for online advertising will also increase.
In-demand Digital Marketing Skills
Post-broadcast, post-digital future
The digital media bubble will pop in the forthcoming future. Media will bifurcate into massive networks that roll up many properties for scale and synergy or niche publications charging premium prices based on the strength of their brand. In this environment, savvy marketers will focus on developing omnichannel experiences, something that will require transforming their organizations for greater internal cooperation.

Growth hacking will continue to evolve
Growth hacking is the scientific approach to marketing. Growth hacking is the use of unconventional alternatives to traditional marketing such as social media, viral marketing, innovation, scalability and user-connectivity. This is here to stay and it will evolve further in future. The need for digital marketers to quickly grab their audiences' attention through social media channels, viral marketing, and organic ads in 2018 will take growth hacking to an even bigger level.
Digital Marketing Free courses to Learn
Quality content will be the key
Content is the 'king' in digital marketing and it will remain an essential part of any online marketing campaign in the years to come. The influx of professional writers and video producers will make content marketing more competitive. The key will be to write unique, high-quality, and interactive content that readers can connect with.
3 Must-have SEO Tools to Explode your Ranks
Digital Marketing is such a concept which always welcomes the idea of 'thinking out of the box'. From the way this concept has evolved in the past, we can say that predicting the future for it will be too risky as it will always try to unfold the unexpected!
Popular Digital Marketing Blogs