Introduction
What actually is Dwell Time?
So many marketers are confused about dwell time. What is dwell time? Does it impact search ranking? How to influence it? How search engines use it?
Marketers who know about dwell time overlook the importance dwell time has. 
I will try to answer all of these questions in this article. 
What is Dwell Time?
Dwell time is the amount of time a user spends on a page once they have clicked a link on the search engine results page before going back to the SERPs. Dwell time metrics help webmasters to understand how their web pages are satisfying the need of their users. The longer the dwell time, the better. 
Example: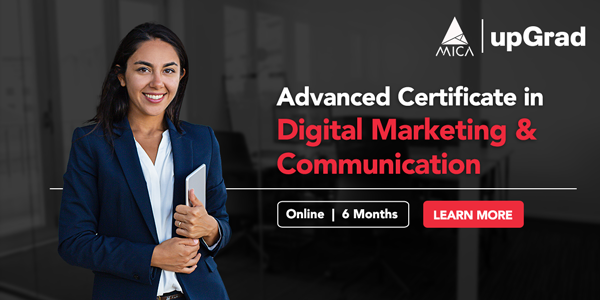 Let me explain this with an example
I search for 'digital marketing project ideas'
I click the first result from upGrad. 
I like the content, so I spend 6 minutes 10 seconds reading the blog. And I want to learn more about the topic, so I go back to Google SERP and click another listing. 
So, my dwell time on the page was 6 minutes and 10 seconds. 
Here, this means the content is good. If the dwell time was 10 seconds, the content is not answering your question. 
Difference Between Dwell Time and Bounce Rate
Don't get confused between dwell time and bounce rate. Even though they sound similar, they are not. 
Bounce happens when the user views only one web page of yours and bounce back. 
No matter how long they stay on the website, we call it bounce. They may go back to SERP or they may simply close your website. 
Read: Digital Marketing Tutorial
Best Online Digital Marketing Courses
Difference Between Dwell Time & Time on Page
Time on page means how long a user stays on your web page before going anywhere – it can be anywhere – to another page, SERP, another website, etc. And the user could have came from anywhere – referral link, social media link, email link, etc. 
But dwell time specially calculates how long a user stays on your webpage before going back to SERP.
Why Should You Take Dwell Time Serious
We have evidence that Bing uses dwell time as a ranking factor. We don't know for sure that if Google also considers Dwell time as a ranking factor. But we SEO guys have experience in & mastered the art of finding clues from everything. 
Back in 2017, Mike Kilinski released an audio clip of Nick Frost, Head Google Brain confirming pogosticking part of Google Brain search algorithm. 
Part of the transcript:
So when search was invented, like when Google was invented many years ago, they wrote heuristics that had figure out what the relationship between a search and the best page for that search was. And those heuristics worked pretty well and continue to work pretty well.
But Google is now integrating machine learning into that process. So then training models on when someone clicks on a page and stays on that page, when they go back or when they and trying to figure out exactly on that relationship.
It is obvious that RankBrain calculates how long a user spends on a page. Google definitely would want to satisfy its searchers by offering the best websites on top. 
Also Read: Digital Marketing Interview Questions & Answers
How to Improve Dwell Time?
Well, now you know what is dwell time exactly and how important it is. So, what are all you can do to improve the dwell time of your website? 
1. Create Quality Content
Nothing beats it. Internet is filled with content but quality content is a handful. Of course, content with more than 2000 words work better most of the time. But here, am talking about creating right, relevant content which solves users' query without confusing them. 
Don't use bigger words and lengthy sentences. Use simple words and short paragraphs as we are not in the age of reading as most of us just scan the content and try to find the answers easily.  If suitable, consider creating pageless scrolling. 
Top Digital Marketing Skills
2. Add Video(s)
This is an era of videos. Videos are dominating the internet so add relevant videos to the web page (and make sure the videos are not too long as people don't really prefer long videos). 
Learn Digital Marketing Course Online from the World's top Universities. Earn Masters, Executive PGP, or Advanced Certificate Programs to fast-track your career.
3. Increase your website speed
47% of users leave your website if it takes more than 2 seconds to load. So, work on increase your website speed. Remove unnecessary elements that are dragging down the speed.
4. Add relevant internal linking
By adding relevant internal links on your page increases the time spent by users on your website. Modern websites are trying everything to keep the user once they landed on their pages. 
5. Work on overall user experience
Decrease the number of pop-up windows. Give enough whitespace between lines. Make the paragraphs shorter. Don't bury the answers deep down. Avoid adding auto-roll videos when a user visits your website. Once you design your web page, ask yourself how are you liking the web page as a user. Improve your mobile optimization. 
Digital Marketing Free courses to Learn
upGrad's Exclusive Digital Marketing Webinar for you –
Webinar with Q&A Session on Digital Marketing
Conclusion
The optimization you do to increase your dwell time will not just improve your dwell time but also the entire user experience. You are not doing it for search engine ranking but also for better conversions. 
Dwell time is Google's one of the god-knows-how-many ranking factors. (Do you still believe it's still 200?) When you work on improving user experience, presenting the best, relevant result in the SERP, Google will identify and reward the #1 spot. 
If you are interested to learn about digital marketing, upGrad is a great place to start your digital marketing journey.
upGrad's digital marketing course duration is 6.5 months. The course is fragmented into various modules consisting of theory, case studies, and live industry projects on topics like SEO, SEM, social media/content/email marketing, marketing analytics, campaign management, and marketing strategy, among other things.
The upGrad and MICA PG Certification in Digital Marketing & Communication course take on a holistic approach to digital marketing. By the time you finish with us, one thing is for sure – your horizon of knowledge will expand significantly and you'll learn to think and act like a true digital marketer. With so many perks and benefits, why should you go someplace else?
Popular Digital Marketing Blogs
Ride the Digital Wave
upgrad and MICA's PG certification in digital marketing and communication

Learn More