When you research MBA fees structure, MBA fees in India, or cost of MBA in India, you must have always wondered if the degree is capable of offering returns on your investment. The answer, of course, lies in the affirmative. MBA has immense value and helps generate a lot of career options once you complete the same from a reputed institute. Choose the right specialisation, and you can set the ball rolling towards a successful career.
An MBA degree is one of the most coveted and valued degrees not only in India but all across the world. While career options after MBA is bright, it comes at a price – a hefty one at that!
When it comes to pursuing an MBA, the MBA free structure in India is one of the crucial deciding factors for many aspirants. It is the MBA course fee in India that determines which B-school one will be selecting. And with the substantial investment that you will make in terms of money and 2-years of dedicated effort, you would expect to receive the befitting ROI – campus life, faculty members, infrastructure, and of course, placement.
Read: Check out the Scope of MBA for IT industry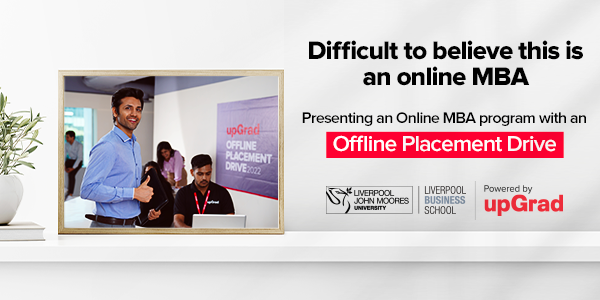 Why Is MBA So Popular?
MBA is one of the most valued courses at the PG level among students in India and even Indians studying abroad. Such aspirants believe this degree to offer them a direct opportunity to crack jobs in managerial positions at reputable businesses. However, you do need to keep in mind that the reputation of the MBA institute also matters greatly when you judge the possibility of getting placed after a degree from the same.
MBA Fee Structure in India
It is a known fact that top B-schools in the country (for instance, IIM), demand a much higher course fee as compared to average management institutions.
The 'Costlier' Factor
Getting an MBA degree from a top institute, and to some extent, from a mid-tier institute, too, means you have to shell out a hefty fee. Even before you begin the course, you spend a decent amount of money preparing for the MBA entrance examinations. The MBA cost in India or MBA courses fees, includes many more headers over and above the tuition fees. These include-
Preparation costs

Opportunity cost

Value

Alumni network

Badge
Generally, the MBA course fee in India presents an extensive range – it may range anywhere from Rs. 5 LPA to even Rs. 25 LPA! Obviously, the low-end fee is demanded by mediocre institutions and colleges, whereas the high-end course fee is reserved for cream institutes like ISB and IIMs.
However, these figures merely present the MBA course fee, excluding taxes, accommodation charges, cost of meals, study materials, and other additional charges. On adding all the extra charges, the fee may range anywhere around Rs. 7 LPA to Rs. 30 LPA, depending upon the program you choose.
Granted that most reputed B-schools charge high MBA course fees in India, on completion of the course, they do promise a high ROI – the average salary for freshers hailing from such schools ranges between Rs. 20-22 LPA.
Our learners also read: Career after MBA!
Now, let's take a look at the MBA course fee or MBA fees structure, MBA cost in India, or MBA courses fees in India of some of the top-ranking colleges to gain a better idea about the fee structure of colleges offering MBA courses in India.
| | |
| --- | --- |
| Institution | Course Fee |
| IIM Ahmedabad | Rs. 21 lakh |
| IIM Bangalore | Rs. 19.50 lakh |
| IIM Calcutta | Rs. 19 lakh |
| XLRI Jamshedpur | Rs. 16.8 lakh |
| Great Lakes Institute of Management, Chennai | Rs. 16.50 lakh |
| IIM Kozhikode | Rs. 16 lakh |
| MDI Gurgaon | Rs. 15.96 lakh |
| SPJIMR Mumbai | Rs. 14.5 lakh |
| IIFT Delhi | Rs. 14.50 lakh |
| IIM Indore | Rs. 14 lakh |
| Goa Institute of Management | Rs. 13.85 lakh |
| IIM Rohtak | Rs. 10.5 lakh |
| IIM Ranchi | Rs. 9.70 lakh |
| IIM Udaipur | Rs. 9.50 lakh |
| IMNU, Ahmedabad | Rs. 8.9 lakh |
| NITIE Mumbai | Rs. 8.10 lakh |
| VGSoM, IIT Kharagpur | Rs. 6.72 lakh |
| DoMS, IIT Madras | Rs. 6 lakh |
| DMS, IIT Delhi | Rs. 4.39 lakh |
| DoMS, IIT Roorkee | Rs. 4.18 lakh |
| DMS, IISc. Bangalore | Rs. 3 lakh |
Part-Time Versus Full-Time MBA
While full-time programmes in MBA have been a traditionally favoured pick among graduates fresh out of college. More and more working executives and industry professionals are willing to tap into MBA anew while they are still working. Some do take sabbaticals to pursue a full-time programme, but that is an exception. A part-time or executive MBA is gradually becoming available at top institutes with MBA fees in India or cost of MBA in India for the same variable from a full-time option.
Once completed, such a degree awards professionals the scope to tap better work opportunities, career progression and even target increased pay packages.
While you can draw a head-to-head comparison between both programmes, the crux of comparing falls flat. Therefore, simply judging a program on the MBA fees structure, or cost of MBA in India is flimsy.
An executive programme will always appeal to a separate segment of aspirants with different goals and from different backgrounds. In contrast, a full-time MBA is preferable for people who still hope to gain academic experience. Therefore, depending on your target, priority, and what conditioning you currently have in mind—the MBA category choice becomes valid.
Why is upGrad a Better Option?
upGrad offers an excellent MBA From Golden Gate University that is perfect for individuals who are on a serious time crunch – it is an online course, hence ideal for busy professionals! The fact that upGrad offers its MBA course online denotes the amount of flexibility you'll get while pursuing it. You can take the course at your convenience and pace – the course demands only 10-15 hours of time commitment per week.
As is true of all upGrad courses, the MBA course, too, is well-structured and designed to cater to the evolving needs of aspirants competing in the modern-day rat race. The course features over 1000 hours of learning and training imparted by the top mentors in the field. Not just that, the program also offers more than 200 hours of live faculty interaction along with one-on-one interaction sessions with industry mentors.
To ensure that candidates get hands-on training, they are given 20 projects to work on. All together – projects, assignments, case studies, and live interaction sessions – it makes for an excellent learning experience for those who wish to pursue the best MBA course without worrying about the high MBA cost in India, MBA courses fees, or MBA fees in India.
To add to that, upGrad's dedicated faculty members and mentors provide 360-degree career support to individual candidates. Also, they give personalized feedback to each candidate to help them understand their progress and motivate them. As for placement assistance, mock interviews, resume building sessions, and even offline events are conducted from time to time to encourage peer-to-peer networking.
Do MBA grades matter?
In order to take the benefit of the MBA degree to the fullest, you need to ensure consistently good grades during the course. Excellent academics get the ball rolling towards securing your credentials. Recruiters do consider the grades of a candidate besides looking into their skills and aptitude. Therefore, top reputed schools always keep such parameters in mind. Grades do matter in an MBA programme, along with other skills and performance.
Read: Career in marketing and its scope in the US market.
Wrapping Up
Just as on-campus courses offer job placements, upGrad also provides the same. With over 250 hiring partners, candidates get plenty of opportunities to land well-paying jobs such as International Business Manager, Business/Management Consultant, Senior Business Development Executive, Brand Manager, and much more. Still want more reasons to do this MBA? Read more on 5 Prominent Reasons to do Executive MBA.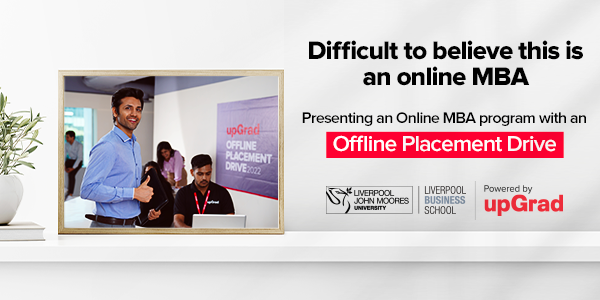 So, if you are a working professional, this MBA course is definitely worth a shot!
Learn MBA Courses from the World's top Universities. Earn Masters, Executive PGP, or Advanced Certificate Programs to fast-track your career.