In functionality, Product Managers are similar to a microwave (We don't intend to imply that they're grilled a lot)
No, but in all seriousness, a microwave can cook, grill, heat – according to what you want it to do. Likewise, product managers are generally found to be extremely diverse in their skill set. Right from technical to interpersonal, managerial to working in a team – these highly talented individuals have most, if not all, of it under their cap.
Apart from being masters of all trades, a product manager is also required to keep himself updated with all the recent happenings of the market. Whether it's related to the latest technological trends, or regarding the new tools in the market – a product manager has to generally keep his eyes open and thinking caps on at most times.
The product manager is like the constant (C) in an indefinite integral. You think of eliminating it, and you'll fail the laws of Mathematics (or of productive business, in this case). Product managers, more often than not, are an active part of product development throughout the pipeline – from inception, designing, developing, to finally launching it in the market.
Though the work description and names differ from time and scenarios, for a product manager, the one thing which stays the same is the product success. They all need to deliver a great product, but things don't turn out to be that way all the time as some fail, some struggle, and some survive.
Check out our management programs to upskill yourself.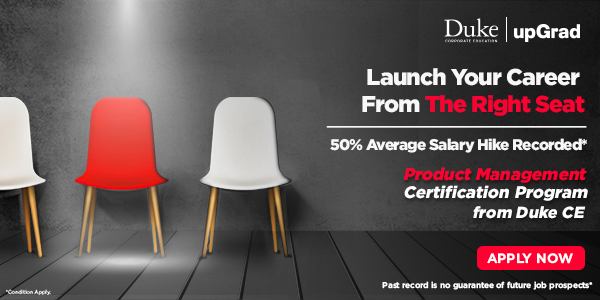 That should tell you all about the skills required to be a product manager, correct?
No?
Of course not. That was a very vague (but accurate) description of a product manager's skills.
Worry not, if you're with us, we'll take you through.
Getting to the point.
What are the skills required to be a product manager?
#1 Strategic Thinking
After setting the product's goals and key initiatives, the product manager needs to realize the higher-level vision. This starts with asking the right questions and then understanding the market and competition. This is where the product managers need to establish what they want to achieve and how they would reach there – the product roadmap building. All the above formulation and strategy making also requires prioritizing data and having good depth of knowledge over Beta Testing, marketing, audience segmentation, SWOT Analysis, and more.
#2 Excellent Oratory Skills
Keeping a lot of people in the loop, adjusting their language as per the audience – from customers and sales personnel to marketing and finance – product managers coordinate with both the internal and external stakeholders throughout the product life cycle. This requires a higher level of expertise in multiple fields. For example: even if the product manager isn't an engineer, he needs to have just the right knowledge to understand the product's design, composition, and applications. He also needs to work with the marketing specialist to extract valuable insights from the market data and predict the costs of the product. To achieve all of this, the oratory skills of any product manager needs to be extremely lucid.
#3 Neat Negotiation Skills

As discussed earlier, a product manager works with teams, both internally and externally, of varied domains. Tech, Marketing, Sales, HR – the product manager is generally found shaking hands with each of them. Since he's the manager, he needs to get work done. To get that done efficiently requires good negotiation skills.
Whether it's about finding the cheapest solution to a problem or hiring the cheapest agency/freelancer to get some work done – a product manager is expected to seamlessly handle all of it. Without knowing the proper way of dealing with things to get work done, a product manager will face certain challenges along his journey. It gets smooth if you know how to negotiate your way through the potholes!
Explore our Popular Management Programs
#4 Analytical & Resourceful

Product managers are valued for their meaningful analysis, problem-solving with holistic approaches. These mini-CEOs can guide the direction of content, UI, development, marketing, as well as visualize the outcomes at both macro and micro scales. There are several industry leaders who have revealed that they hire product managers who have a substantial background in Design, Marketing, Engineering, Statistics, Sociology, Psychology, etc. to make the entire team understand when to pay attention to matters and when to leave it alone and when to wait it out for self-correction in the system.
upGrad's Exclusive Product Management Webinar for you –
How to craft GTM Strategy for a Product?
#5 Practicing Empathy
As a product manager, you need to be at ease as you meditate through varied skill set like data analysis, communication, the psychology of the users, market research, etc. At each step, you'd need to understand and weigh down the opinions of the stakeholders and the customer's requirements. Even though these customers are absent during the entire process physically, they are the biggest virtual stakeholder whose opinions hold high relevance for the product to come out successful. Such long sightedness requires empathy as it helps in identifying and analyzing the views expressed by both the creators and the users of the product to deliver exactly what the world needs from your product at that time!
#6 Amazing Attention to Detail

A good product manager can spot the possibilities where others would have seen it nothing more than a wasteland. For the continually changing vision due to the feedback and its responses received by the client/team members, the product managers are responsible for all the intricacies and accepting all the information that may go against his assumptions. Product Managers have an art of interpreting and visualizing data like an expert. They assemble their observations after listening carefully, observing keenly without prejudices and figuring out the most effective way to address everything one step after another.
Top Management Skills to Learn
#7 The "fight, not flight" outlook
To be a successful product manager, you need to have the conviction to say NO many times instead of succumbing to the scenarios. As products are built with limited resources, time and a barrage of ideas, the product managers are inherently tied to the success of the products and can deliver more than anyone else. Therefore they need to keep looking for ideas and the product strategy and users should determine what features would come next.
#8 Long-sightedness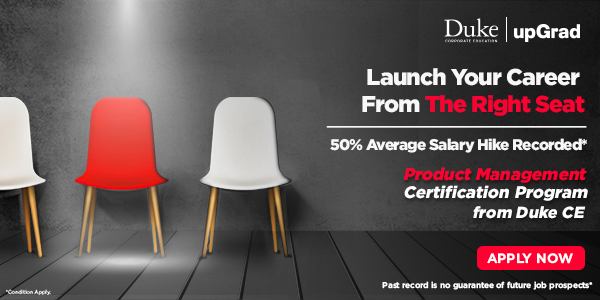 A good product manager can forecast the approximate benefits of the product and could easily do so by applying past experiences and leveraging comparable benchmarks. They also help to measure interest once projects are launched and factor those learnings into future prioritization and forecasts. The product manager sets the vision, and through profound observation, derives meaningful products that can solve real-time customer problems.
Study Product Management Courses online from the World's top Universities. Earn Masters, Executive PGP, or Advanced Certificate Programs to fast-track your career.
Our Top Management Articles
Conclusion
This list touches on the significant roles that a product manager fills in the value that a product manager brings into an organization and to be one of the 10% of product managers. To achieve the same, the product manager needs to be master of each skill category and requires an immense amount of unique focus and expertise right from the beginning of the product's lifecycle – from creation to sunset.
If you are highly intrigued by what you read, you can enroll in the Post Graduate Certificate in Product Management offered by upGrad. The certification program delivered by experts will help you kickstart your career to be a successful product manager.
Should a product manager know how to carry out testing?
The chief duty of a product manager is to make sure that clients are delivered the right quality and value through products that are undergoing development under their management. To ascertain the best quality, the product must undergo rigorous testing, for which organizations have dedicated teams. Product managers are not usually involved in testing from the very start of the phase. They are required for involvement during acceptance testing that takes place right before the product goes live. However, in some instances, product managers might be needed to take part in testing throughout the development cycle. This helps save last-minute surprises or delays in launching products.
What does the daily work schedule of project managers look like?
Project managers are engaged in myriad work activities daily that mainly involve dealing with different teams across the organizational hierarchies. A project manager has to go through a daily agenda of monitoring and tracking the progress of different projects, attending meetings with various stakeholders, and resolving blockages that hinder work progress. They have countless meetings to attend and must also be proactive in deciding action plans for the project teams they supervise. Project managers have to scan through hundreds of emails every day and address them. These are the primary tasks - there are many other activities that they also have to accomplish daily.
Should a product manager know how to design a product?
It is not mandatory for product managers to learn how to design. However, they must be able to appreciate the fundamentals of product design. While it is optional for them to have deep expertise in design aspects like color theory, they should understand how color codes influence user experience. Preferably, a product manager should have a basic design intuition, understand design techniques, and offer feedback whenever necessary. This will also help them prepare inclusive workflows and help them appreciate business goals better.
Mastering Product Management