If you're a graduate or working professional, you must have noticed how a large number of students and employees of the mainstream profession are opting for MBA, but is it really worth it? If you're wondering if you need a degree in MBA to boost your career opportunities, you've come to the right place.
A Brief Overlook and all the necessary questions answered:
First of all, MBA gives your resumé a competitive edge. With a degree in Masters in Business Administration (MBA), you become eligible for some of the highest paid jobs in the corporate sector. It is an essential step in your growth. It opens up new opportunities and gives you the skills that help you procure your dream job or fulfill your dreams of running a start-up and being your own boss.
An MBA degree is a post-graduation degree, graduates of any field can apply for it. There is such a high demand for MBAs presently that they hardly go unemployed. The time spent in an MBA institute allows one to network with other ambitious people, recruiters, and entrepreneurs. An MBA is highly flexible, with institutes offering both part-time and full-time admissions. Give your career a boon by enrolling yourself for an MBA program.
To understand why an MBA can be beneficial for you in the long-run, read below: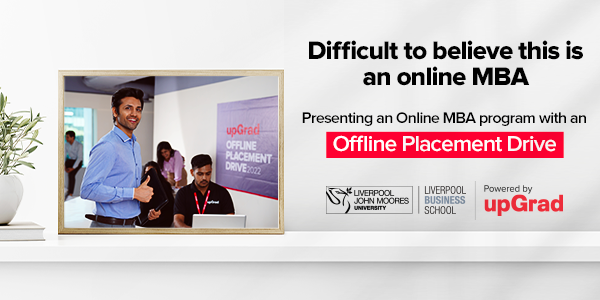 It's no secret that MBA graduates, in general, have the highest paying jobs despite being new in the market. Your choice of specialization, business skill and the goodwill of the institute are some major deciding factors of your salary. Also, an additional MBA degree in your résumé will help you in getting promotion and increment in salary.
The reason for high importance of MBA graduates also contributes to their well- understanding of the industry that is imparted to them during graduation.
The students get to learn about finance, marketing, sales, operations, business communication, HR management and more during the first year of their degree. And later on, they are required to choose one subject as their specialization. The specialisation of the student's choice helps them in carving a niche for themselves.
If you are aware of the current job scenario, you will understand that leveling up in general professions is not easy. It usually takes a long-term investment of time and effort and drains away from your energy. MBA trained professionals, on the other hand, can walk up the ladder easily with their strategic thinking, diligence, and business or managerial efficiency.
It helps in building various skills that increase the marketability of the individuals. The students get proficient in the business leadership and are able to make business decisions by using an analytical approach.
The curriculum knowledge imparted during the course also helps in building strategic thinking and high-level verbal and written communication along with the technical knowledge of the industry.
Are you someone who does not want to be an expert in more than one profession?
MBA can make your dreams come true. This course paves the way for a wide array of career opportunities for zealous and trained professionals. More and more companies in various fields are hiring professionals who have an additional MBA degree. Adding your program certificate to your résumé will not just make you more proficient but will also aid in exploring new scopes in the professional world.
Various job roles get opened for MBA graduates. Depending upon one's interest they can choose any of their choices. Professionals can find carer options in banking, finance, digital marketing, sales, operations, hr, etc.
Depending upon the experience, location, skill sets, organisations and various other factors the salaries differ for different people. With more time invested in gaining and polishing skills, the salary bracket opens up. If the young minds in the field have this doubt "How MBA will help my career?" should be assured that it will be increasing their marketability, they should focus on their skill sets and apply their knowledge to practical use.
Is MBA required for career growth? Yes, it does! As
Swami Vivekananda once said, "Knowledge is power." It is true in professional life too. Make MBA your weapon to enhance your knowledge in various fields that can expand your business. Be it Finance or Human Resource or any other specialization, your course will help you to try something beyond your comfort zone and excel in it. Furthermore, with your skill and experience, you'll be able to adapt yourself more easily in the business environment than someone who is not trained in this field.
Do you constantly aim for professional growth to move forward in your career?
MBA, unlike other courses that have limitations, will offer you room for growth and development. Are you someone who always want to strive for the best and does not want to settle for less? Pursuing an MBA course can be beneficial for you as they incorporate all the current market happenings in their syllabus, thus, making you an expert in business management. This is how MBA helps in achieving career goals for people who aspire to grow and build a successful career.
A number of courses and professions do not teach you how to use money efficiently and you end up wasting a good portion of your income by making unproductive investments. Join an MBA course and learn how to manage or regulate your finances more effectively. MBA graduates especially the ones who were specialized in Finance can head the Finance Department of a company.
The MBA students get to learn about the practicality of the finance domain through theory and practice. Apart from the regular theoretical approach, the students also get to perform various simulations, solve case studies, participate in projects and more. Because of this, the students stand a better chance of bag a good job opportunity than their non-MBA counterparts. Even at the work, MBA graduates are considered for better opportunities that are seen as an asset. So, the students having the apprehension "Is MBA mandatory for career growth?" should be assured though it is not mandatory but definitely helpful!
Planning to settle abroad or work for enterprises across the globe?
Earning this prestigious degree can be a blessing to make your dreams come true. MBA as a degree is highly recognized throughout the world, so what are you waiting for? Go ahead and make your dream a reality by joining a program of this internationally recognized course.
Are you a working professional? Do you want to add a new degree for a better job opportunity or a better post and increment in salary?
With a Distance-learning course in MBA, you can get your degree as well as continue your job and maintain flexibility. Study at your own pace without attending regular classes.
Distance learning helps professionals to upskill and gain better job opportunities without leaving their full-time jobs. This way, people can invest their time in gaining skills as well as building an experience for themselves.
Do you want to boost your business performance or personal performance in a company?
With your versatile knowledge and skill, it'll be easy to establish credibility in your workplace. Take your official project to the next level by going beyond your comfort zone to make it successful. You can even make quicker strides to progress in your own business.
Tired of your 9-5 job and want a fresh start?
Startup organizations are becoming increasingly popular among enthusiastic entrepreneurs. Completion of course in MBA will not only help you to start your own organization or enterprise but the skill you've developed can help you to manage your business, finance, and administration efficiently.
Still not convinced?
We understand. Joining the corporate world can be quite overwhelming. Earning a degree in MBA will boost your self-confidence and will help you to cope up with the ever-changing business sector. With the skills you have developed along with the experience you've gathered throughout your course, you will always have professional benefits over others in the industry. Additionally, it has a positive impact on your social life as it improves your outlook towards life.
If you are keen on upgrading your career with an Executive MBA course, upGrad is offering MBA from Liverpool Business School. The program has been designed to stand at par with the best on-campus Executive MBA programs across the globe.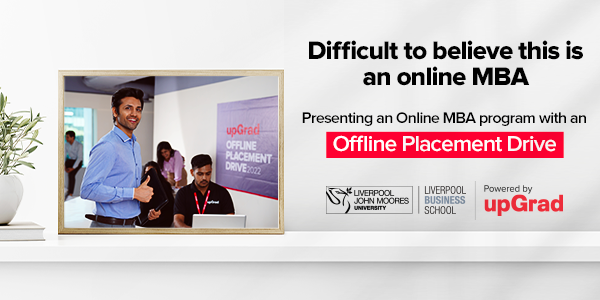 And the cherry on top – upGrad's excellent flexible and interactive learning and evaluation systems allows you to balance your personal and professional life in a hassle-free manner. Check out for more information & let our student counsellor help you with your questions.
Learn MBA Courses from the World's top Universities. Earn Masters, Executive PGP, or Advanced Certificate Programs to fast-track your career.