Today I want to share an interesting story about Pooja Sriram, who sharpened her Digital Marketing acumen with the help of UpGrad's Digital Marketing Certification Program.Pooja, with more than 8 years of working experience under her belt, is passionate about content & communication. She joined the UpGrad Digital Marketing Certification Program in the hope that it would give her a holistic understanding of Digital Marketing & make her more data-driven.
After completing the UpGrad Program, Pooja successfully transitioned to a Digital Marketing Strategist role in Clevertap, with a special focus on data-driven content marketing. Speaking to Pooja a few days back, we realized that there are so many marketers who wish to make similar transitions. Let's jump straight to the conversation!
Why UpGrad?
Neil: So Pooja, thanks for taking the time out today! To begin, do tell us what inspired you to take the UpGrad Digital Marketing Program?


Pooja: I got to know UpGrad through an interesting incident actually. I was looking for a switch in my career, to a content marketing role. I spoke to Anshul, the Marketing Head at UpGrad, for a content marketing job; and the way he spoke about content was really thought-provoking.
A structured thought process with content frameworks, where you strategize keeping business goals in mind, while you also prioritize your tasks with data-driven insights, was something that struck a chord. Anshul mentioned the Digital Marketing Philosophy and how this thought process is also taught in UpGrad's Digital Marketing Program. I was inspired and had this urge to learn, and the fact that Ronnie was backing UpGrad gave me a lot of assurance.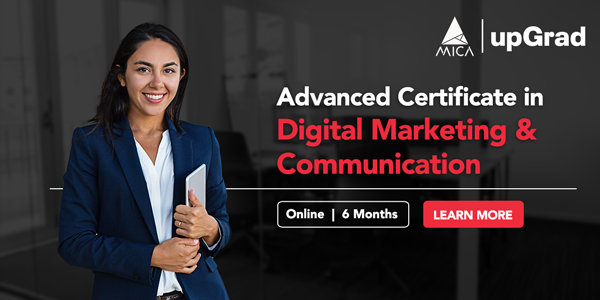 Neil: Interesting. So what did you expect from the Program?
Pooja: I have taken online courses before, so I was comfortable as well as relieved that I could juggle the program with my hectic work life. When it came to the Live Project, I honestly thought this would be a physical activity, but I was surprised to see that this also happened online. My overall experience with the live component of the program, like the TA sessions & Industry Expert Hangouts was more than satisfying.
How was your learning?
Neil: Great, so let's dive into your experience with the program. To start off, how did you like the curriculum structure? Our entire philosophy of fundamentals, channel deep dives, and finally synergizing everything into a data-driven strategy?
Pooja: The program structure was innovative. In terms of formats, there were bite-sized videos along with text and additional reading, which was really helpful. I loved the in-content questions, they really helped me revise the concepts & their applications. I have a habit of taking notes, and I kept on applying the learnings to my job. The summary videos were really helpful for a quick revision. I did spend a decent amount of time every week, on the program, as I was focused on getting the ROI for the time I was investing.
Neil: Great. In terms of content, what were your favorite modules in the program?
Pooja: There were two segments in the program that stood out from the rest. First, social & content marketing. Since I've gotten my hands dirty in executing & strategizing in social & content, and I scored 100% in these modules; it really validated my knowledge base.
The new areas of learning like Keyword structures in Search Engine Marketing was really insightful, which helped me extrapolate context of keywords to SEO/Content Marketing as well. I liked the website building module too. After completing the module, I actually prepared a revised wireframe for my previous company's website, applying all the learnings.
Neil: Great to see you applying the concepts on the job! So who was your favourite teacher?
Pooja: Hats off to UpGrad for exposing us to such a diverse set of industry leaders, who are experts in their respective Digital functions. I personally liked how Sujoy Golan taught Search Engine Marketing & Remarketing. I knew how these strategies worked before, but in the program, got a hands-on experience into how these impact a brand's digital strategy.



Neil: So how do you think the Case Studies helped you learn how brands deal with real challenges in Digital?
Pooja: Case Studies were different from what I'd expected, and far more detailed. The MOMOE Case Study on how this payment app created its overall marketing strategy was really helpful. Since I was also working for a payment app company, I could relate to, and apply some tactics & strategies. I am a customer of Zivame, and experiencing how they strategized and created email segments based on user behavior was really insightful. There were also some B2B Cases, and now that I work in a B2B company, I can surely say, no knowledge really ever goes to waste!
How was your UpGrad Experience?
Neil: It was an intensive 5-month program with deadlines every two weeks, how did you manage both work & the program?
Pooja: To be frank, it was difficult. The first few modules were relatively easy, but once we started diving deep into the channel level modules it was tough to keep up. During the weeknights, I would finish my dinner early, study the material and finish my assignments. Weekends would still be packed with assignments & cases at an even deeper level, where I had to work on documents and excels, figuring the data and the insights they brought. I did have to bunk a few weekend parties, but it was totally worth it!
Neil: Interesting, how were your batchmates? Did they help you learn more?
Pooja: The batch had an interesting set of professionals across different industry verticals. The discussion forum was really helpful, plus the gamification with the badges you earn basis your performance was fun. Further, people sharing interesting resources helped me learn more. The WhatsApp group and our UpGrad buddies helped me achieve the weekend deadlines.


Neil: Great to hear that! So, how did the UpGrad program help you in your new job at CleverTap?
I was looking for a job, while I was finishing the UpGrad Digital Marketing Program. CleverTap reached out to me and I found their business model quite interesting. B2C is a competitive space but B2B was something that was new to me and even more challenging to crack. CleverTap wanted someone senior who could drive content marketing with a focus on metrics and analytics. The UpGrad Digital Marketing Program has helped me create a templatized thought process and has helped me scale my Digital acumen to a new level.
Best Online Digital Marketing Courses
The Final Verdict
Pooja's experience with the UpGrad Digital Marketing Program, is also expressed in the best way she knows how – through content! Here's a snippet of Pooja's experience, in her own words:
"This course has benefited me at many different levels. I see myself as a much more confident Digital Marketer. My social media campaigns are no longer ranked on the creativity I bring in but also on how I optimize the campaigns and benchmark against competition & previous campaigns based on CPCs & CPMs. The quality of my marketing leads has seen considerable improvement post applying the lead nurturing techniques that I have learned. I have found more logical & scientific methods to hunt down influencers in my space of work to follow on social channels. My email campaigns are measured by click-through rates rather than just open rates & my content for the retention & engagement campaigns ensure high relevance thanks to the re-targeting techniques I have learned during this course."
If this inspired you, and if you want to know more about UpGrad's Digital Marketing Program, which is now a PG Certification in Digital Marketing & Communication with MICA, you can directly get in touch with our program counselors at digitalmarketing@upgrad.com or comment below to know more.
Top Digital Marketing Skills
upGrad's Exclusive Digital Marketing Webinar for you –
What's new in Marketing?
Digital Marketing Free courses to Learn
Popular Digital Marketing Blogs
Learn digital marketing courses online from the World's top Universities. Earn Masters, Executive PGP, or Advanced Certificate Programs to fast-track your career.