The role of a Product Manager is one of the leading job profiles today. It's a pivotal position in companies across the world, requiring a variety of skills and cross-functional knowledge. Think of them as team leaders in charge of a specific product.
There's no perfect template of an ideal candidate and the responsibilities may differ depending on the organization's needs. But one thing that remains common across the board is that product managers drive the long-term vision of a company's products and communicate with teams to realize it.
When you are on the other side of the table, looking for product management interview questions and answers, there's a general feeling of apprehension. We have attempted to ease your worry and guide you with some examples.
Why your Interview Answers Matter?
Product Lead positions are typically hard to fill as hiring managers want to find a candidate that is the right fit. That said, there is also a time constraint on their part. So, they have to determine the suitability of job applicants from a few brief interactions. Make a good impression here, and you will have learned valuable skills that will stay with you lifelong.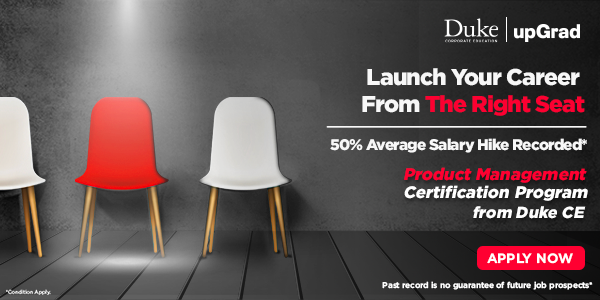 All in all, what organizations need is someone who can manage a team and lift their products to new levels. As an interviewee, your task is to demonstrate these abilities and stress on the skills that make you stand out. Read on to know how you can handle interview questions better to bag your desired job.
Read: Scope of Product management career and jobs
Most Asked Product Management Interview Questions
1. What are Some Primary Duties of a Product Manager?
Product managers are responsible for planning and executing tasks throughout the product life cycle. The work usually includes organizing and prioritizing product and customer requirements, defining the overall vision, and then collaborating with different teams to ensure satisfaction. I feel that a product manager's job is directly related to the revenue growth and customer experience that a company delivers.
2. What Interests you About this Job and How does it Fit into your Career Trajectory?
Your answer could be something like this:
"I am familiar with the work and culture of your organization and believe that my values and skills would be a good fit. I have always been someone who puts their best foot forward even in day-to-day tasks. Every short-term activity has to be connected to the ultimate goal for me.
So, I want to work in an environment that gives me the stepping stones for my long-term career plans. I have some prior experience of working in this domain, and my ability to work independently and as a part of the team would also suit the role. Apart from that, this job would give me the opportunity to dedicate my time to something that challenges me to learn more."
Explore our Popular Business Management Courses
3. How Would you Determine What Clients Need?
A study done by Deloitte has found that customer-centric companies tend to be 60 percent more profitable.
You could say:
"My goal is always to include the clients right from the planning stage. I spend time understanding their requirements and gather insights about potential concerns. For this, research and communication are key.
Even when I have formed the product roadmap, I make sure that user interactions are part of the product routine. I conduct on-site visits and ride shotgun with customer support teams to identify major issues. This also helps in holding the teams accountable and bringing an emotional element to how we view the customer base.
Establishing a customer advisory board is another way to ensure customer-centricity in product management. This forum can be used to get open and honest feedback about the products, making all stakeholders feel like a part of the process."
4. How Do you Go About Communicating your Product Strategy?
Frame your answer like so:
"First, I back my product strategy with hard data and one-on-one interactions with key stakeholders. Then, I prepare a planned timeline for execution, paying heed to the client requirements and budget. When the team moves to the implementation phase, I make it a point to not just skip to the endgame.
I explain everything to my subordinates, address their concerns, and gauge their comfort level around the key components of the plan. If you follow such a participatory approach from the beginning, the chances of friction, delays, and conflict can significantly reduce.
When there are diverse stakeholders (developers, designers, quality engineers, executives, customer support staff, marketing, sales, etc.) involved, achieving a consensus can seem challenging, and I have faced such troubles in the past. However, I have discovered that communicating the 'why' is always better than unnecessarily stressing on the 'how.' This builds a shared goal for everyone concerned, giving them the space to figure out the how for themselves and contributing their best."
Top Essential Management Skills to Learn
upGrad's Exclusive Product Management Webinar for you –
How to craft GTM Strategy for a Product?
5. What Would you do to Prioritize Product Features?
Here's how you can answer:
"Prioritizing different product features is one of the topmost priorities for any product manager. Personally, I prefer to follow a framework like the RICE scoring model, Affinity Grouping, Moscow method, Value vs Complexity model, etc. These techniques help streamline the work towards the main objectives. For group work and collaboration, the DACI decision-making framework is also useful.
Since there are a lot of tasks that require attention, it is crucial to rank everything depending on urgency and value. I would give more emphasis to fixing a UX problem that generates a large volume of support calls, adding functionality that our primary competitors already have, and implementing new features for our top customers."
Checkout: Average Product Manager Salary in India
6. Is it Important to Integrate Engineers and Technical Teams Into the Overall Product Vision?
Frame your answer like this:
"Successful product management is about connecting everything to the product vision, which can be technical functionality, appearance, usability, endurance, and so on. As a product manager, my effort is to engage with different stakeholders, which includes engineers and technical teams as their contributions are central to meeting deadlines and realizing product milestones. So, I work to build a shared understanding of the product to attain smoother inter-team collaboration.
Engineers are trained to think methodically and solve problems. So, being hands-off in some areas helps. In my opinion, an active product manager's task involves describing the problem, showing competing alternatives, and highlighting the gaps. This approach results in greater value addition overall."
7. How do you Ensure that Market-Oriented Teams Fully Understand Technical Challenges?
The answer to this question could be something like this:
"My experience in the IT sector has made me aware of some common complaints of product managers. They feel that market-oriented teams seldom have a clue about the product they are selling. There's a perception in the field that salespersons lie to the leads and customers just to get a bonus. On the other hand, the teams can make excuses like "My product manager is not competent," "the last release was not that good," and so on. This complexity between the sales teams and product management needs to be navigated carefully.
If you try dissecting the heart of your relationships with the market-oriented teams, you will realize that there are many common pain points. Taking regular updates, talking to them about their issues, and introducing them to some technical aspects of the development teams can sometimes work wonders. Keeping a pulse of the following things is also beneficial in brainstorming with both technical and customer-facing teams:
Company's product portfolio

Product evolution roadmap

Sales model of competitors

Shifts in industry trends"
Our Top Management Articles
8. What is the Magic Quadrant?
The Magic Quadrant can be utilized to identify leaders, visionaries, niche players, and competitors in any industry. This methodology can quickly tell us about the competitive positioning of a company and inform us about its strengths and weaknesses. A product manager's duty is also to move the company's technology on this Magic Quadrant and build its ability to deliver user satisfaction for today and tomorrow. According to Gartner, placing your product in a specific quadrant can have a tremendous impact on boosting revenues and attracting investments.
9. Give an Example of When you Failed and What you Learned From the Experience.
Frame your answer like this:
"I can recall an incident when we tried to compete in a saturated market. Product differentiation was hard to accomplish and the product failed as it did not have much value. I took this experience as a learning opportunity and now I always incorporate the marketing and sales perspectives into the initial plan. It is challenging for them to get the word out in the absence of a strong business plan.
In other cases, the product or service may be too early for the market, the pricing may be too complicated, or there may be issues with internal company operations. In every scenario, incorporating data and analysis from past experiences helps create revitalized products."
10.Why Should We Hire You?
This is where you can talk about your strengths and passion for work:
"I have acquired the relevant skills and experience through my work in the IT sector, which I can put to use in this organization. If selected for this position, I am motivated to channelize them further and bring results. I am self-aware of my strengths and limitations and this opportunity would surely prove an excellent platform to take my career forward. I look forward to exceeding my seniors' expectations with my high-quality work, picking up new capabilities along the way."
Related: What do product managers do?
Study Product Management Courses online from the World's top Universities. Earn Masters, Executive PGP, or Advanced Certificate Programs to fast-track your career.
Conclusion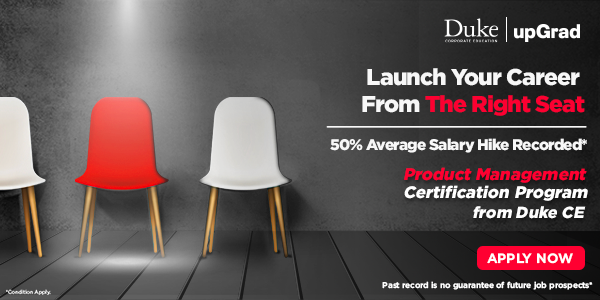 As you can see, interviews for product management jobs tend to test the following capabilities:
Technical acumen

Strategic thinking

Marketing savviness

Communication styles

Conflict resolution

Research mindset

Creative problem-solving

Product management experience
With the above product management interview questions and answers, you can get a fair idea of how to crack your next interview!
If you are highly intrigued by what you read, you can enrol in the Post Graduate Certificate in Product Management offered by upGrad. The certification program delivered by experts will help you kickstart your career to be a successful product manager.