The job profile of a Data Engineer is one of the most in-demand roles in the industry. They are highly valued by companies across all sectors and fetch high salaries for offering their skills and talent.
As more and more companies are joining the Big Data bandwagon and mining data to generate valuable insights, the demand for data-related jobs is increasing by the day. Data Engineers are no exception. Companies are ever in the lookout for skilled Data Engineers who can work with large volumes of complex data and crunch it to extract meaningful insights for business. And since the job requires a high level of skill and expertise in Big Data, the Data Engineer salary has only been scaling up. Read how to become a big data engineer.
According to the recent data churned by Burning Glass's Nova platform, Data Engineer jobs ranks as the top job in the tech domain, recording an 88.3% increase in job postings in the span of twelve months.
What does it take to be a Data Engineer?
The primary job of a Data Engineer is to design and engineer a reliable infrastructure for transforming data into such formats as can be used by Data Scientists. Apart from building scalable pipelines to covert semi-structured and unstructured data into usable formats, Data Engineers must also identify meaningful trends in large datasets. Essentially, Data Engineers work to prepare and make raw data more useful for analytical or operational uses. There are many myths about data engineers and most of them are far from reality. Read more about the myths and reality of data engineers.
In an organization, the position of a Data Engineer is as vital as that of a Data Scientist. The only reason why Data Engineers remain away from the limelight is that they have no direct link to the end product of the analysis. Check out our data science courses to become a data engineer.
While the specific tasks of a Data Engineer can vary from one company to the other, they share some common responsibilities, including:
Integrate, consolidate, and cleanse data collected from multiple sources.

Prepare raw data for manipulation and predictive/prescriptive modeling by Data Scientists.

Develop the necessary infrastructure for optimal extraction, transformation, and loading of data from disparate sources using SQL, AWS, and other Big Data technologies.

Deploy sophisticated analytics programs, machine learning algorithms, and statistical techniques to build data pipelines.

Assemble vast and complex data sets to cater to the functional and non-functional business requirements.

Identify and develop innovative ways to improve data reliability, efficiency, and quality.

Develop, construct, test, and maintain data architectures.

Rethink and redesign existing frameworks to optimize their functioning.

Align data architecture to fit perfectly with business requirements.

Conduct industry research to stay updated with the latest market trends.

Collaborate with co-workers and clients to determine the requirements of projects.
Also read: Data Scientist Salary in India
upGrad's Exclusive Data Science Webinar for you –
Skills required to be a Data Engineer
Active project management and organizational skills.

Strong analytic skills to handle and work with large, unstructured datasets.

Strong programming flair in trending languages, including Python, Java, C++, Scala, Ruby, etc.

Advanced working knowledge of SQL, along with experience in working with relational databases.

Proficiency in working with a wide variety of databases.

Experience in building and optimizing Big Data pipelines and architectures.

Experience in performing root cause analysis on internal/external data and processes to find solutions for specific business issues and identify improvement opportunities.

Experience in working with Big Data platforms like Hadoop, Spark, Kafka, Flume, Pig, Hive, etc.

Experience in handling data pipeline and workflow management tools like Azkaban, Luigi, Airflow, etc.

Experience in handling stream-processing systems such as Storm and Spark-Streaming.
Our learners also read: Free Python Course with Certification
Explore our Popular Data Science Courses
Data Engineer Salary
According to Glassdoor, the average Data Engineer salary in India is Rs.8,56,643 LPA. But of course, the Data Engineer salary depends on several factors, including company size and reputation, geographical location, education qualifications, job position, and work experience. Reputed companies and big players in the Big Data industry like Amazon, Airbnb, Spotify, Netflix, IBM, Accenture, Deloitte, and Capgemini, to name a few, usually pay high compensation to Data Engineers. Also, the more your past work experience in Big Data, the higher will be your market value.
Must read: Learn excel online free!
Despite the global demand-supply paradox (the demand for Data Engineers far exceeds their supply), the career prospect of Data Engineers looks promising in India. According to Analytics India Magazine report,
"While IT firms have shown a negative trend, the demand for data engineering professionals has increased across the companies, resulting in a significant jump in their salary structure. Whereas for salaries across analytics skills, advanced analytics roles and predictive modeling professionals grabbed the limelight compared to other roles."
Due to the shortage of adequate talent in the field, companies are ready to pay huge remuneration to freshers and mid-level Data Engineers as well. Going by PayScale stats, an entry-level Data Engineer with less than 1-year experience can earn an average annual salary of Rs.4,00,676 LPA.
As for Data Engineers in their early career (1-4 years of experience), they make anywhere around Rs.7,37,257 LPA. As they proceed to mid-level (with 5-9 years of experience), the salary of a Data Engineer becomes Rs.1,218,983 LPA. Data Engineers having over 15 years of work experience can make more than Rs.1,579,282 LPA.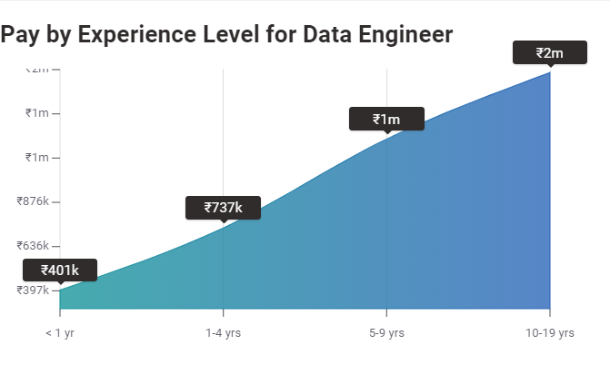 Another substantial progress on the ground of compensation is that the percentage of analytics professionals with a salary package of less than Rs. 6 LPA has reduced significantly. As of now, 37.6% of analytics professionals in India make less than Rs.6 LPA, which is lower than what it was in 2017 (39%) and 2016 (42%).
Top Data Science Skills to Learn
Conclusion
Given the steady rise in data analytics and Big Data jobs in India and overseas, it is an excellent time to consider becoming a Data Engineer. There is plenty of job scope in the Data Science domain, and it is posited to increase further in the future.
Read our popular Data Science Articles
If you want to get into data domain, check out IIIT-B and upGrad's Executive PG Programme in Data Science which has empowered more than 5000 students. Become an expert of data science with 10+ case studies, practical hands-on workshop and a lot more.