Over the last decade, technological advancements have transformed business and industry to a great extent. The needs of modern workplaces have also become more advanced. And more and more employers are now looking to hire talent in leadership and management roles. As a result, the market demand for online MBA courses has picked up in recent years. Online MBA is convenient for working professionals to finish their management education without leaving their jobs. All around the globe, top educational institutes provide online MBA courses for eligible candidates.
So, if you want to advance your career with a business management degree, you can do so in a non-traditional way as well. The online mode offers flexibility to distant learners and working professionals to learn at their own pace. Some online MBA courses in India are accredited by top institutes and attract faculty from globally renowned universities.
The accreditation assures that the content and delivery of the program would meet academic and professional standards. Nowadays, people realised the authority of online MBA compared to regular MBAs. Online MBA let learners complete the course at their own pace depending on their professional/personal workload.
Learn Online MBA Courses from the World's top Universities. Earn Masters, Executive PGP, or Advanced Certificate Programs to fast-track your career.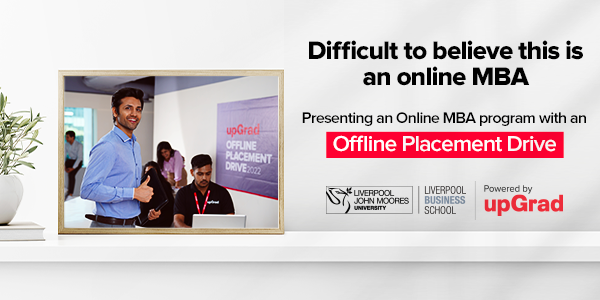 Let's look into some of the best online MBA courses.
Best Online MBA Courses
1. MBA (Global), Deakin Business School (DBS): This two-year online MBA course with dual credentials from Australia's DBS and IMT Ghaziabad has emerged as a popular choice among MBA aspirants. Deakin is also among the top 1% B-schools worldwide. The program includes diverse topics like Business Growth Strategies, Strategic Thinking & Planning Abilities, Integrated Business Strategy Formulation, Design Thinking, Change Management, Financing Strategies, and International Business.
The online MBA course is supplemented with dedicated mentorship and offline networking opportunities. Equipped with this MBA degree, you can bag high-profile roles in like Marketing, Finance, and Sales like Management Consulting, Strategy, Operations, Business Development, and HR Management. One of the best online MBA courses available.
2. MBA in Digital Finance & Banking, Jindal Global University: This two-year-long online MBA course in Digital Finance & Banking is perfect for aspirants who wish to enter the BFSI sector. It covers industry-specific topics such as Fintech Ecosystems Management, Financial Management & Valuation, Artificial Intelligence in Business, Blockchain and Cryptocurrency, Data Visualization in Finance, Digital Fraud & Risk Analytics, and Design Thinking & Leadership for Business.
This is one of the best online MBA courses in India in DFB. Online MBA courses are a best option if you don't want to leave your job and pursue.
Our learners also read: Jobs after MBA!
All of these fields of study are extremely relevant to the present BFSI industry that's undergoing a rapid digital transformation. Besides, this online MBA course includes live assignments, case studies, mock interviews, resume building sessions, and peer-to-peer networking.
3. MBA from Liverpool Business School: Accredited by UK's Liverpool Business School, this online MBA course includes a week-long immersion program at the university campus. In this MBA program, you can choose from several specializations including Marketing, Finance, Operations, Strategy & Leadership, Analytics.
The online MBA course modules include Digital Business Innovation, Business Growth Strategies, Marketing Strategies, Leadership, Strategic Thinking & Planning, Engagement and People Performance, Enterprise and Risk Management, Leading Change for Sustainable Futures, and Project Management. The duration of the MBA course is 20 months, during which you get a career and mentorship support from industry leaders. Upon successful completion, you will also receive a PGP in Management credential from IMT Ghaziabad.
Read: How MBA worth IT industry and help in your career.
4. Post Graduate Diploma in Management, Birla Institute of Management and Technology:
Renowned as one of the top-ranking B-schools in India, BIMTECH offers the Postgraduate diploma for candidates aspiring to step into the dynamic world of management. The course curriculum is curated, observing the changing trends of the management field, including subjects such as Marketing Management, Organizational Behavior Data Analytics, Information System Strategy, Global Business Environment, Digital Transformation, Entrepreneurship, and much more.
The course is specifically designed to nurture fresh graduates to obtain management skills progressively, while working professionals can also take advantage of this program very conveniently.
The best part? Besides general management, this management program enables learners to choose from either of the two specializations of their choice:
Finance, Marketing, and Supply Chain Management

Analytics, IT, Banking, Financial Services, and Insurance
The duration of this course is 24 months which includes course as well as in-hand project tenure. PGDM from BIMTECH can be an excellent catalyst for your management career, enabling you to obtain domain expertise and lucrative opportunities after its completion.
5. Master of Business Administration (General), Chandigarh University: It is a 2-year course that includes a 6-month internship and three personalised tracks, each for job aspirants, self-employment seekers, and students looking for competitive exam preparation.
The four electives included in the curriculum are Finance, Human Resource Management, International Business Management, and Marketing Management. They are covered during the third and fourth semesters of the program along with Strategic Management, Design Thinking, Innovation and Entrepreneurship, Business Environment and Regulatory Framework, Industry Analysis and Company Profiling, and Project Reports.
Read: Career in marketing and its scope in the US market.
Semester I and II, on the other hand, comprise subjects like Marketing Management, Business Economics, Business Communications, Financial Management and Accounting, Quantitative Methods, Management Information Systems, Management Practices and Organisational Behaviour, Corporate Finance, Basic Analysis through Excel, Digital Marketing, Research Methodology, Operations Management, and Human Resource Management. Some of the course highlights include teaching assistant support, 360-degree career guidance, and peer learning opportunities from exposure to upGrad's 40,000+ learner's base.
To know more about the MBA (General) program, reach out to us!
Why Online MBA Courses in India?
Let's read why online MBA courses are in demand:
In today's competitive job market, an undergraduate degree is not enough. Employers seek highly qualified and skilled candidates who can bring work teams and companies closer to their goals. A survey conducted by the Graduate Management Admission Council (GMAC) found that nearly 77% of US companies planned to hire MBA graduates. And that the Asia Pacific region has a rising demand for specialized business master's graduates.
The best thing about enrolling in an online MBA course is that these programs are designed to encourage the overall grooming of a candidate – you not only develop industry-specific skills and knowledge, but you also learn the nitty-gritty of business management. Online MBA Courses are cost-effective and let you pursue at your own pace.
Naturally, MBA graduates are well-prepared to take on all kinds of job roles across industries. Completing online MBA courses in India can also help you advance into a leadership role in your current organization. It can not only add to your knowledge and skill-set but also give you the confidence to make a career transition. One more advantage of online MBA courses is the advantage of pursuing global courses without having to relocate.
Now let's get into the details of the factors behind choosing online MBA courses in India.
Study flexibility:
Many online MBA programs need less time for completion, for example, around 14-18 months. Generally, online MBA programs boast flexible academic schedules with the syllabus allowing students to watch video lessons, join discussion forums with classmates, answer quizzes, etc., anywhere, anytime. Joining a 1 year online MBA in India is recommended to benefit from the course flexibility.
Most business schools need their students to participate in online synchronous learning. For example, they expect students to be involved via videoconferencing. Moreover, many of the best MBA online programs also provide the benefit of asynchronous learning. Hence, students can study lessons via email, message boards, recorded lectures, etc.
Specifically, online MBA courses are flexible for students willing to study at their own convenience. They only require reliable connectivity and a good computer/laptop. Looking at the great results of online MBA with placement, it is clear that flexibility plays a key role.
Cost-effective:
Cost is the greatest advantage when pursuing one of the best MBA online programs compared to offline programs. An online MBA doesn't need students to relocate or search for accommodation. Hence, it potentially saves thousands of rupees compared to on-campus MBA programs.
Many online MBA programs, including the best online executive MBA programs in India have a duration of only one year. So, the cost is significantly reduced compared to offline MBA programs. When you pursue one of the top online MBA programs in India, free access to the library, labs, and other resources significantly save costs.
Increased networking opportunities:
Another great benefit of completing one of the best online MBA programs is instant access to a wider network of professionals, including students from various locations and backgrounds. Those students who earn their MBA degree online aren't limited by their proximity to campus. They can flawlessly interact with other working professionals from different parts of the country and world too. This is extensively perceived in many of the best online executive MBA programs in India.
The top online MBA programs in India facilitate collaboration either in the form of real-time discussions or group assignments. So, they enable students to expand their network with various successful groups of peers.
Reputation:
Many reputed business schools and universities conduct quality online MBA programs that are well-known throughout the country. They strive to provide the best online MBA education that presents excellent job opportunities to students.
Completing an MBA either online or offline, from a reputed business school or university unlocks decent job opportunities. Another advantage of getting into one of the top online MBA colleges in India is that you become knowledgeable in communication technology. Many of the best online MBA colleges in India equip students to easily handle the high-tech facilities at their future workplaces.
The top online MBA programs from reputed institutions impart to students how to use advanced technologies for effective communication.
Benefits of pursuing an online MBA program compared to offline MBA programs:
Career Flexibility:
All the online MBA courses India are famous for offering career flexibility. These courses, including the best online MBA courses allow students to study from their homes only. No need to quit a job and compromise the family's needs. The best online MBA courses in India give the luxury of continuing the MBA education without negatively affecting the ongoing job. Moreover, the best online MBA for working professionals imparts all fundamentals covered in offline MBA programs.
With a suitable MBA course online in India, students get the flexibility to mold their career needs without relocating. Whichever online MBA courses India you may choose, you benefit from career flexibility.
2. Resources:
Through MBA from home programs, you get access to resources that entail mentorship, career counseling, and networking opportunities. Moreover, the best online MBA programs 2022 impart how to advance steadily in this ever-evolving digital world. The easy and free access to resources makes the MBA from home programs lucrative choices among students.
Improves Interpersonal and Managerial Skills :
You may improve your management and business abilities while acquiring a fresh perspective on career fulfilment with online MBA courses in India. You may use it to help you improve professional abilities like leadership and strategic thinking. These abilities will give you more self-assurance, enabling you to take advantage of new professional chances or inspire change in your existing position. Business management, entrepreneurship, and marketing are prioritised in online MBA programmes. For many occupations, it takes more than simply technical know-how to finish the work properly.
It makes sense to register for an online MBA courses India to develop skills. Given that most businesses look for skilled employees who are able to make difficult and sound judgements.
Job Security :
Being let go off from a company is one of the top worries for workers in today's market. Your company is less likely to dismiss you if you have an MBA online degree from a good institute, be it online or physical. After earning your MBA, there are a variety of positions you can apply for to improve your marketability and get better jobs as well as salaries.
Great Salary :
Along with expanding your work opportunities, online MBA courses in India equip you for well-paying professions in today's competitive job market. You will find it simple to land a well-paid job after completing an MBA. Online MBA course in India has lecturers who include specialists in various subjects, including accounting, marketing, organizational behaviour, and others. Your income will also be influenced by the sector you select and the company you work for.
Hiring Trends for MBA Candidates
The GMAC report also revealed that for-profit public companies and Fortune Global 100 entities are among the top recruiters. MBA graduates not only find employment in large corporations but also bring their talent to smaller organizations, startups, and nonprofits. So, the online MBA courses in India doesn't just open doors to big corporates but also to promising startups. Leading industry sectors for MBA hiring include energy and utility, healthcare, and business consulting firms.
Online MBA degrees are designed to build your business acumen and help you excel as a manager and leader in your chosen career field. So, you can specialize in a subset of business within your program. Online MBA in India have specializations in information technology, supply chain management, marketing, economics, etc. While IT tops the list of desired expertise in Europe, marketing and economics dominate in Asia and the Pacific. One of the advantages of online MBA courses are the way corporates recognizes online learners. Online courses got their recognition especially when you learn from a recognized university.
Online MBA Courses in India: Trends in MBA Job Functions
Manufacturing and service industries typically hire MBAs to lead their marketing efforts. As for healthcare, business administration graduates tend to be employed in either marketing or finance roles. Going by the organization size, they generally work in strategy jobs in large companies and mostly fill sales and business development positions in smaller startups.
Starting Salaries of MBAs in Different Sectors
New MBA hires can expect to earn starting salaries that are double the remuneration of their undergraduate counterparts. With online MBA courses in India, you can enter a variety of fields – from consulting to consumer products and finance.
In 2019, the projected annual salary of MBA talent in consulting reached $135,000, which was closely followed by finance and accounting, with median earnings at $125,000. Products and services were poised at $105,000 against the $55,000 base salary for bachelor's graduates. Company size and geographic location also have a bearing on the expected earnings. Learn more about the MBA salary in India.
In India, the starting salary for MBA graduates in 2018-19 for some of the top B-schools was as follows:
Syllabus of Online MBA Courses
Every online MBA courses in India has its own curriculum with one common thread, i.e., all programs aim to equip graduates with some working knowledge of business and specific core competencies that allow them to succeed in the workplace. Here's a snapshot of some master's level business administration subjects and how they translate into the workplace.
Financial modeling: Financial statement analysis; using quantitative models for financial decision-making; using Excel to forecast outcomes; conducting risk analysis, calculating the time value of money, cash flows, etc.
Strategic marketing: Creating profiles of target customers; conducting a needs assessment of target customers; preparing go-to-market strategies for products and services; developing data-driven pricing and promotional plans.
Corporate communications: Producing information in a way that is easy to understand by diverse business stakeholders; delivering the intended messages effectively using written, spoken, and mixed media
Organizational behavior: Establishing productive relationships with colleagues and team members; leading cross-functional teams and managing subordinates; promoting the organization's culture.
Ethics and compliance: Maintaining regulatory compliance of projects; identifying ethical issues and suggesting solutions; mitigating risks by ensuring transparency.
Online MBA Course Teaching Methods and Techniques:
One of the common teaching methods found in the MBA degree online programs is the online pre-recorded lectures. They are pre-recorded to allow students to work and study at their convenience. So, this teaching method highlights one of the key benefits of the best online MBA in India. Moreover, the best online MBA in India has its learning material designed to engage students interactively. So, with the best online MBA for working professionals, students will not lose interest while learning.
Other teaching methods and techniques found in the online MBA degree in India:
Online Pre-recorded Lectures

Forum Discussions

Live Seminars and Group Discussions

Industry Oriented Webinars

Interactive Learning Content

Practical Workshops
Online MBA Course Projects:
When students are pursuing one of the best online MBA India in their final semester, they need to work on a project according to their specialization. The research project allows students to learn about their specialization in all the best online MBA programs. Furthermore, the curriculum of online MBA degree in India allows students to learn about research methodologies. The best online MBA programs include group discussions and seminars in their curriculum to let students effectively complete projects.
What you can do with an online MBA Course
Now, let us see where all this working knowledge can take you. With an online MBA course in India, you can choose to work across diverse economic sectors in a range of different roles. Below are some senior-level positions that can be within your reach with an advanced degree.
Marketing Manager: As a marketing manager, you manage and overlook the advertising, marketing, and sales efforts of an organization. Alternatively, you can be put in charge of a particular product or service. Advertising agencies also require marketing managers to work with content creators and market research analysts. Reporting to company executives about the campaign success is also one of their job responsibilities.
Pursuing one of the best online MBA programs 2022 can fulfill your dream of working as the head of the marketing department. The best online MBA programs in India teach students how to lure customers.
Communications Directors: These professionals direct the overall image of an organization by implementing different messaging strategies. They coordinate public relations, advertising, and social media activities by supervising news releases, organizing press conferences, and liaising with the media.
Director of Business Operations: They plan and implement strategies to ensure efficacy and efficiency in business operations. The Director of Business Operations collaborates with top executives and fellow managers to maintain the standards related to the manufacturing of a product or service production and delivery.
Chief Compliance Officers: They carry out reviews and audits to ensure the company's regulatory and policy adherence. Chief compliance officers are also tasked with investigating possible misconduct and resolving compliance risks with appropriate measures.
Brand Manager:

Completing an

MBA course online in India

can fulfill your dream of becoming a brand manager. An

MBA online,

or you can say an

MBA degree online

program allows you to build the brand value of a company. All

MBA online

programs focus on imparting communication skills.

Sales Manager:

After completing one of the topmost

MBA online courses in India,

you can work as a sales manager to guide sales personnel in fulfilling their monthly targets.

Advertising Manager:

After completing one of the best

MBA online courses in India

, you can work as an advertising manager to create and execute different forms of advertising media.

Financial Advisor:

Through

MBA online in India

, you can work as a financial advisor to offer financial services to clients depending on their financial situation.

Project Manager: MBA online in India

allows you to work as a project manager who plans, procures, and executes the projects.
To transition into specific roles, you may sometimes require additional credentials. Even when they are not legally required, employers in a few sectors expect appropriate licensure. For example, you must hold a Certified Public Accountant (CPA) credential to work as an auditor.
Lean Sigma, Project Management Professional, and Certified Financial Analyst (CFA) are other examples of professional certifications. While some of these credentials require you to appear for their own exams, certain online MBA courses allow learners to earn them while studying.
How to Choose You Online MBA Course
Now that you know about what online MBA courses entail and their post-qualification career tracks let us help you select a program that is the right fit for you. You should assess your options in the light of factors like duration, accreditation, cost, and expected outcomes.
Most online MBA courses have a duration of 12-20 months, whereas other programs may last for two years, like traditional MBAs. Executive MBAs allow you to complete your coursework part-time. Additionally, you should evaluate your options in terms of the per-week time commitments and check if any deadlines that clash with your present schedule.
So far as accreditation is concerned, your online MBA course could be affiliated to international, national, or regional institutions. So, find out the name and status of its granting institution. Some programs may offer dual accreditation from an academic institution and an industry-related body. An institute's rank can be seen as a reflection of its curricula, faculty, and student outcomes.
Now, let's consider the cost factor. Pursuing an online postgraduate education would automatically eliminate your travel and accommodation-related expenses. Also, many B-schools charge a lower fee for online courses than their on-campus tuition rates. The total MBA costs may vary depending upon the institution. So, examine your alternatives accordingly. And don't forget to compare the prices with the program outcomes. You can also contact recent alumni to get more clarity.
Accreditation for MBA Programs:
The reliable MBA online India programs ensure proper accreditation. These courses from accredited schools demonstrate that they fulfill high-quality educational standards.
Attending MBA online India from an accredited institution ensures quality education. This is quite beneficial to online MBA for working professionals. The online MBA for working professionals students aspiring to attend graduate school or receive licensure must pursue the course from a regionally accredited institution. The online MBA for working professionals in India can support program-specific accreditation in many business schools.
upGrad covers all the above-mentioned factors. With collaborations with some of the top national and international universities, upGrad aims to deliver top-notch online MBA courses that don't drown you in student loans. These online courses give you the flexibility to upskill and expand your knowledge base while keeping your personal and professional commitments. What's more, is that, when students get certifications from top global universities, it enhances their professional credibility.
Who Should Consider Joining an Online MBA Course in India?
You may have thought about what to do after your graduation, and then the pandemic hit. While many face a lot of challenges by just sitting at home and not being able to utilize the time, you can consider joining an MBA online course. When it comes to MBA, a constant question arises, who is eligible for these courses? We have an answer to your question. Here is a list of people for whom these courses can prove to be highly beneficial –
Freshers

– Join the

best online MBA in India

if you want to become a knowledgeable and trustworthy leader or entrepreneur.
It will enable you to save time while also enhancing your knowledge and managerial abilities, allowing you to pursue your interests simultaneously.
Working Professionals

– In order to accomplish the shared objective, managers in a given field must always be inspired, alert, and focused.
They serve as the company's representatives and are its leaders.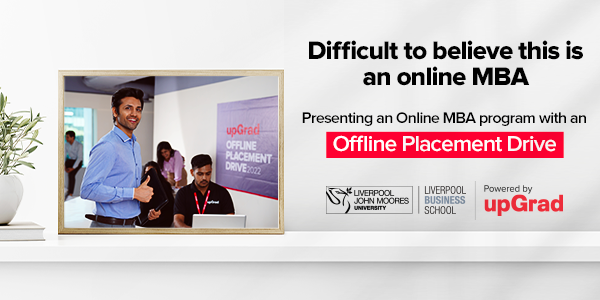 Without having to quit work or take a sabbatical, the online MBA courses India help improve the current leadership ability and learn something new daily.
Entrepreneurs

– Whether you want to start, restart your business or grow it to new heights, the

best online MBA in India

is an ideal way to get through any obstacles in your way.
One's ability to think critically, reason, and make snap judgments is aided by the curriculum and learning projects.
Conclusion
With this, we have covered the leading online MBA courses, their syllabus, and their relevance in today's job market. Online MBA helps experienced professionals to climb up the corporate ladder. One of the advantages of online MBA is learners can access the study materials for years and refer whenever they want. Various online MBA courses are offered depends on the type of field of the learner and what he/she wants to get in. We also discussed how online MBA courses in India in business administration could lead to higher salaries, more job responsibilities, and increased professional satisfaction. So, use this information to make your decision and move closer to your career goals!