In an IBM Marketing Cloud Report – '10 Key Marketing Trends of 2017′, a thought-provoking disclosure on the progress of digital marketing is made. The study states that –
'90% of the data in the world today has been created in the last two years alone, with almost 2.5 quintillion data on a day.'
Emerging technologies are going to further accelerate this data growth in the future.
Today's consumer is evolving every hour of the day and influencing business decisions every minute. The biggest challenge for any business organisation is to keep up with the rapidly changing consumer behaviour and stratify their needs from time to time.
Market research and management studies have time and again demonstrated that business decisions are strongly influenced by the actions of the consumer on the digital platform. Today, digital marketing is no longer a separate business unit, but a strong catalyst and motive in logical business decision-making for those in leadership roles – a remarkable factor that bridges the gap between the expectations of the customers and what they are served on their plate.
In the present scenario, digital marketing is one of the most important aspects of executing logical business decisions for leaders. The digital marketing trends that are highlighted by marketers to the management, impact business thoughts and augment the efficacy of business operations. These digital marketing insights help the decision-makers to implement skilled labor adjustments, ingenious processes, and competitive technology. Such decisions also enable the business and brand to interact with the consumer in a more relatable fashion and help drive desirable consumer behaviour.  


Market studies have showcased that the influence of digital marketing on business decisions and operations have increased revenue generation by 15% – 20%, usually measured in terms of return on investment and audience engagement. The marketing transformation in terms of digital is destined to reshape the business operations and models through inputs regarding changing consumer behavior and logical business decisions taken by the leadership.
Brand Positioning – A Focal Point of All Marketing Efforts
Here's a small example to understand the idea: the presence of supply chain and logistics business organisations in the digital world have increased over the past decade. Yet they are unable to make the best use of digital platforms. Such organisations must realise that customer purchase decision is influenced by the brand trust and digital feedback of their peers.
Today, businesses and individual customers make their purchase decision after a lot of digital research. B2B companies must change their marketing tactics and focus more on content marketing than traditional marketing. Content marketing can help the business to focus narrowly on business leads and conversions and portray themselves as a one-stop solution to the customer's problems.
Today, business decisions are taken not just based on the profit and loss statement. Businesses now adopt a customer-centric approach while taking decisions around promoting the brand, publicity and building customer loyalty. This approach of logical business decisions is usually based on digital marketing acumen. Such decisions also help to plan and develop a business strategy and management plan to create consistency, reuse resources and measure efficiency across the intricate business chain.
The business chain of the organization includes various conventional, internal fragments of business as well as other outsourced third-party companies such as production units, marketing agencies, customer relationship management units, and media partners. Media partners could include content marketing organizations for creating content for websites, blogs, YouTube and other social media platforms. The digital marketing influenced business decisions would enable the business to build a framework of distinction, which functions in a consistent operating model across different platforms, practicing higher transparency and improved governance of the business.
A Thorough Analysis of the Digital Marketing Role in 2018
Digital marketing operations are a synthesis of the optimum use of resources, processes, structure, and technology to profitably disrupt and scale the user interaction, targeting, personalisation and optimisation of the business channels.
For example, if you are a marketer, you have the bottom-line responsibility to influence and incur more profits through the consumer products developed by the brand. This potentially stimulates the growth, dexterity, experimentation, and receptiveness, which impacts how the firms reshape themselves to become sustainable.
Businesses need to become aware that just offering a product is not enough anymore. They need to be aware of the importance of building and developing a user-friendly technology platform, allocate skilled resources and increase the budget allocation of the marketing division to scale up their growth. A deliberate business strategy to implement effective process machinery and governance system to fulfill the needs of the audience, on a daily business, is needed.
5 High Impact Digital Marketing Strategies to Win the Market
Besides offering customer insights, digital marketing also empowers the leadership to plan and craft a customer journey based on the insights and target the right set of audiences and integrate phases and functions to offer an extraordinary user experience. It helps to track minute by minute actions of the consumer and channelise the business and marketing efforts, depending on the feedback.
This incessant tracking and analysis of consumer behavior can boost the business governance process by setting right protocols for both internal and external capabilities, data and technology. In short, deploy a flexible system across the global business ecosystem.


In this modern, technology-driven era, digital marketing strategies and insights are the biggest tools to scale up the business and enable becoming the trendsetter in the market.
Here are a few attributes of digital marketing which can influence logical business decisions for leaders:
#1 Getting a grasp of audience behavior and taste
Digital Marketing helps to understand and get a grasp of the audience behavior and taste, in a holistic manner. The process of following and evaluating the dynamic needs and actions of the customer could aid in optimising the resources and technology to the maximum and expand the daily business operations. The mapping of the customer journey through digital marketing can help to understand the audience's behavior across different channels and isolate the areas of improvement and demonstrate more aggressive business efforts in the same.
Scaling the business through digital marketing initiatives requires automation of processes such as personalised web pages, email, or user-preferred dashboards to track audience activity.
5 Ways to Provide Exceptional Customer Service
#2 Offering high-caliber user-experience
Bad or negative user experience with the brand can bring down the credibility of the business and question the brand trust and loyalty of the consumer. Business decisions cannot be taken just to develop high-end technology or processes. It must also focus on the functions which enable the smooth journey of the customer, offering a high-caliber user experience. This refers not just to marketing, but a complete and cohesive impact of sales, support, services and internal day to day business operations.
A two-way flow of information and communication between the business and consumers needs to be framed and implemented. A system that not only offers an excellent user experience but is also able to reconnect with the consumer to get their feedback about the business and its products, which are the seeds for future business decisions.
#3 Using the best-suited technology 
A multichannel customer interaction requires a technology of high standards that can automate processes and personalise interactions. A technology which must be a solution for the problems of the consumer and deliver the most effective audience interaction. An updated technology, which offers flexibility to operate across global platforms.
Digital marketing data and analytics can help the leadership to take logical decisions about when, what, which and how the technology can be changed and implemented in the changing business requirements.
Winning the Market with Consumer Journeys
#4 Pursuing processes and governance
No matter how much technology grows, it's the people who are integral in the pursuit of processes and governance. Ultimately, it is the people who build technology and make it do what it is meant to do. It is the right processes and governance at the right time, which keeps the technology updated and functioning in line with the needs of the customers. The absence of standards on how and when business units should deploy and distribute technology and data across internal and external entities can ruin the entire operating ecosystem of the business.
A systematic approach influenced by digital marketing data – from the conception of the idea to the product launch, internal and external – with clearly defined, transparent roles and responsibilities of the resources and technology can enable a unified system. A robust orchestration of such a system can also enhance the creativity of the resources, with alignment to protocols.
#5 Attaining progress by using the best techniques and metrics
Digital marketing inferences play a key role in enhancing the effectiveness of business operations and decisions, in turn impacting the return on investment. More than just the product reach achieved through marketing, and determining to price through demographic inferences, businesses also must focus on other digital marketing metrics such as how the customer reaches the product and makes a purchase decision and how he/she feels about the product.
The metrics used by the business must focus on the evolving tastes and needs of the audience. The metrics must offer the business a real-time outlook of the consumers and power the decision-makers to implement a logical business decision.
Why Brands Need To Do More: Lessons from Google, Airbnb & Uber
When consumers are equipped with knowledge with just a click, it is mandatory for the business leaders to make logical decisions based on the changing consumer perception and match their desires with an unblemished user experience which, even though technologically enhanced, offers a personal touch.
Comment below and let us know your thoughts on whether you enjoyed reading this article and learned the importance of logical business decision-making in leadership roles when it comes to digital marketing. Also, let us know if you know of any other attribute which can influence such decisions.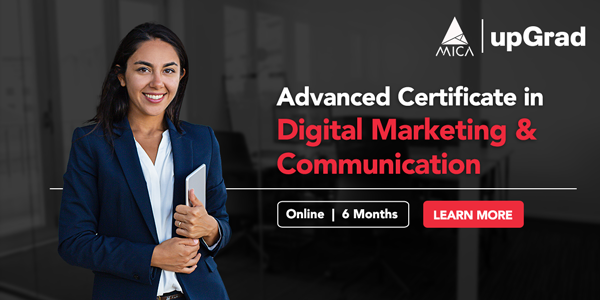 Learn digital marketing course online from the World's top Universities. Earn Masters, Executive PGP, or Advanced Certificate Programs to fast-track your career.
What does digital marketing include?
All the strategies that you apply towards marketing your products and services online fall under digital marketing.

Digital marketing allows for a multi-channel approach using one or more channels like YouTube videos, Instagram posts, blog articles, and marketing emails. This is usually done depending on what your target audience prefers and allows them to engage with the digital channels that most appeal to their needs.

In traditional marketing like television, radio, billboards, there is little or no interaction between the audience and the business. Digital marketing, on the other hand, has tons of scope where the business can directly engage with their audience through channels like forums, website comments, social media platforms, etc.
How does email marketing help in your digital marketing efforts?
Communicating with your target audience is key to helping them recall your brand at every opportune moment. This can be done effectively through branded emails where messaging can be designed to promote brand awareness, institute industry leadership, advertise events, and let your customers know about special promotions.
How can a digital marketing course help to jumpstart your career?
While you may be following the digital trends frequently, they can be a tricky thing to master. You can invest time to figure them out on your own, but it can be quite a time-consuming process. The best way to go about it is to enter a digital marketing course where you will be taught to understand how to decipher these trends and use them to your advantage.

By being aware of the ins and outs of the industry, you can get closer to getting that dream job whilst still on the verge of completing your digital marketing certification.

Other than that, even if you are currently in a digital marketing role, you can take these courses and certifications to upgrade your skillset because the domain is evolving constantly. This also helps them to keep relevant in the space.
Ride the Digital Wave