MBA or Masters in Business Administration is one of the most sought after postgraduate degrees for management graduates in India and abroad. It is also one of the only degrees in the non-science field with some of the highest paying job prospects and tough entry barriers.
So what makes this degree so special? And how can a management aspirant, along with a definite trek up the professional ladder, use an MBA for personal growth?
While the answers to this question may be multifaceted, for easy reference, we have put down some of the surest ways in which an MBA helps personal growth and development.
How MBA Helps Personal Growth & Development
1.

Confident personality
Most MBA admissions are conducted after a series of aptitude tests and personal interviews that test a candidate's cognitive abilities and body language and confidence. To prepare for these competitive interviews, candidates have to go through several rigorous training modules that help them develop a confident personality and conduct.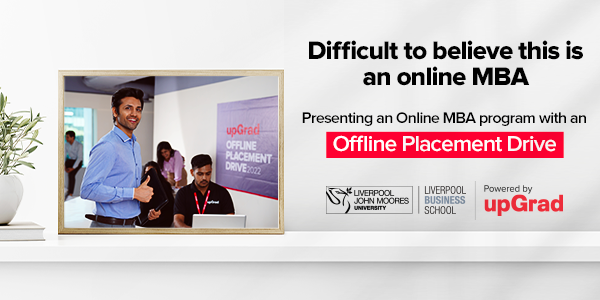 To survive in a cut-throat corporate scenario after gaining the degree, having a confident and upright personality is particularly imperative. Thus, an MBA degree arms an aspirant with that much-needed spark that would help him/her navigate through their career maze.
2.

Increase in the knowledge base
Another way in which an MBA helps personal growth is by exposing a person to a knowledge graph much faster than he/she has acquired in the past. Usually, MBA candidates opt for the degree post 2-3 years of work experience. Thus, by pursuing the degree, they acquire new knowledge that they have not encountered earlier through their work-life experiences. This opens up new avenues for candidates and significantly helps in expanding their knowledge base.
Get best MBA certifications from the World's top Universities. Earn Masters, Executive PGP, or Advanced Certificate Programs to fast-track your career.
3.

Inculcates communication and networking skills
Communication and networking skills are the one true keys to the successful sustenance and growth of any business or organization. Networking skills help people meet one and another and build a referral base. These networks of referrals are also future employers or clients and, thus, integral to the success of one's career.
Thus, this is another area where an MBA helps personal growth by building superior communication and networking skills. It must also be noted here that communication skills do not only mean talking to people – but it involves the development of skills like the way of putting forth an idea and the perfect timing and surrounding to make a prospective business pitch.
4.

Helps in developing leadership and entrepreneurial skills
The pack leader is always a person who has the most foresight, knowledge, and risk-taking abilities. He/She is also a person that the entire team follows for guidance and directions. Though some people are born with it, good leadership qualities are also skills that can be acquired in later stages.
Studying in an MBA program effectively puts candidates' in charge of their own careers and makes them responsible for their success. Aspirants are taught to shoulder responsibility from the program's starting through participation in events and group assignments, thus helping develop their leadership abilities.
Checkout: Best Online MBA Courses in India
5.

Makes you more adaptable due to increase in skillset
Pursuing an MBA program after 2-3 years of work experience helps you learn new subjects and majors that you were not taught earlier. This new bouquet of specialization may have some subjects related to your field and others completely different.
This helps you learn newer and more varied concepts, making a person more malleable as a professional. Post an MBA, a person can conveniently choose his career stream or even change his existing stream to something more exciting due to the acquisition of new skills and the ones they had before.
6.

Helps you think out of the box
While people often say that an MBA is excellent for personal growth, there is no particular method taught to candidates that help them substantiate this. However, what an MBA does teach is how to use strategy and creative thinking in innovating solutions to solve problems and potential crisis situations. This quality of strategic thinking, also called thinking out of the box, has the ability to help a person not only in his professional life but also when facing tough situations on the personal front.
Learn: MBA vs Masters: Which One Should You Choose
7.

Improves your world view and thinking horizon
Being a strictly professional program, the MBA allows a person to interact with professionals from different fields and specializations. These professionals share their experiences and challenges, thus helping a person gain a wider perspective of what's out there in the world to explore.
8.

Better career opportunities and credibility
The return on investment in an MBA is comparatively higher than most other masters programs in the management field. This is majorly due to the high barriers of entry and comprehensive syllabus. Thus, an MBA degree substantially increases the candidate's total net worth and credibility in a potential employer's eyes, opening a slew of exciting and well-paying career opportunities for them.
Wrapping up
Professionals often research for hours endlessly before finally zeroing down on a program and B-school of their choice. Thus, it is extremely important that this degree helps them gain considerable benefit in their professional and personal lives. With every additional degree, a person's grasp of knowledge and perception of the world expands and improves. This greatly helps in their own personal growth as well.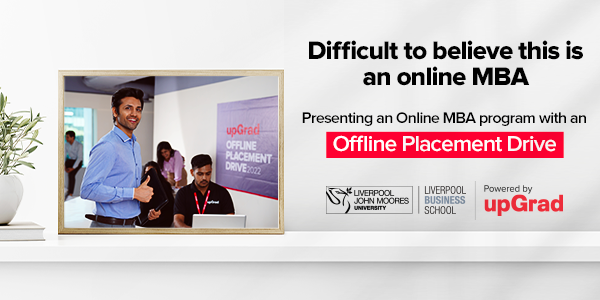 As mentioned above, it makes them confident and ready to face the world's challenges, a quality that most professionals in the new normal digitized world ought to possess. Considering the importance that a degree plays in the pursuit of personal growth, upGrad MBA courses are thus specifically designed to ensure that any MBA program on the platform offers an abundance of professional and personal takeaways.
Even though it is virtual, the program offers every opportunity that a real-time classroom program could offer, hence ensuring that the student receives a maximum benefit for the time and money invested.
upGrad is an online higher education platform providing industry-relevant programs in collaboration with world-class faculty. It creates a good learning experience anywhere and everywhere by online programs. upGrad offers the students an online MBA in marketing degree from Liverpool Business School and Deakin Business School. Along with these, upGrad offers MBA programs with a specialization in Finance, Operations, Strategy & Leadership, and Executive.