A degree in business from Kingston University, London, a stint in consulting as well as in VC-backed startups were not enough to satisfy Guneet Chadha's hunger to learn. His drive for constant learning led him to UpGrad's Product Management Program, enabling him to discover his true calling.
With a degree in business from London's prestigious Kingston University, Guneet was well on his way to a bright career in traditional business and had joined one of the big 4 consulting firms, in an entry-level managerial role. He then moved on to working in some startups, where his roles were primarily data-driven. However, his drive for continuous learning and getting ahead in his career did not let him settle at that.
There came a time when Guneet felt the need to acquire skills that could not be replaced by automation. His desire was to learn about all the new things in the market today, specifically the changes that emerging technologies are bringing about. He also wanted to bring his managerial skills to the table, as he thought that would give him a professional edge.
Youtube video to watch!
Guneet researched roles that are a blend of technology and management and that's when he came across Product Management as a career choice – it seemed perfect for him.
The most traditional route to Product Management, especially in the Indian context, is to consider an MBA from a reputed B-school. Guneet, however, rightly recognized that this route would not only involve an investment of anywhere up to 5 years (notwithstanding the fact that a full-time program would also require him to quit his job and not have an income for about 2 years), but also the fact that an MBA would only teach him overall management skills and not specifically product. Hence, it might not guarantee his transition into a Product Management career – a superior and new-age technology role.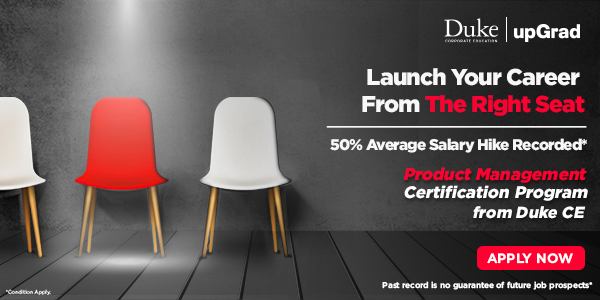 He eliminated the option of quitting his job and pursuing an MBA, and began to research online courses that focused on teaching Product Management.
Guneet's search led him to UpGrad's Product Management Program. He says,
"What stood out about this program was its application-driven curriculum where the instructor does not tell you exactly what to do in given situations, but you get guidelines, general rules and tricks that you only obtain through years of experience."
What also appealed to Guneet was the program's hands-on and unique learning methodology, which allowed students to build their own product portfolio. They got to learn through industry projects and real business case studies under the mentorship of seasoned product managers like Anish Tripathi from Bookmyshow and Anshumani Ruddra from Cuemath.
upGrad's Exclusive Product Management Webinar for you –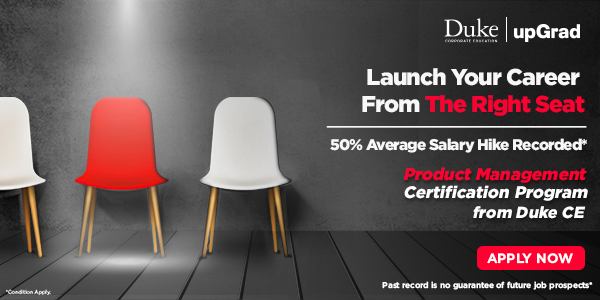 How to craft GTM Strategy for a Product?
"They don't just leave you there – they also teach you how to apply for PM jobs, how to position yourself as a PM, and help you prepare for interviews"
– Guneet adds and says that he isn't leaving this thoroughly engaging community anytime soon. The Product Management program at UpGrad helped Guneet to get a job at Scootsy in a Product Manager's role and he is thrilled with the fact that he was able to make this switch in just 6 months.
With his newly acquired skills at UpGrad, Guneet is definitely bound to go places and we wish him the very best in this journey!
Study Product Management Courses online from the World's top Universities. Earn Masters, Executive PGP, or Advanced Certificate Programs to fast-track your career.
Featured Program for you: Design Thinking Certification Program from Duke CE
What is the quickest way to become a product manager?
If you are already working, and wish to develop the necessary skills to become a product manager, you have a couple of options. The first one is to get an MBA degree – full time or part time. However, do note that only those candidates who have completed their MBA from a reputed, premier institutes may get product management roles. If you do not wish to go for an MBA, you can easily complete courses on product management from reputed institutes online. These courses give you the necessary skills in a very convenient manner, and you do not have to quit your job in the process.
Is it possible to become a product manager without having an MBA?
Yes, it is possible to become a product manager without having an MBA. There are 2 ways to achieve this. If you are already in a development role, you can continue on as a developer, and take part time courses in product or business management. These courses can be easily completed online, and will help you get the required business management skills. After this, you can look for product management roles. Another way would be to grow within the organisation in your present role, and look to more laterally in product management roles.
How to get product management jobs?
Product management roles are amongst the most desired roles today, as they enable individuals to have excellent careers. However, getting these jobs will require planning, patience and perseverance. First, create a strong resume that clearly displays your qualifications and experience to reflect that of an individual who is knowledgeable in technology and at the same time, also have sufficient exposure to business management skills such as leading teams, project management experience, data analytics, financial planning, and so on. Next, prepare for interviews. If you think that you may need to upgrade your skills, you can pursue part time product management courses online from reputed institutes. Finally, start applying for product management roles.
Build Cutting-Edge Products for the Technology Age
UpGrad's Post Graduate Certificate in Product Management

Visit page