If you are keen to pursue a career in Finance, you should be considering enrolling for a master's in business administration course from a top-notch university while acknowledging the diverse scope of MBA in Finance to choose the right career. With a growing and lucrative MBA in Finance future scope, it is the best career to pursue with the right skill sets. If you are good with numbers and are analytical and have strong logical reasoning capabilities, this is the right career option.
Scope of MBA in Finance
If you track the history of the evolution of the subject, you would be surprised to know that towards the end of the 19th century, Finance and Economics were the same. Over time, the domain evolved, and a separate area called 'Finance' came up. Till about a few years back, Finance and Banking were thought to be correlated, but today the scope of finance has broadened.
Today, finance is an integral part of every economy. This is the age of industrialization and automation. For industries to progress, finance plays a major role. It is also vital to mention here that many industries and companies are majorly facing financial crises. During such challenging times, expert financial managers work out relevant strategies to help organizations improve their financial health and augment their business performance.
You need to know that financial management is the core management functionality in all organizations and across all industrial verticals. It is one domain that, to a great extent, is responsible for driving the growth of the business.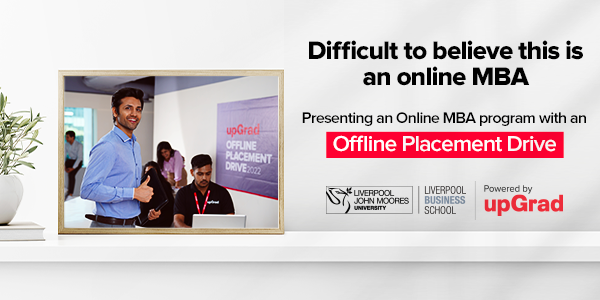 Finance plays a crucial role in every kind of organization; big, small, medium, or micro-level enterprises. While you will initially be working as an executive or entry-level job role, you will get to work in executive and senior roles over time. After spending considerable time in the finance domain, you can also choose to work in an analytical role.
When we talk of Finance, MBA with a specialization in this domain is considered one of the most effective programs for helping interested students discover the domain's potential and use it to further their career. This is the course where you learn good management skills and use their innovative ideas to help strengthen the economy.
Must Read: MBA Salary in India
Why is an MBA in Finance a Good Career Option?
When you enrol for MBA Finance, you get to learn specific financial planning skills, financial decision-making, budgeting, costing, investment management, international finance, working capital management, and corporate finance. You can then choose to enter the corporate sector, real estate, investment, banking, and all other industrial segments.
In recent years, the financial crisis that the world has endured has made MBA in Finance an attractive option for aspirants, expanding the MBA finance scope. Several financial institutions and companies have hired managers and analysts to safeguard their assets during the crisis. As a result, finance professionals and MBA Finance graduates have grown in number and are offered lucrative salary packages across leading businesses considering the growing MBA finance scope in diverse fields.
Get best MBA certifications from the World's top Universities. Earn Masters, Executive PGP, or Advanced Certificate Programs to fast-track your career.
MBA in Finance Future Scope
Pertains to
– Gaining extensive financial knowledge and sharpening their business acumen.
– You ready yourself for a career in finance that is usually a high-paying career option. This is one domain that offers excellent job opportunities to the interested candidates.
– You learn the art to help organizations protect their assets.
– You gain knowledge about managerial decision-making from the perspective of profitability, risks, and other financial aspects.
– Helps you understand the entire gamut of money management that is so critical for effective financial management.
Read: Best Online MBA Courses in India
Topics Covered Within Finance
Different institutes cover topics about the following:
Business Communication

Business Statistics

Organizational Behavior

Emerging Technology: Impact on the Future of Business

The Firm and The Consumer

Operations Management

Analysis of Financial Management

Artificial Intelligence in Business

Consumer Behavior

Strategic Management

Financial Management and Valuation

Digital Finance

People Management

Global Economics

Principles of Financial Regulation

Financial Information Systems

Marketing Management

Design Thinking

Data Protection and Competition

Financial Criminology

Business, society & Government

Entrepreneurship & New Venture Creation

Behavioural Finance

Data Visualization in Finance

International Business & Finance

Managing FinTech Ecosystems

Blockchain & Cryptocurrency

Business Ethics & Corporate Social Responsibility

Business Bankruptcy

Financial Statement Analysis

Business income Taxation

Business Simulation

Digital Fraud & Risk Analytics

Creating Financial Stability & Resilience

Stock Market Analysis

Different financial instruments with Futures and options

Market trading and volatility

Investment Banking
Career Options in Finance
Once you have completed the course, you can pursue the following career options:
– Investment Banker
In this, the corporate financial manager finds the feasibility of acquisitions & mergers, making investments, securing privatization, trading in financial products.
– Accounting Manager – The main role of an accounting manager is to oversee the company's accounting department, including the flow of money and general accounts.
– Financial Analyst – The extended scope of MBA in Finance offers one of the most lucrative career opportunities in the form of finance analyst. A financial analyst is responsible for improving the company's financial status. They keep track of profits and losses and help the business progress.
– Credit Manager – A credit manager is responsible for creating all the credit score models, setting loan terms, and determining interest rates.
– Insurance and Risk Managers – The primary role of a financial risk manager is to locate and analyze the potential risk that can be an obstacle to the company's progression.
– Corporate Controllers – This is a very crucial position in a company. They are responsible for all the accounting and financial operations of the business.
– Treasurers – in this role, you are responsible for risk management, investments, and corporate liquidity.
– Finance Officers
– Chief Financial Officer (CFO) – This position comes at the top of a company's hierarchy. They manage the finances of the company along with financial reporting.
– Cash Managers – This role is very similar to that of a Financial officer. A cash manager has to monitor the flow of capital. In the company to maintain the profits and understand the investment needs.
– Financial Consultant – A financial consultant offers personal advice to investors so that they can make a profit. This role requires a lot of planning and strategies.
– Asset Manager – in this role, you venture to determine the viability of assets acquisition.
– Credit Risk Manager – A credit risk manager is the one who analyses the credit risks for financial institutions like banks. Their job is to cover the losses and maintain the capital.
– Retail Banker – Retail Bank provides help with financial services for a client. They explain to them the new products and services and respond to complaints.
– Commercial Banker – A commercial banker or an institutional banker is responsible for catering to the client's financial needs.
– Investment Portfolio Manager – Investment portfolio managers are the financial decision-makers of the company. Not only do they create, but they also implement different strategies to meet their client's goals.
– Credit Managers – these managers are responsible for reducing the credit risks of their organizations.
– Underwriters – Underwriters generally work for a financial organisation where their job is to assess and evaluate their clients' financial status and provide advisory services.
– Researchers & Professors
– Corporate Bankers – advising personal and corporate customers on their financial requirements and indulging in financial planning.
Equity Analyst – In this area, a person is responsible for doing thorough research and analyzing the company's position in the stock market. They use financial modelling to generate annual projections.
Financial Advisor – This is one of the most popular job profiles for an MBA in finance scope. In this, the person will handle all the funds of the organization or the client they are working with. Apart from this, they also advise on the company's risk management, investments, and financial aspects. A financial advisor must be aware and up to date with the market trends to provide the right decisions for their clients.
Manager of Hedge Fund – A hedge fund investment is an alternate investment option for a company that uses different strategies to provide active returns to its clients and investors. This role is popular for investment and finance companies, further extending the MBA in finance scope for aspirants.
Also Read: How to do Global MBA in India?
Personal Aptitude and Skill Sets Required
Quantitative skills

Happy to work with numbers.

Love subjects like Statistics and Mathematics.

Analyzing data and interpreting them to conclude.

Understanding fundamental principles of accounting like making balance sheets, and finance.

Motivated individuals

Team players who believe in collaborative and coordination efforts.

Multi-tasking capabilities.

Report making

Have a basic understanding of the market trends

Have an interest in making long-term plans.

Have the capability to perform under pressure.
Leading Recruiters
After you specialize in Financial Management, you can look forward to being employed by top recruiters' like:
– PriceWaterHouseCoopers
– KPMG
– Deloitte
– Lehman Brothers
– McKinsey
– Deutsche Bank
– Barclays
– HDFC
– JP Morgan
– Boston Consulting Group
– Merrill Lynch
– Goldman Sachs
– Morgan Stanley
– Apple
– Samsung
– Microsoft
– Google
– Ernst & Young Nomura
– IBM
– Accenture
– Wipro
– Infosys
– HSBC
– ICICI Bank
– Capgemini Consulting
– TCS
– State Bank of India
– AMEX
– VISA
– MASTERCARD and many other multinational companies.
Financial Packages
The future scope of MBA in Finance is, beyond any doubt, extremely rewarding. As people who have completed their financial management course, you can look at first getting trained on-the-job during the initial years. But, as you gain experience or if you are someone who has decided to enrol for the course when employed, you have very profitable prospects of earning handsome salaries and doing well in life.
This is one domain that gets the highest remunerations in the industry. While in the initial years, you can look to earn about INR 3 to 4 lakh annually in India, as you move forward and with the increasing number of years of experience, you have a really good opportunity to increase your earnings substantially.
There is a vast mba in finance future scope. If you are placed in a developed country like the US, you can expect to earn more, because as per the US Bureau of Labor Statistics, this is one segment that has the highest growth rate (more than average growth).
What Next?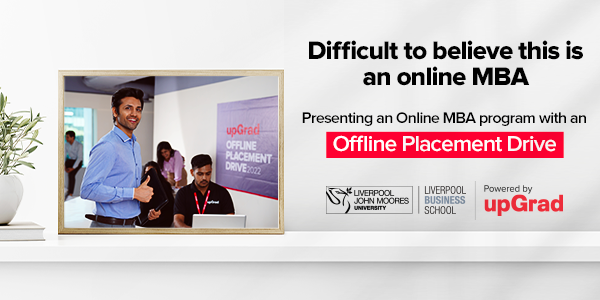 To summarize, you need to know that if you have followed your heart and completed a course on MBA in Finance and have invested substantially, you can expect a good return on your investment. As you move from the junior level to mid and senior-level management, your salary and job profile are going to be rewarding.
If you decide to do the course today, you have a really good opportunity to grow in life because the need for financial managers is going to increase in the coming years.
upGrad works with 300 plus hiring partners at the moment – as a result, we are effectively able to offer candidates worthwhile placement after completing their MBA. If you are interested to do a Global MBA in Finance, upGrad provides an MBA in Finance from a top-UK school, Liverpool Business School.