Once a product has been designed or manufactured, the next step is product management in ecommerce. Although it is a multifaceted subject and depends on organization to organization, it depends on their objective as per their products. The one thing which they demand in common is customers. Know more about product management process.
No matter your strategy or product, the basic aim that everyone needs to meet is to get loyal consumers to your company. Along with many difficult obstacles and challenges in this field, the competition is quite tough too. Let's dive deep into the topic and get started.
Check out our management programs to upskill yourself.
The Need for Product Management in eCommerce
Product management in a wider aspect can be defined as an organizational role that includes designing, preparing, creating, evaluating, releasing, and delivering goods and services to the consumers.
The need of the hour is product management in ecommerce as it covers a variety of topics, which are vital for business success. Completely optimized product management techniques can increase the profits by 34.2%, which shows the real necessity of product management in an ecommerce firm.
The first and most significant step towards a profitable product is knowing your consumer. Knowing your consumer helps you know the right target audience and helps you shortlist the ways to reach them.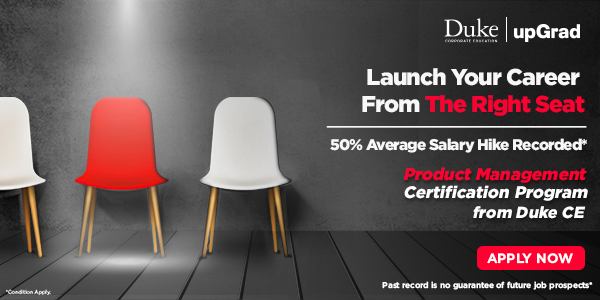 Also read: Scope for Product management career and jobs
This would give you a better hint of what the customers are interested in buying. It is important that you understand your competitors and their products well; you need to refine and build a business plan which is better than them so you can flourish efficiently in the market. 
Once you have established and implemented the above, you need to know time is valuable and establish time management for optimum results. Defining a good product quality is a thing of utmost necessity to keep your customers loyal to your brand and refer it to others.
The next important step is making the interface user-friendly and captivating as it takes only 0.05 seconds for someone to judge your site and make opinions about it. That makes creating an attractive interface a necessity.
Explore our Popular Management Programs
Read: Product Management in Banking Industry
The Skills You Require!
Without the right skillset, the business will become a challenge for you. The skillset helps you know when and how to use the right technique to maximize the profit when it comes to product management in ecommerce firms. Below are some techniques which are discussed according to the needs of the job:
You should have great organizational skills – Being a product manager, it's your duty to make sure there are no missing files, SKU's, or images.
A healthy mindset – You should have a mindset that is inspired by growth marketing. You cannot just create a product and then figure out you should have everything planned and in place.
Versatility – Your thinking and skills should leave you free and open to trying new ideas to know the industry better.
Trust – You should be honest and trustworthy as a product manager. Your team lacking faith in your vision can be a great hurdle when introducing new products and promoting new ideas.
Communication skills –

You should have a good one-to-one bond with your customers for them to be linked with your organization, which in itself is a tedious task.
Top Management Skills to Learn
Your Role as a Product Manager in an E-Commerce Firm
The skillset and the techniques required by a product manager are different as they are according to the job's needs and vary from product to product. However, the major requirement of the skillset has already been mentioned above. Here we would be discussing a product manager's major chores in an organization where product management in e-commerce is required.
By observing the major outlines of the skills the job demands, we have concluded that they should have analytic skills to keep track of the growth of the product and try new ways to maximize the profit. The person should have great testing skills so that before promoting a product on a large scale, it can be predicted and tested on a small scale to better analyze the consumers' response to minimize loss.
The product manager should be aware of the market condition and the target audience to get the most out of the product. They should have prioritized the product they have launched and the good sense of investment return. 
upGrad's Exclusive Product Management Webinar for you –
How to craft GTM Strategy for a Product?
Challenges You Will Face
The challenges people usually face in these fields are common in product management in ecommerce as every organization faces them now and then. Although we're not going as far as to suggest that it's simple for other brands, it's better to promote brand loyalty because it needs more effort from the consumer.
To promote this, you need to have a better one-to-one bond with the customers and assure them that their business with you would benefit from such transactions.
With more and more e-commerce firms coming up, a product manager's need is greater than before. No matter what buyers are looking for, they will search it online and deliver it within a golden period.
Not just that, some powerhouses have a massive business hegemony. Combined with the benefit of being big names, free delivery, and loyalty programs, the rivalry is very fierce. It seems there are plenty of good e-commerce firms; however, everyone's fighting in the same small space for room to survive.
Must Read: Highest Paying Cities For Product Managers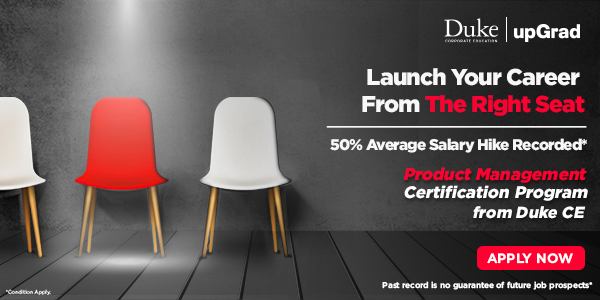 Our Top Management Articles
Study Product Management Courses online from the World's top Universities. Earn Masters, Executive PGP, or Advanced Certificate Programs to fast-track your career.
Conclusion 
In this head-to-head competition era, we need to know the right path with the right action plan to succeed with your goal. Especially when it comes to product management in ecommerce, the competition increases, and the scope of success decreases.
Following the routine mentioned above might take time but would ultimately lead you to success. Patience and versatility are two of the most necessary qualities that a person is pursuing this position needs.  
The demand for Product Managers has risen by leaps and bounds in recent years. Paying attention to the needs of the customers as well as the company is necessary. Like most other careers, Product Managers need to acquire certain skills to increase their value. To acquire these skills, they require proper training. upGrad offers Post Graduate Certificate in Product Management to help you build a career in Product Management.
How do I identify the right product for a particular sector?
The target market is the first factor to consider. To be successful, the product must be targeted at the right market. The target market's needs are the second criterion. The product must suit the needs of the target market. Competition comes next. It must compete with existing products on the market. Then comes the pricing, distribution, and promotion. The product must be priced right, distributed widely, and promoted through different channels.
How do the colors of the product influence the users?
The product's colors may influence users because different colors might have different connotations. For example, if the product is blue, users may feel tranquil when using it. When using a red product, the consumer may feel energized or thrilled. They also impact users due to the way colors are used in the product. Users may feel more energized if the product has a lot of red. They may feel more relaxed if the product has a lot of blue. The way colors are blended also affect the consumers. If the product has a lot of red and blue in it, they may feel more energetic and calm at the same time.
How do I keep my goals on track while creating a product?
It is critical to have specific goals in mind when developing a product. This aids in creating a product that is tailored to the needs of the customer. A strategy will assist in meeting the product's objectives in a timely and efficient manner. Keeping track of the product's progress will help achieve these goals. Finally, if necessary, modifications to the strategy or goals should be made to guarantee that the product satisfies the customer's requirements.
Build Cutting-Edge Products