Creating brand value and its presence among the customers is crucial for any business or model. It is the reason why an MBA in Marketing graduates is highly preferred. They are paid a huge amount of salaries to conduct research on the market, strategize campaigns, run advertisements, and carry out other necessary tasks related to marketing and sales.
However, MBA Marketing salary in India depends on various factors such as the company you join, its location, the kind of work you do, your prior experience, and your skills.
If you are an MBA graduate in marketing and are hunting for jobs, read on to find out the MBA marketing salary in India. It will help you in deciding the scope so that you can apply to relevant job sectors accordingly. This information is all the more beneficial for MBA aspirants who are confused about the jobs and salary after pursuing an MBA in Marketing.
Read more: Career Options After MBA in Marketing: Highest Paying Management Jobs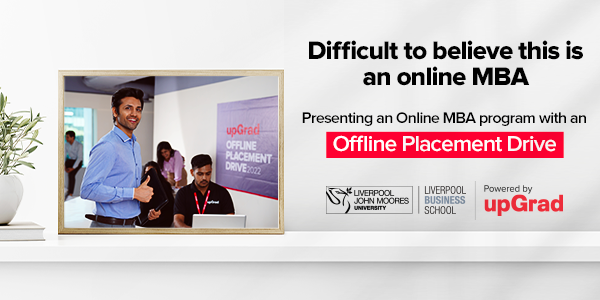 MBA Marketing is a well-known 2-year MBA course for candidates fascinated by learning marketing strategies, advertising, branding, and ways to manage resources utilized in marketing. Candidates ambitious to pursue an MBA in Marketing should have 50% marks in graduation and valid scores in exams like MAT, CAT, ATMA, or other national-level MBA exams. Completing this course with a decent score can help you obtain a decent MBA marketing salary in India.
Most MBA degrees' core subject is marketing. During this course, you spend more time studying marketing in detail. You would explore topics like marketing strategy, management, and consumer behaviour. Moreover, you will also learn other elective subjects of management studies. They are namely finance, operations, HR, and corporate sales. You will be equipped with a detailed knowledge of marketing and general business management after completing your MBA marketing course. This in-depth knowledge and dedication to work can give you an admirable MBA in marketing salary.
Types of MBA Marketing Courses
All these types of courses can provide a decent MBA in marketing salary based on your skills and other aspects.
Full-time MBA Marketing: Its duration is 2 years. You need 50% marks in graduation and valid scores in the national level MBA exams.
Part-time MBA Marketing: The course duration is 2-3 years. You need to complete graduation ad possess a minimum of 2-3 years of work experience. Moreover, you must show decent performance in written tests, interviews, and GD.
Distance MBA Marketing: The course duration is 2 years. Its eligibility requirements are 50% marks in graduation and a valid MAT/CAT/GATE or University level entrance exam score.
MBA Marketing Online: The course duration is 2 years. Its eligibility requirements are 50% marks (45% reserved for SC/ST) in graduation in any discipline.
MBA Marketing Eligibility:
The fundamental eligibility criteria for obtaining admission to the MBA Marketing course are:
A bachelor's degree in any discipline from an acknowledged university or board. The passing percentage must be 50% or equivalent to CGPA.

A 5% relaxation for every reserved category candidate (SC/STs), i.e., the passing percentage must be 45%.
Note:
Certain colleges even allow final-year students to apply, but they must submit a No Objection Certificate (NOC) from the principal.

Certain colleges, like IIMs, consider high merit scores of 60% and higher.
Who is an MBA in Marketing for?
You must also know for whom these courses are and the MBA marketing salary trends. These courses are aimed at professionals with approx. 2-5 years of work experience and those willing to launch or accelerate their career in marketing.
These courses strongly focus on marketing. But students are also equipped with various management skills. They study a broad range of other business administration topics. Students well-versed in various management skills can accelerate their career graph with a desired MBA marketing salary.
These courses are designed for those who want to explore their career opportunities in all marketing, management, and leadership areas. Many MBA in Marketing graduates starts their own companies because they have acquired in-depth management skills.
Core subjects of MBA Marketing:
Core MBA marketing subjects differ based on the program. However, you will encounter some common subjects. They are management concepts, business environment, cost and management accounting, marketing management, etc. Students also get the option to pursue one of the dual specialization programs like an MBA in Marketing and Sales or an MBA in Finance and Marketing.
Certain subjects are mandatory while others are electives which you can choose based on your preferences. The elective subjects include digital marketing, social media marketing, brand management, B2B marketing, consumer behaviour, Luxury marketing, etc. Note that some of the MBA in marketing salary in India depend on which subjects you choose during your course.
Advantages of pursuing an MBA in Marketing:
The advantages discussed below can entice you to pursue this course and start earning a great MBA in marketing salary in India.
Great career growth opportunities:
An MBA in Marketing specialization can help you obtain a job promotion. It also prepares you for challenging executive and managerial positions. It equips you with the necessary communication and leadership skills to land top marketing jobs. The key skills this course enhances include marketing, advertising, and business development. Mastering these skills can land you in a senior-level position which can help you earn a salary higher than the MBA marketing fresher salary in India.
2.Better learning opportunities:
This specialization offers tons of learning opportunities. You would learn various marketing, finance, HR, and corporate management aspects. In addition to the core subjects, various electives provide massive opportunities to learn and advance. The electives like product management, market research, and strategic selling help you to outshine in various marketing fields. Especially mastering the core subjects help these professional start their career with a decent MBA marketing fresher salary in India.
3. High salary package:
The MBA marketing highest salary in India can be INR 30 lakhs or more. Completing this specialization can offer a great boost to your compensation package. Remember that the boost in salary package for these professionals depends on their experience, skills, sector, and employer.
4.Skill development opportunities:
You can access various opportunities to advance your career graph after completing an MBA in marketing. The course equips you with two exceptional presentation skills and analytical thinking. The coursework assignments and projects help you to develop problem-solving and interpersonal skills. Many MBA Marketing professionals have succeeded in acquiring MBA marketing highest salary in India after learning some exceptional skills mentioned above. Moreover, working on tight deadlines prepares you for the competitive workplace environment.
Common job roles for MBA Marketing professionals:
Marketing Research Analyst

Marketing Manager

Digital Marketing Manager

Brand Manager

Media Planner
Therefore, MBA in Marketing presents a myriad of career opportunities with a promising MBA marketing salary in India if you explore them wisely.
What are the government jobs for MBA Marketing?
Opportunities for highly skilled professionals to advance in their careers with organizations serving the government sector are abundant right now. In order to meet the challenges posed by the private sector, PSUs are placing a greater emphasis on the marketing department.
The salary range is subject to vary depending on the candidate's level of marketing knowledge and experience, as well as any applicable administration policies. A prospective employee might anticipate earning roughly INR 2.5 Lakhs per year in salary throughout the training phases of the employment. After gaining relevant experience, candidates can participate in division-level evaluations for promotions and promotions.
A candidate with an MBA in marketing can find many doors open in the public sector if they are willing to put in the time and effort to look. Here are just a few examples:
Officer (Marketing) in Financial Institutions; General Manager (Marketing and Sales) in Government and Private Sector Organisations.

Careers in Management Development and Related Tracks
What are the Jobs after MBA Marketing?
After finishing an MBA in marketing, you'll have many employment options. Brand Manager, Account Manager, Research Manager, Sales Manager, Business Development Manager, Marketing Analytics Manager, Monetization Manager, Search Engine Optimisation Manager, and many more are just a few examples.
How does one go about enrolling in an MBA program in marketing?
The Graduate Management Admission Test (GMAT) or the Combined Management Admission Test (CMAT) is a standardized test that prospective MBA students must take and do well on in order to gain acceptance into an MBA program.
What are MBA alternatives in India?
One of the most common alternatives to an MBA in India is a Post-Graduate Diploma in Management (PGDM), which is mostly granted by private universities. Both programs are comparable regarding admissions requirements, tuition, and course content.
Even if both MBA and PGDM graduates are assigned comparable employment opportunities, there could be a variation in their wage packages. An MBA graduate may expect an annual income of around INR 22,00,000, whereas a PGDM graduate can expect an annual salary of around INR 16,50,000.
Factors Affecting MBA Salary in India
The MBA Marketing salary in India depends on various factors, including the university or college that you attend, the company's policies that you have applied to, its location, your previous experience in marketing, and both personal and practical skills.
1. Institute
One of the crucial factors determining the MBA Marketing salary in India is institute you have attended. A lot of companies seek candidates who are MBA graduates from top institutions across the world.
upGrad offers an MBA program with a specialization in marketing from Liverpool Business School. It is one of the top B schools in the UK recognized by the World Education System (WES).
Get online MBA courses from the World's top Universities. Earn Masters, Executive PGP, or Advanced Certificate Programs to fast-track your career.
2. Company
Another crucial factor that decides the salary in India is the companies. Every company has its own policies, and they offer different salaries to MBA marketing graduates.
3. Skills
While offering a job, recruiters look for practical skills in a candidate in the field of marketing. You cannot gain skills just by studying theory unless you have relevant work experience. You are also expected to know how different tools are used for online marketing or bulk email marketing. Therefore, the MBA Marketing salary in India varies as per the skills of the individuals.
upGrad's online MBA program in Marketing includes over 15 industry projects from the Harvard Business School Publications simulations that help you gain practical skills necessary to get a job. upGrad also teaches you the necessary skills required for giving interviews and connecting with recruiters.
4. Location
You can find plenty of marketing and sales job opportunities in metropolitan cities. The MBA in Marketing salary offered in metropolitan cities such as Gurgaon, Bangalore, Delhi, and Mumbai offer an average salary of 7-8 LPA.
Salaries in Different Sectors for Marketing Jobs in India
While the factors mentioned above play a crucial role in deciding the MBA Marketing salary in India, salary also varies according to the business sectors that you are involved in. Average salaries in India for different business sectors have been given below.
1. Business Marketing
It mainly includes the marketing of goods, products, or services produced or offered by a particular company or an individual. Average MBA marketing salary in India in the business marketing sector is 6-7 LPA.
2. Digital Marketing
Digital Marketing is the online marketing of services or products. You create your brand's presence online that helps you attract customers. It is one of the most common ways of attracting customers these days. This is the reason why digital marketers are so much in demand and are offered a high salary. If you choose to go for digital marketing, an average MBA marketing salary in India in the digital marketing sector is 5-6 LPA.
3. Analytical Marketing
This type of marketing involves collecting data, structuring it, and analyzing it to derive figures and statistics. The data is collected from different marketing campaigns and sources such as surveys, questionnaires, polls, emails, etc. If you want to become a marketing analyst, an average MBA marketing salary in India in the digital marketing sector is 3-4 LPA.
4. Competitive Marketing
Competitive Marketing means to run campaigns to stay ahead of your competitors. You have to make sure that your existing customers stick to you. This can be done by reducing the cost of the goods and services, offering discounts, giving gifts and schemes such as 'Buy One Get One'. Average MBA marketing salary in India in the competitive marketing sector is 7-9 LPA.
5. Brand Management
Brand Management involves increasing brand value through a mix of several strategies. If a company plans to launch a new product, a significant portion of its marketing budget is dedicated just to making their customers aware of such a happening. This is all a part of brand management. You can expect an Average MBA Marketing Salary in India in the brand management sector around 9-10 LPA.
6. Advertising Management
It involves running creative brand marketing campaigns or advertisements to increase customer awareness and sales. You could find a job in advertising management with an average MBA Marketing Salary in India around 7 LPA.
7. Content Marketing
It is a relatively an up and coming domain that has recently seen wide adoption by the companies. This form of marketing mostly revolves around using various forms of content like blogs, webpages, short copies, etc, to attract traffic to their website through the right use of keywords. It improves the ranking of the company's digital identity. Hence, signaling a lot of opportunities for MBA Marketing candidates with an average MBA marketing salary in India around 5-7 LPA.
MBA Salary in India based on Qualifications
Your compensation is mostly determined by your credentials. See below for a breakdown of MBA wages in India, sorted by education level:
B.com MBA Salary in India
A new MBA may expect an average annual income of 7.25 million Indian rupees. After getting some practical experience and a B.com, it is highly suggested to go on to earn an MBA.
Average monthly pay for a BBA or MBA in India
In addition to an MBA, a Bachelor of Business Administration is regarded as a highly valuable credential. Earning a Bachelor of Business Administration (BBA) degree from a prestigious institution like IIM or NMIMS Mumbai will get you an annual salary of Rs. 18.00 lakhs.
Pay for Indian CAs and MBAs
If you already have a CA certification and then get an MBA, you will quickly rise in the corporate ranks. Analytical abilities are honed in both degrees. Your ability to lead will improve with an MBA. Earnings for a CA MBA grad with many years of experience average between 20 and 25 lakh per year.
The MBA Marketing Salary in India for Different Roles
The MBA Marketing salary in India also varies according to the job descriptions. Senior executives receive a higher salary package than managers or executives at a junior level.
1. Marketing Executive
A marketing executive brings marketing strategies and actions into execution. You will have to interact with customers to know about their demands and needs and plan marketing campaigns accordingly. However, the role may differ from company to company. In India, the average salary of a marketing executive is 3-5 lakh INR per year.
2. Marketing Manager
A marketing manager manages the brand's position in the market and keeps a check on the entire marketing process so that it goes smoothly. As a marketing manager, you can expect an average INR 7-8 lakh per year MBA Marketing salary in India.
3. Marketing Research Analyst
A marketing research analyst's job is to analyze the market's recent trends. Average MBA Marketing salary in India for a market research analyst is 4-5 LPA.
4. Marketing Strategist
A marketing strategist job includes researching market trends and preparing strategies for increasing brand value. The average salary of a marketing strategist in India is 7-8 LPA.
5. Senior Marketing Manager
A senior marketing manager has prior experience in managing the marketing of a brand. Generally, candidates that have handled marketing initiatives before opting for MBA are hired at this position. Average MBA Marketing salary in India for a senior marketing manager is 18-20 LPA.
MBA in Marketing
Securing a job in the current economic scenario can be quite difficult, not to mention finding a job that offers a high MBA marketing salary in India. Even if you study from one of the top B-schools in India, it does not offer you a 100% placement guarantee. However, with determination, practical skills, and knowledge, you can secure a marketing sector job after an MBA.
You can consider pursuing online MBA programs from India that are offered by some of the best universities across the world. Due to lockdown, many educational platforms have gone virtual and are offering world-class courses and degrees.
One of the platforms upGrad, can help you apply for an MBA from Liverpool Business School with a specialization in Marketing. This course offers you a dual alumni status, an MBA graduate from Liverpool Business School.
Along with it, upGrad offers individual mentoring sessions from the industry leaders who are the experts in Marketing. You also get 360-degree career support and placement assistance throughout the MBA program. upGrad also helps in building and reviewing your resume for marketing jobs.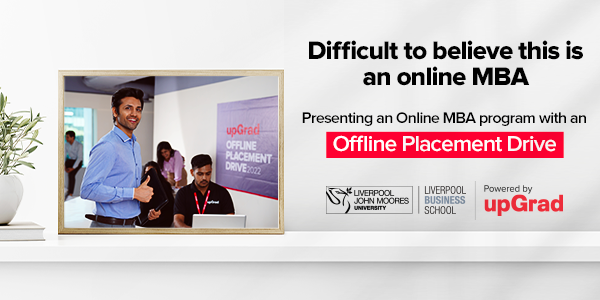 The mentors provide individual guidance, prepare you for interviews, and conduct mock sessions to ensure that you get a high-paying job in marketing. Throughout the program, the students work on several practical projects with Harvard Business School Publications simulations.
All the above-mentioned benefits of the MBA program act as an advantage to land a job that offers a high MBA marketing salary in India. In addition to it, you can pursue the LBS MBA in Marketing program at 1/10th of the original cost from MBA.
Along with Marketing, upGrad also offers other specialization programs, including an MBA in Finance, MBA in Operations, and Strategy and Leadership from Liverpool Business School, MBA in Digital Finance and Banking from Jindal Global University, MBA From Golden Gate University, and others. All these programs offer placement assistance with high-paying jobs.