Product Management (PM) has emerged as one of the most pivotal elements of a business's core strategy. Product management pertains to the management of a product/service offered by a company.
In essence, it involves the supervision and management of the entire lifecycle of a product, from the inception of the product idea and developing marketing campaigns to product delivery – Product Management encompasses everything associated with a product's successful launch in a market. This is why the job of Product Managers is both challenging and highly coveted in the present job market.
What does a Product Manager do?
A Product Manager's foremost duty is to establish the company's vision and goals for the product and take all the necessary steps to execute that vision. The end goal is to ensure the smooth functioning of the four core components – technology, design, marketing, and customer satisfaction. Thus, Product Managers must be well-versed with the latest technological developments and have comprehensive marketing knowledge to enhance user experience and maximize the business value of the company's product.
While these duties will always remain at the forefront of Product Management, as companies expand and adopt new-age technologies, the Product Management scope will also grow and diversify. Thanks to the increasing integration and inclusion of modern technologies in every sphere of business operations, Product Management has now become a versatile role.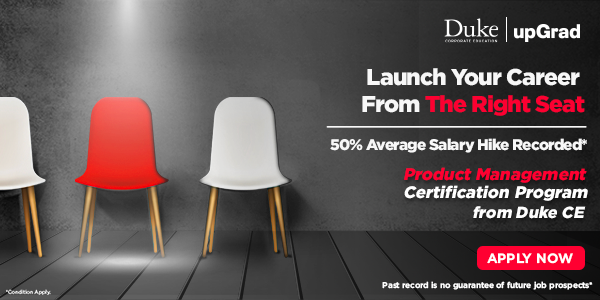 Product Managers must not only possess marketing expertise, but they must also be proficient in working with the latest technological tools and platforms. In the coming decade, Product Management will evolve drastically.
Read more: What does a product manager do?
How will the scope of Product Management change in the future?
Below are five ways in which Product Management is posited to evolve in the next decade:
1. Manual efforts will take the backseat
Considering that we live in the era of automation, manual efforts are bound to become archaic in the near future. For instance, no organization will invest their time and effort in developing and customizing their CRM platform. With so many top-notch CRM vendors in the market today, you can easily purchase a CRM tool to take advantage of a suite of comprehensive tools, standard best practices, faster implementation, all at a much lower price.
This exact approach will apply to Product Management. Although now the Product Management operations and strategies differ from company to company, soon organizations will be leaning towards standard industry practices. Consequently, manual workflows and tasks will make way for automated processes. Companies will experiment with a select few PM tools and frameworks based on which they'll determine all their road-mapping, decision-making, and key performance indicators.
Check out our management courses to upskill yourself.
2. The cost of engineering products will fall
When it comes to IT technology and software products, Software Developers/Engineers reigned the domain for a long, long time. However, with rapid technological advancements, the cost of engineering products have significantly reduced. Thus, whenever companies in the same industry witness a niche opportunity, they engage in neck-to-neck competition – who will develop a unique solution first!
The reduced cost of engineering niche products inevitably leads to a rise in the number of competitors in the market. As the competition increases, development costs and the costs of top-notch Product Management tools and frameworks will also drop, thereby making it accessible for all. And whoever can capitalize on this opportunity by leveraging relevant data and PM tools, will ultimately gain the upper hand in a particular domain.
Must Read: Product Management vs Project Management
Our Top Management Articles
3. "Collaboration" will be a central tenet of Product Management
The current trend in the business sector is to give priority to delegated decision making. According to this model, the power is not placed entirely in the hands of the C-suite but is delegated to the executives who are closely associated with the individual aspects of business operations and customers.
This inclination to empower decision-makers of different business departments is further gaining ground, thanks to AI and Machine Learning. By helping to uncover the right information at the right time, AI and ML allow PMs to make data-driven business decisions. After all, Product Management aims to deliver value to customers through data-based and informed decision-making.
Naturally, this demands close collaboration between all the departments, including design, engineering, sales, and marketing. Thus, it is safe to say that apart from a select few leadership roles, a majority of Product Management roles will be integrated into and entwined with other functions across the company.
Explore our Popular Management Courses
4. Virtual Reality will go mainstream
Companies and organizations across all parallels of the industry have access to such tools and frameworks that allows their product development teams to design and create unique product experiences in no time. Plus, there's Virtual Reality (VR) which makes it possible to test and experiment with interactive prototypes before launching a new product in the market.
As VR has become a mainstream technology now, the cost of VR devices is falling steadily. This is great news for businesses of all shapes and sizes since they can leverage the potential of VR to create best-in-class digital experiences for their customers.
For instance, physical experiences can be replaced by virtual ones, such as checking out how a dress/shirt looks on you and walking into a real estate property or a store to get the look and feel of it. Not only are these one-of-a-kind experiences, but they are an excellent means to market a product.
Also Read: Product Manager Salary in India
upGrad's Exclusive Product Management Webinar for you –
How to craft GTM Strategy for a Product?
5. The customer-first policy will be the standard protocol
At present, a company that prioritizes customer satisfaction over everything else often goes a long way in winning a significant share of the target market. However, in the upcoming years, all businesses and organizations will adopt the customer-first policy to capture the attention of their target audience. Eventually, this will strip off the competitive advantage associated with the customer-first approach.
It will no longer offer you an edge over your potential competitors.
In such a scenario, any brand that wants to gain the upper hand will have to adopt much more radical measures. The idea is to embrace progressive ideas and technologies to stay ahead of your competitors. PM will include such tools that will streamline Product Management operations, such as shortening the iteration cycles, facilitating faster testing and implementation, and so on.
Study Product Management Courses online from the World's top Universities. Earn Masters, Executive PGP, or Advanced Certificate Programs to fast-track your career.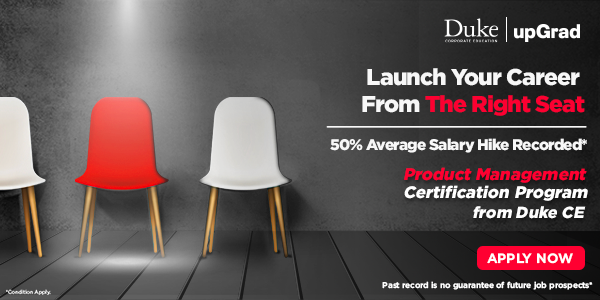 Top Management Skills to Learn
Conclusion
To conclude, Product Management will transform and upgrade to the point where all the present PM processes and techniques will become outdated and obsolete. Fuelled by disruptive technologies and ever-changing consumer trends, the Product Management scope will broaden to a great extent. Companies will create the demand for skilled Product Managers who are versatile all-rounders, ones who understand the nuances of product concept & design, development, and marketing.
The future does look bright for you, as the demand for PMs is only going to increase over time. In a way, a product manager directs the company on a competitive path in the future. If you're interested to become a great product manager, you need to demonstrate qualities of leadership, check out the Post Graduate Certificate in Product Management for it is you who'll guide your team towards the path of success