A Master of business administration, also known as a MBA in short, is one of the most sought-after qualifications today. MBA graduates are in huge demand, as you'll learn in this article.
In the following article, we'll discuss the scope of an MBA, the various career opportunities you can pursue, the salary range for this qualification, and how you can get started in this sector.
What is the Scope of a career in an MBA?
According to the Bureau of Labor Statistics, roles for management occupations are expected to grow 5% between 2019 to 2029, which is faster than the average for all roles. There are estimated to be 505,000 new jobs for management professionals in the coming years. There are various MBA career options to choose from, as the job options open up for professionals.
Moreover, the students can choose any specialization of their choice and build a niche for themselves.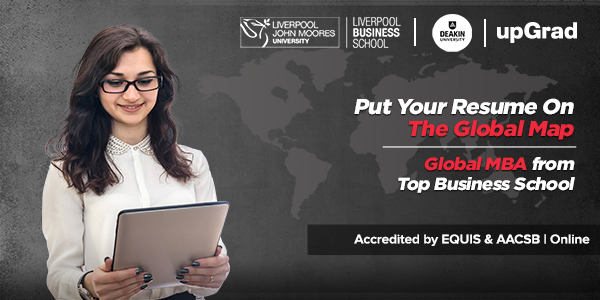 The BLS found that the reason behind the rising demand for management professionals in the US will be the arrival of new organizations. Similarly, the expansion of existing organizations would play a massive role in raising the demand for MBA professionals. Thus making MBA scope high and lucrative for professionals.
The growth in demand will vary from specialization to specialization. For example, BLS estimates a growth of 15% from 2019 to 2019 for the employment of financial managers. It's substantially faster than the average for all roles.
Similarly, roles for computer and information systems managers would increase by 10% between 2019 and 2029. That's primarily because companies will be focused on expanding their businesses digitally and utilizing information technology.
According to BLS, jobs for advertising, promotions, and marketing managers would increase by 6% between 2019 and 2029.
Indeed, the demand for management professionals is rising in every sector. Apart from attracting lucrative salaries, getting an MBA will help you enjoy diverse work conditions, solve business problems, and become a leader.
Management professionals are responsible for handling specific areas of their organization. Depending on the industry you work in and your specialization, your responsibilities would vary. Companies rely on managers to help them handle the day-to-day tasks of their operations. MBA professionals are also responsible for driving growth and helping their organizations identify more opportunities.
What opportunities can you expect after an MBA?
An MBA will open many doors of opportunity for you. You will have the option to choose the profession you want to pursue. Following are some of the most attractive job opportunities you can pursue after completing an MBA:
Job Opportunities after Completing MBA
1. Investment banker
One of the most popular roles among MBA graduates is the investment banker. Investment bankers are responsible for helping companies raise capital. They have to analyze the organization to understand its financial needs and determine the best way to meet its requirements.
They are highly respected and skilled professionals. Investment bankers act as a link between the organizations that want to raise capital and investors looking for new investment opportunities.
Investment bankers have to create detailed financial models for merger and acquisition transactions, financial planning, and other crucial processes. Investment bankers handle all processes related to the transaction, including the opening pitch and the closing contracts.
It is considered one of the most lucrative career options in today's times. The average salary of an investment banker is 4.8 lakhs per annum. The average salary ranges from 2.0 lakhs per annum to 40.4 lakhs per annum (Source).
Some of the skills required from an investment banker are mentioned below-
Financial skills

Risk Analysis

Business Acumen

Numeral literacy

Analytical

Problem- Solving

Critical thinking

People management
2. HR Manager
Another highly popular role among MBA graduates is the human resources manager or HR manager. As an HR manager, you'd be responsible for overseeing the policies, compliance, and procedures related to your organization's employees.
HR managers have to ensure that their organization's HR activities comply with the local, state, and federal laws. They implement programs related to employee benefits and handle all the aspects associated with their work conditions.
This includes managing maternity leaves, remote work arrangements, insurance programs, vacation, and sick leave, and other employee benefits. HR managers also have to resolve workplace disputes and make sure the office remains free from any harassment.
It is considered as one of the high paying careers. The average salary of an HR manager is 7.0 lakhs per annum. The average salary ranges from 3.0 lakhs per annum to 18.0 lakhs per annum (Source).
Some of the skills required from an HR are mentioned below-
Industry knowledge

Compensation knowledge in the market

Good Communication

Proficiency in written communication

Emotional intelligence

Negotiation

Interpersonal skills

People Management

Analytical

Data management

Problem solving
3. Information Technology Manager
An information technology manager is responsible for handling the IT implementations within their organization. They must be experts in information technology and the related solutions to solve the necessary issues. IT managers have to recruit and train employees, monitor their performance and handle the annual IT budget for their organization to keep them cost-effective.
IT managers have to regularly check their organization's IT implementations to ensure they are free from errors. If an issue arises with the company's IT systems, IT managers are responsible for fixing them by taking the necessary action.
On average the salary of an IT manager is 9.4 lakhs per annum.. The average salary ranges from 3.3 lakhs per annum to 25.0 lakhs per annum (Source).
Some of the skills required from the IT Manager are mentioned below-
Technical and domain knowledge

Numeral literacy

Strategic thinking

People management skills

Communication

Written proficiency

Analytical
4. Financial Advisor
You can choose to become a financial advisor after completing your MBA in Finance. As a financial advisor, you'd be responsible for evaluating your clients' financial requirements and goals to formulate an investment strategy that matches the same.
Financial advisors are experts in analytics and interpersonal skills. They have to manage multiple portfolios and ensure that their clients get the desired results.
They also have to evaluate the financial health of a client to determine what would be the best investment strategy for them.
On average, the salary of a financial advisor is 2.5 lakhs per annum. The salary ranges from 1.2 lakhs per annum to 7.7 lakhs per annum (Source). The salary could be in a higher bracket due to various reasons such as location, skill sets, organisation, experience, etc.
Some of the skills required from a financial advisor are mentioned below-
Financial literacy

Numeral literacy

Research

Business acumen

People management

Interpersonal

Client management

Business development
5. Business Consultant
Business consultants assist a company's leadership in solving problems and driving growth. They work with the business owners to evaluate the organization's situation and requirements and suggest solutions accordingly. Business consultants are also responsible for overseeing the implementation of their suggested solutions.
Business consultants have to build rapport with vendors and build high-level roadmaps for their clients. They have to change the programs implemented within their client organizations so they can meet the business goals.
On average, the salary of a business consultant is 11.5 lakhs per annum. The average salary ranges from 2.6 lakhs per annum to 22.0 lakhs per annum (Source).
Some of the skills required from a business consultant are mentioned below-
Qualitittaive and Quantitative skills

Business Acumen

Risk Analysis

Analytical

Financial literacy

Numeral literacy

Communication

Written skills

People management

Client Relationship
How much does an MBA graduate earn in the USA?
According to the Bureau of Labor Statistics, the median annual pay for management roles is $109,760 per annum. This is the highest pay of all the significant occupational groups. Hence, if getting a six-figure salary was your goal, having an MBA is certainly worth it.
Here are the average salaries of different management professionals according to the Bureau of Labor Statistics:
Administrative Services and facilities managers: $98,890 per annum on average

Advertising, promotions, and marketing managers: $141,490 per annum on average

Architectural and engineering managers: $149,530 per annum on average

Computer and information system managers: $151,150 per annum on average

Natural science managers: $137,940 per annum on average

Training and development managers: $115,640 per annum on average
All of these are annual salaries. MBA graduates earn attractive salaries globally. That's because companies are always on the lookout for skilled management professionals. Managers are pivotal for an organization's success. That's why companies pay handsomely for this role.
Apart from the role, your pay would also vary depending on your MBA specialization. While all MBA specializations attract lucrative salaries, their pay varies according to their industries and the roles people pursue with them. Here are some of the most notable MBA specializations with their average salaries in the US:
These statistics suggest that you can bag high-paying roles with an MBA quite easily. They also reflect the rising demand for MBA professionals in the US as every specialization offers an average pay that's significantly above the industry median.
How to Start a Career in MBA
For starting your career in this field, you should pick an MBA program that matches your requirements and helps you learn safely. You can learn from industry experts through video lectures, live sessions, and assignments safely from your home.
upGrad has a learner base of over 40,000 paid learners spread in more than 85 countries. With these MBA programs, you will receive dedicated mentorship, peer-to-peer networking opportunities, and interview preparation so you can advance your career quickly.
At upGrad, we offer the following two MBA programs:
Our MBA program with Liverpool Business School enables you to enhance your confidence and become a forward-thinking leader with strategic thinking and operational focus. The program offers dual alumni status by Liverpool Business School and IMT Ghaziabad. You can choose from six specializations:
Marketing

Finance

Operations and supply chain management

Human resources

Business strategy and leadership

Analytics
This program is designed to enhance your business acumen, improve your communication and decision-making skills to further your career as a leader in your desired field. With a global MBA from Deakin Business School, you can pursue leadership roles in business development, management consulting, marketing, finance, and many other sectors.
You will learn about enterprise and risk management, digital business innovation, leadership, strategy formulation, high-performing organizations, and many other crucial concepts during this program.
Conclusion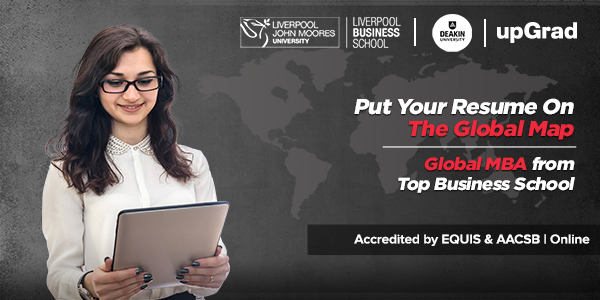 There are many benefits to getting an MBA. You can pursue high-paying roles, become a leader, and pave the way for the C-suite by completing an MBA. From finance manager to business consultant, there are a ton of career growth opportunities for MBA graduates.
If you're interested in pursuing a career in this field, we recommend checking out the courses we have shared above.