Are you considering a career in business analytics but don't know how the scope of business analytics in India is? 
Then you've come to the right place because this article will share some facts about the future of business analytics and help you figure out why you should pursue a career in business analytics. 
Scope of Business Analytics
The scope of business analytics is quite bright in India. Here are some primary points backing this fact: 
Enhanced CRM
Customer relationship management is vital for any business's growth. Business analytics helps them find patterns of customer behavior to optimize their CRM implementations and strategies. 
With better CRM, they can retain customers and keep customer satisfaction levels high. Business analytics ensures they make data-driven decisions and avoid errors in CRM. It also allows them to prioritize customers and understand their requirements better. 
Explore our Business Analytics Programs from World's Top Universities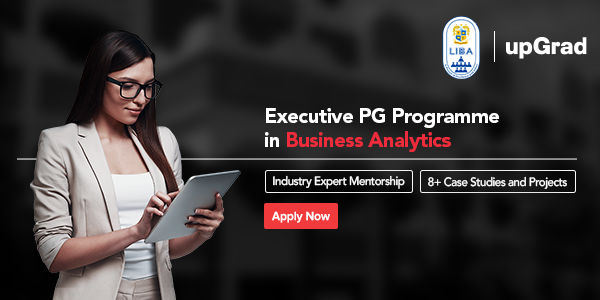 Use in HR
HR analytics is a vast branch of business analytics. Human resources companies use business analytics to find eligible candidates and maintain a good employee satisfaction rate.
Apart from human resource companies, the HR departments of various organisations also use business analytics to enhance employee performance. 
HR analytics allows companies to track and analyse employee performance and figure out how they can improve work productivity. It can help them predict which employees are the most likely to leave them and which employees need training. 
Must read: Learn business analytics free!
It allows them to use their employee-related data and gain valuable insights from it, which can aid them in HR-related decision-making. Human resources directors and talent acquisition specialists rely on HR analysts to conduct business analytics and provide them with the requisite insights.  
Growth in Data Usage
The amount of data a company generates increases substantially with time. Moreover, companies realise how they can use this data to enhance their operations. As the quantity of data increases, the demand for business analytics increases accordingly.
Using business analytics, companies can easily find their weak areas, create better better strategies, and enhance their efficiency. 
They can use business analytics in marketing, HR, SCM, management, finance, and many other operations areas. This is a huge reason why the future of business analytics is very bright in India. 
Business Analytics and Finance
Business analytics has become an integral part of the finance sector. Finance companies and institutes use business analytics to help them make better investments and related decisions. 
Technical analysis is a prominent branch of investing and is a sub-branch of data analytics. Investors analyse the financial data of a company, industry or market to determine where they should invest. 
The finance industry is probably the biggest user of business analytics. Credit card companies use business analytics to detect fraud by identifying fraudulent patterns in customers. Similarly, banks use business analytics to determine if they should give loans to particular individuals or organizations. It helps them make better-informed decisions and avoid non-performing assets. 
Read our Other Articles Related to Business Analytics
The finance sector holds immense scope and potential for business analytics. 
Our learners also read: Learn Business Analytics Free
upGrad's Exclusive Business Analytics Webinar for you –
How upGrad helps for your Business Analytics Career?
How to Enter Business Analytics? 
If you're looking for a field that offers high pay and a bright scope, then business analytics is the way to go. As we have established already, the future of business analytics is very bright, and the demand for business analytics professionals will only increase with time.
It's a relatively new field and is among the most sought-after professions in the tech sector at the moment. When a company is looking for business analytics professionals, they look for skilled and qualified professionals. 
That's why the best way to enter the business analytics sector is by taking a business analytics course. Taking a course in this field will help you learn the necessary skills and become eligible for diverse business analytics roles in the industry.
At upGrad, we offer a business analytics course with IIT Bombay. Our Certified Program in Business Analytics is designed to teach you foundational skills and give you a conceptual understanding of analytics to generate valuable business insights. 
IIT Bombay is among the most prestigious institutes in India. During the course, you will interact with leading IIT Bombay faculty and experts. By the end of the course, you will get a completion certificate from IIT Bombay CE and QIP (Continuing Education and Quality Improvement Programs). 
What you'll Study in the Program?
In our Certified Program in Business Analytics, you'll study the fundamental and advanced business analytics concepts. The course offers more than 81 hours of learning and three projects you can work on to test your knowledge and apply what you've learnt. 
Some of the concepts you'll learn in this program are:
Python

Descriptive Statistics

Logistic Regression

Statistical Inferencing

Tree Models

Exploratory Data Analysis

Neural Networks

Business Problem Solving

SQL

Tableau
The concepts we shared here are just the tip of the iceberg. There are plenty of other skills and technologies you will learn during this program. The course lasts only for seven months and offers an online live lecture every Sunday, allowing you to learn efficiently and quickly. 
Minimum Eligibility 
You must be a graduate (10+2+3) or a diploma holder (only 10+2+3) from a recognized university (UGC/AICTE/DEC/AIU/State Government/recognized international universities) in any discipline with a minimum of one year of work experience (after diploma or graduation). Also, you must have a graduate-level understanding of calculus, matrices, and functions and familiarity with programming concepts such as data types, if statements, and variable assignment. 
Apart from these requirements, learners must also be:
Well-versed in fundamental programming concepts (data types, variable assignment, if statements, loops, function, etc.) in their high school or graduation, along with an in-depth understanding of graduate-level mathematical concepts in calculus (differentiation, partial derivatives), matrices (representation, matrix operations) and functions. 
Additional Benefits
Apart from teaching you the necessary skills to become a business analytics professional, our course also offers you access to our Student Success Corner. There, you get personalized resume feedback, doubt resolution sessions, a dedicated student success mentor, and networking opportunities. 
Conclusion
Now you know how bright the scope of business analytics is. It is a fast-growing sector, and its demand will only increase with time. 
upGrad's Certificate in Business Analytics from IIT Delhi on "Applying Business Analytics" can help you enhance your business performance and drive growth. Since the course is conducted 100% online, it doesn't require you to compromise focus on business operations. So, book your seat now and avail the benefit of learning from world-class faculty and industry experts for the next seven months!
Learn Business Analytics Courses online from the World's top Universities. Earn Masters, Executive PGP, or Advanced Certificate Programs to fast-track your career.
Is pursuing a Master's in Business Analytics worth it?
If you love to play with data and numbers, a master's program in Business Analytics will teach you how to properly gather data, convert it into useful information, and come up with insights that solve complex business problems. A good masters' program not only strengthens your technical skills of filtering and coming up with insights but also communicates the same with other departments in the company and discusses it with the stakeholders. If you like to contribute to business growth through data-driven decisions, business analytics is for you.
What are the skills needed to become a Business Analyst?
Out of all the skills needed, communication holds the highest importance. It is a key skill needed in most of the high-functioning job profiles. This includes getting in touch with all the departments and asking the right questions in an easy-to-understand manner. Another essential skill is listening. It involves listening to their answers, understanding the context behind it, and using the same to gather insights. Some of the other key skills needed are ability to understand delegated objectives, running meetings with the stakeholders, knowing the objectives well, managing time properly, as well as writing technical reports whenever required.
How long is the Business Analytics Master's program?
The duration of the program varies from 6-14 months depending on the university you opt for. The Global Master Certificate in Business Analytics by Michigan State University in association with upGrad is a 6-month long online program that includes live lectures, interactive quizzes and case studies, resume building workshops, career counselling calls, etc. It's the perfect program for someone who wants to learn from world-class faculties and would prefer to get a Master's certificate right from the comfort of their home.
Be a certified business analyst