According to LinkedIn, Product Manager ranks among the most promising jobs in 2019. Product Managers act as the pivotal drivers of growth in any organization, be it a startup or an established company. The only glitch – there is a massive gap in the demand-supply chain of Product Managers, as recruiters often find it challenging to acquire the right mix of talent, skill, and expertise in this domain.
So, what is the need of the hour?
A well-structured and well-designed program to train young aspirants and furnish them with the right skill set required to excel at Product Management.
To address this issue, UpGrad and Duke Corporate Education brings before you an opportunity to master Product Management in just five months! Collaborating with Duke Corporate Education (the executive education arm of Duke University), UpGrad has launched a Post Graduate Certificate in Product Management to introduce aspiring students to the promising field of Product Development and Management. In this five-month course, students will get the opportunity to get hands-on learning experience from renowned faculties of Duke Corporate Education.
Explore our Popular Business Management Courses
At the launch event of the certification program, Michael Chavez, the CEO of Duke Corporate Education stated: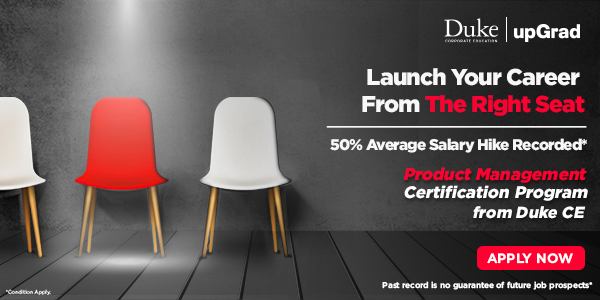 "Product Management is an area of great potential for India's booming technology and startup sector. Our Product Management program, co-certified by UpGrad will give working professionals the opportunity to build the right skills required to excel in this domain."
The program has been exclusively designed to teach students about the various aspects of the product development life cycle, including target audience (user) research, user-centric design, product planning & development, product analytics, user engagement & growth, minimum viable product (MVP), and also, product marketing and leadership skills. Apart from getting hands-on training from expert educators, students will also be exposed to mentorship sessions with experienced Product Managers of top brands like PayTM, BookMyShow, Zomato, and Myntra, to name a few. They will work on a host of industry-related assignments and case studies.
Which of These Product Management Tools are You Already Using?
UpGrad's support doesn't just stop here – students will get dedicated career support and counselling through mentorship sessions, one-on-one interview preparation, resume feedback, and also placement assistance.
Top Essential Management Skills to Learn
Certification programs have numerous advantages. They help you gain a competitive advantage over your contemporaries. You get  a closer look into the real-world industry and business scenario; so, you gain practical knowledge. Apart from strengthening your knowledge base and expanding your skill set, you also get to enhance your professional credibility. Long story short – certification programs can help you grow your career immensely.
The co-founders of UpGrad, Ronnie Screwvala and Mayank Kumar are positive that the Post Graduate Certificate in Product Management will help bridge the gap between the education of Product Managers and what they are required to do in the real-world scenario.
The partnership between UpGrad and Duke Corporate Education seems like a potent match – the program brings together UpGrad's highly successful online learning pedagogy and Duke CE's aupGrad's Exclusive Product Management Webinar for you –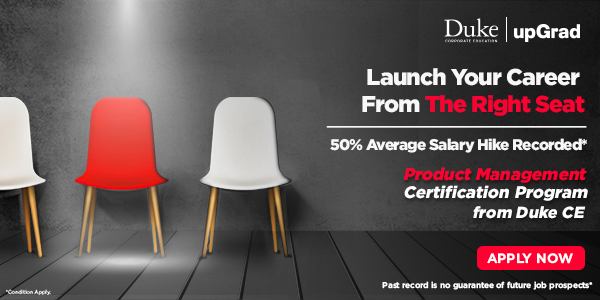 How to craft GTM Strategy for a Product?
cclaimed academic expertise, all rolled into one. The five-month certification program is priced at Rs. 1,50,000.
Study Product Management Courses online from the World's top Universities. Earn Masters, Executive PGP, or Advanced Certificate Programs to fast-track your career.
Our Top Management Articles
Now, the question remains – are you ready to be a part of this unique learning experience?
What are the roles and responsibilities of a product owner?
What soft skills should a product manager possess?
Other than the core technical competencies necessary to prosper in the product management career, some other soft skills are equally important. Firstly, critical thinking abilities are helpful for problem-solving, as product managers have to tackle different teams and consumers. Next, empathy for the consumer is highly vital since that helps in designing worthy products and creating roadmaps. Having a flexible yet strong mind helps deal with different stakeholders and convince them about product-related decisions. And above all, effective communication skills are of the utmost importance since product managers are involved mainly in managing various kinds of people across different hierarchies.
Is a product manager involved in testing?
The primary responsibility of a product manager is to ensure that the correct value is delivered to clients with the products that are being developed under their supervision. To ensure the proper quality, the product has to undergo testing. But product managers are generally involved in acceptance testing that is carried out at the end of the development cycle, right before the product goes live in the production environment. In some cases, product managers might be involved in testing phases throughout the entire development cycle, which can save last-moment surprises and delays in product launches.
Build Cutting-Edge Products