Data and business analytics are integral when it comes to tech companies across the world. In recent times, thanks to the big data boom, over hundreds of terabytes of data is generated by 6 billion connected devices, every hour throughout the world. Such massive data numbers need to be churned and derive original and meaningful insights for the companies to stay ahead of each other in the industry. This is precisely where the business analytics professionals come in!
So what exactly does a business analytics professionals do?
In a nutshell, these individuals keep a close watch on the entire life cycle of data – right from data mining, data analysis, predictive modeling, and data testing. Apart from this, business analytics professionals can play a huge role in decision making for the organization based on the trends found in the data. Meaning these people get to be drenched in data as well as taken seriously in those black-suited boardroom meetings!
Given the continually expanding field of analytics – it has become a broad spectrum industry with abundant career options in business analytics. Plus, apart from the IT industry, there are several sectors – like banking, healthcare, automobiles, etc. which comes with their own set of opportunities in business analytics. As we said before, since data and analytics are united, this can let business analytics professionals easily blend in with some specialized streams like Machine Learning, Artificial Intelligence, etc.
Explore our Business Analytics Programs from World's Top Universities
To be precise, the business analytics professional roles include: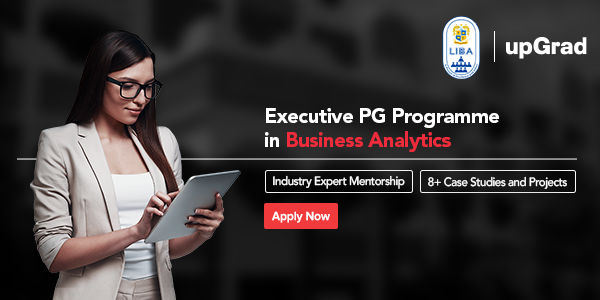 Data Scientist

Data Visualization Analyst

Big Data Analytics Architect

Big Data Engineer

Financial Analyst

Marketing Analytics Manager

Business Intelligence and Analytics Consultant

Analytics Associate Metrics and Analytics Specialist Database Administrator

Fraud Analyst

Retail Sales Analyst

Statistician
According to a 2017 McKinsey report, there is going to be a shortage of more than 1.9 million data scientists and analysts in the USA in the next two years. And when it comes to India, according to this LinkedIn article, India shall have the highest number of business analysts by 2020. With such overwhelming numbers and growing demand, here is how to start a career in business analytics:
Must read: Business analyst course free!
In recent times, business analysts are one of the most promising professionals in the IT industry in India. And since their work demands a constant switching between analytics, decision making, and communication skills – having an engineering and mathematics background is essential. Apart from the former, the other skills required for a promising career in business analytics are:
Curiosity
Given the vast heaps of data and the possibilities, it comes with, that itself should be enough for you to keep going for the right solutions all the time.
Analysis
To extract meaningful conclusions from the data trends, it needs to be churned out based on strategies and relevant tools. This comes with good experience in the field along with an enhanced industry aptitude in Data analysis.
Grasp over Tools and Methods
If you have an aptitude in SAS and MS-Excel, then you need to get it in alignment with your IQ to reach to the relevant insights the chunks of data is trying to present.
Attention to Details
Data Mining can be a daunting task and therefore can often result in distractions, losing track of the bigger picture and thus landing in irrelevant information. It with a keen eye to details, such situations can be averted.
Read our Other Articles Related to Business Analytics
At Ease with Numbers
Data analysis requires fluency in mathematical formulas and calculations, so you have to be a pro in such situations.
Our learners also read: Business Analytics Free Online Courses
Scope of Business Analytics:
The field of business analytics has been dynamically growing – allowing more and more people into the system as well as helping the company giants stay in the big game. It needs the correct focus, technology, and dedication to pull off effectively all the time. With the help of several high-end business analytics tools, companies like Deloitte, IBM, etc. come up with scaleable profit generation techniques each time.
Since organizations rely heavily on the big data analysis to extract relevant data insights, this shall only grow in numbers in the coming years. Therefore the scope of a business analyst isn't restricted to its core, but other places like:
Big data analysis

Quality Control and Assurance

SDLC

Business Process Modelling, etc
Thanks to the upgrading to IoT (Internet of Things) and Big Data analytics, this combination technology shall witness an exponential surge in 2020 that can prove to be revolutionary for the business analytics industry in the long term.
upGrad's Certificate in Business Analytics from IIT Delhi on "Applying Business Analytics" can help you enhance your business performance and drive growth. Since the course is conducted 100% online, it doesn't require you to compromise focus on business operations. So, book your seat now and avail the benefit of learning from world-class faculty and industry experts for the next seven months!
upGrad's Exclusive Business Analytics Webinar for you –
How upGrad helps for your Business Analytics Career?
Learn Business Analytics Courses online from the World's top Universities. Earn Masters, Executive PGP, or Advanced Certificate Programs to fast-track your career.
Do you need an educational qualification in business analytics?
Having a relevant educational qualification in business analytics helps to kickstart a career in this space. While you may get a job as a Business Analyst armed with a bachelor's degree only, you will only be able to progress in your career ladder if you continue with your higher education.

There are three types of Business Analytics Colleges in India. Institutions that offer full-time, classroom-based learning, colleges that offer blended programs with a combination of online and classroom lessons and establishments that offer the course completely online. You can choose between a master's degree or perhaps a Graduate Certificate in Business Analytics.
Can you get a job in business analytics without work experience?
There are tons of small and medium sized organisations that are more than willing to give talented candidates the opportunity to prove themselves. You can begin by taking advantage of summer internship opportunities.

Even if you have knowledge of a wide variety of fields such as workflow, billing, or customer relations, or with knowledge in an industry, such as finance, telecommunications, or government, you can still transfer these key skills when you start working as a Business Analyst.
What is the future of business analytics in India?
Business analytics is an ever-evolving space in India as more and more companies of all sizes are applying analytics as their core tool. Applying analytics in new innovative ways is the way of the world and countless platforms are now more easily accessible that are able to churn out mountains of data.

Obviously, to draw insights you will need to have people with the appropriate skill set. Analytics is already being used in sectors like Banking and Finance, telecom and e-commerce.
Lead the Data Driven Technological Revolution